(See Important Changes to NCBI Accounts Coming in 2021 for information and instructions in English.)
Käytätkö MyNCBI-tiliä, jonne voit tallentaa hakuja uutuusseurantaa varten sekä hakujen tuloksia?
Yhdistä NCBI-tilisi toiseen kirjautumistapaan (UEF, ORCID, Haka-luottamusverkoston jäsen) ennen 1.6.2021, koska sen jälkeen NCBI-kirjautuminen ei enää toimi.
Yhdistetty kirjautuminen otetaan käyttöön näin:
Kirjaudu PubMedissä kuten ennenkin.
Klikkaa käyttäjänimeäsi (username) ja sitten Account settings.
Klikkaa Change kohdassa Linked Accounts.
Voit valita yhdistettäväksi tiliksi  jonkin tai useamman valikossa University/institutional listatuista. UEF löytyy esim. hakusanoilla eastern finland. Muita suomalaisia organisaatioita saat listattua hakemalla finland. Voit käyttää myös ORCiD-tunnustasi. (Lisätietoja ORCiD-tutkijatunnisteesta.)

A) Valittuasi yhdistettäväksi tiliksi UEFin päädyt sivulle, jolla lukee You are trying to log in to: NIH SP. Kirjaudu UEFin tunnuksillasi, tarkista tiedot ja hyväksy yhdistäminen.
B) Valittuasi yhdistettäväksi tiliksi ORCIDin päädyt sivulle, jolla lukee National Center for Biotechnology Information has asked for the following access to your ORCID record: Read your information with visibility set to Trusted Parties. Klikkaa Authorize access.

Palaat automaattisesti takaisin Linked Accounts -sivulle, jolla lukee nyt New account successfully linked.
Voit käyttää MyNCBI-palveluja kutenkin ennenkin. Uutuusvahtisi ja viitteesi pysyvät tallessa. Toimi viimeistään toukokuussa, ettet menetä tallentamaasi tietoa.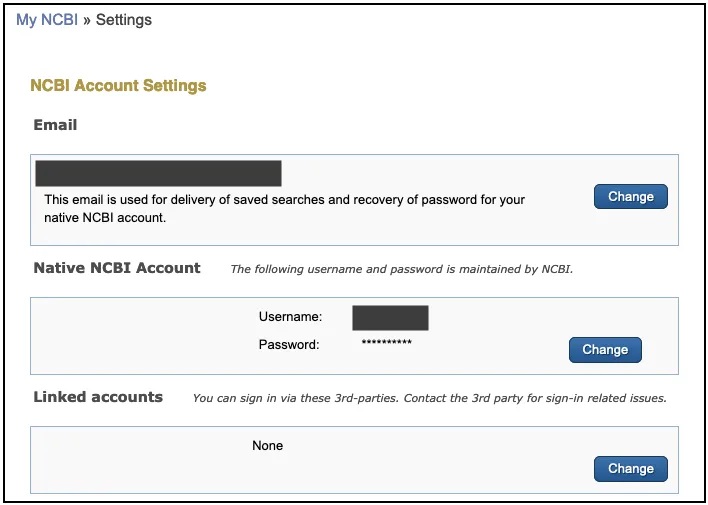 Lisätietoa uutuusvahdeista, myös PubMedin NCBI:sta, Pysy ajan tasalla! -blogikirjoituksessa.
Tuulevi Ovaska, erityistietoasiantuntija | Senior Information Specialist
Opetus- ja tietopalvelut | Training and Information Services