(Please, scroll down to read in English.)
Korkeakoulut ovat velvollisia raportoimaan toiminnastaan vuosittain opetus- ja kulttuuriministeriölle. Tiedot esimerkiksi julkaisuista, taloudesta, henkilöstöstä ja opiskelijoista kerätään KOTA-järjestelmällä. Osa tiedoista kerätään korkeakoulujen valtakunnallisen tietovarannon VIRTA-opintotietopalvelusta ja VIRTA-julkaisutietopalvelusta. Julkaisut ovat mukana yliopistojen rahoitusmallissa. Niiden perusteella tulee 14 prosenttia OKM:n rahoituksesta yliopistoille.
OKM:n tiedonkeruut perustuvat loppuvuodesta korkeakouluille lähetettävään tiedonkeruukirjeeseen, jonka liitteenä on tiedonkeruussa käytettävien tilastotietojen määritelmät. Korkeakoulut toimittavat edellisen kalenterivuoden tiedot seuraavan vuoden alkupuolella tiedonkeruukirjeen aikataulujen mukaisesti.
Julkaisuja painotetaan niiden laatua kuvaavilla kertoimilla, jotka perustuvat julkaisukanavien JUFO-luokitukseen. Tämän lisäksi vertaisarvioitujen julkaisuluokkien A ja C osalta avoimesti saatavilla olevat julkaisut painotetaan kertoimella 1,2. JUFO-luokat päivitetään neljän vuoden välein. Uusin päivitysarviointi tehtiin 2022, ja sitä sovelletaan vuoden 2023 julkaisuihin.
Viime vuodesta lähtien julkaisuista kerättävä tieto on toimitettu attribuuttipohjaisena, mutta julkaisutyyppiluokitusta käytetään silti jatkossakin julkaisutietojen hyödyntämisessä ja tilastoinnissa. Attribuuttipohjaisuus tarkoittaa sitä, että tietoja kerättäessä määritellään ensin esimerkiksi julkaisun muoto, sen ilmestymisalusta sekä sen kohdeyleisö. UEF CRIS -järjestelmässä annetut valinnat ohjaavat aina seuraavia valintoja, ja myös järjestelmän sisäiset ohjeet neuvovat käyttäjää lomakkeen täyttämisessä.
Käytännössä julkaisut siis raportoidaan korkeakoulujen CRIS-tutkimustietojärjestelmillä (Current Research Information System). UEF CRISiin tallennetaan UEFin asiantuntijoiden julkaisut ja muut tuotokset. Itä-Suomen yliopistossa käytetään viime syksynä käyttöön otettua UEF CRIS -järjestelmää, joka rakennettiin yhteistyössä Oulun ja Vaasan yliopistojen sekä Taideyliopiston kanssa eri organisaatioiden tarpeisiin mukautuvaksi.
Kirjasto vastaa julkaisutietojen tarkistamisesta ja Virtaan toimittamisesta. Tutkimustietojärjestelmään importoidaan osa tutkimusjulkaisuista eri viitetietokannoista UEF-affiliaatiohaun avulla. Kaikkia julkaisuja, esimerkiksi suomenkielisiä, konferenssijulkaisuja tai kirjojen lukuja, ei kuitenkaan indeksoida kansainvälisiin tietokantoihin, minkä vuoksi ne on tallennettava manuaalisesti. Myös tutkijat itse syöttävät julkaisutietoja UEF CRISiin. Julkaisun tekijällä on vastuu julkaisutietojen tallentamisesta sekä niiden oikeellisuudesta. Korjaukset ja puutteet pitää ilmoittaa viimeistään viimeisten laitosraporttien oton yhteydessä tammikuussa.
Aktiviteetteja kirjasto ei tarkista, vaan niistä jokainen käyttäjä vastaa itse. Esimerkiksi jos yhteisesitelmässä tekijöitä on kaksi tai useampia, kukin esiintyjä tallentaa aktiviteetin henkilökohtaisesti itselleen. OKM:n julkaisutiedonkeruussa tapahtui syksyllä 2022 tekijyyteen liittyvä muutos, jonka vuoksi mukanaolo tutkimusryhmässä ei automaattisesti takaa enää julkaisun tekijyyttä. Näistä kannattaakin tallentaa itselleen tutkimusaktiviteetti (jäsenyys tutkimusryhmässä).
UEFin avoimet julkaisut
Itä-Suomen yliopisto, kuten useat muutkin yliopistot ja rahoittajat ympäri maailman, edellyttävät sopimusten ja lakien puitteissa tutkimustulosten avointa julkaisemista.
Tutkijalle avoimuus tuo lisää näkyvyyttä, sillä avoimesti saatavilla oleviin tieteellisiin julkaisuihin viitataan useammin kuin esimerkiksi pelkästään maksullisissa lehdissä julkaistuihin artikkeleihin. Avoimen julkaisemisen osuus UEFin vertaisarvioiduista tieteellisistä julkaisuista vaikuttaisi vuonna 2022 nousevan jo hyvin lähelle 80 prosenttia. Lopulliset luvut varmistuvat myöhemmin keväällä.
Opinnäytetöistä avoimia on ollut yli puolet jo viimeiset kuusi vuotta. Hyvään avoimuuslukuun vaikutti aikanaan opinnäytetöiden palautusjärjestelmän sähköistäminen, ja palvelua on kehitetty edelleen myös viime vuonna.
Tieteellisten julkaisujen määrä kasvoi ennätyslukemiin vuonna 2021 kenties koronapandemian myötä, mutta kauas eivät viime vuoden luvutkaan jää. Voisi siis todeta, että Itä-Suomen yliopisto tuottaa laadukkaita julkaisuja ja julkaisutiedonkeruussakin niiden tulos on UEFille jälleen hyvä.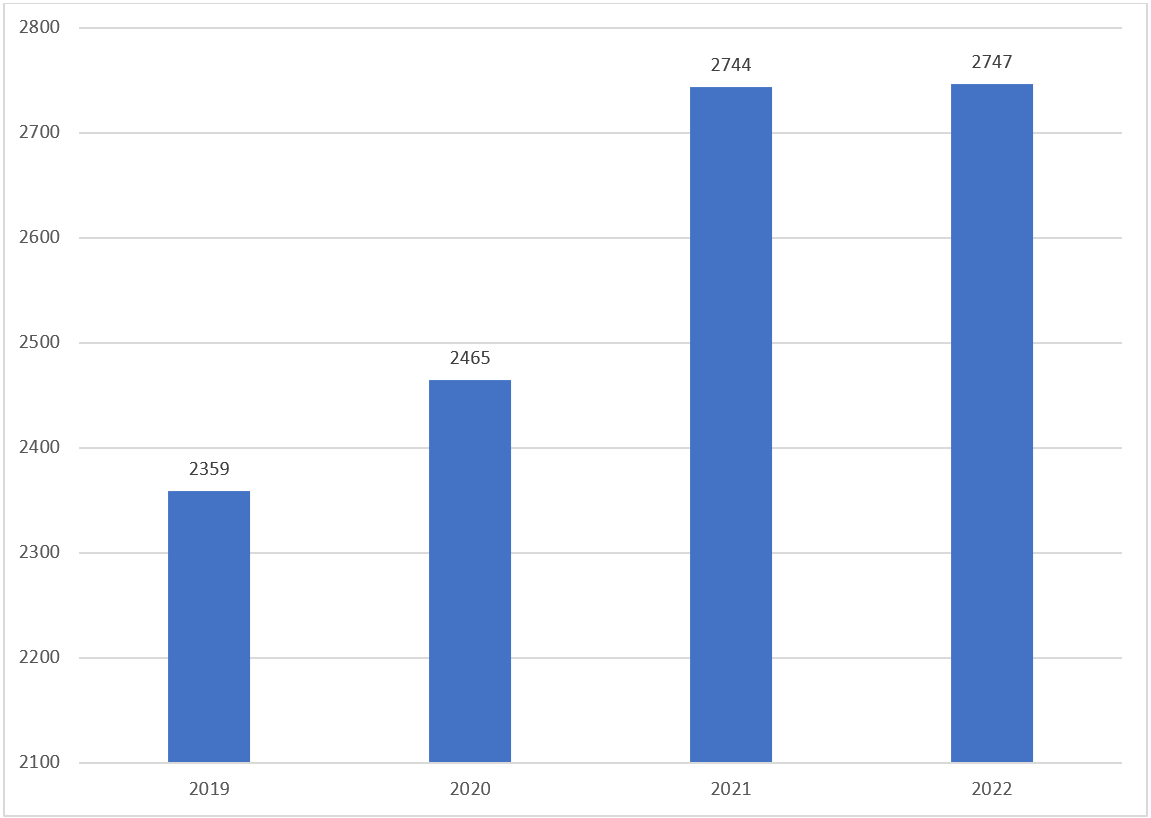 Lisätiedot: cris@uef.fi 
In English
Higher education institutions are required to report on their activities annually to the Ministry of Education and Culture. Information on, for example, publications, finances, personnel, and students is collected using the KOTA system. Some of the data is collected through the VIRTA higher education achievement register and VIRTA publication information service of the National data warehouse for higher education. Publications are included in the funding model for universities. 14 per cent of the funding from the Ministry of Education and Culture is received by universities on the basis of publications.
The Ministry of Education and Culture's publication data collection is based on a data collection letter sent to higher education institutions at the end of the year. The letter comes attached with definitions of the statistical data used in the data collection. Higher education institutions submit the previous calendar year's data early in the following year according to the schedule in the data collection letter.
Publications are weighted with quality coefficients based on the publication channels' JUFO classifications. In addition, for peer-reviewed publication categories A and C, openly available publications are weighted with a coefficient of 1.2. JUFO classifications are updated every four years. The latest update assessment from 2022 will apply to publications from 2023.
Since last year, the data collected from publications has been submitted on an attribute-basis, but type classifications are still used in the utilization of publication data and statistics. In the attribute model, information such as the publication's format, its host publication type, and its target audience are defined first. The choices made will define the following options, and the internal instructions of the UEF CRIS system also advise the user on how to fill in the form.
In practice, publications are reported using the CRIS (Current Research Information System) systems of higher education institutions. UEF CRIS stores information on the publications and other outputs of UEF experts. The University of Eastern Finland uses the UEF CRIS system that was launched last autumn. The system was built in cooperation with the Universities of Oulu and Vaasa and the University of the Arts Helsinki, so that it could be adapted to the needs of different organisations.
The library is responsible for checking the publication information and submitting it to VIRTA. Some of the research publications are imported to the research information system from different reference databases using the UEF affiliation search. However, not all publications are indexed in international databases. Finnish-language publications, conference proceedings, and book chapters, for example, must be stored manually. Researchers themselves also enter publication information into UEF CRIS. The author of the publication is responsible for the storage and accuracy of the publication information. Corrections and deficiencies must be reported no later than when the last department reports are taken in January.
The library does not check the information on activities, which means that each user is responsible for their accuracy. For example, if there are two or more authors for a joint presentation, each person will record the activity for themselves. In autumn 2022, the Ministry of Education and Culture publication data collection underwent a change related to authorship, and participation in a research group no longer guarantees the authorship of a publication. Thus, it is recommended to save these as personal research activities (membership in a research group).
UEF's open access publications
The University of Eastern Finland, like many other universities and funders around the world, requires research results to be published openly within the framework of agreements and laws.
For researchers, openness brings more visibility, as openly available research publications are referred to more often than articles published only in paid journals, for example. The share of open access publishing in UEF's peer-reviewed research publications is expected to be close to 80 per cent in 2022. The final figures will be confirmed later in the spring.
More than half of UEF's these have been open for the past six years. The good open access figure owes much to the initial digitalisation of the thesis submission system, and the service has continued to be developed up until last year as well.
The number of research publications reached record highs in 2021, perhaps due to the coronavirus pandemic, and last year's figures are not far behind either. Thus, it can be stated that the University of Eastern Finland produces high-quality publications, and that the result in the publication data collection is yet again positive for UEF.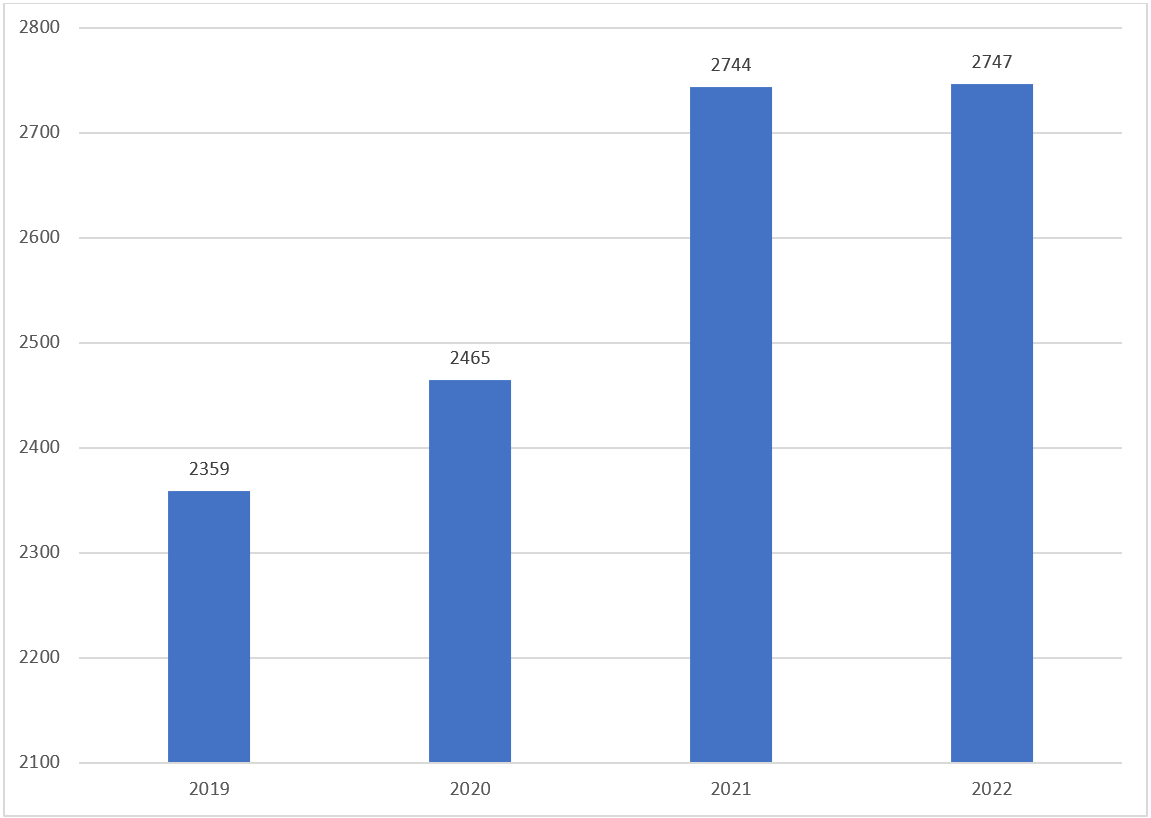 Additional information: cris@uef.fi
Jukka Kananen, palvelupäällikkö |Head of services
Mari Niemi, tietoasiantuntija | Information specialist
Heta Mikkonen, tietopalveluneuvoja | Information services advisor
Laura Hämäläinen, tietopalveluneuvoja | Information services advisor
Taina Sahlman, tietopalveluneuvoja | Information services advisor
Antti Laurila, tietojärjestelmäasiantuntija | Information systems specialist
Verkko- ja julkaisupalvelut | Library IT and publishing services
Jaakko Nyrönen, tietoasiantuntija | Information specialist |Opetus- ja tietopalvelut | Training and information services
Niko Niskanen, tietoasiantuntija | Information specialist