As I find myself at the doorstep of my final week in the "pool of knowledge" that is the UEF Library, it's hard to believe how quickly the last two months have passed. It feels like just yesterday that I started my journey as a trainee, and what a journey it has been. This experience has been nothing short of amazing, and I can't help but reflect on the incredible wealth of knowledge and the valuable insights I've gained while here.
When I first stepped into this library during my internship, I was an eager second-year Master in IT student. If I could turn back time, I wish I knew about all the services and opportunities this library offers from the moment I set foot on campus as a first-year student. As I prepare to dive into my thesis work, I now understand just how crucial the library is in accessing research materials, publications, and electronic books through resources like UEF Primo. It's more than just a storage of books; it's a valuable collection of resources that can guide the direction of one's academic journey. I credit my recently acquired insight to the incredible staff members who make it all happen. The dedication, passion, and hard work they put into their roles in different departments are truly admirable. Without them, the library wouldn't be the dynamic centre of learning that it is.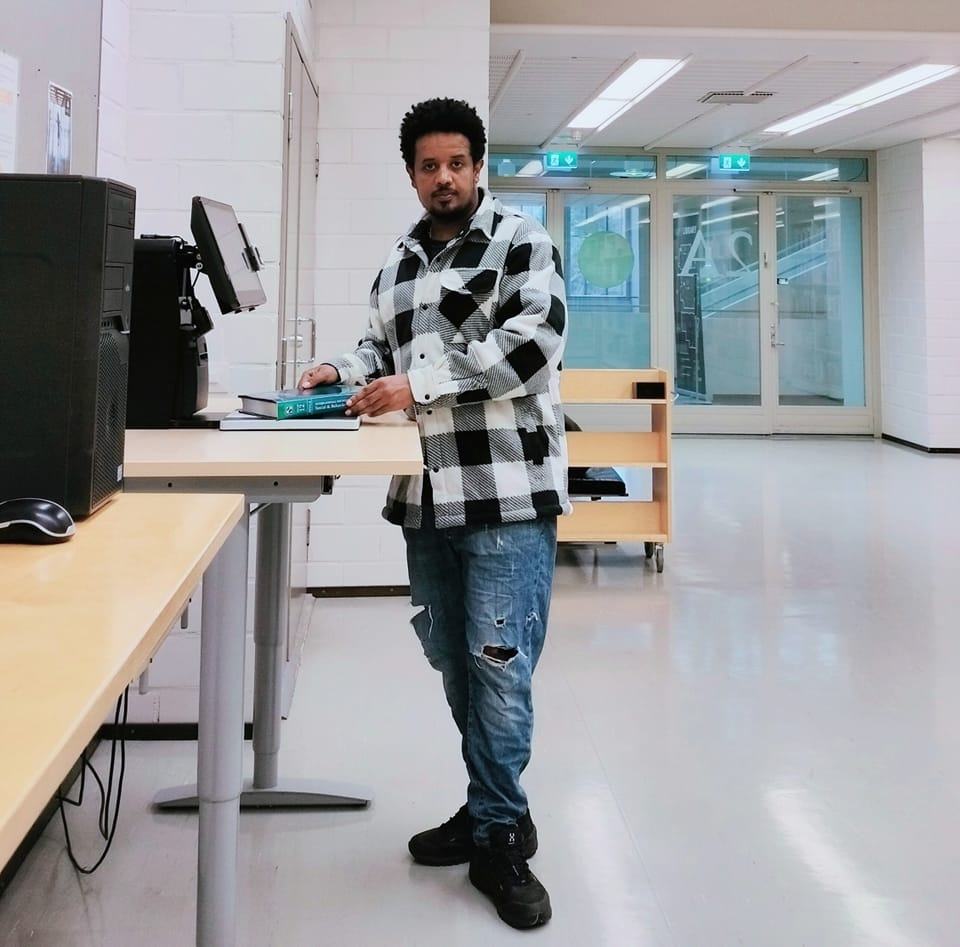 During my time here, I had the opportunity to explore various aspects of library operations. I gained valuable insights into Training and Information Services, where I witnessed how knowledge is distributed and shared effectively. The Collection Services team taught me how they take care of all the books and materials in the library. I also saw how the library's extensive communication channels, are vital for connecting with the academic community. IT and Publishing Services provided me with a newfound understanding of the technological backbone that supports the library's digital resources.
However, my journey didn't stop there. I had the privilege of attending important meetings, where I met inspiring individuals like Rafaella Lenoir Improta, a Ph.D. holder, during the YERUN research mobility visit at UEF. I also had the chance to interact with Marko Aupic from the University of Ljubljana, who shared insights about the Erasmus Exchange Programme. One of the memorable highlights of this internship was the opportunity to travel to Kuopio with Marko. It was an experience that not only expanded my network but also allowed me to appreciate the diversity of academic opportunities available within the UEF community.
My journey as an intern in this library has been nothing short of awesome. I've grown both personally and academically, and I'm very grateful for the experiences and knowledge I've gained. As I bid farewell to this incredible place, I want to express my heartfelt thanks to all the library staff members. Your interest, dedication, and warm acceptance have made this experience truly special. You are the heart and soul of this place, and I'm grateful for the support and guidance you've provided.
My time at the UEF Library has been a journey in the world of knowledge, and it's a journey that I'll carry with me throughout my academic pursuits. It's a farewell, but it's also the beginning of new chapters in my academic and professional life. Thank you, UEF Library, for being an essential part of my journey.
Michael Gebremedhin, Intern