(Please, scroll down to read in English.)
Kuopion kampuskirjaston henkilökunta on tänä vuonna saanut joukkoihinsa tuiki tarpeellisen vahvistuksen, kun jokapaikan IT-tuki Paula aloitti työnsä huhtikuussa kirjastojen ollessa koronan takia suljettuina. Sittemmin Paulalle ovat tulleet tutuiksi niin kirjastolaiset kuin Kuopion kampuksen kirjastotkin, mutta tunnettekos te Paulaa? Haluaisin esitellä hänet teille.
Kuka olet ja mitä teet kirjastossa?
Nimeni on Paula Honkanen ja toimin IT-palveluneuvojana Kuopion kampuskirjastossa ja KYSin tieteellisessä kirjastossa. Päävastuuni on yliopiston kirjaston henkilökunnan käyttämien laitteiden ja ohjelmistojen IT-tuki; laitteiden ylläpito ja henkilökunnan IT-neuvonta ja -koulutus. Osallistun myös kirjaston digitaalisten palveluiden kehittämiseen sekä laitteiden ja ohjelmistojen hankintaan. Asiakaspalveluvirkailijoiden hälytyksestä pyyhällän myös kirjaston asiakkaiden avuksi opastamaan laitteiden käytössä. Tehtävieni vuoksi olen saanut kollegaltani lempinimen Cyber-Honkanen.
Olemme jo huomanneet, ettet ole mikään eilisen teeren tyttö. Mistä olet oppisi saanut?
Tietokoneet ja ohjelmistot ovat kuuluneet jokapäiväiseen elämääni jo 30 vuotta. Aluksi IT-ala oli minulle lähinnä harrastus ohjelmoinnin ja pelaamisen muodossa. Sittemmin kouluttauduin ohjelmointiin ja multimediatekniikkaan.
Työkokemusta on karttunut sekä kotimaisissa että kansainvälisessä organisaatiossa mm. konsulttina, projektipäällikkönä, taloushallintojärjestelmien asiantuntijana ja sovellusneuvojana.
Jatkuva uuden oppiminen on minulle elinehto. Haluan tuoda osaamiseni organisaation avuksi ja edistää asioita.
Miltä kirjastotyö tuntuu? Onko työ sitä mitä odotit, vai onko vastaan tullut yllätyksiä?
Työ tieteellisessä kirjastossa on ollut aivan mahtavaa. Työntekijöiden monipuolinen osaaminen teki minuun vaikutuksen jo ensimmäisinä päivinä. Ensimmäisestä päivästä lähtien olen ollut todella iloinen siitä, että pääsin mukaan näin monipuolisten ammattilaisten joukkoon.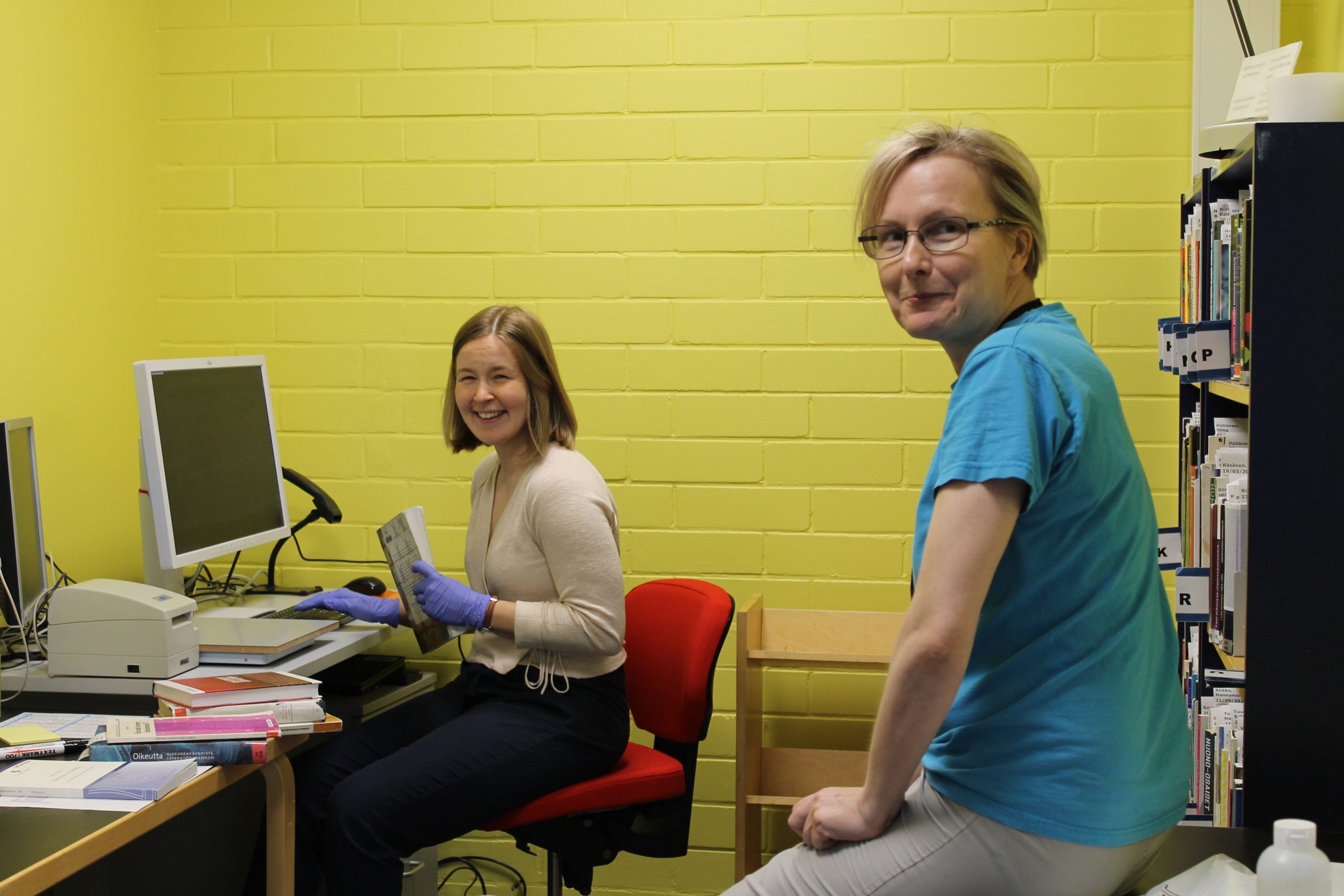 The staff of the Kuopio Campus Library has welcomed a necessary confirmation this year, when Paula, the IT support, started working in April with libraries closed due to the Covid-19 pandemic. Since then, Paula has become familiar with both librarians and Kuopio Campus Libraries, but do you know Paula? I would like to introduce her to you.
Who are you and what are you doing in the library?
My name is Paula Honkanen and I work as an IT Service Advisor at Kuopio Campus Library and KUH Medical Library. My main responsibility is IT support for equipment and software used by the University Library staff; equipment maintenance and staff IT advice and training. I am also involved in the development of digital library services, as well as the acquisition of equipment and software. At the request of customer service, I also guide the library customers in the use of the printers and computers. Because of my duties, I have received the nickname Cyber-Honkanen from a colleague.
We've already discovered that you were not born yesterday. Where did you get your skills from?
Computers and software have been part of my daily life for 30 years now. At first, the IT industry was mainly a hobby for me in the form of programming and gaming. Since then, I trained in programming and multimedia engineering.
I have gained work experience both in domestic and international organisations as a consultant, project manager, financial management systems expert and application advisor.
Constantly learning something new is a lifeline for me. I want to bring my skills to the aid of the organisation and promote things.
How does the library work feel? Is the job what you expected, or have you encountered surprises?
Working in a academic library has been awesome. The diverse know-how of the employees impressed me even in the first few days. From day one, I've been happy to be included in such a diverse group of professionals.
Piia Pietarinen, tietopalveluneuvoja | Infomation Services Advisor
Asiakaspalvelut | Customer Services
Paula Honkanen, IT-palveluneuvoja | IT Service Advisor
Verkko- ja julkaisupalvelut | Library IT and publishing services