(Lopussa suomenkielinen tiivistelmä)
We at the library often consider whether we can serve all our customers in the best possible way. What kind of things do our international students value, for example? Since things are usually worked out best by asking, we decided to do so. In early spring in the library worked an UEF trainee, Gonzalo, who conducted a user survey for our international students. What kind of ideas and suggestions for development emerged from the survey?
57 students from different countries responded to the survey. The majority of respondents (37) studied in Joensuu, 20 in Kuopio. Many of the respondents have probably returned to their home countries already, but still: thank you very much for participating, every answer and comment is valuable!

We wanted to know, among other things, what students think about the library facilities, what they do in the library, where they find information about library services and have they encountered challenges or problems in using the library? Three points arose in particular from the responses to the survey:
Students hope for more group study rooms
Finding books on shelves is challenging
Library facilities are functional and comfortable.
"More group study rooms. There are not a lot"
What do international students do and want to do in the library? Work at the computer, study together and borrow books – in the top of the three.

Studying together and meeting friends at the library also came up in many responses. A wish for spaces where one could speak more freely often repeated: "More collaborative meeting areas where talking is allowed", "A room to study but being able to talk without bothering others" and "More group work and to have more meeting areas to discuss". This wish has certainly been identified throughout the university: students yearn for places where one can encounter other students and study together. At the same time, silence and working peace also emerged in the comments: "Have more group study places, and have people respect the silence more. Maybe marking out areas where people are allowed to talk would be a good way." We at the library start working on a plan for better signposts and clearer spatial communication to ensure working peace for everyone. Adding new group study rooms, unfortunately, is currently almost impossible.
"Finding a book is challenging"
The biggest challenges in using the library involved finding books on the shelf – especially in Joensuu campus library. UEF Primo's instructions were perceived as difficult and the placement of books on the shelf even illogical: "I would change the way books are classed on the shelves. Sometimes it's the author's name, sometimes the first letters of the book's title, sometimes it's by topic, sometimes it's upstairs, sometimes it's downstairs. Also the software that indicates where the books are is not always accurate. It is annoying to have to look for a long time to find the book I'm looking for." We are trying to fix this problem as much as possible. Clearer shelf signage and possible changes to the database are already in the design.
"I love your study areas and couldn't have managed through my first year in the university without the calmness of the library"
What beautiful feedback the library received from its premises! There were many answers to the question "what is your favorite place in the library". The top three were comfortable chairs (especially those near the windows), group study rooms and all the places where you can relax. Someone even stated the following: "Most of the times I study in the library because it is more comfortable than my student home." Of course, there is something to be developed: in addition to insufficient group study rooms, a coffee or a snack machine was wanted in the library: "It would be great if we had a place where we can get some coffee / water / snacks after the café is closed". This is something we promise to ask the university about, because it would certainly serve the users of the library's 24/7 facilities.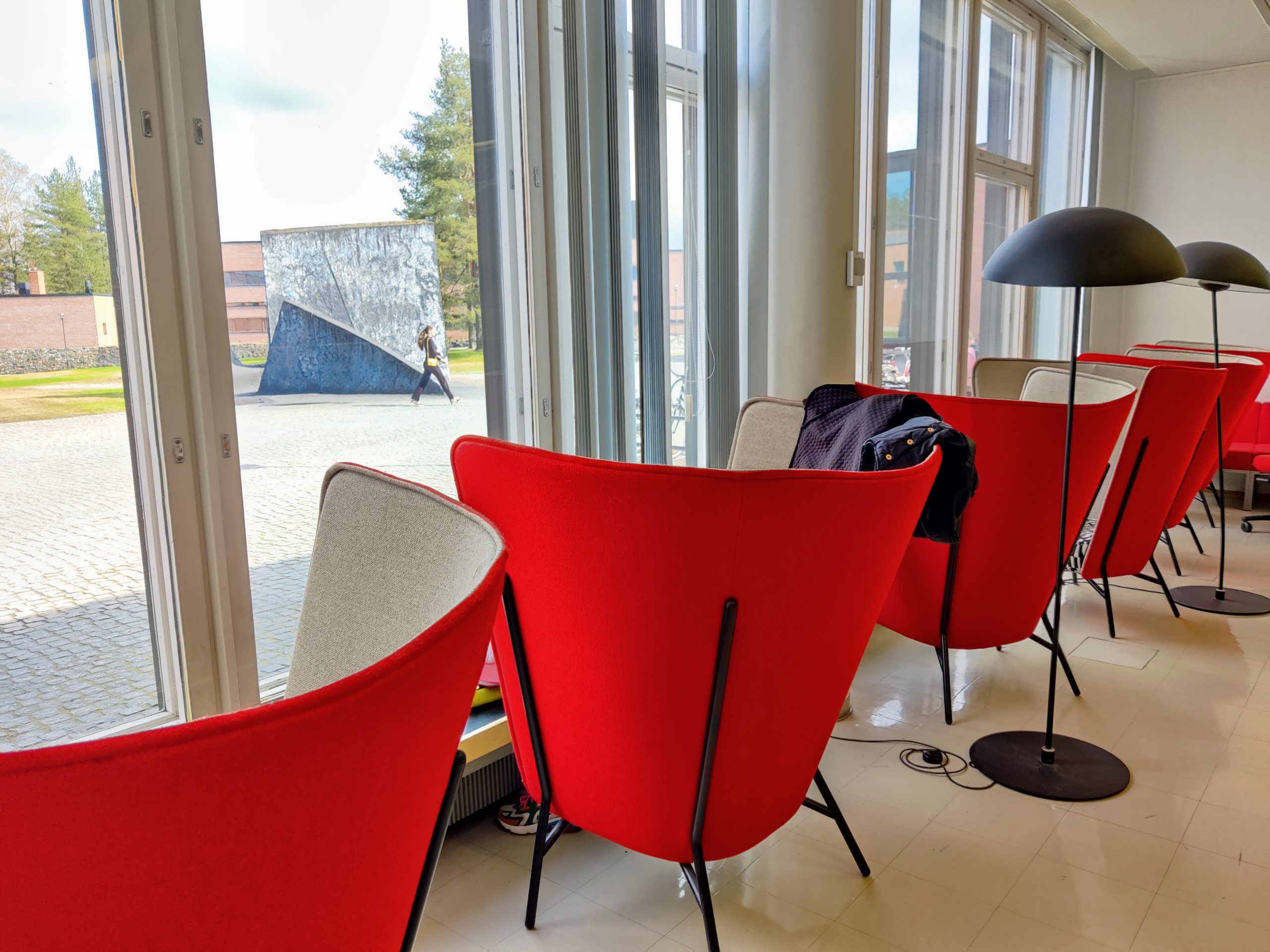 Some other issues that were questioned: only 35% was aware, that there are information skills courses offered by the library available and only 20% had attended them. Those people thought that the course was very useful. We must step up the awareness about these courses, so that more people could gain them in the future. When asked about the channels where people get information about the library and its services, the library's home page and UEF Primo seemed to be the most popular combination. Still, 20% had never used the library's homepage. We are going to edit the homepages of both the library and UEF Primo to clarify their purpose – the library's homepage tells comprehensively about the services, while UEF Primo is one, although the most important, of those services.
We at the Library warmly thank everyone who responded to the survey, and encourage you all to give feedback and wishes in the future. Without you students, the library is just an empty space!
Lyhyesti suomeksi
Kirjasto toteutti kevättalvella 2022 kyselyn palveluistaan kansainvälisille opiskelijoille. Kyselyyn saatiin 57 vastausta eri maiden kansalaisilta. Kyselyn avulla kartoitettiin mm. kirjaston tilojen käyttöä, toiveita, mahdollisia haasteita ja kirjaston palveluiden löytyvyyttä. Kyselyn avulla selvisi kolme pääkohtaa:
Kansainväliset opiskelijat kaipaavat lisää ryhmätyötiloja.
Kirjojen löytäminen hyllyistä tuntuu haastavalta (etenkin Joensuun kampuskirjastossa).
Kirjaston tilat ovat toimivat ja viihtyisät.
Hyvien kehitysehdotusten ja kommenttien avulla kirjasto jatkaa palveluidensa kehittämistä. Ryhmätyötilojen lisääminen ei valitettavasti näillä näkymin onnistu, mutta toivottavasti saamme kehitettyä kirjastotilojen käyttöä ja kirjojen löytyvyyttä esimerkiksi erilaisin opastein. Kehitämme myös edelleen esimerkiksi UEF-Primon etusivua sekä kirjaston kotisivuja, jotta tieto erilaisista palveluista olisi helpommin löydettävissä.
Kirjasto ottaa mielellään vastaan palautetta ja kehitysehdotuksia kaikilta käyttäjiltään jatkossakin – ilman teitä opiskelijoita kirjasto olisi vain tyhjä tila!
Riitta Holopainen, information specialist | tietoasiantuntija
Laura Parikka, information specialist | tietoasiantuntija
Training and information services | Opetus- ja tietopalvelut