Please, scroll down to read in English
Kun Itä-Suomen yliopistossa puhutaan kausijulkaisuista, eli tuttavallisemmin lehdistä, painopiste on usein vertaisarvioiduissa artikkeleissa ja tieteellisissä julkaisuissa. Sanoma-, ammatti- ja aikakauslehdet jäävät auttamatta kovan tieteen varjoon. Asiaa ei auta, että nykyään valtaosa tilatuista lehdistä on sähköisenä, ripoteltuina ympäri nettiä. Kansien lööpit ja vetävät otsikot eivät yksinkertaisesti enää osu silmiin. On tiedettävä, mistä kaivella esiin vahvasti mutuun perustuvat pääkirjoitukset, yli-innokkaat ingressit, selkeästi puolueelliset tuotetestit ja yksisilmäiset human interest -artikkelit. Sekä kaikki ne hassut 30-luvun ilmoitukset ja mainokset.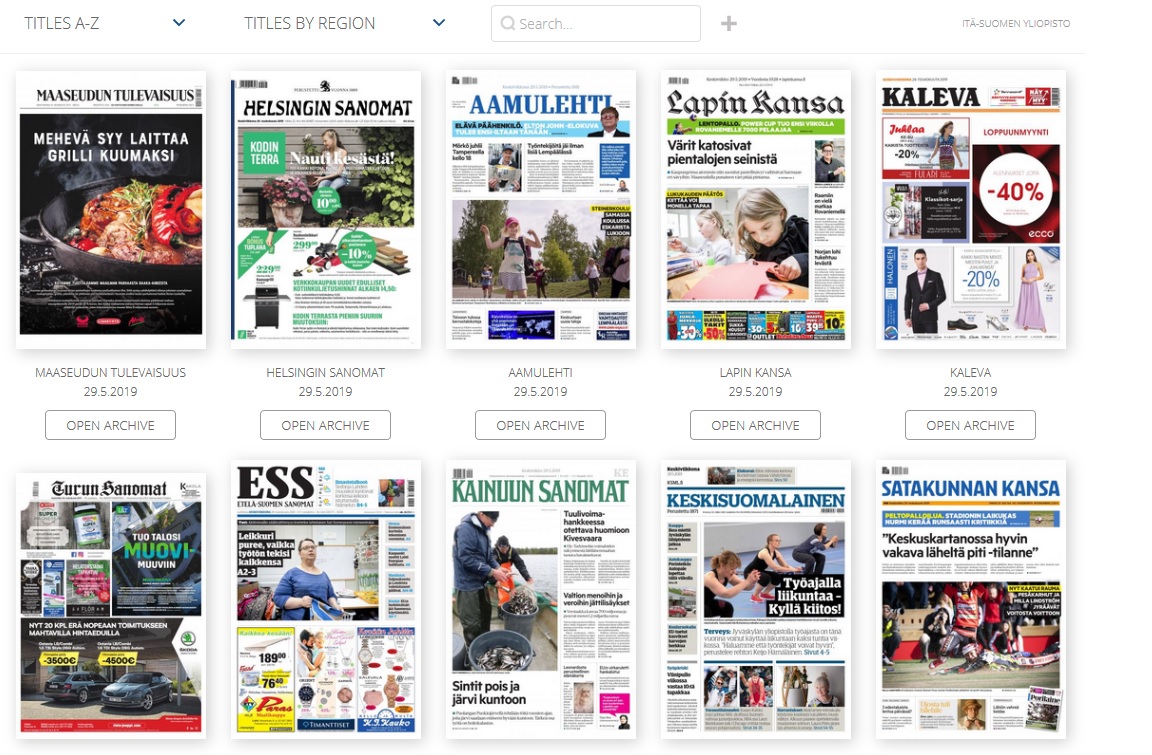 ePressistä löydät tuoreet kotimaiset maakunta- ja sanomalehdet sekä moninaisen kirjon paikallislehtiä ja äänenkannattajia. Yhteensä nimekkeitä on pitkälti kolmatta sataa – mukana kampuskaupunkien Karjalainen ja Savon Sanomat sekä Hesari. Valitettavasti ePress ei toimi kampusverkon ulkopuolelta, joten lehdet on luettava työajalla tai sen jo myöhässä olevan esseen kustannuksella. Palvelussa on viimeisimmän vuoden numerot joka nimekkeestä.
Vanhemmat kotimaiset aikakaus- ja sanomalehdet löytyvät Kansalliskirjaston digitoimista kokoelmista. Tällä hetkellä vapaasti verkosta löytyy yli 13 miljoonaa sivua vuosilta 1771-1929. Lisäksi on hyvä muistaa, että kummaltakin kampukselta löytyy kirjaston tiloista Kansalliskirjaston vapaakappaletyöasemat, joilla on käytettävissä myös tuoreemmat Kansalliskirjaston digitoimat tekijänoikeuden alaiset sanoma- ja aikakauslehdet vuodesta 1930 aina tälle vuosikymmenelle saakka.
Ja vanhan koulukunnan väki ja modernit luddiitit huomio! Meillä on yhä tallessa iso kasa mikrofilmejä ja toimivat masiinat niiden katseluun.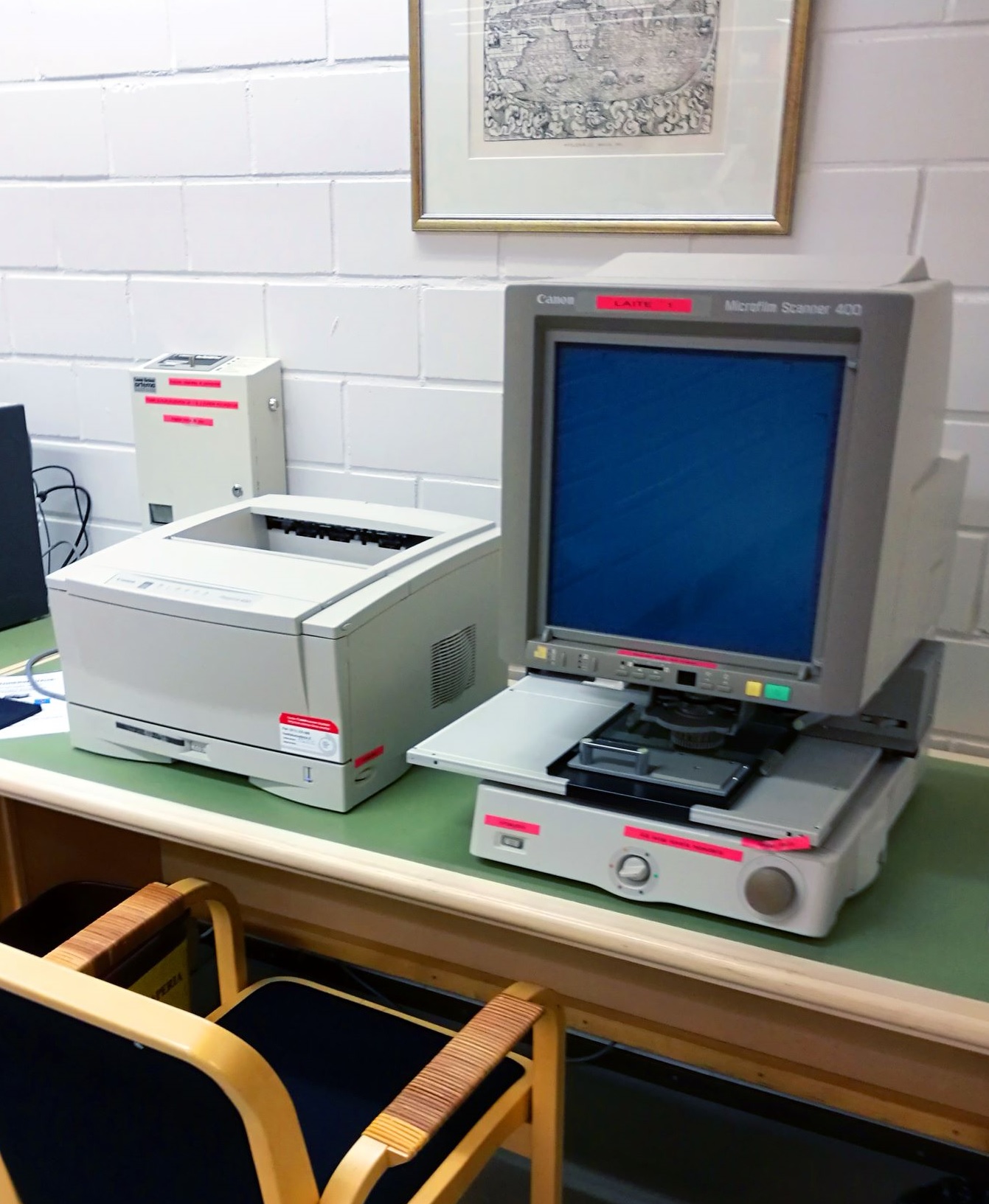 Kansainvälisistä sanoma-, harraste- ja aikakauslehtikokoelmista suurin ja mahtavin on PressReader. PressReader kehuskelee, että luettavissa on yli 6000 sanoma- ja aikakauslehteä yli 100 eri maasta yli 60 kielellä. Sieltä löytyvät tuorein Washington Post, Variety, Cycling Plus, La Gazzetta dello Sport, The Guardian, Novaja gazeta, Vogue, Vogue Hommes, FourFourTwo, Hamburger Morgenpost ja Rolling Stone vain muutaman mainitakseni. Ja mikä ihaninta, lehdet toimivat etänä, joten enää ei tarvitse mökillä roudata vanhoja Tex Willereitä laiturille kastumaan. Kirjaudu toki ensin tunnuksillasi UEF Finnaan.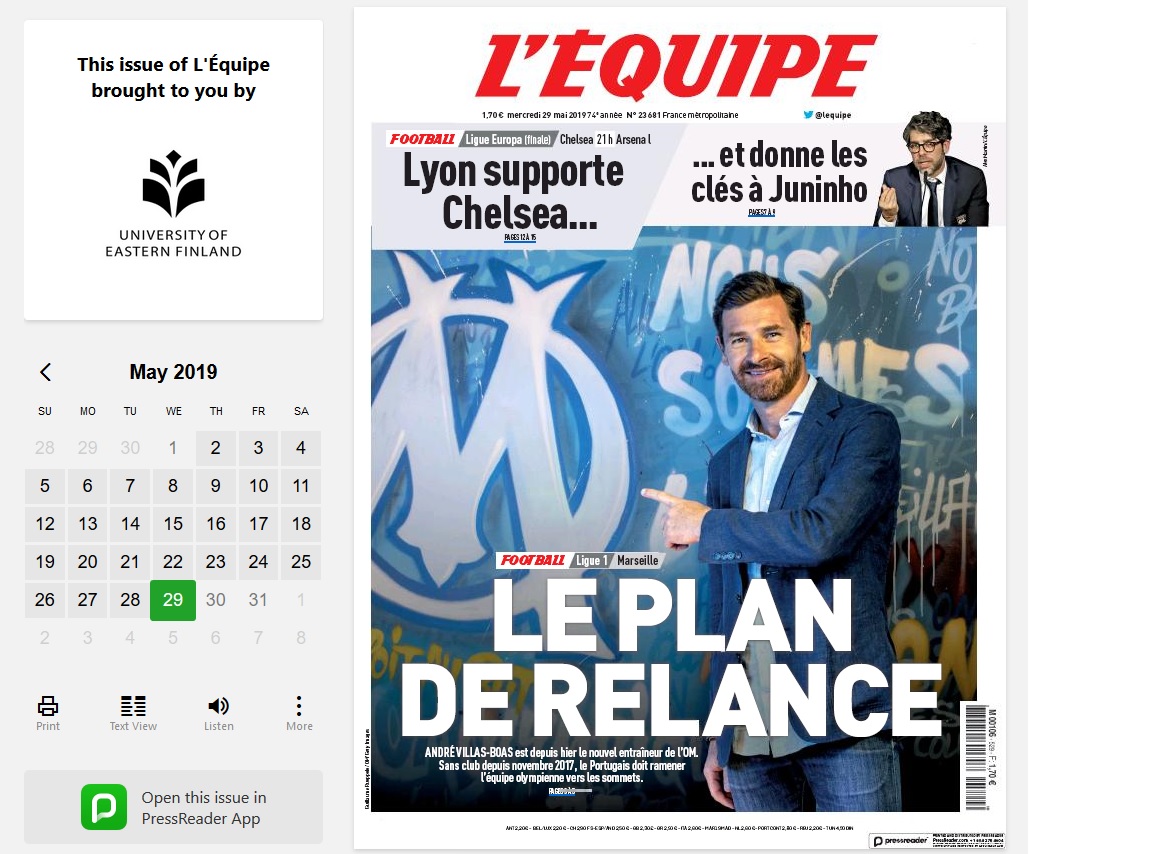 Venäjänkielisestä sanomalehtiaineistosta on erikseen mainittava Integrum.  Hieman sillisalaattimaisen tiedonhakuportaalin uumenissa on yli 2000 venäläistä sanomalehteä ja monipuolisten hakuominaisuuksiensa vuoksi portaalin sisältö taipuu hyvin lähdeaineistoksi.
Eikä unohdeta The Times Digital Archivea. Kyseessä on The Timesin näköislehtiarkisto ihan ensimmäisestä, vuonna 1785 The Daily Universal Register -nimen alla ilmestyneestä numerosta, aina vuoteen 2013 asti.
Nyt se tenttikirja pöydälle ja Romanian Cosmoa lukemaan!
Mukavaa kesää!
Causeries, captions and community papers – UEF's magazine and newspaper collections from the 18th century to the present day
When we at the University of Eastern Finland talk about periodicals, the focus is often on peer-reviewed articles and scientific publications. Newspapers, trade journals and magazines are inevitably upstaged by hard science. The situation is not helped by the fact that nowadays most journals are electronic and they are scattered all over the Internet. Front page scoops and inviting headlines no longer catch people's eye. You must know where to dig up strongly opinionated editorials, overzealous lead paragraphs, clearly biased product tests and prejudiced human-interest articles. Not to mention all those funny announcements and advertisements from the 30s.
From ePress, you can find Finnish regionals and newspapers as well as various local newspapers. Altogether, there are about three hundred titles – including the newspapers Karjalainen and Savon Sanomat of the campus cities and Helsingin Sanomat which is the largest subscription newspaper in Finland. Unfortunately, ePress cannot be accessed outside the university network so the latest news must be read during the working hours or at the expense of an already overdue essay. The service provides access to the issues of the most recent volume of each title.
Older Finnish journals and newspapers are available through the collections digitised by the National Library of Finland. Currently there are over 13 million pages from 1771 to 1929 openly available online. In addition, it is good to remember that both campus libraries have legal deposit workstations where copyrighted magazines and newspapers digitised by the National Library from 1930 up until this decade can be accessed.
Attention folks of the old school and modern Luddites! We still have a big pile of microfilms and functioning microfilm readers.
The biggest and mightiest collection of international newspapers, magazines and hobby magazines is PressReader. PressReader boasts that the service provides access to over 6,000 newspapers and magazines from over hundred different countries and in over sixty languages. There are the latest issues of Washington Post, Variety, Cycling Plus, La Gazzetta dello Sport, The Guardian, Novaja gazeta, Vogue, Vogue Hommes, FourFourTwo, Hamburger Morgenpost and Rolling Stone, just to mention a few. And what is even more wonderful about it is that the newspapers and magazines can be accessed remotely sitting at the end of the jetty, so no more soaking wet Tex Willer comics. Log in to UEF Finna with your UEF username and password.
I also want to mention Integrum which contains a large collection of Russian newspapers and magazines . From the depths of the search portal that can be a bit of a ragbag can be found over 2,000 Russian newspapers. Since the portal has diverse search features, it is suitable as a source material. And let's not forget The Times Digital Archive:  It is a full-text facsimile archive of The Times starting from the very first issue released in 1785 under the name The Daily Universal Register up until the year 2013.
Come on now, put the course book down for a while and start reading Romanian Cosmo.
Have a great summer!
Harri Parviainen, tietoasiantuntija | Information specialist
Käännös | Translation: Suvi Tolvanen, tietopalveluneuvoja  | Information Services Advisor
Tietoaineistopalvelut | Collection services