(Please, scroll down to read in English.)
Tervehdys kaikille! Nimeni on Ville Leskinen ja olen Joensuun kampuskirjaston uusi työntekijä. Toimin tietopalveluneuvojana osana kirjaston tietoaineistopalveluja. Työt aloitin marraskuun alussa, ja niihin on kuulunut ja tulee kuulumaan kokoelmien parissa työskentelyä, asiakaspalvelua ja aineiston kuvailua. Aiempaa työkokemusta minulla on yleisistä kirjastoista Joensuusta ja Hämeenlinnasta sekä museopuolelta Pohjois-Karjalan museosta.
Olen syntynyt Kontiolahdella, mutta asunut aikuisikäni Joensuussa. Opiskelin Joensuun ja myöhemmin Itä-Suomen yliopistossa pääaineenani sosiologiasta vaihtunut Suomen historia. Koska kirjastoala oli jo pitempään kiehtonut minua aina yläasteen TET-harjoittelusta ja nuoruuden kesätöistä lähtien, jatkoin opiskelua Tampereen yliopistossa informaatiotutkimuksen opintojen parissa pätevöityäkseni kirjastonhoitajaksi.
Joensuun kampuskirjasto on näin itselleni hyvin tuttu paikka jo opiskeluajoiltani, jossa tulin viettäneeksi runsaasti aikaa tentteihin lukien ja kirjallisia töitä tehden. Vaikka kirjastossa onkin moni asia muuttunut vuosien varrella, on hienoa huomata, että esimerkiksi samat lukupisteet ovat edelleen kirjastossa käytössä kuin omana aikanakin.
Vapaa-aikani täyttää yhdessäolo minulle tärkeiden ihmisten kanssa, jonka lisäksi minua kiinnostaa liikkuminen eri muodoissa. Kamppailulajit sekä juokseminen ja maantiepyöräily ovat lähellä sydäntäni. Musiikki on aina ollut minulle tärkeä asia. Pääosin kuunnellen, mutta myös satunnaisesti kavereiden kanssa soittaen. Tapahtumia niin Suomessa kuin yleisestikin maailmalla tulee seurattua tarkalla silmällä uutisten ja sosiaalisen median kautta.
Toivotan kaikille hyvää alkanutta vuotta!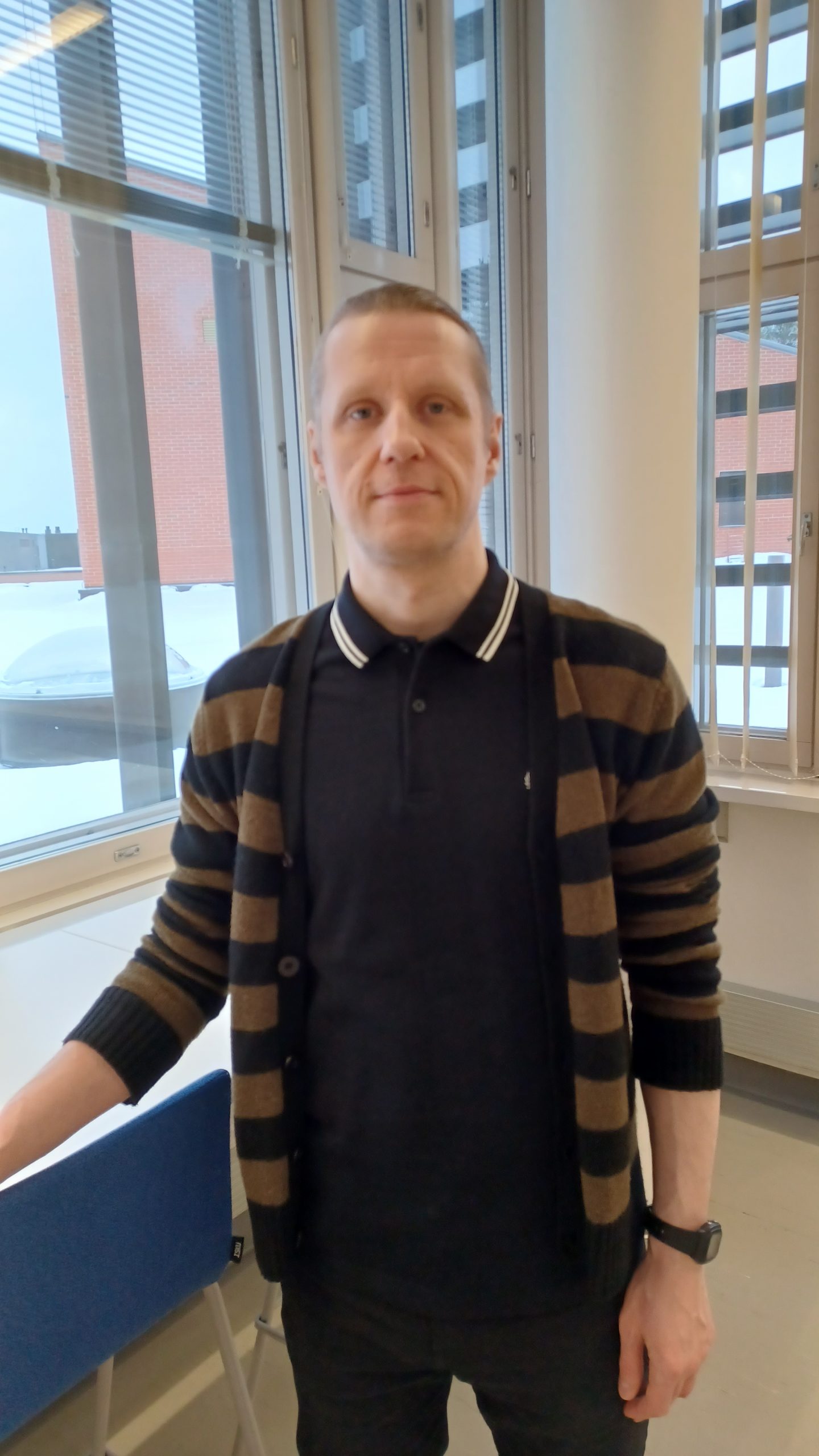 Hello to everyone! My name is Ville Leskinen and I'm the new employee at the Joensuu Campus Library. I work as an Information Services Advisor as a part of the collection services. I started working here at the beginning of November. My job includes working with collections, customer service and cataloguing. Before this, I have worked in public libraries in Joensuu and Hämeenlinna and in the North Karelian Museum.
I was born in Kontiolahti but I have lived my adulthood in Joensuu. I studied at the University of Joensuu and then at the University of Eastern Finland. At first my major was Sociology, but I later changed it to Finnish History. Because working in the library field has fascinated me for a long time, since my first work practice program week and summer jobs, I continued my studies at the Tampere University studying information sciences to qualify as a librarian.
So, the Joensuu Campus Library has been a very familiar place to me since my student years and I have spent a lot of time here reading for exams and doing other schoolwork. Even though many things have changed at the library over the years, it's great to see that, for example, the same reading places I once used are still there.
Besides spending time with my loved ones, in my spare time, I enjoy many types of sports. For example, combat sports, jogging and road bicycling are close to my heart. Music has always been important to me. I mainly listen to music but occasionally also play it with my friends. I'm also very keen to know what's happening locally and globally through following the news and social media.
I wish you all the best for the year 2023!
Ville Leskinen, tietopalveluneuvoja | Infomation Services Advisor
Tietoaineistopalvelut | Collection Services