(Please, scroll down to read a summary in English.)
Itä-Suomen yliopiston kirjasto aloitti vuoden 2019 alusta yliopiston kautta maksettujen kirjoittajamaksujen seurannan yhdessä talouspalveluiden kanssa (ks. Kirjoittajamaksut Itä-Suomen yliopistossa vuonna 2019 12.2.2020). Seurannalla pyritään kartoittamaan avoimen julkaisemisen kustannuksia yliopistossamme kustantajille maksettujen kirjoittajamaksujen osalta. Seurantaa on jatkettu viime ja kuluvana vuonna ja nyt on aika luoda katsaus viime vuoden kuluihin.
Vuoden 2019 tietojen tapaan viime vuoden kirjoittajamaksudata on viety myös Bielefeldin yliopiston hallinnoimaan OpenAPC-palveluun. Palvelussa olevat luvut eroavat jonkin verran tässä esitellyistä luvuista, johtuen muun muassa OpenAPC:n rajoituksista. OpenAPC:hen viedyt tiedot perustuvat kirjaston omaan artikkelikohtaiseen seurantataulukkoon, mutta tässä esitellyt luvut pohjaavat taloushallinnon toimittamaan toteutuneeseen kirjanpitoon.
Tulokset 2020
Kirjoittajamaksuja maksettiin Itä-Suomen yliopistossa vuonna 2020 yhteensä 379 385 eurolla. Kulut kasvoivat edelliseen vuoteen verrattuna 29,5 %, absoluuttisesti kasvua oli siis 82 302 euroa. Vuoden 2020 kuluista 62 % (235 781 €) maksettiin täydentävästä rahoituksesta ja 38 % (143 604 €) perusrahoituksesta. Täydentävän rahoituksen osuus nousi edelliseen vuoteen verrattuna kolme prosenttiyksikköä.
Kirjoittajamaksuista 58 % (218 597 €) maksettiin Gold OA -julkaisuille ja 42 % (160 787 €) hybridijulkaisuille (ks. Avoimen julkaisemisen vaihtoehdot). Suhteelliset osuudet pysyivät jotakuinkin edellisen vuoden tasoilla, Gold OA -julkaisukanavien osuus laski yhdellä prosenttiyksiköllä. Kirjoittajamaksuja maksettiin yhteensä 215 artikkelista, joten artikkelin avaamisen keskihinnaksi tuli noin 1 765 euroa. Keskihinta nousi 3,9 % vuoteen 2019 verrattuna.
Kaaviossa 1 esitellään kirjoittajamaksujen jakautuminen tiedekunnittain vuonna 2020. Eniten maksuja maksettiin edelleen terveystieteiden tiedekunnassa, yhteensä 166 925 eurolla. Luonnontieteiden ja metsätieteiden tiedekunta kasvatti suhteellista osuuttaan viisi prosenttiyksikköä edelliseen vuoteen verrattuna, kun vuonna 2020 kirjoittajamaksuja maksettiin tiedekunnassa 152 342 eurolla. Yhteiskunta- ja kauppatieteiden tiedekunnan suhteellinen osuus säilyi jokseenkin samana 49 943 eurolla. Filosofisen tiedekunnan kirjoittajamaksukulut laskivat vuoteen 2019 verrattuna 46 prosentilla 10 175 euroon.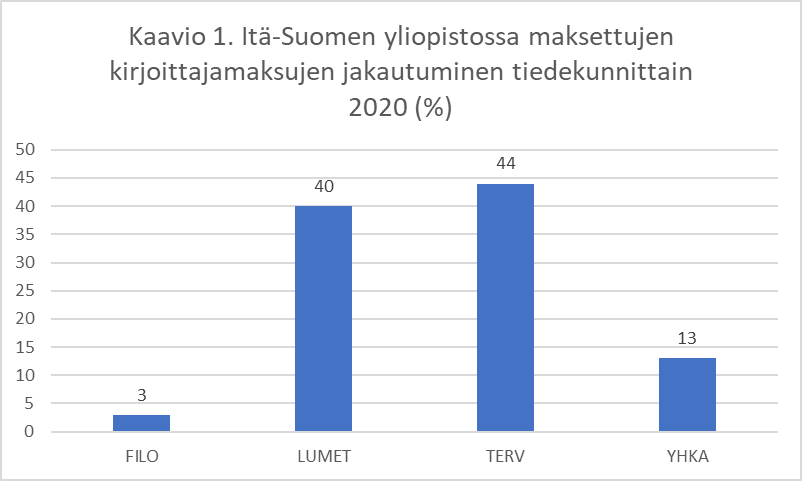 Kaaviossa 2 on havainnollistettu kirjoittajamaksukulujen kehitystä tiedekunnittain vuosien 2019 ja 2020 välillä. Kulujen kasvu on jakautunut suhteellisen tasaisesti tiedekuntien kesken, poikkeuksena jo mainittu filosofisen tiedekunnan kulujen lasku. Filosofisen tiedekunnan osuus kirjoittajamaksukuluista on kuitenkin sen verran pieni, ettei laskun vaikutus kokonaisuuteen ole merkittävä.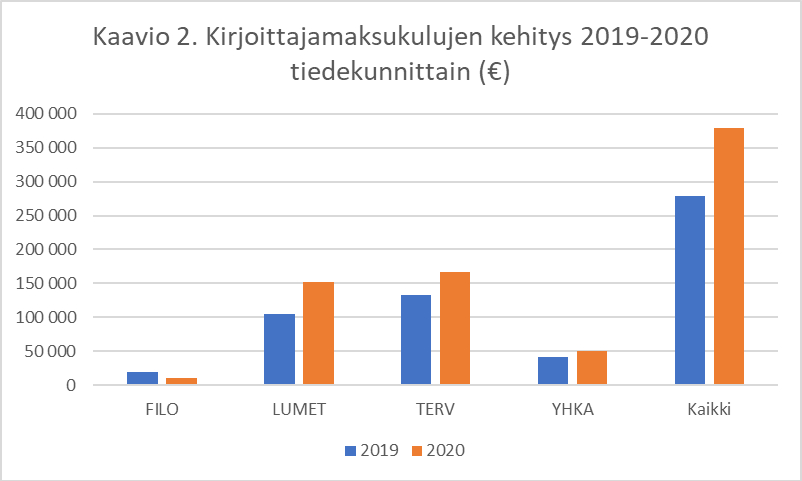 Kaaviossa 3 vertaillaan täydentävästä rahoituksesta ja perusrahoituksesta maksettujen kirjoittajamaksujen määrää tiedekunnittain. Vuoden 2019 lukuihin verrattuna merkittävin muutos on tapahtunut terveystieteiden tiedekunnan kohdalla: vuonna 2020 täydentävästä rahoituksesta maksettujen kirjoittajamaksujen osuus on noin 75 %, kun edellisenä vuonna osuus oli alle 50 %. Luonnontieteiden ja metsätieteiden tiedekunnassa perusrahoituksesta maksettujen kirjoittajamaksujen osuus taas oli noussut 45 prosenttiin vuoden 2019 noin 36 prosentista. Samoin perusrahasta maksettujen maksujen osuus oli noussut yhteiskunta- ja kauppatieteiden tiedekunnassa 29 prosentista 53 prosenttiin. Myös filosofisessa tiedekunnassa reilusti yli puolet kirjoittajamaksuista maksettiin perusrahoituksesta vuonna 2020, kun edellisenä vuonna tilanne oli päinvastainen.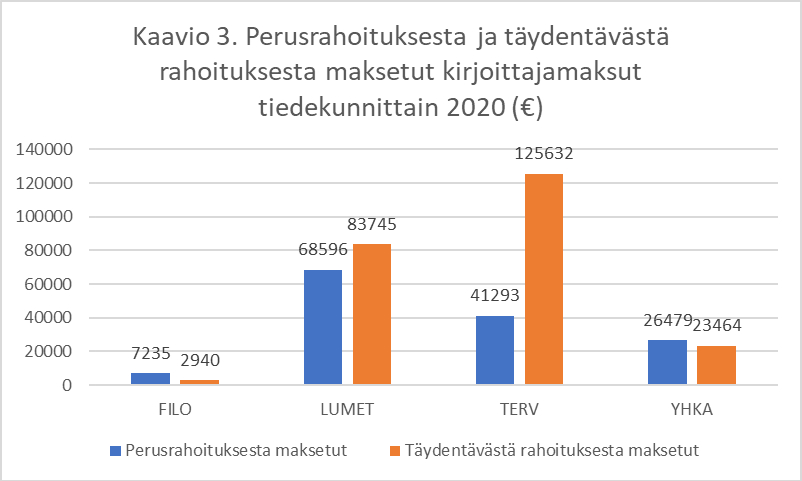 Vuoden 2020 kirjoittajamaksujen jakautuminen kustantajittain on nähtävissä kaaviossa 4. Springer Nature ja Elsevier säilyivät edelleen suurimpina laskuttajina, joskin Springerin osuus laski edelliseen vuoteen verrattuna viisi prosenttiyksikköä. Eniten osuuttaan kasvatti MDPI nousten 7,5 prosentista miltei 15 prosenttiin. Frontiers Media ja Taylor & Francis putosivat kuuden suurimman kustantajan joukosta vuonna 2020 tehden tilaa Copernicukselle ja Oxford University Pressille. Taylor & Francisin putoamisen listalta selittää pitkälti kesäkuussa 2020 voimaan tullut kirjoittajamaksuetu.
Seurannassa näkymättömät kulut
Kustantajille artikkelikohtaisesti maksetut kirjoittajamaksut ovat vain osa avoimen julkaisemisen kustannuksia. Yhä suurempi osa avoimen julkaisemisen kustannuksista koostuu niin sanotuista transformatiivisista sopimuksista. Näissä sopimuksissa kustantajalle maksetaan perinteisen aineistolisenssin ohella myös organisaatiokohtaisista kirjoittajamaksueduista. Etu on yleensä alennus kirjoittajamaksusta tai mahdollisuus artikkelin avoimeen julkaisemiseen ilman erillistä kirjoittajamaksua. Vertailukelpoista tietoa näiden sopimusten kautta maksettavista kirjoittajamaksuista ei voi tällä hetkellä saada, koska sopimuskäytännöt vaihtelevat kustantajittain. UEF:in käytössä olevat kirjoittajamaksuedut löytyvät yliopiston avoimen julkaisemisen sivuilta. Varsinkin uusimmista eduista voit lukea lisää myös ensi viikolla kirjaston blogissa.
Avoimien artikkelien lisäksi kirjoittajamaksuja maksettiin vuonna 2020 myös muutamasta avoimena julkaistusta kirjan luvusta. Näitä maksuja (BPC, book processing charge) ei ole huomioitu tässä kirjoituksessa. Avoimen julkaisemisen kokonaiskustannuksia arvioitaessa tulisi ottaa huomioon myös muun muassa rinnakkaistallentamisen ja kirjoittajamaksuttomien julkaisukanavien kustannukset, kuten esimerkiksi repositioiden ylläpitokustannukset ja työvoimakustannukset.
Briefly in English
The University of Eastern Finland Library and the university's Financial Services started monitoring the article processing charges (APCs) paid by the university in 2019 (see Article processing charges in UEF 2019). The monitoring has continued since and it is time to take a look at the 2020 expenses.
The total sum of APCs paid by the UEF in the year 2020 was €379,385. The costs grew by 29.5 % compared with the 2019 expenses. 62 % of last year's sum was paid from external funding and 38 % from university's basic funding. 58 % of the charges were paid to Gold Open Access publications and 42 % were paid to hybrid publications. APCs were paid for 215 articles, so the average charge per article was about €1,765. The average charge increased 3.9 % from the previous year.
Diagram 1 (above) shows the APC distribution among faculties. The development of paid APCs can be seen on diagram 2. On diagram 3 one can see the share of APCs paid from basic funding in blue and APCs paid from external funding in orange. The share of basic funding has increased in all faculties except for Health Sciences, where the basic funding's share dropped from 51 % to 25 % in comparison to the previous year. Diagram 4 shows the distribution of APCs with the six largest publishers and the rest of the publishers. In the diagrams, FILO stands for Philosophical Faculty, LUMET for Faculty of Science and Forestry, TERV for Faculty of Health Sciences and YHKA for Faculty of Social Sciences and Business Studies.
In addition to the charges per article paid to the publishers, the library also pays varying amounts of Open Access fees in licence agreements. These agreements vary so much in their terms and conditions that they cannot be directly compared. The APC benefits for Open Access publishing gained by these agreements can be found at university's open publishing web page. You can also read more about APC benefits on library's blog next week.
The UEF's APC data is also available at the OpenAPC service though it doesn't completely match with the university's own monitoring. This is due to the restrictions of the OpenAPC's data schema and the fact that the data in OpenAPC is based on library's monitoring, when the numbers on this blog are based on Financial Services' accounts.
Juho Jussila
Tietoasiantuntija | Information Specialist
Tietoaineistopalvelut | Collection Services