Questions about truncating search terms when searching databases:
Why is it necessary to truncate search terms?
How should I truncate my term?
What truncation mark should be used?
You do not always have to truncate your search terms but…
robots (search engines) only search for character strings, not for meanings
most terms have singular and plural forms, and also genetives
Examples:
truncated patient* retrieves all these: patient, patients, patient's
not truncated patient retrieves only patient
truncated child* retrieves child, children, child's children's
not truncated child retrieves only child
Different databases use different truncation marks. The most common are asterisk * and question mark ?. Check the database's manual/FAQ if * does not seem to work. In PubMed, Cochrane Library and Scopus truncate using *. In Josku truncate using ?.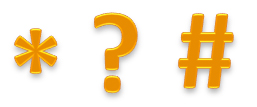 There are also irregular plurals so that the singular and plural forms are different in a way that truncation does not work.
For example:
foot/feet
mouse/mice
tooth/teeth
woman/women
In some databases it is possible to use so called wild cards and search for e.g. wom*n, but in many databases you have to search singular and plural combined with OR.
For example:
foot OR feet
mouse OR mice
tooth OR teeth
woman OR women
There are also irregular plurals that can be search by truncating.
For example:
criteri* retrieves singular criterion and pluralcriteria
nucle* retrieves singular nucleus and plural nuclei (and also nuclear, nucleic, nucleoid, nucleon…)
analys* retrieves singular analysis and plural analyses (and also analysand and analyst)
phenomen* retrieves singular phenomenon and plural phenomena (and also e.g. phenomenology)
Watch a video in YouTube about truncation.
By: Tuulevi Ovaska, Head of Services, Kuopio University Hospital Medical Library, University of Eastern Finland Library