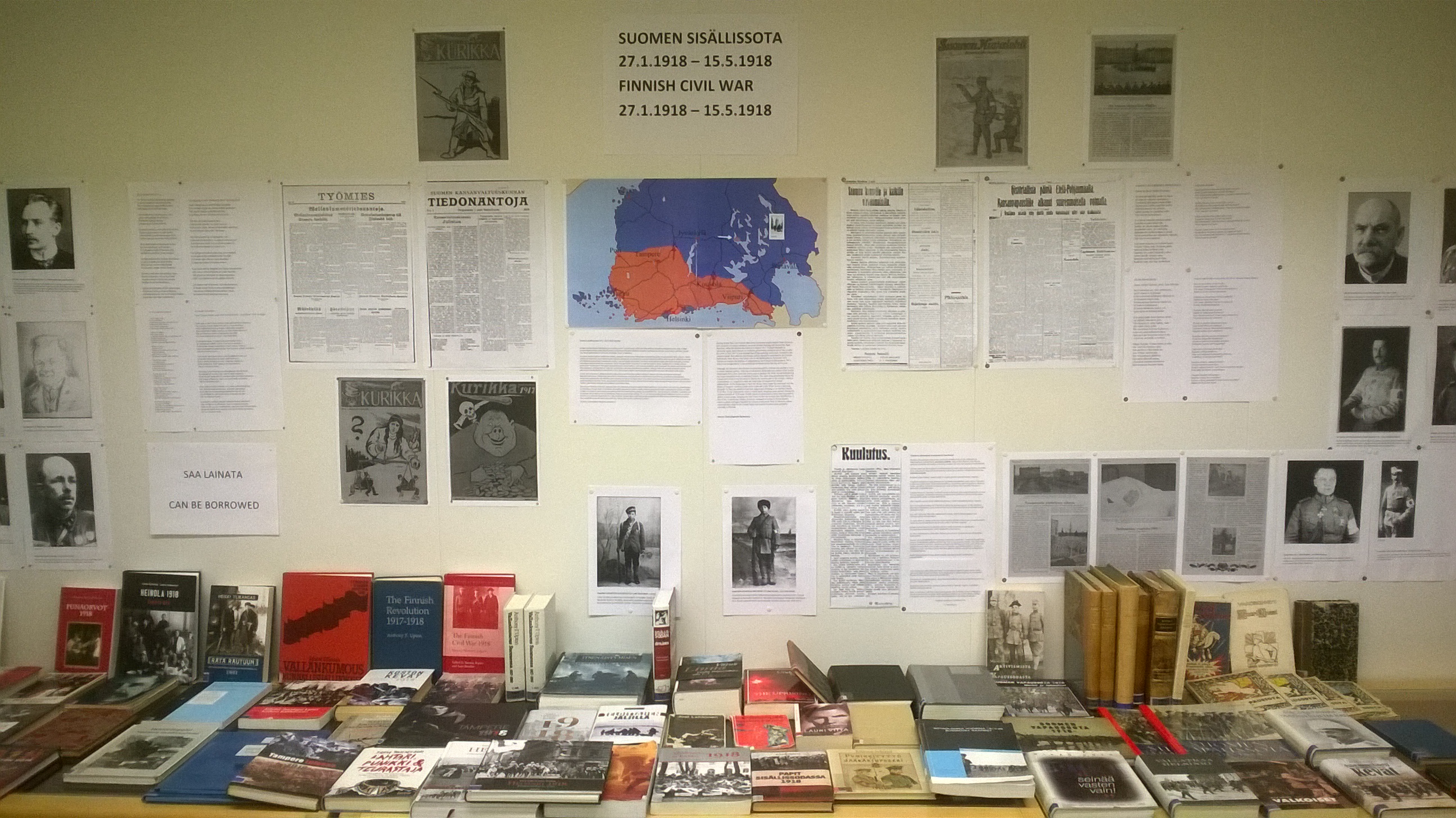 (Please, scroll down to read in English.)
"Vuosien 1917 ja 1918 muistot ovat liki vastakkaiset. Ensin tapahtui parasta ja sitä seurasi pahinta, mitä kansakunta voi kohdata. Itsenäisyyden vuosi vaihtui sisällissodan vuodeksi, eikä edes pitkä aika ole kaikkia sen arpia peittänyt. (…) Yhteisö on vahva, jos se kykenee käsittelemään myös kipeitä asioita. Menneisyyden kanssa on hierottava sovintoa."
Tasavallan presidentin uudenvuodenpuheen yhtenä aiheena oli välittömästi Suomen itsenäistymisen jälkeen alkanut sisällissota. Vuoden 1918 tapahtumista on ihmisillä monenlaisia käsityksiä ja erilaisia versioita, joista keskusteleminen kiihdyttää mieliä vieläkin. Tästä kertoo jo välittömästi presidentin puheen jälkeen alkanut väittely sodan nimestä. Sisällissota, vapaussota vai kansalaissota?
Joensuun kampuskirjastossa tällä viikolla avautuneella kirjanäyttelyllä muistetaan sata vuotta sitten käynnistyneitä Suomen itsenäisyyden ajan traagisimpia tapahtumia. Esille on nostettu vuosikymmenien aikana syntynyttä tutkimuskirjallisuutta, joka on eri näkökulmista pyrkinyt vastaamaan kysymykseen: mitä tapahtui todella? Vuoden 1918 perinnöstä keskustellessa on tärkeää tutustua aiheesta tehtyyn tieteelliseen tutkimukseen, josta kirjaston kokoama näyttely on edustava otos. Näyttely sisältää myös jonkin verran kaunokirjallisuutta aiheesta.
Näyttelyn kirjoja UEF-Finnassa
---
Finnish Civil War was fought between revolutionary Red Guards and conservative White guards from 27th January 1918 to 15th May 1918.  With casualties of almost 6,000 persons on the White side and 32,500 persons on the Red side, the war was one of the most tragic events in Finnish history. Even after a hundred years, the war can arouse debate and strong feelings among Finnish citizens.
The book exhibition of research literature on the Finnish Civil War provides a profound view on the history and aftermath of the events in 1918.
Jussi Hyvärinen, tietoasiantuntija | Information specialist
Tapani Toivanen, tietoasiantuntija | Information specialist
Opetus- ja tietopalvelut | Training and information services