(Please, scroll down to read in English)
Tutkimuspalvelupäivät 2022 järjestettiin Oulussa 15.8.–17.8. Edustimme UEF kirjastoa puhumalla aiheesta "Tutkimusdatanhallinnan tukipalvelut tulevaisuuden vaatimusten edessä. Palvelumuotoilulla parempaa datatukea". UEFilta oli muutoinkin mukavasti väkeä paikalla molemmilta kampuksilta.
Teemana muutos
Tutkimuspalvelupäivien yleinen teema oli muutos, mitä jäsennettiin vastuullisuuden, yhteistyön ja tulevaisuuden alateemoissa. Näihin kaikkiin teemoihin antoi oman sävynsä myös se, että tilaisuus järjestettiin pitkästä aikaa lähitapahtumana. Vuoden 2021 tutkimuspalvelupäivät olivat kokonaan etänä, ja vuonna 2020 tutkimuspalvelupäiviä ei järjestetty lainkaan. Tämän vuoden päivien järjestelyistä vastasi Oulun yliopisto yhteistyössä Oulun ammattikorkeakoulun kanssa. Paikkana oli Oulun keskustasta vaivattoman pyöräilymatkan päässä sijaitseva Linnanmaan kampus.
Tapahtuma oli kolmipäiväinen. Maanantain ryhmä- ja verkostotapaamisille omistettu ohjelma alkoi vasta iltapäivällä. Omien verkostojen tapaamiset järjestettiin hybridimuotoisina, ja niihin pystyi siten osallistumaan myös etänä. Tiistai oli aikataulullisesti hyvin tiivis rinnakkaisine esityksineen ja työpajoineen. Keskiviikkona oli kaikki osallistujat yhteen kokoavien puheenvuorojen ja keskustelujen aika.
Aiheissa käsiteltiin mm. kansainvälistä yhteistyötä, tutkimusrahoitusta ja rahoituksen hakemista ja linjausten ja strategioiden jalkauttamista tutkimuspalveluihin kolmessa alateemassa: vastuullisuus, yhteistyö, tulevaisuus. UEF oli edustettuna useammassa alateemassa. Oma esityksemme oli sijoitettu vastuullisuuteen, ja muista UEFilaisista Jaana Backman valotti EU-yhteistyötä yhdessä muiden organisaatioiden kanssa (UNIFI ja Helsingin yliopisto). Kolmen alateeman lisäksi ohjelmassa oli myös kutsuttuina puheenvuoroina Suomen Akatemian, Team Finland Knowledge-verkoston, Euroopan puolustusrahaston ja Valtioneuvoston selvitys- ja tutkimustoiminnan edustusta. Kaikissa alateemoissa oli esityksiä ja työpajoja sekä suomeksi että englanniksi.
Esitykset, työpajat ja keskustelut kestivät 30, 45 tai 60 minuuttia siten, että aina enintään tunnin kokonaisuuden jälkeen oli joko kahvi- tai lounastauko tai 10 minuuttia varattuna salin vaihtamiseen. Aikaa Oulun yliopiston labyrintissä tarvittiinkin paikan vaihtamiseen. "Ei kysyvä tieltä eksy" piti paikkansa, kunhan vain kysyi tietä tarpeeksi monelta.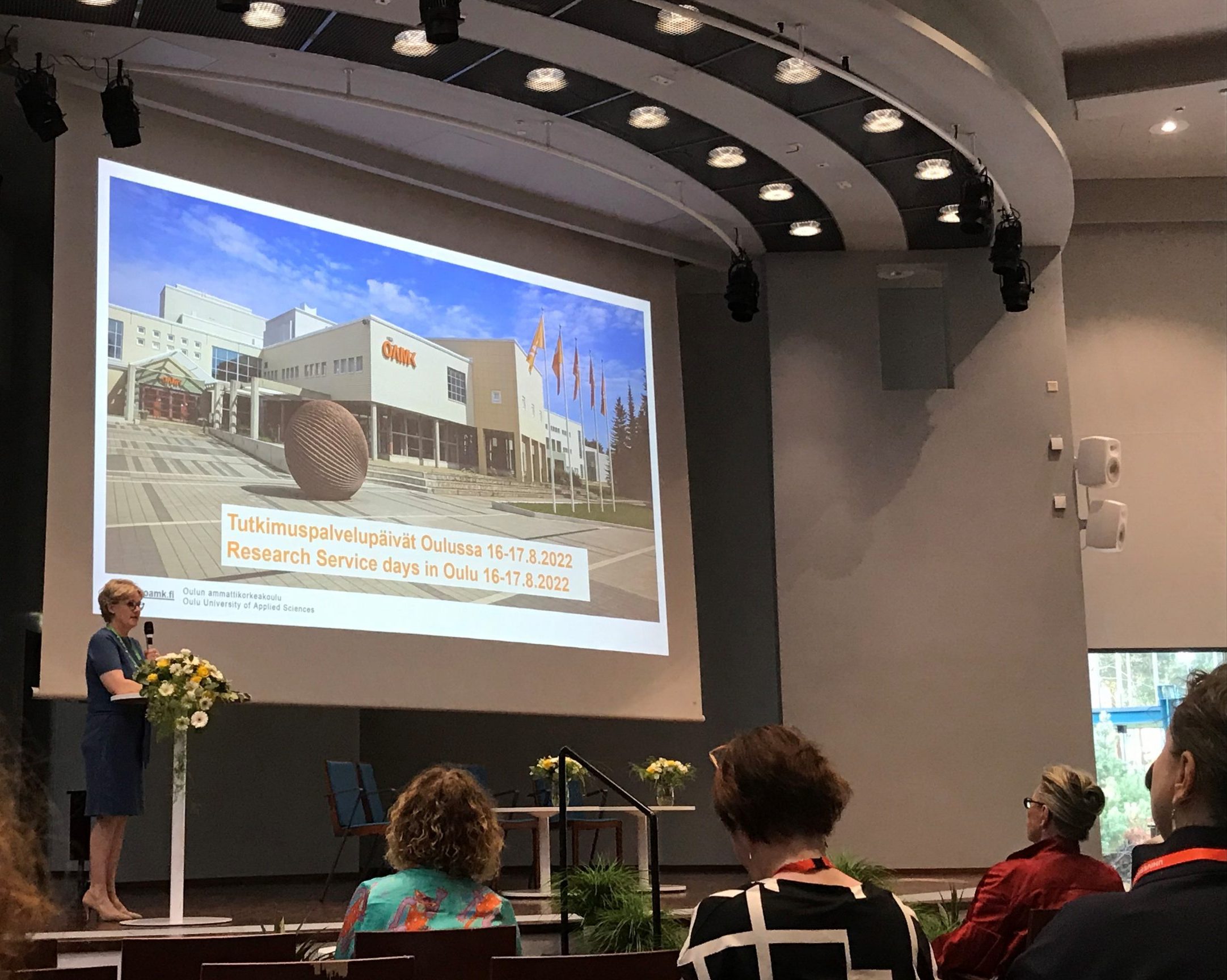 Tutkimusdata ja tutkimuspalvelut
Saimme virittäytyä esitykseemme ja tiistain tiiviiseen ohjelmaan Oulun ammattikorkeakoulun tanssinopettajakoulutuksen vaikuttavan Kaiken Liike -tanssiesityksen voimin. OKM:n korkeakoulu- ja tiedepolitiikan osaston johtaja Erja Heikkinen piti keynote-puheenvuoron, minkä jälkeen oli paneelikeskustelu tutkimus- ja innovaatiotoiminnan tulevaisuudesta muuttuvassa maailmassa. Paneelikeskustelussa ja sen lisäkysymyksissä nousi esiin tärkeitä näkökulmia muun muassa liittyen tutkimuspalveluissa tarvittaviin pohjatutkintoihin sekä yritysten ja yliopistojen tarpeisiin ja yhteistyön kehittämiseen.
Seuraavaksi siirryimme Saalastinsalista kampuksen keskiosaan seuraamaan vastuullisuuden alateemassa aloittaneita työpajoja. Ensimmäisen työpajan aiheena oli avoimen tieteen linjausten suhde tutkimuspalveluihin, ja sen vetäjinä toimivat Tieteellisten seurain valtuuskunnan (TSV) Avoimen tieteen sihteeristön jäsenet. Sitä seuranneessa työpajassa pohdittiin TKI-toiminnan (tutkimus, kehitys ja innovaatio) ja tietohallinnon yhteistyössä esiin tulevia kysymyksiä korkeakouluissa. Keskiöön nousi muun muassa aineistonhallinta, jonka kohdalla muistutettiin tietohallinnon ja TKI-puolen yhteisen kielen tärkeydestä.
Oma vuoromme tuli jo tiistaina aamupäivällä, sopivasti ennen lounasta. Alustustamme oli tullut seuraamaan mukavasti väkeä ja tunnelma oli leppoisa. Joukossa oli monia tuttuja kasvoja avoimen tieteen työryhmistä ja ilahduttavasti ihmisiä myös muistakin kuin organisaatioiden tutkimusdatanhallintaan liittyvistä palveluista. Keskustelu oli vilkasta, mutta onneksi lounastauko salli esitykseen varatun ajan hienoisen ylittämisen. Yksikkörajat ylittävät palvelut ovat organisaatioiden arkipäivää, ja niitä on työyhteisöissä kehitetty eri menetelmin. Meidän kokemuksemme palvelumuotoilusta osui siis otolliseen maaperään. Painotimme muun muassa sitä, että on tärkeä määritellä yhdessä eri yksiköiden kanssa vastuut ja koordinaatio: yksikkörajat ylittävä tukipalvelu voi ajan myötä pirstaloitua hyvistä aikeista huolimatta ilman koordinaatiota ja palvelun omistajuutta (vähintään koordinaatiomielessä). Palvelumuotoilun hengessä muistutimme myös iteraation eli toistuvan testaamisen roolista. Valmista ei tarvitse tulla heti, vaan palvelun testaaminen ja kehittäminen jatkuu tyypillisesti myös palvelumuotoiluprosessin päätyttyä.
Lounaan jälkeen sessio jatkui vastuullisen tutkimuksen ja tietosuojan parissa. Ensin pääsimme osallistumaan CSC:n järjestämään työpajaan henkilötietoja sisältävien tutkimusaineistojen käsittelystä kolmannen osapuolen tarjoamissa palveluissa. Työpaja sivusi tämän vuoden keväällä aloitettua CSC:n tutkimuspalveluiden käyttäjäprosessien kehitysprojektia. Tietosuojan teema jatkui seuraavassa esityksessä, jossa käsiteltiin Tampereen yliopiston tutkimuslupakäytäntöä ja tietosuojasäädösten käyttöönottoa tiedekunnissa. Päivän päätteeksi tutustuimme vielä kansalaistieteeseen Oulun yliopiston tutkijan, Mervi Heikkisen tutkimuksen kautta.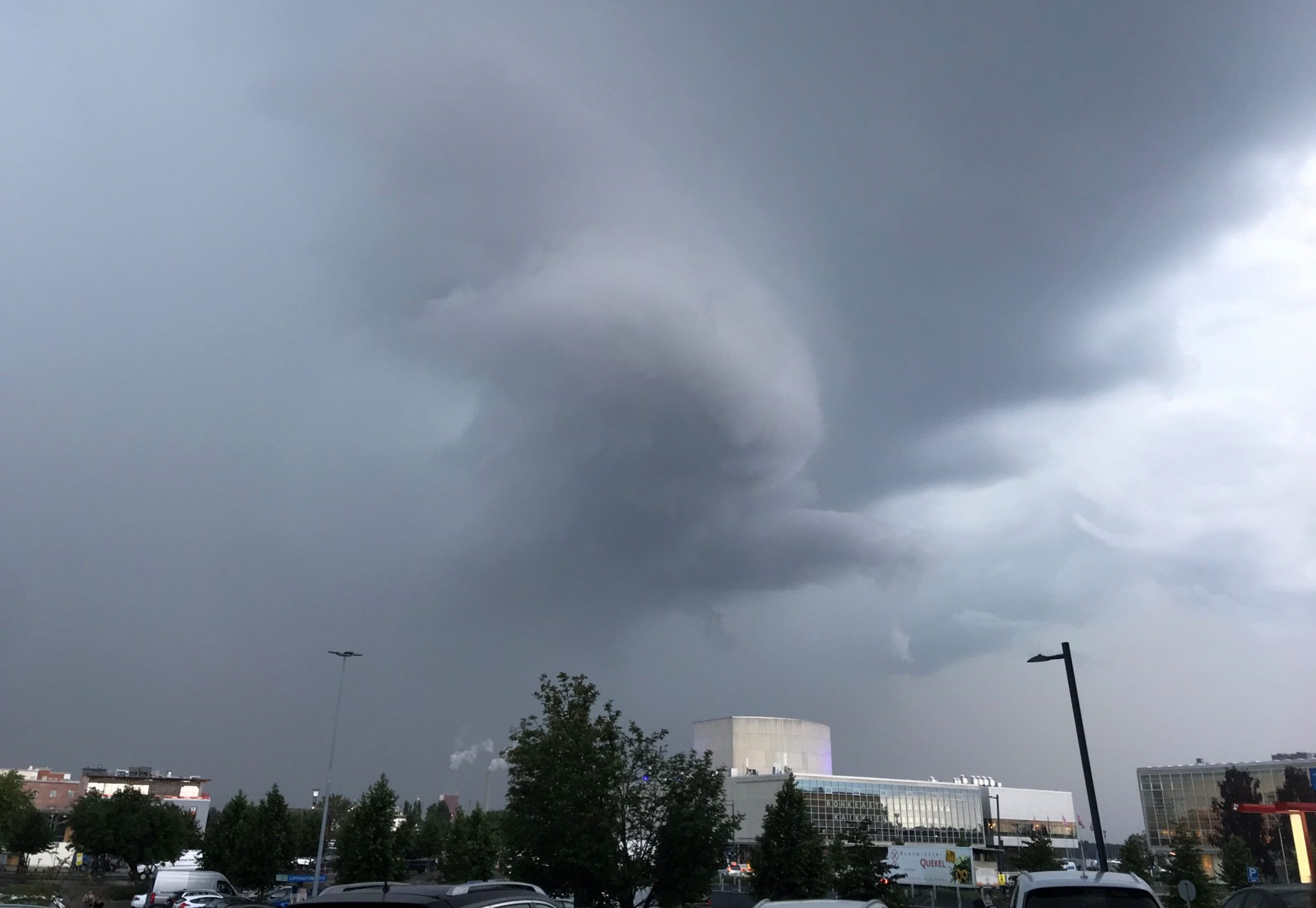 Tiistain päätteeksi suuntasimme konferenssi-illalliselle Radisson Blu hotellille. Saavuimme hotellille juuri kreivin aikaan, koska tässä vaiheessa kaupungin ylle oli levittäytynyt tumma pilvirintama. Pian alkoikin mieleenpainuva myräkkä, josta seuranneet tulvat Oulun keskustassa päätyivät uutisiinkin asti. Iltamien päätteeksi aurinko päätti kuitenkin vielä näyttäytyä, ja pääsimme takaisin hotellillemme kuivin vaattein. Sää totisesti toisti konferenssin muutosteemaa vaikuttavalla tavalla.
Keskiviikon ohjelma ja konferenssin päätös
Konferenssin viimeinen päivä aloitettiin Saalastinsalissa Finn-ARMAn palkinnoilla ja tervehdyksellä. Finn-ARMAn palkinto Tutkimuksen edellytysten edistäjä 2022 annettiin Aalto-yliopiston professori Heikki Mannilalle, joka toimi Suomen Akatemian pääjohtajana kevääseen 2022 asti. Ennen kahvitaukoa pääsimme vielä seuraamaan Filosofian Akatemian Kirsi Sjöblumin motivaatiopuheenvuoroa työn muuttuvista ympäristöistä ja tärkeistä taidoista työssä jaksamiseen. Puheessaan hän nosti esiin muun muassa inhimillisesti kestävän työelämän keskeisiä aiheita, kuten työn kuormittavuuden ja työstä palautumisen merkityksen.
Kahvitauon jälkeen alkoi konferenssin toinen paneelikeskustelu. Englanninkielisen paneelin aiheena oli asiantuntijatyön tulevaisuus korkeakouluissa. Kotimaisten yliopistojen puolesta keskustelijoina olivat Oulun yliopiston HR-johtaja Jarmo Okkonen, joka toi esille työnantajan näkökulmaa, ja Helsingin yliopiston tietoasiantuntija Mari-Elisa Kuusniemi, joka puolestaan toi esille tutkimuspalveluiden asiantuntijuuden näkökulmaa.  Kansainvälistä näkökulmaa keskusteluun tarjosi EARMAn urakehityksen ja tunnustuksen komitean puheenjohtaja Astrid Vigtil. Vilkas keskustelu herätti paljon lisäkysymyksiä muun muassa tutkimuspalveluiden urapoluista ja tutkintovaatimuksista. Tutkijataustan merkitys tukipalveluissa nousi keskusteluun. Keskustelussa todettiin, että tukipalvelun osaamisen ja asiantuntijuuden ei tarvitse olla identtistä tutkijan osaamisen kanssa vaan ne voivat olla toisiaan täydentäviä. Toisaalta kommentointiin myös, että tutkijan mielestä saattaa olla toivottavampaa saada tukea tutkijataustaiselta tukihenkilöltä, jonka ehkäpä koetaan ymmärtävän paremmin tutkijan näkökulman, ongelmat ja tuen tarpeet.
Konferenssin päätöspuheenvuorossa Oulun yliopiston professori Mehdi Bennis toi esille kokemuksiaan tutkimuspalveluiden kanssa. Hän painotti, että usein kysymys on enemmän yhteistyöstä kuin pelkästään palveluista.
Konferenssin loputtua suuntasimme takaisin Joensuuhun. Tuliaisina Tutkimuspalvelupäiviltä jäi mielenkiintoisia esityksiä ja mukavia kohtaamisia etänä tutuksi tulleiden kollegoiden kanssa Oulun viihtyisissä maisemissa.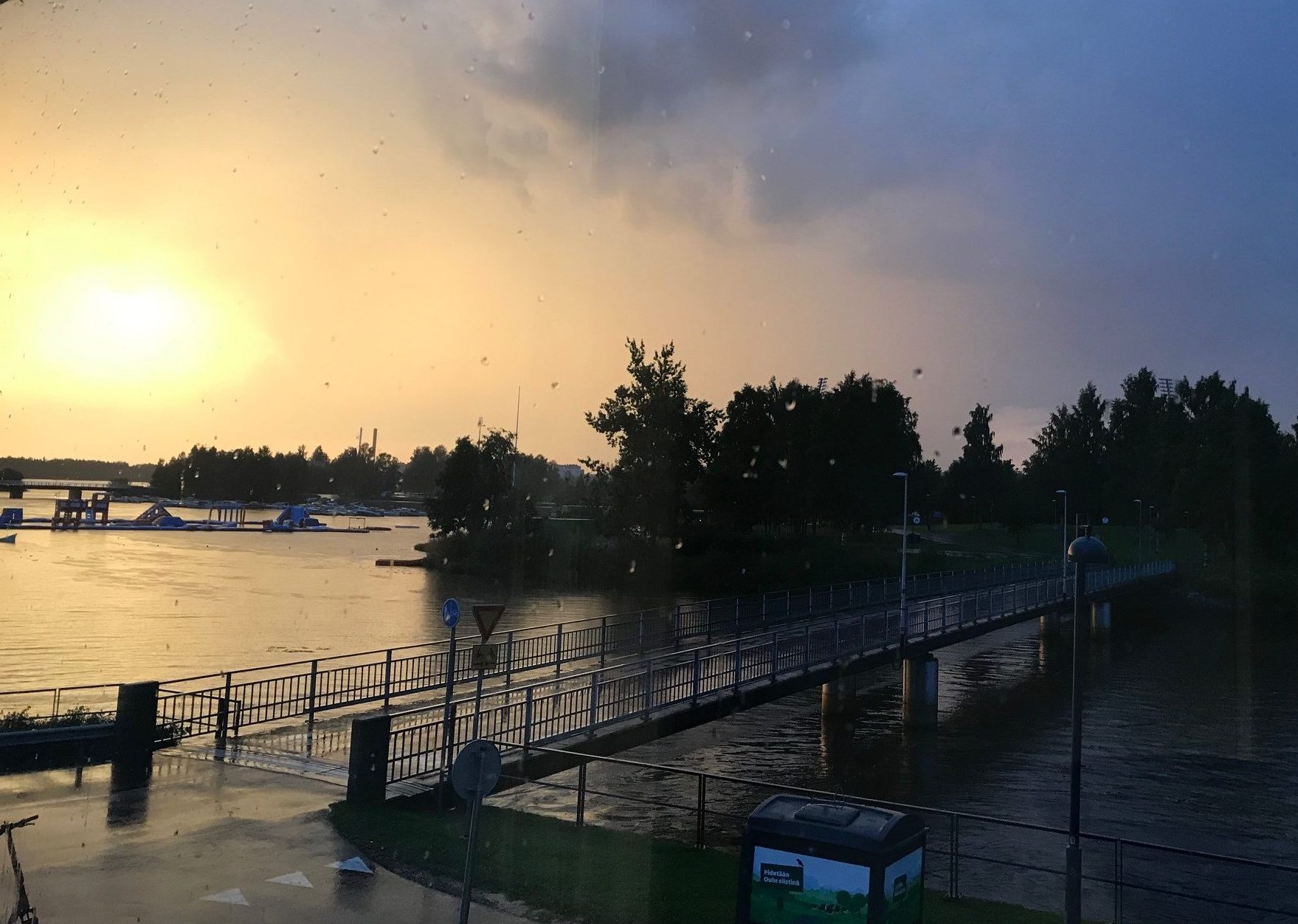 The Research service days was organised in Oulu from August 15th to August 17th. We represented UEF library with a presentation titled as "Research data management support services in the demands of the future. Better datasupport with service design". Overall, UEF had a nice attendance from both campuses.
Main theme: Transformation
The main theme of the Research Service Days was transformation with responsibility, collaboration, and future as subthemes. The event was organized by the Oulu University in collaboration with Oulu University of Applied Sciences. This year the event took place concretely in Oulu, at the university campus in Linnanmaa, instead of a virtual event as was the case with the Research Service Days in 2021.
The three-day-programme started on Monday afternoon with group and network meetings. Tuesday was fully packed with parallel sessions of presentations and workshops. On Wednesday, it was time to get all participants together for discussions and talks.
The topics ranged from international collaboration and research funding to putting policies and strategies into practice. The presentations were organized in to three subthemes/tracks: responsibility, collaboration, and the future. UEF was represented in a few subthemes. Our presentation was placed under the subtheme responsibility, and Jaana Backman from UEF had a presentation together with other organisations (UNIFI & University of Helsinki) about EU-collaboration. A fourth track included invited talks from, e.g., the Academy of Finland and Team Finland Knowledge network. Each track contained presentations and workshops both in Finnish and in English.
The presentations, workshops and talks lasted either 30, 45, or 60 minutes with coffee or lunch breaks or with a 10-minute slot for changing the venue. This opportunity to search for the right venue with enough time was more than welcome in the labyrinth of the Oulu University campus!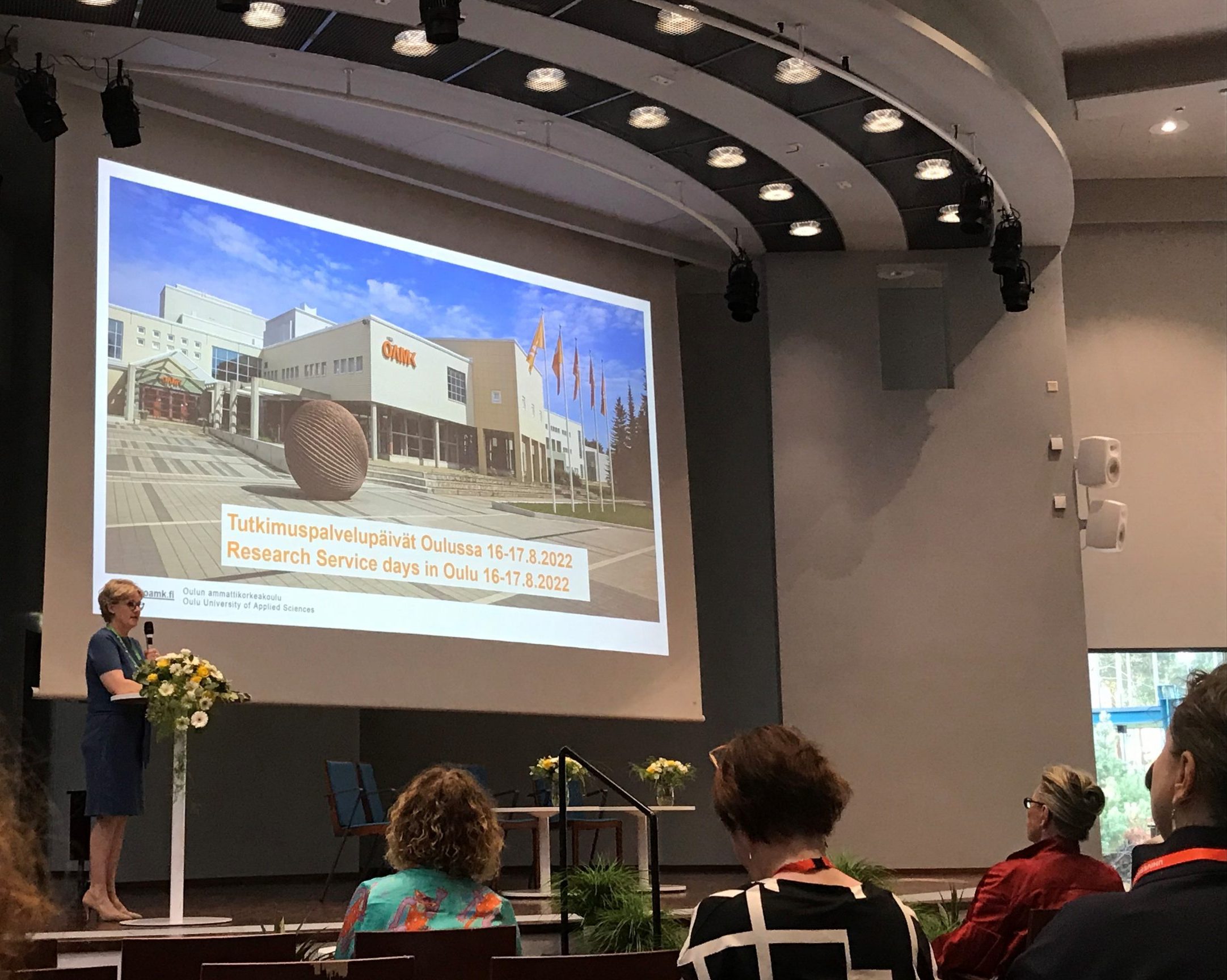 Research data and research services
We could prepare ourselves for our presentation and for the dense program of Tuesday while watching the powerful dance performance "Everything moves", performed by the Oulu University of Applied Sciences dancers. The keynote-speech was delivered by Erja Heikkinen, the director of Policy and development in higher education and science – department of the Ministry of education and culture, followed by a panel discussion on the future of research and innovation activities in the changing world. The panel discussion and the questions following it raised important points concerning e.g., the degree requirements for research support services, and the needs of businesses and universities, including how to further develop cooperation between them.
Next, we moved from Saalastinsali to the middle of campus to follow the workshops, that initiated the track for responsibility. The topic of the first workshop was the relationship of open science policies with research support services, and it was led by the members of the Open science secretariat of the Federation of Finnish Learned Societies. The workshop that followed, centred around the questions arising in higher education organizations during the collaboration of RDI (research, development, and innovation) and information management. Data management, and the importance of speaking about it using the same language in RDI and information management departments, was among the key topics raised.
Our turn came on Tuesday midday, conveniently before lunch. Quite a few people had joined the audience to follow our presentation and the atmosphere was relaxed. Many familiar faces from the open science working groups could be spotted in the audience, and delightfully there were also people from other services, besides those working in research data management, among our audience. The discussion following our presentation was lively, and luckily the impending lunchbreak allowed for a slight running in overtime.
Services that cross the boundaries between different units are common in organisations nowadays, and such services have been developed using different methods. Hence our experiences with service design landed on fertile ground. We emphasized, among other things, the importance of defining the responsibilities and coordination together with the different units: as time passes, a support service that crosses unit-boundaries can disintegrate despite good intensions if the coordination and ownership of the service has not been taken care of (at least from a coordination-point of view). In the spirit of service design, we reminded about the role of iteration i.e., repeated testing. A final service-concept does not need to materialize immediately but instead, the testing of and developing the service typically continues beyond the service design process.
After lunch, the session continued with the topics of responsible research and information protection. First, we participated in a workshop, organised by CSC, on the handling of research data containing personal information in services provided by a third party. The workshop touched upon a user process development project initiated by CSC this spring. The theme of information security carried over to the next presentation, which described the research permit process and implementation of information security statute in the faculties of Tampere University. Towards the end of the conference day, we were led to the world of citizen science via a project by the University of Oulu researcher, Mervi Heikkinen.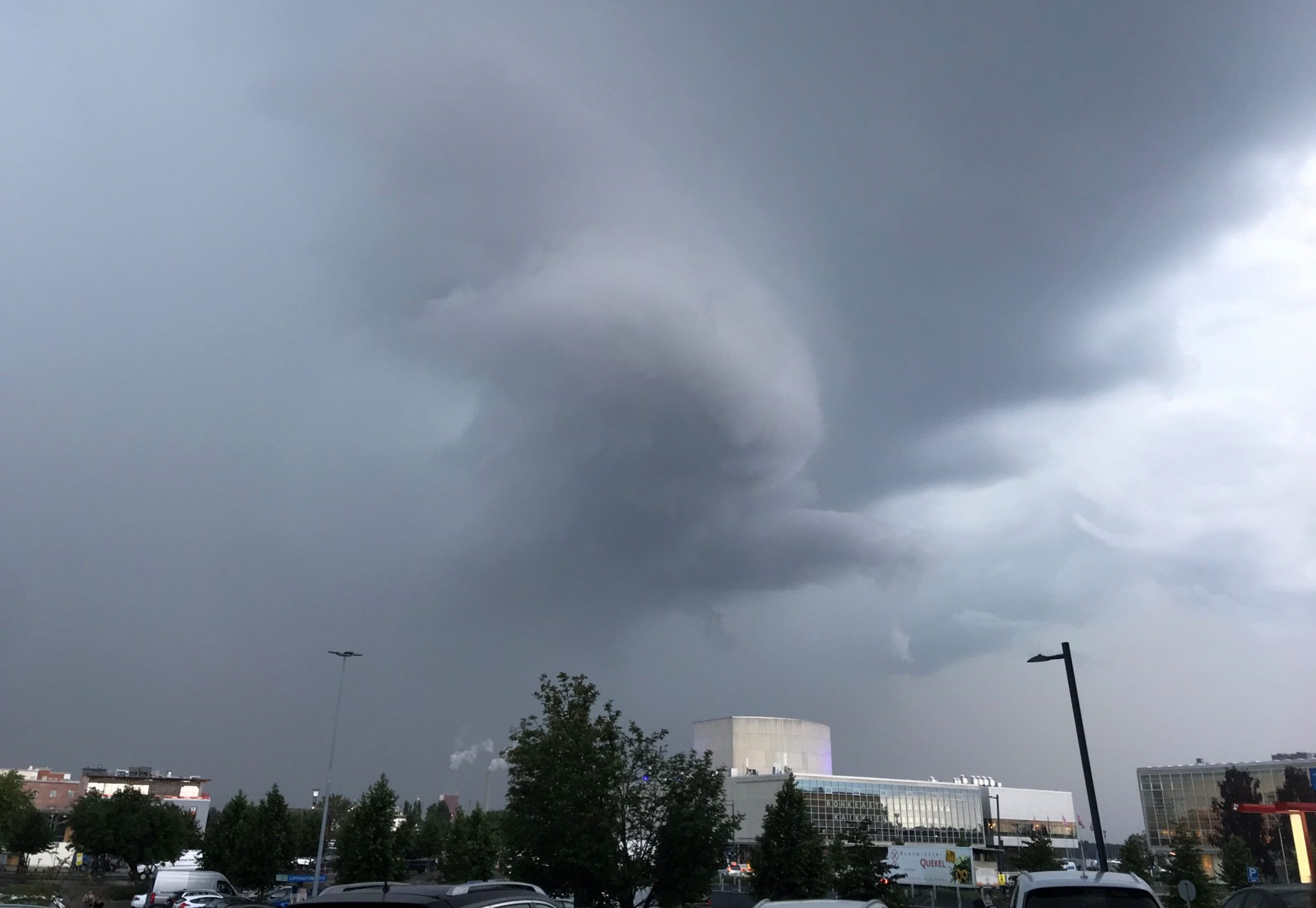 To complete Tuesday's programme, we headed to the conference dinner held at the Radisson Blu hotel. Our arrival was well timed because at this point the city was overshadowed by a big storm front. As soon as we entered the venue, a memorable storm began and was followed by flooding in central Oulu that even ended up in the national news. But after the dinner and evening part, the sun decided to peek once more, and we could return to the hotel with our clothes still dry. The weather definitely played along with the main theme, i.e., transformation, of the conference in an impressive way.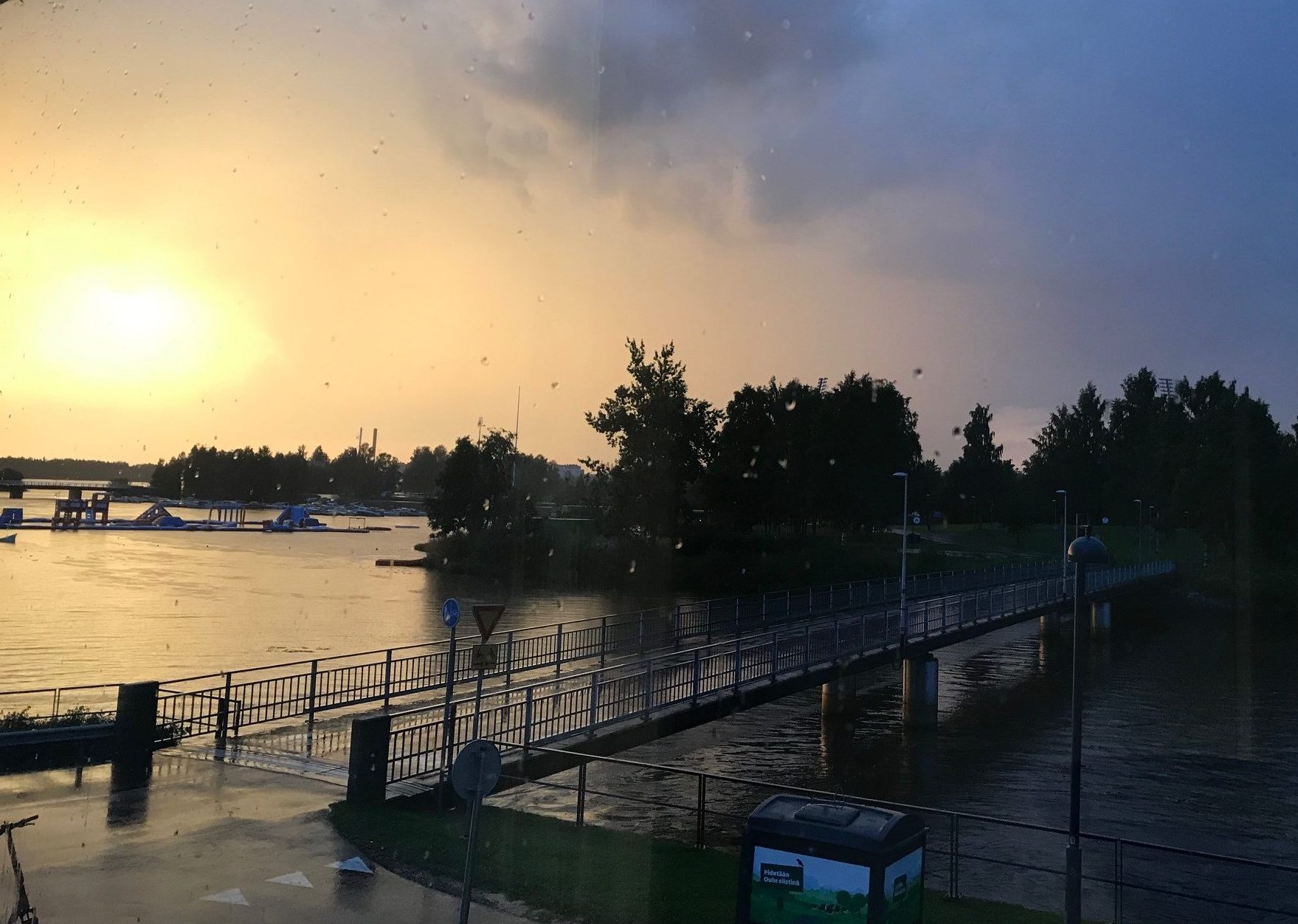 Wednesday programme and the last day of the Research Service Days
The third and last day of the conference was started in Saalastinsali by Finn-ARMA greetings and awards. This year's award for supporting the research environment and research administration was given to professor Heikki Mannila (Aalto University). Before a coffee break, Kirsi Sjöblom (Filosofian Akatemia) gave a motivation talk on how to cope with the everchanging working environment.
Towards the end of the programme, it was time for a panel discussion with the topic "Future of Specialist Work in higher education". The panellists represented different viewpoints on the topic: Jarmo Okkonen, HR Director (Oulu University), Mari-Elisa Kuusniemi, information specialist (University of Helsinki), and Astrid Vigtil chair of the Professional Development and Recognition Committee (EARMA), all had important and well-argued points to add to the extremely many faceted topic. The audience took avidly part in the discussion especially on the need for a research background in working as a research service specialist.
Last but not least, we had a glimpse to the experience of a researcher in using research services. Professor Mehdi Bennis (Oulu University) emphasized that it is a question of collaboration rather than just services. This was a good closing note for the conference – it was time to say goodbye to Oulu and head back to Joensuu with a rich experience: interesting talks and wonderful encounters with colleagues, old and new, and this time in a non-virtual venue.
Niina Nurmi, datanhallinnan projektisuunnittelija | Data management project planner
Manna Satama, tietoasiantuntija | Information specialist
Tutkimuksen tuki | Research support
Opetus- ja tietopalvelut | Training and information services