(Please, scroll down to read in English.)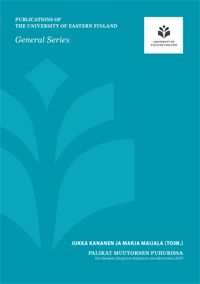 Itä-Suomen yliopiston kirjaston vuosikertomus pureutuu tällä kertaa tieteellisen kirjastotoiminnan muutokseen. Jatkuvaan muutoksen tilaan ovat ajaneet kuluvalla vuosikymmenellä valtionhallinnon ja yliopistolaitoksen uudistaminen sekä avoimen tieteen korostaminen. Taustalla vaikuttaa pitempiaikainen kehityskulku: tieteen sekä koko yhteiskunnan voimakas digitalisaatio.
Artikkeleissa tarkastellaan muun muassa kirjaston organisaation muutosta, henkilöstön kehittämistyötä, projektimaista työskentelytapaa, tutkimuspalvelujen suunnittelua, tietoaineiston kuvailun uusia tuulia sekä digitaalisen työympäristön rakentumista. Arvioidaan myös KYSin tieteellisen kirjaston ensimmäistä vuotta uusissa tiloissa, ja elokuussa aloittanut tietoasiantuntija kertoo ensivaikutelmistaan tutkimuksen tuen palveluissa.
Vuosikertomuksen liiteosassa on tilastotietoa kirjaston toiminnasta sekä listaukset kirjaston henkilökunnan julkaisuista ja asiantuntijatehtävistä vuonna 2016.
—
University of Eastern Finland Library's Annual Report concentrates on the impact of the constant change, essentially caused by digitalisation, which academic libraries have met with over the past years.
Mikko Meriläinen, tietoasiantuntija | information specialist
Tietoaineistopalvelut | Collection services