(Please, scroll down to read in English.)
Itä-Suomen yliopiston kirjastossa on tällä hetkellä yli miljoona kirjaa, ja uutta aineistoa hankitaan jatkuvasti.
Miten löytää uusimmat kirjastoon hankitut nimekkeet miljoonan kirjan joukosta? Yksi keino on etsiä niitä Uutta UEF-Finnassa -listalta.
Löydät listan UEF-Finnan etusivulta.

Listalle on koottu viimeisen kuukauden aikana kirjastoon saadut painetut ja e-kirjat. Näkyvissä on myös kirjoja, jotka ovat vasta tulossa kirjastoon.
Esimerkiksi:

tai
Jos haluat tehdä varauksen hankinnassa olevaan kirjaan, ota yhteyttä kirjaston asiakaspalveluun tai lähetä sähköpostia osoitteeseen kirjasto.hankinta[at]uef.fi. Varauksen voi tehdä vain kampuskirjastoihin tai KYSin tieteelliseen kirjastoon tilattuun lainattavaksi tulevaan aineistoon.
Jos kirjastosta ei löydy etsimääsi kirjaa, tee siitä hankintaehdotus lomakkeen kautta.
Hankintaesitystä tehdessäsi voit varata esittämäsi kirjan tai pyytää ilmoittamaan, kun sähköinen aineisto on käytettävissäsi.
Tämän lomakkeen kautta voit ehdottaa hankittavaksi kirjoja myös jostakin tietystä aiheesta, jos et täsmälleen tiedä mitä yksittäisiä kirjoja siitä on tarjolla.
Kaikki kirjat, jotka löytyvät Uutta UEF-Finnassa -listalta, eivät välttämättä ole viime aikoina julkaistuja, vaan kirjastoon hankitaan myös vanhempaa kirjallisuutta.
Jos haluat nähdä mitä viime aikoina ilmestyneitä kirjoja kirjastoon on hankittu, muuta listan sisältö vuosi (uusin ensin) -järjestykseen.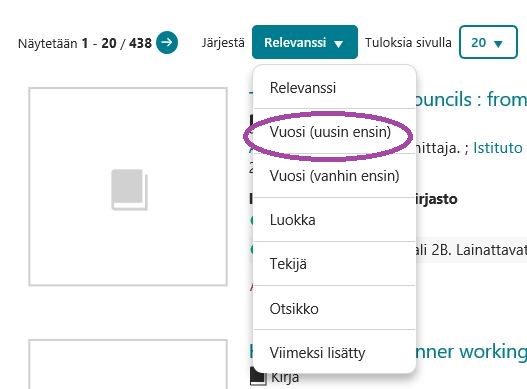 Voit myös katsoa, mitä uutta aineistoa kirjastoon on tullut esimerkiksi viimeisen viikon aikana, tai mitä on hankittu esimerkiksi Kuopion kampuskirjastoon, suodattamalla listan sisältöä oikeasta palstasta löytyvillä rajausmahdollisuuksilla. Pystyt suodattamaan listaa myös aihealueittain, jos haluat esille vaikkapa kirjat historian alalta.

Jos haluat tietää onko uuden aineiston joukossa jotain itseäsi kiinnostavaa, voit rajata listan sisältöä myös kirjoittamalla hakukenttään haluamasi hakusanat.
* * *
UEF Library has over a million books at the moment. New material is purchased all the time. How to find the newest books among the million books?
One way is to use the New material list. You will find the New material list from UEF Finna's front page.

On the New material list you will find the print books and e-books that have come to the UEF Library during the last month. There is also information on books that only have the order information available.
For example:

or

If you want to make a reservation on a book that is coming to the library, please contact the library's customer service or send an e-mail to acquisitions[at]uef.fi. Reservations can be made only on books that are going to be borrowable material at the campus libraries or the KUH Medical Library.
If the book that you are looking for has not been ordered to the library yet, you can make an acquisition request for it through this form. With the same form,  you can also reserve the book you have requested or request a notification when the electronic resource is accessible.
In case you wish that the library purchases books on a specific topic, but you don't know the exact titles of the applicable publications, you can make an acquisition request through this form.
All the books that you find in the New material list have not necessarily been published recently. The library also acquires books that have been published some time ago. You can see the most recently published books of the New material list when you sort the list in the year (newest first) order.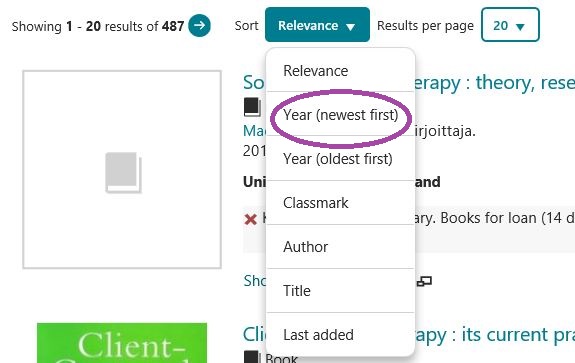 You can also see what new material has come to the UEF Library, for example, during the last week or what new material has been acquired to the Kuopio Campus Library or in the field of history by selecting the appropriate narrow search options on the right-hand side of the page.

If you want to find out whether among the new material there is something of interest to you, you can narrow the list's content also by typing search words to the search field.
Tarja Turunen, tietoasiantuntija | information specialist
Tietoaineistopalvelut |  Collection services
Käännöksen oikoluku | English language checking: Suvi Tolvanen