(Please, scroll down to read a summary in English.)
Osallistuimme BMF ry:n (Bibliothecarii Medicinae Fenniae) syysseminaariin 12.11. Terkossa eli Helsingin yliopiston Meilahden kampuskirjastossa. Olimme jo melkein unohtaneet, millaista on työmatkailla. Se on sellaista, että istutaan paljon junassa, käytetään perillä kaikki aika tehokkaasti, osallistutaan aktiivisesti seminaariin ja verkostoidutaan innokkaasti.
Ennen seminaaria helsinkiläiskollegat esittelevät meille kirjaston ja Terkko Health Hubin tiloja ja toimintaa. Health Hub on startup-yhteisö, yhteistyötila sekä terveys- ja biotieteisiin keskittyvä tapahtumapaikka, jossa edistetään uudenlaista yhteistyötä yrittäjyyden, tutkimuksen ja terveydenhuollon välillä. Oli todella inspiroivaa nähdä kuinka Terkossa on huomioitu asiakkaiden eri tarpeet etenkin ympäristön viihtyvyyteen panostamalla.
Seminaarin otsikkona oli "Korona vie ja työelämä vikisee?" Syysseminaarin ohjelma oli hienosti ammattiimme sidottu ja toisaalta todella käytännönläheinen. Pääesityksiä oli kaksi: pedagoginen yliopistonlehtori Saara Repo totesi otsikon "Joustavasti lähi- ja etäopetusta – opetus koronan jälkeen" alla, ettei paluuta koronaa edeltävään aikaan ole. Korona-aika on muuttanut opetustamme lähiopetuksesta etäopetukseen, ja onkin hyvä miettiä kuinka saamme opetuksen pysymään pedagogiesti laadukkaana menetelmistä huolimatta. On ilahduttavaa huomata kuinka myös akateemisissa kirjastoissa panostetaan opetusten laatuun ja mietitään tarkasti kuinka opetukset vastaavat oppimistavoitteisiin.
Esityksessään "Tietotyöläisen työhyvinvointi" psykologi Liisa Puskala puhui aivoergonomiasta eli kognitiivisesta ergonomiasta. Hän painotti, miten tärkeää on suojella keskittynyttä työaikaa, ja huomautti, että oman työn johtaminen on joukkuelaji. Hän antoi myös hyviä vinkkejä tietotyöläisen hyvinvointiin. Aivojakin on hyvä lepuuttaa silloin tällöin.
Kahdesta lyhyemmästä esityksestä eli tapauksesta toinen oli meiltä: "Open access viikko 2021 Itä-Suomen yliopiston kirjastossa", josta puhui Tuulevi, ja toinen Terkosta: "Uuden työvälineen haltuunotto etäaikana: case RedCap", josta puhui informaatikko Katri Larmo. REDCap (Research Electronic Data Capture) on datanhallintajärjestelmä, joka onkin UEFissa jo käytössä. UEFissa RedCapin ylläpitämisestä vastaa Bioinformatiikkakeskus.
Esitysmateriaalit on linkitetty BMF:n sivulle. Mukana on myös linkki ohjelmasta poisjääneen esityksen lähteeseen eli Ina Antellin opinnäytetyöhön "BMF ry:n jäsenten työnkuvankartoitus : osaaminen ja tulevaisuus".
Kokonaisuudessaan seminaari oli todella onnistunut ja tunnelma siellä lämmin terveystieteiden tietotyöläisten välillä. Sekä ammatillinen että sosiaalinen verkostoituminen onnistui yli odotusten. Seminaarin yhteydessä oli helppoa verkostoitua ja tutustua uusiin alan kollegoihin, sillä sekä seminaarissa että sen tauoilla oli varattu hyvin aikaa keskustelulle. Keskustelu olikin vilkasta ja saimme kotiin viemisiksi paljon kollegiaalista vertaistukea sekä käytänteiden jakoa.
Matkalla konkarilla ja keltanokalla oli myös aikaa tutustua toisiinsa, mikä on valitettavasti korona-aikana jäänyt melko pinnalliseksi. Mutta nyt saimme tutustua toisiimme paremmin, mikä ilman muuta oli tämän työmatkan parasta antia.
Seuraava BMF-tapahtuma onkin opintomatka tänne meille, Kuopion kampuksen molempiin kirjastoihin ja Savonia-ammattikorkeakoulun kirjastoon, huhtikuussa 2022. Pääsemme siis tapaamaan kollegoita jälleen.
Taisa Sallinen, tietoasiantuntija
Tuulevi Ovaska, erityistietoasiantuntija
Opetus- ja tietopalvelut | Training and information services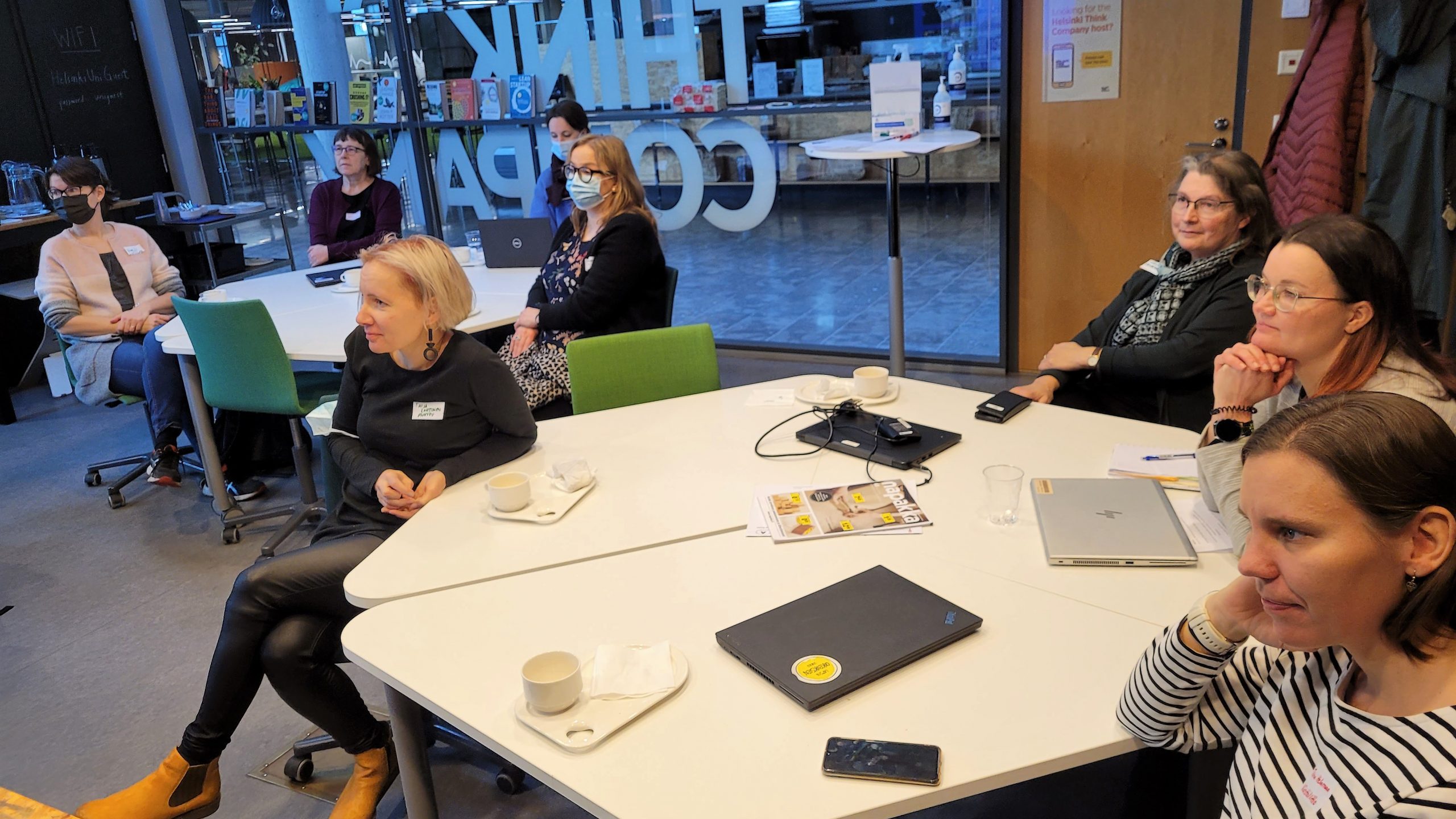 Briefly in English
We attended the autumn seminar of the Bibliothecarii Medicinae Fenniae (BMF, a professional association for medical and health librarians and information professionals in Finland) in Helsinki on the 12th of November. We had already almost forgotten what it is like to travel for work purposes. It means sitting hours on the train, using the time efficiently, actively participating in the seminar and networking enthusiastically.
Before the seminar, we had a short guided tour at Terkko Health Hub. It was really inspiring to see how the different needs of customers have been taken in account, especially by investing in the comfort of the environment.
The seminar program was nicely tied to our profession and, on the other hand, really pragmatic. There were two main presentations: pedagogical university lecturer Saara Repo stated that there is no return to the times before Covid-19. Psychologist Liisa Puskala spoke about cognitive ergonomics.
One of the two shorter case presentations was from us, as Tuulevi spoke about the Open access week 2021 at UEF. RedCap was the topic of information specialist Katri Larmo from Terkko. REDCap (Research Electronic Data Capture) is a browser-based, metadata-driven software solution and workflow methodology for designing clinical and translational research databases. It is also in use at UEF and here the Bioinformatics Centre is responsible for it.
Presentation materials (in Finnish) are available at the BMF webpage. There is also a link to the source of the presentation left out of the programme, Ina Antelli's Bachelor's thesis.
Both professional and social networking succeeded beyond expectations. It was easy to network and get to know new colleagues in the field, since both the seminar and its breaks allotted time for discussion.
During the trip, the old hand and newbie also had time to get to know each other, which, unfortunately, has remained quite superficial during the pandemic. Now we got a chance to get to know each other better.
The next BMF event will be a study trip to Kuopio, to visit UEF's both libraries in Kuopio and the library of Savonia university of applied sciences, in April 2022. We are already looking forward to meeting colleagues again.
Taisa Sallinen, tietoasiantuntija | Information specialist
Tuulevi Ovaska, erityistietoasiantuntija | Senior information specialist
Opetus- ja tietopalvelut | Training and information services