Minna Canthin ja tasa-arvon päivään (19.3.) ja myös kansainväliseen naistenpäivään (8.3.) liittyen Joensuun kampuskirjastossa on esillä Minna Canthia ja hänen tuotantoaan käsittelevää kirjallisuutta yli sadan vuoden ajalta, Lucina Hagmanin laatimasta elämäkerrasta tähän päivään asti.
Pääosassa ovat Minna Canth, hänen elämänsä ja teoksensa, ja näiden merkitys suomalaisessa kirjallisuudessa, naisen asemaa koskevassa keskustelussa ja yhteiskunnallisessa kehityksessä.
Lisäksi esillä on aina ajankohtaisista ja monitahoisista tasa-arvokysymyksistä jonkin verran nimenomaan naisten ja miesten tasa-arvoa Suomessa käsittelevää kirjallisuutta.
Esillä olevat kirjat ovat pääosin lainattavissa heti, mutta mukana on myös lukusalikirjoja (kirjallisuusluetteloita, vanhoja painoksia yms.).
Kirjaston kokoelmissa on runsaasti naisasiaa, sukupuolikysymyksiä ja tasa-arvoa laajemmin käsittelevää kirjallisuutta, joka löytyy Josku-tietokannasta. Myös Ebrary-tietokannan pääosin englanninkieliset kirjat näistäkin aiheista löytyvät Joskusta.
Nelli-portaalin kautta tiedonhakuun on tarjolla Studies on Women & Gender Abstracts –tietokanta sekä linkki kotimaiseen Tasa-arvotiedon keskukseen (minna.fi).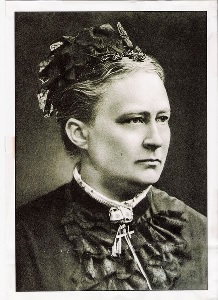 International Women's Day is the 8.3. In Finland, we celebrate the author Minna Canth and the equality the 19.3.
Database Studies on Women and Gender Abstracts (Taylor & Francis) is available in Nelli-portal.
The major focus is on education, employment, women in the family and community, medicine and health, female sex and gender role socialisation, social policy, the social psychology of women, female culture, the media treatment of women, biography, literary criticism and historical studies. Both theoretical and empirical materials are abstracted.