(Please, scroll down to read in English.)
Suomen satavuotisjuhla näkyy kirjastossamme läpi vuoden. "Suomalainen äitiyspakkaus" -teema liittyy Itä-Suomen yliopiston Studia Generalia tapahtumien luentosarjan aiheeseen "Lasten hyvinvointi ja yhteiskunnallinen vastuu – 100-vuotiaan Suomen lapset".
Äitiysavustuslaki hyväksyttiin Suomessa vuonna 1937. Avustus oli tarkoitettu alussa vähävaraisille synnyttäjille. Lain taustalla oli huoli syntyvyyden vähenemisestä sekä suurista lapsikuolleisuusluvuista. Äitiysavustus toi äidit terveydenhuollon piiriin. Äitiysavustuksen arvo oli 450 markkaa kutakin syntyvää lasta kohden. Avustuksen sai raha- tai luontaisavustuksena tai osittain kummassakin muodossa. Vuodesta 1949 lähtien äitiysavustuksen saivat kaikki äidit.
Nykyisin lähes kaikki ensisynnyttäjät valitsevat äitiyspakkauksen. Vain kolmasosa kaikista äideistä valitsee 140 euron rahasumman. Suomalainen äitiyspakkaus on ollut vuosikymmenien ajan ainutlaatuinen koko maailmassa.
Vuonna 1938 luontoisavustuksen määrät (eli äitiyspakkauksen sisältö) oli
pakkaus 1 (äidille ja lapselle): 2 lakanaa, 3 pyyheliinaa, 1 metri sideharsoa, 0,5 kg selluloosavanua, 2 napavyötä, 4 paitaa, 2 nuttua, 4 housuvaippaa, 4 kapalovaippaa,  2 pesulappua
pakkaus 2 (lapselle): 4 napavyötä, 4 paitaa, 4 nuttua, 8 housuvaippaa, 4  kapalovaippaa, 2 ruokalappua, 2 pesulappua, 1 kylpypyyhe, 1 kumialusta, 3  pyyheliinaa
pakkaus 3 (äidille): 2 lakanaa, 3 pyyheliinaa, 1,5 m sideharsoa, 0,5 kg  selluloosavanua
(Lähde: Sosiaaliministeriön kiertokirje 24.9.1937, teoksessa Retrovauvat : suomalaista  lasten historiaa, Ville Hänninen, Juri Nummelin, Elina Teerijoki, 2008).
Vuoden 2017 äitiyspakkauksen sisältö näkyy seuraavassa kuvassa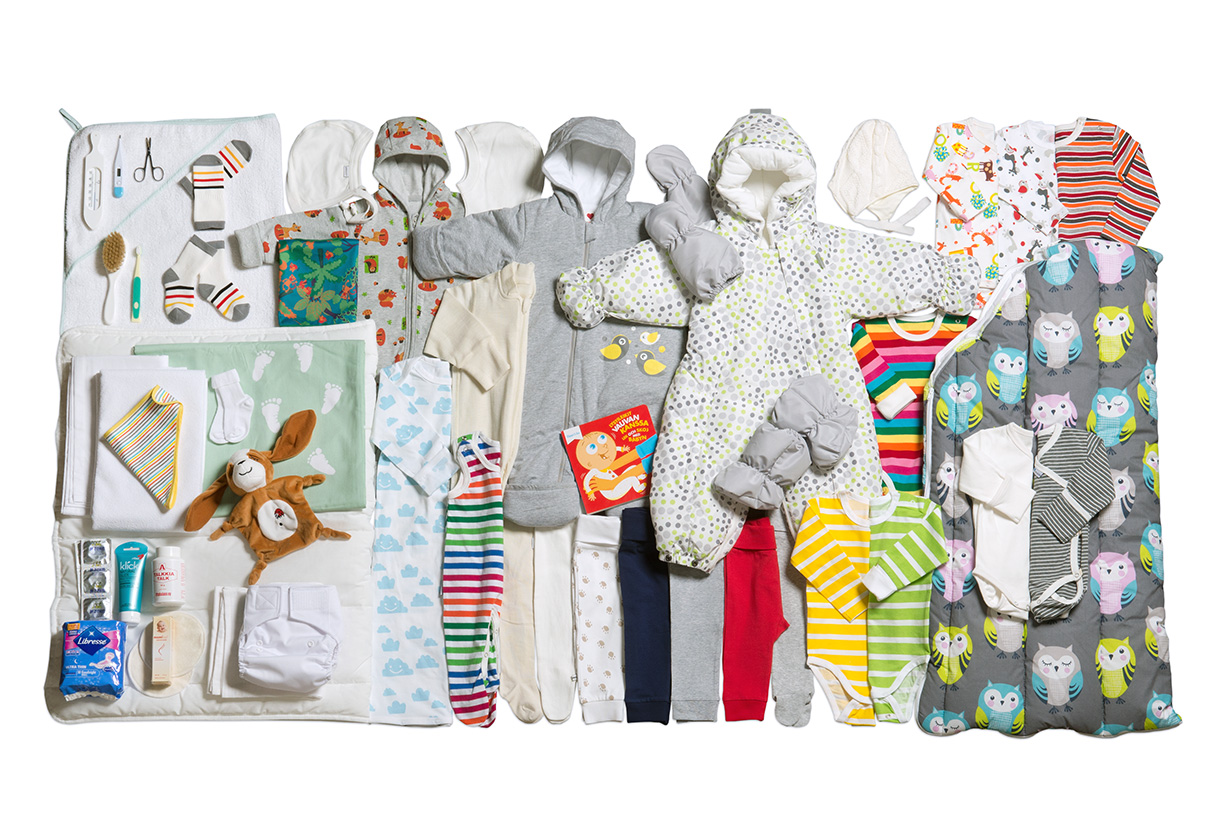 Äitiyspakkauksen sisältöä uudistetaan vuosittain. Pakkaus sisältää vauvan vaatteita ja hoitotarvikkeita. Tekstiilien värit ja kuosit vaihtelevat. Pakkauksen valitaan myös uusia tuotteita. Ennen vuoden 1970-luvun puoliväliä äitiyspakkauksen tekstiilien värin oli pääsääntöisesti valkoinen.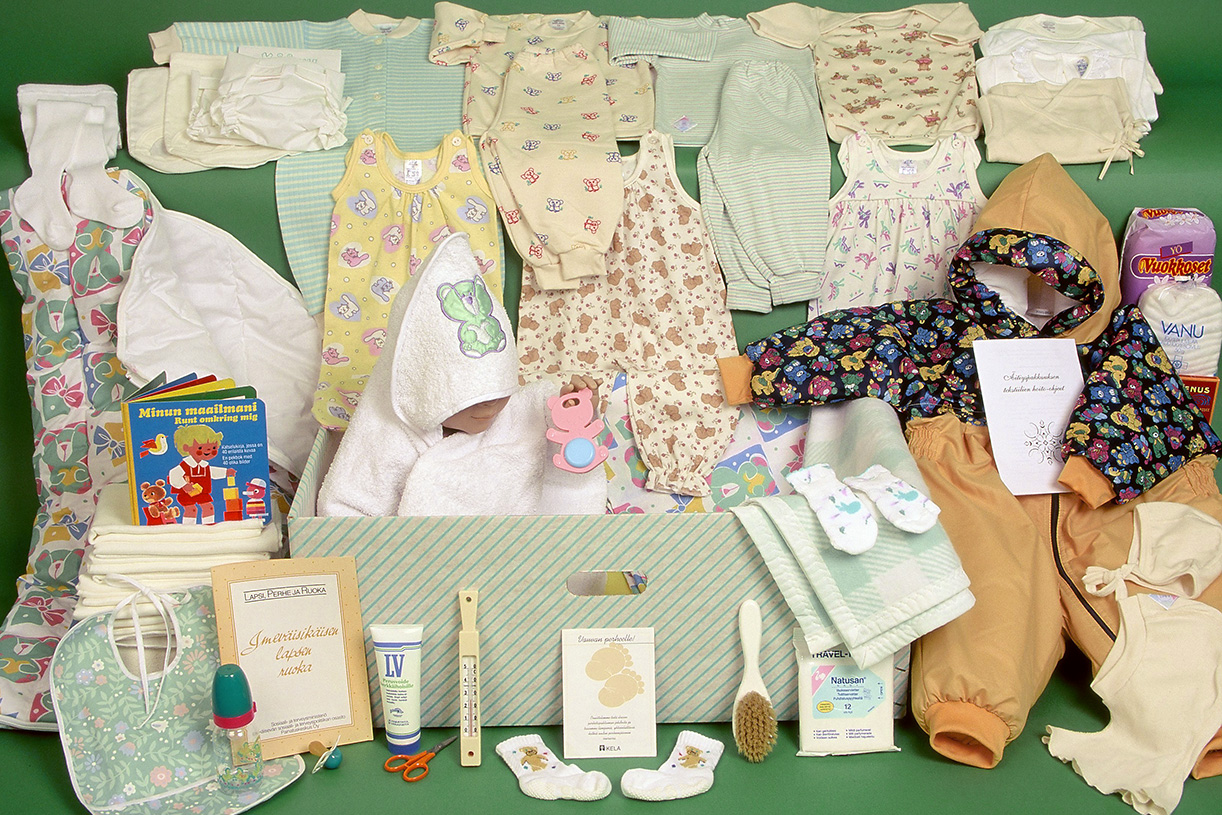 Kuvia aiemmista suomalaisista äitiyspakkauksista ja niiden sisällöstä löytyy mm. Finnasta, Kelan sivuilta sekä Arjenhistoria.fi -verkkoportaalista.
Shortly in English:
The Finland 100 jubilee is present in our library throughout the year. Every month we put out a new book exhibition related in some way to Finland or Finnish culture. This time the topic is Finnish maternity package and how it is related to University of Eastern Finland's celebration of the centenary of Finland's independence. Read more information about Finnish maternity package and maternity grant on the web pages of Kela. You can find photos of previous Finnish maternity packages for example trough Finna and in the web portal Arjenhistoria.fi.
Tarja Turunen
Tietoasiantuntija | Information Specialist
Opetus- ja tietopalvelut | Training and information services