(Please, scroll down to read in English.)
IFLA, kansainvälinen kirjastojärjestöjen liitto, järjesti 85. konferenssinsa Ateenassa. Tämän vuoden teemana oli dialogi muutoksen tukena, joka sopi hyvin sekä Ateenan pitkään filosofiseen perinteeseen että aikamme kaoottiseen viestintätilanteeseen, jossa keskustelu ja argumentointi tuntuvat unohtuvan. Konferenssi on kirjastoalan suurin, tällä kertaa osallistujia oli noin 3500 yhteensä noin 140 maasta.
Datan hallinta akateemisten kirjastojen uutena tehtävänä
Kehittyvä tietotekniikka on antanut uusia mahdollisuuksia kirjastojen työn kehittämiselle. Julkaisemisen siirtyminen digitaaliseen ympäristöön ja tutkimuksessa syntyvien suurten digitaalisten datajoukkojen arkistointi ovat tuomassa tekoälysovellukset kirjastotyöhön. Nämä uudet työkalut mahdollistavat tällaisten laajojen data-aineistojen tehokkaan käytön ja analysoinnin tietokoneavusteisesti.
Koneoppiva tiedonhaku ja tiedonjärjestäminen tuntuvat kehittyvän tällä hetkellä nopeasti. Ne antavat uusia mahdollisuuksia tutkimukselle ja tutkijoille. Tekoälyn tuominen perinteisen tiedonhaun rinnalle näyttää antavan mahdollisuuksia uusien havaintojen tekemiseen sekä tiedonhaussa että varsinkin perustutkimuksessa. Tähänastinen kirjastojen tiedonjärjestäminen on ollut paljolti ennalta määrättyjen rakenteiden soveltamista julkaistuihin teksteihin. Datanlouhinta muuttaa tämän siten, että oppivat tietojärjestelmät kykenevät löytämään suurista datamassoista rakenteita ja suhteita, joihin ihmisen kapasiteetti ei pysty eikä käytettävissä oleva aika riitä. Tämän yhteydessä on alettu puhua tietämyksen löytämisestä (knowledge discovery).
Tähän kehitykseen liittyy myös eettisiä ja juridisia ongelmia. Sekä datan omistajuus että sen käyttö ja käyttötarkoitukset tulee määritellä kestävällä tavalla, jotta eettisesti korkeatasoinen tutkimus olisi mahdollista eikä datan väärinkäyttöä tapahtuisi. Tällä hetkellä koneiden oppiminen on myös vielä niin alkuvaiheessa, että ymmärryksemme lisääminen koneiden tekemistä tulkinnoista ja löydösten validiudesta edellyttää vielä paljon tutkimusta, jotta voimme olla varmoja tutkimustulosten pätevyydestä ja, soveltavilla aloilla, niiden soveltamisesta käytäntöön.
Kirjastoille tekoäly ja nopeasti kehittyvä älykäs semanttinen verkko aiheuttavat myös tarpeen kehittää ja jopa muuttaa toimintatapoja. Ensinnäkin jo nyt on tarjolla sovelluksia, jotka pystyvät löytämään digitaalisista teksteistä avainsanoja ja linkittämään niitä toistensa kanssa tiedonhaun tueksi. Tässä työssä kirjastojen luomat linkitettyä datan käsittelyä tukevat sanastot ja muut rakenteiset tietämyskannat ovat erityisen tärkeitä, jotta tiedonhaun tarkkuus säilyisi jatkossakin.
Tekoälyyn ja käyttäjien mallintamiseen perustuvat sovellukset ovat tulossa myös kirjastojen asiakaspalvelun tueksi. Hyvänä esimerkkinä tästä oli Oodi-kirjaston yhteyteen tehty asiakaspalvelija-sovellus. Se osasi suositella käyttäjälleen teoksia ohjelmistoon mallinnettujen käyttäjätyyppien kautta.
Avoin julkaiseminen eettisenä ja juridisena haasteena tiedeyhteisölle
IFLAn presidenttinäkin toiminut, nykyisin Etelä-Afrikan akateemisessa kirjastolaitoksessa vaikuttava Ellen Tise nosti esityksessään esille seikan, joka yleensä unohtuu suomalaisessakin keskustelussa avoimesta julkaisemisesta. Hyvin toteutettuna avoin julkaiseminen tukee myös eri maantieteellisten alueiden ja eri tieteenalojen välistä tasa-arvoa tieteellisen julkisuuden ja aineistojen saatavuuden toteutumisessa.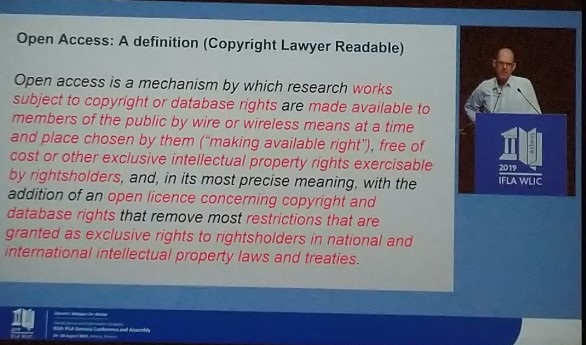 Etelä-Afrikassa on tietoisesti siirrytty vihreään avoimeen julkaisemiseen, koska se mahdollistaa ensinnäkin edullisen tavan julkaista tutkimusta ja toiseksi myös kehitysmaiden äänen kuulumisen kansainvälisessä tutkimuskentässä. Tisen omassa yliopistossa tämä on tarkoittanut myös omien avointen lehtien julkaisemista. Tämä on lisännyt paikallisten tutkijoiden näkyvyyttä ja vaikuttavuutta. Parhaillaan Etelä-Afrikassa ollaan tekemässä kansallista tiekarttaa avoimesta tieteestä. Tise korostikin, että tieteessä on edelleen voimassa kolonialistisia rakenteita, joissa pohjoinen tuottaa tietoa etelän käytettäväksi, vaikka tiedon tuottamisen ja käyttämisen tulisi olla tasa-arvoista ja globaalia.
Myös malesialaisessa esimerkissä paikallistiedon digitoinnista ja avaamisesta laajaan käyttöön tuli esille globaali näkökulma. Paikalliskulttuuria ja sen tuotoksia on päästy vasta viime aikoina julkaisemaan ja jakelemaan laajasti, koska kolonialistiset rakenteet vaikuttivat ennen maan itsenäistymistä sekä siihen, mitä voitiin julkaista, että siihen, mikä katsottiin julkaisemisen arvoiseksi. Heidän esityksensä toi hyvin esille sen, kuinka paikallisten aineistojen avoin julkaiseminen lisää kulttuurista ja tiedollista moniarvoisuutta ja monipuolisuutta. Vertaaminen lajiston köyhtymiseen luonnossa antoi hyvän kuvan siitä, mitä yksiulotteinen julkaisukulttuuri voi saada aikaan maailmassa.
Kirjastot väylänä kohti avointa ja tasa-arvoista tiedettä
Avoin tiede näyttää vakiinnuttavan asemansa tieteen toimintamallina ja akateemisilla kirjastoilla on tässä keskeinen rooli. Muutamassa esityksessä huomasi sen, että avoimuuteen liittyvät tekijän ja käyttäjän oikeudet ja tietoisuus niistä ovat keskeisiä työkaluja tutkijoille, opettajille ja opiskelijoille.
Erityisen tärkeää on kouluttaa uudet opiskelijat ymmärtämään tutkimuksen avoimuuden merkitys omassa toiminnassaan, jotta he olisivat tulevaisuuden aktiivisia toimijoita tasa-arvoisen globaalin tutkimusmaailman synnyttämisessä. Tässä on meillä UEFissakin vielä tekemistä.
Kirjastojen perustyö hankkia, järjestää ja saattaa käyttöön erilaisia aineistoja näyttää tulevan rikkaammaksi digitaalisessa tekoälymaailmassa. Tämä tarkoittaa osaamisen uudistamista, uusien työkalujen luomista ja ennen kaikkea kirjaston palveluiden integroimista erilaisiin digitaalisiin toimintaympäristöihin ja ennen kaikkea akateemiseen työhön.

IFLA, the International Federation of Library Organizations, organized its 85th conference in Athens. This year's theme was dialogue for change, which fits well with Athens' long philosophical tradition and the chaotic communications of our time, where discussion and argumentation seem to be forgotten. The conference is the largest in the library industry, this time with around 3500 participants from about 140 countries.
Data management as a new task for academic libraries
Emerging information technology has provided new opportunities for the development of libraries. As publishing moves into the digital environment, and with the recent debate on archiving and deploying various digital data sets generated by research are bringing artificial intelligence applications to the library.
Machine learning and information management seem to be developing rapidly at the moment and offer new opportunities for research and researchers. Bringing artificial intelligence alongside traditional information retrieval techniques seems to offer opportunities for new findings both in information retrieval and especially in basic research. So far, the organization of information in libraries has largely been the application of predefined structures to published texts. Data mining changes this so that learning information systems can find structures and relationships on large masses of data that human capacity and the time available are inadequate for coping with. This has been defined as knowledge discovery.
There are also ethical and legal issues with this development. Both ownership of data and its use and uses must be defined in a sustainable manner in order to allow for ethically high-quality research and to prevent data misuse. Now, machine learning is still in its early stages, so that increasing our understanding about machine interpretations and the validity of findings still requires a great deal of research in order to be sure of the validity of research results.
For libraries, artificial intelligence and a rapidly evolving intelligent semantic networks also necessitate the development and even change of practices. First, there are already applications available that can find keywords in digital texts and link them to each other for information retrieval. In this work the structured knowledge bases and systems created by libraries can support the interlinked data in order to maintain the accuracy of information retrieval.
Applications based on artificial intelligence and user modeling are also coming to support libraries' customer service. A good example of this was the Oodi library customer service application. It was able to recommend works to its user through the types of users modeled on the software.
Open publication as an ethical and legal challenge for the scientific community
Ellen Tise, who also served as IFLA's president and currently works at the South African academic library community, highlighted something that is usually overlooked in the Finnish debate on open publishing. Open publishing, if well implemented, also promotes equality between geographical areas and disciplines in terms of scientific publicity and access to materials.
In South Africa, there has been a deliberate shift towards green open publishing, because it enables, firstly, a cost-effective way of publishing research, and because it also enables developing countries' voice in the international research field. At Tise's own university, this has also meant publishing its own open journals. This has increased the visibility and impact of local researchers. A national road map on open science is currently being prepared in South Africa. Indeed, Tise emphasized that science still has colonial structures where the North produces knowledge for use by the South, even though knowledge production and use should be equitable and global.
The Malaysian example of widespread digitization and opening of local data also brought to light this global perspective. Local culture and its output have only recently been widely published and disseminated, because before colonialism the colonial structures influenced both what could be published and what was considered worth publishing. Their presentation highlighted how the open publication of local materials enhances cultural and informational pluralism and diversity. The comparison with the decline of species in the nature gave a good idea of ​​what a one-dimensional publication culture could bring about in the world.
Libraries as a route to open and equal science
Open science seems to have established itself as an operational model of science and academic libraries play a key role here. In quite a few presentations, one discovered that openness and awareness of author and user rights are essential tools for researchers, teachers and students.
It is particularly important to educate new students to understand the importance of openness in research, so that they will be active players in the future in creating an equitable global research world. Here we have still a lot to do in UEF.
The basic work of libraries to acquire, organize and make available various materials seems to be getting richer in the digital artificial intelligence world. This means renewing knowledge, creating new tools and, above all, integrating library services into different digital environments and open learning.
Jarmo Saarti, kirjaston johtaja | Library Director