(Please, scroll down to read a summary in English.)
Lääke- ja terveystieteiden sekä lähialojen kirjasto- ja tietopalveluammattilaisten yhdistys Bibliothecarii Medicinae Fenniae (BMF) ry auttaa jäseniään luomaan ammatillisia verkostoja ja kehittämään ammattitaitoaan sekä järjestää koulutusta ja ylläpitää kansainvälisiä yhteyksiä. Pieni mutta aktiivinen yhdistys järjestää vuosittain ammatillisen syysseminaarin jäsenilleen ja muille kiinnostuneille.
Tämänvuotinen syysseminaari pidettiin Tieteiden talossa Helsingissä. Pääpuhuja oli tutkijatohtori Anna-Maija Multas (Oulun yliopisto) aiheenaan terveystiedon muuttuvat lukutaidot. Esitys perustui hänen neksusanalyyttiseen väitöskirjatutkimukseensa uusista terveystiedon lukutaidoista. Multas on tutkinut, miten ihmiset toimivat terveystiedon kanssa arjen verkkoympäristöissä. Multas pyrkii hahmottamaan uudenlaisia tapoja ymmärtää terveystiedon lukutaitoja uusiutuvien teknologioiden aikakaudella, sillä uudet teknologiat vaikuttavat siihen, miten terveyteen ja hyvinvointiin liittyvää informaatiota luodaan, hankitaan ja arvioidaan.
Systemaattisessa kirjallisuuskatsauksessa Multas selvitti verkkoympäristöihin keskittynyttä terveyden lukutaidon tutkimusta tavoitteenaan hahmottaa, miten terveyden lukutaitoa on määritelty, mitattu ja tutkittu tieteellisissä julkaisuissa. Kirjallisuuskatsauksesta löytyneiden tutkimuksellisten aukkojen täyttämiseksi Multas tutki nuorten arkielämän terveystiedon lukutaitoja sosiaalisessa mediassa. Neksusanalysoitu aineisto koostuu kolmen videobloggaajan haastatteluista, videopäiväkirjoista ja YouTube-videoista.
Multaksen esitys herätti ajattelemaan kuinka yhteiskunnassa todellakin eletään erikoisia, koronapandemian ja sodanuhkan, määrittelemiä aikoja, mikä johtaa infodemiaan. Ihmiskunta on pakotettu luomaan uusia ja toisaalta muokkaamaan vanhoja tietokäytänteitä, jotta se osaisi toimia uuden informaation edessä. Somevaikuttajien, kuten tubettajien, tiedonvälitys on yksi esimerkki tästä, ja heillä todellakin on vaikutusta, etenkin nuorison informaation keruuseen.
Lyhyemmissä esityksissä aiheina olivat mm. LAB-ammattikorkeakoulun selvitys tiedonhaun osaamisesta YAMK-opinnoissa (Heli Vilja-Sarromaa, LUT-tiedekirjasto), yritys kirjasto- ja hankintapalvelujen tuottajana (Aila Ruokokoski, SOTE-virtuaalikirjasto) ja tieteenalaryhmien palvelukonseptien luominen palvelumuotoilun menetelmin (Päivi Letonsaari, Turun yliopiston kirjasto). Etenkin Vilja-Sarromaan ja Letonsaaren esitykset saivat huomaamaan kuinka samantapaisissa asioissa korkeakoulujen kirjastot tekevät kehitystyötä. Täten yhteisseminaareihin osallistumalla saamme ideoita ja työkaluja myös oman kirjaston palveluiden kehittämiseen.
Myös tämän blogitekstin kirjoittajat pitivät lyhyet esitykset: Taisan aiheena olivat selvityskyselyn tulokset perusopiskelijoiden tutkimusaineistonhallinnan opetuksesta ja ohjauksesta Itä-Suomen yliopistossa ja Tuulevi puhui kirjaston viestintäsuunnitelman toteutumisesta. Esitykset toivat hyvin esiin sen, kuinka monipuolista akateemisten kirjastojen työ opiskelu- ja tutkimusmaailmassa onkaan ja kuinka vain muutos on pysyvää akateemisten kirjastojen työntekijöiden osaamisen kehittymisessä.
Seminaarit ovat aina erinomainen tilaisuus tavata vanhoja ja uusia kollegoja eri organisaatioista ja verkostoitua. Seminaarin jälkeen BMF piti syyskokouksensa ja Taisa valittiin hallitukseen yhtenä kahdesta uudesta jäsenestä kaksivuotiskaudelle 2023-2024.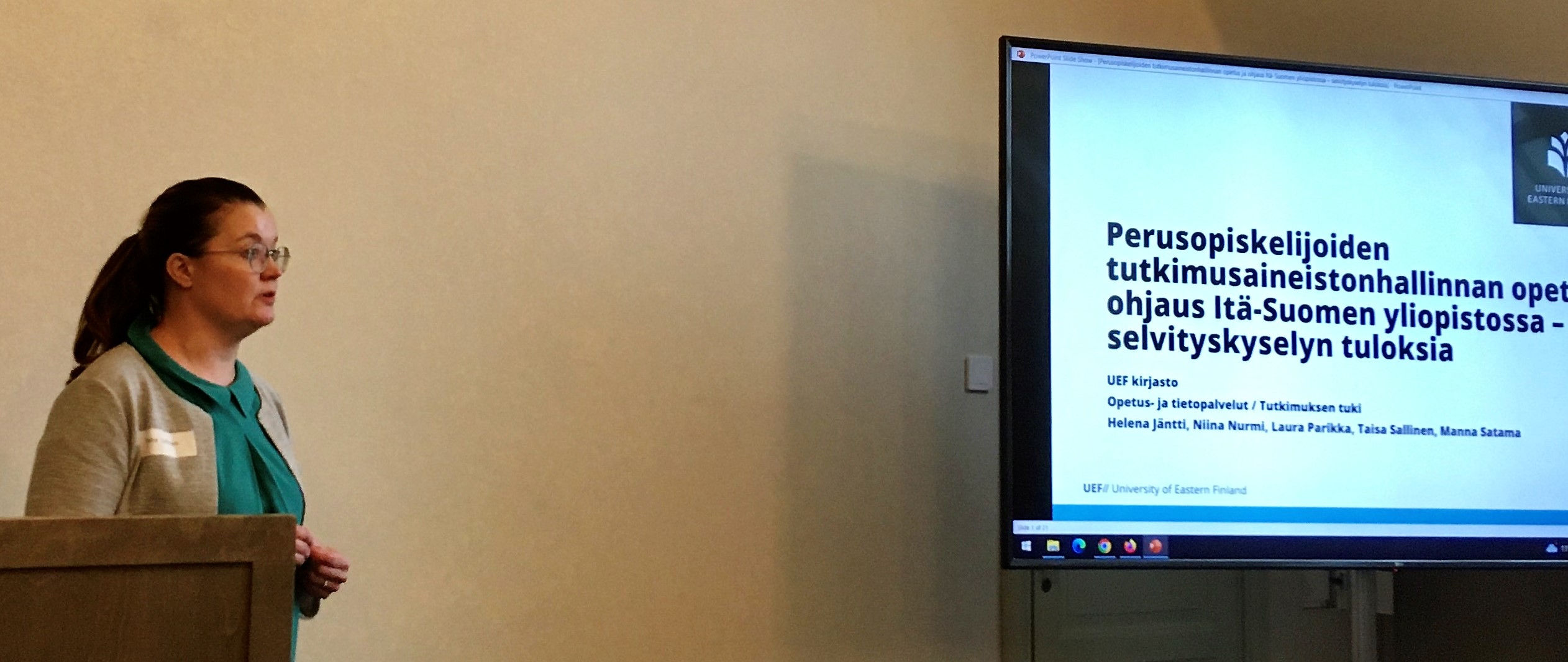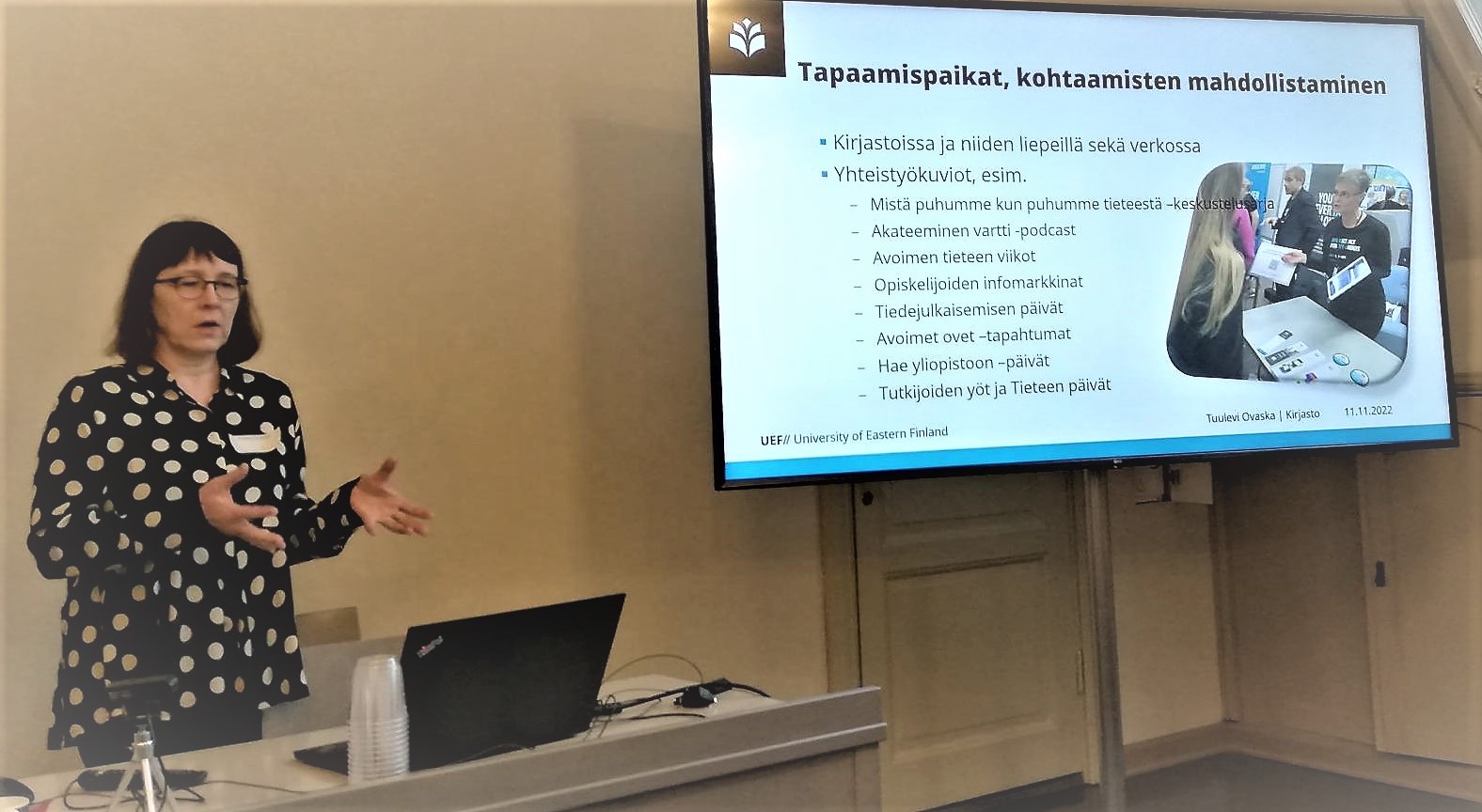 Briefly in English
Bibliothecarii Medicinae Fenniae (BMF) is a professional association for medical and health librarians and information professionals in Finland. Among other things, the association organizes seminars.
In this autumn's seminar the keynote speaker was Anna-Maija Multas, Postdoctoral Researcher at the University of Oulu, who spoke about the topic of her PhD thesis that investigates new health information literacies as sociocultural phenomena and employs nexus analysis as its methodology.
The presentation of Multas prompted us to think of the unusual times that our world lives in, with the corona pandemic and the threat of war, which leads to infodemic. Mankind has been forced to create new and, on the other hand, to shape old information practices in order to face new information. The communication of social media, such as YouTube influencers, is one example of this and indeed has an impact, especially on young people that are gathering information about the situation that our world lives in.
In shorter presentations, subjects included LAB University of Applied Sciences study on knowledge retrieval competence, a company as a producer of library and acquisition services, and using service design methods to create service concepts for discipline groups. The presentations made it clear how academic libraries do development work in similar matters. Thus, by participating in joint seminars, we get ideas and tools for developing the services of our own library.
The authors gave short presentations, too: Taisa's subject was the results of a survey on the teaching and guidance of research data management for undergraduate students at UEF and Tuulevi talked about the implementation of the library's communication plan. The presentations highlighted how diverse the work of academic libraries is in both education and research and how change is permanent in the development of the skills of academic library workers.
The seminars are always an excellent opportunity to meet old and new colleagues from different organizations and to network. After the seminar BMF had its autumn meeting, and Taisa was elected to the board as one of the two new members for the two-year period of 2023-2024.
Tuulevi Ovaska, erityistietoasiantuntija | Senior Information Specialist
Taisa Sallinen, tietoasiantuntija | Information Specialist
Opetus- ja tietopalvelut | Training and Information Services