Pääsin benchmarking-matkalla osallistumaan iltapäivän pituiseen kahden esitelmän seminaariin Copyright in Europe – lobbying at a national and European level, jonka järjesti EBLIDA Brysselissä Belgian kuninkaallisen kirjaston tiloissa.
EBLIDA (European Bureau of Library, Information and Documentation Associations) on eurooppalaisten kirjasto-, informaatio-, dokumentaatio- ja arkistojärjestöjen ja -laitosten riippumaton sateenvarjojärjestö Euroopassa.
Tällä hetkellä EBLIDA kampanjoi erityisesti oikeudesta e-lukemiseen.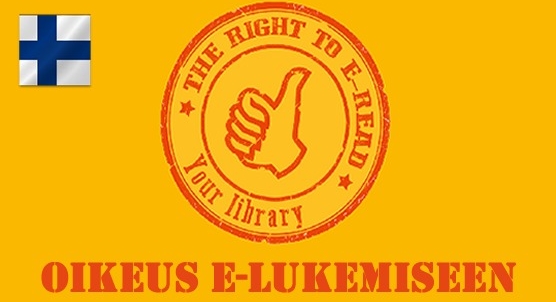 Seminaarin ensimmäinen puhuja Uldis Zarins Latvian kansalliskirjastosta puhui otsikon Copyright at the EU level alla Euroopan (unionin) nykyisestä tekijänoikeustilanteesta ja siihen liittyvästä sääntelystä, jota on sekä EU:n että kansallisella tasolla. Zarins korosti, että kirjastot kantavat huolta nimenomaan käyttäjiensä, kansalaisten, oikeudesta lukea (myös) e-aineistoja.
Toinen puhuja oli EBLIDAn puheenjohtaja Vincent Bonnet, joka totesi, että puolet EU-parlamentin jäsenistä on nyt uusia, joten lobattavaa riittää. On myös huomioitava, etteivät tekijänoikeuskysymykset ole vain kirjastojen asia, vaan tasapainoa on haettava kaikkien eri toimijoiden (kirjailijat, kuvittajat, kustantajat jne.) kesken. EBLIDA:lle on tärkeää kirjastojen yhteinen ääni. Tilanne on nyt pirstaleinen eikä EU:ssa, saati Euroopassa, ole yhtenäistä tekijänoikeuskäytäntöä. Oikeus informaatioon vaatii työtä monilla eri foorumeilla.
Noin viisikymmenpäisessä yleisössä oli kaksi muutakin suomalaista osallistujaa: EBLIDA:n hallituksen jäsen Leena Toivonen ja Suomen Kirjastoseuran puheenjohtaja Jukka Relander. Maailma on pieni.
Tuulevi Ovaska, KYSin tieteellinen kirjasto