(Please, scroll down to read a summary inEnglish.)
Paljonko kasvisruokavaliota noudatetaan eri puolilla maailmaa?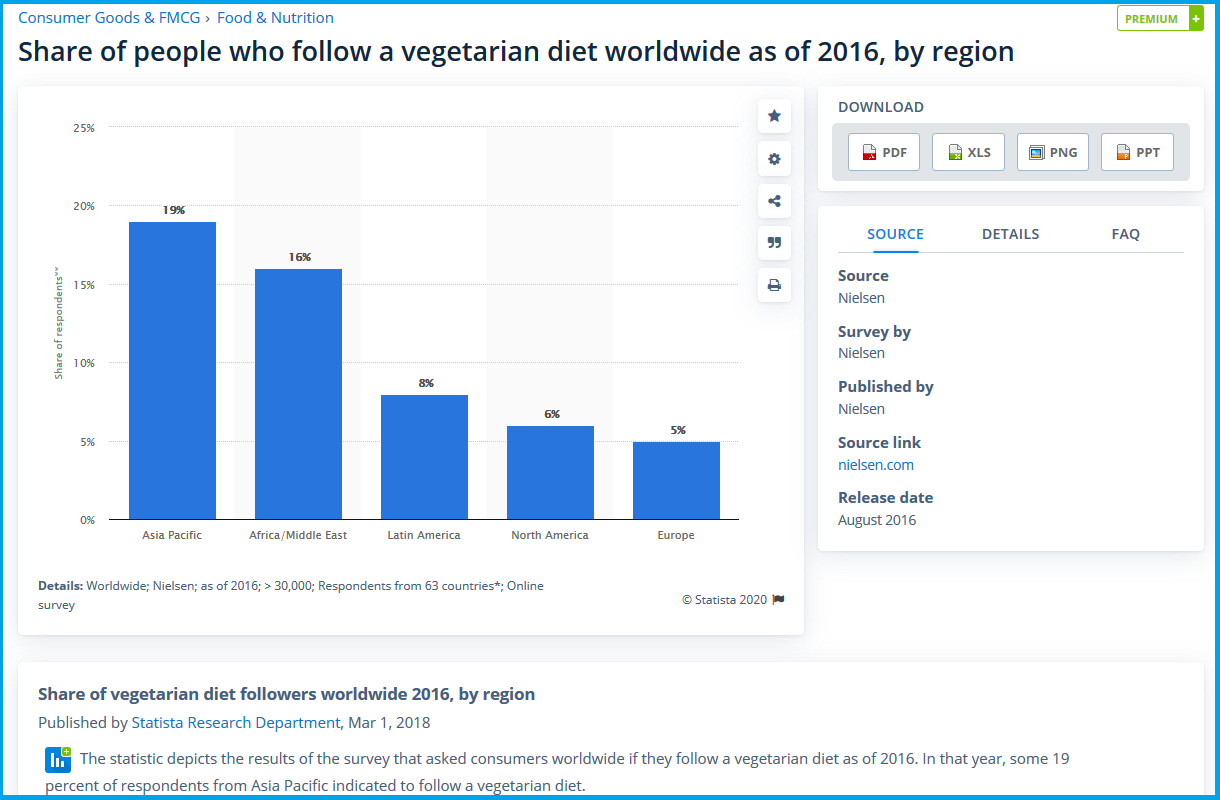 Koronaviruksen vaikutukset kiinalaisturisteihin Venäjällä: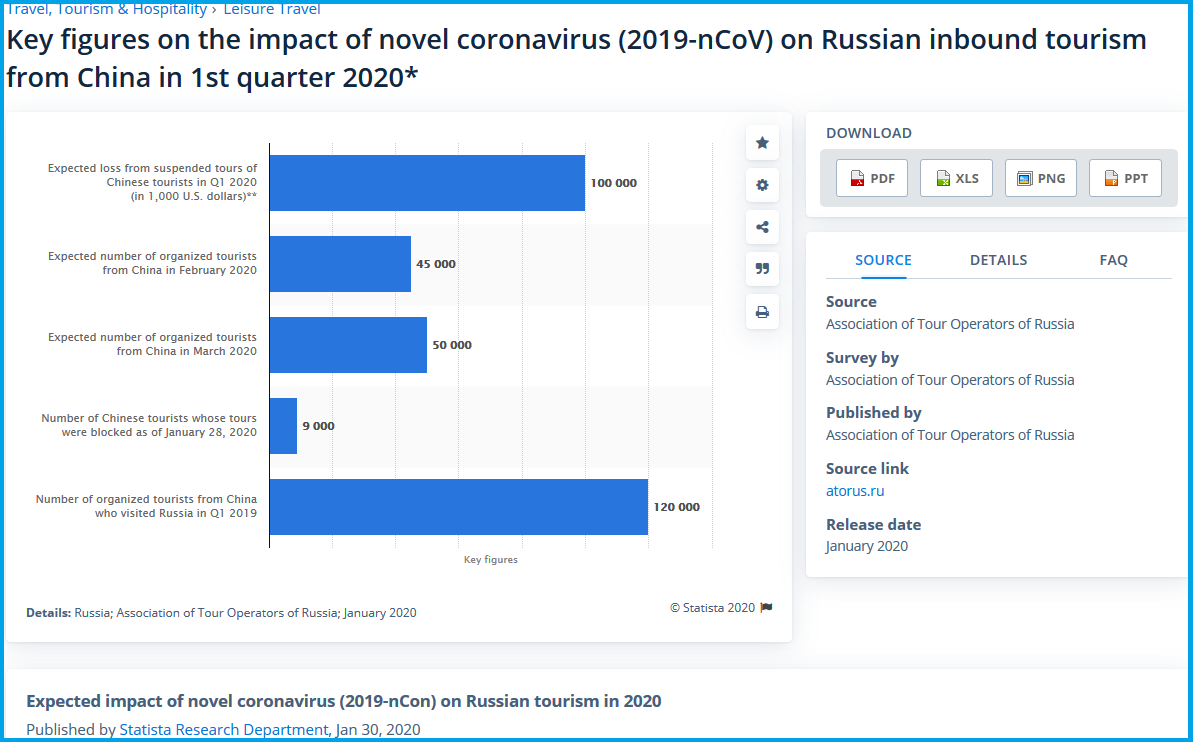 Statista on yksi maailman kattavimmista tilastotietoon ja markkinadataan keskittyneistä sivustoista. Kansainvälinen dataportaali keskittyy EU:n, Iso-Britannian, USA:n ja Aasian markkina-alueisiin. Statistan kautta on pääsy 1,5 miljoonaan tilastoon, markkinaennusteisiin, toimialakohtaisiin julkaisuihin, raportteihin ja infograafeihin. Sivusto kokoaa yhteen alakohtaisen talous- ja kuluttajatiedon, mielipidekyselyt sekä maailmantalouden kiinnostavimmat trendit.
Mukana on sekä kansallista että kansainvälistä dataa, joka koskee yli 80 000 aihepiiriä ja 170 eri toimialaa. Tietoa löytyy niin Suomen mainosmyynnistä, Englannin kuluttajatuotemarkkinoista kuin Kiinan mobiilipelikehityksestäkin.
Nyt käytössäsi Itä-Suomen yliopistossa UEF-Primon kautta!
Katso opas ja esittely.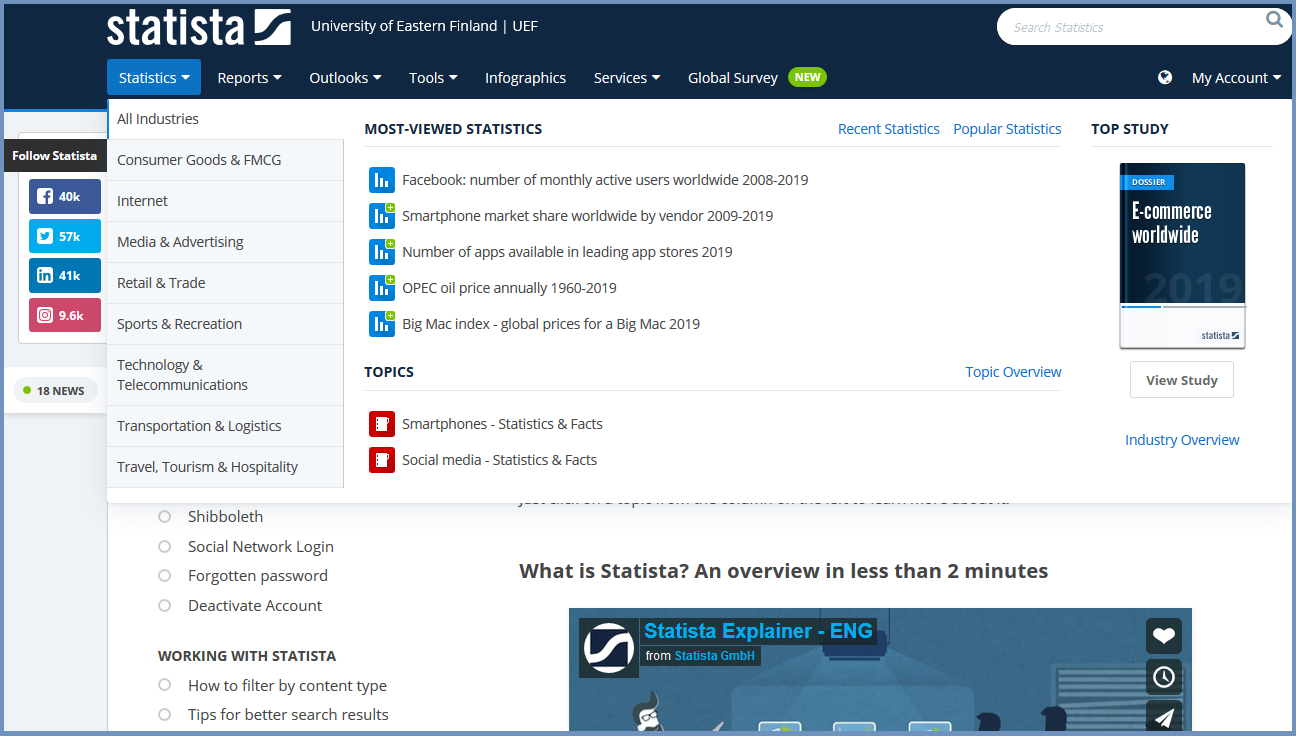 Briefly

in English
Statista is one of the world's largest statistics and market data platforms with access to more than 1.5 million statistics, forecasts, dossiers, reports and infographics on 80,000 topics from more than 22,500 sources. From the rabbit pet food market value in the UK, to the share of population reading newspapers daily in Norway, to a breakdown of mobile gamers in China. The platform combines economic data, consumer insights, opinion polls and demographic trends.
Now available via UEF Primo!
See the tutorials.
Merja Kauppinen & Maarit Putous
Tietoasiantuntijat | Information Specialists
Opetus- ja tietopalvelut | Training and information services