(Please, scroll down to read a brief summary in English.)
Kirjat ovat vaarallisia. Sen tietää jokainen. Ne voivat saada ajattelemaan. Ihmisiä pitää suojella (vääriltä, pahoilta, huonoilta, kieroilta) kirjoilta. Eikö niin?
Niin ajatellaan ainakin diktatuureissa, totalitarismeissa ja muissa sananvapautta rajoittavissa yhteiskunnissa. Silloin kirjoja poistetaan kirjastoista ja kirjakaupoista, estetään julkaisemasta tai tuomasta maahan, silputaan ja jopa poltetaan. Joskus niitä sensuroidaan osittain.
Moskovan kielletyt
Viimeiseksi aiheesta on uutisoitu Venäjällä. Moskovan kirjastoille (ja varmaan muillekin) toimitettiin joulukuussa 2022 luettelo kirjoista, jotka on tuhottava Venäjän ns. seksuaalivähemmistöpropagandan kieltävän lain johdosta. Siis tuhottava. Ei esimerkiksi vain vietävä varastoon lukkojen taakse, asiakkaiden ulottumattomiin.
Osa Moskovan kielletyistä on suomennettu ja niistä osan löydät UEF-Primosta. (Linkit avautuvat uusiin välilehtiin.)
Listan kirjoista ovat ilmestyneet suomeksi myös nämä:
John Boyne, Kuudes mies (2013; The Absolutist, 2011; suomentanut Laura Beck)
Michael Cunningham, Lumikuningatar (2014; Snow Queen, 2014; suomentanut Raimo Salminen)
Emma Cline, Tytöt (2016; The Girls, 2016; suomentanut Kaijamari Sivill)
Sarah Waters, Vieras kartanossa (2011; The Little Stranger, 2009; suomentanut Helene Bützow)
Voit löytää kirjoja vaikkapa käyttämästäsi yleisestä kirjastosta tai etsiä niitä Finna.fi-hakupalvelun (linkki avautuu uuteen välilehteen) avulla monesta kirjastosta samalla kerralla.
Listan kirjoista toistaiseksi suomentamattomia ovat:
Chloe Benjamin, The Immortalists, 2018
John Boyne, A Ladder to the Sky, 2018
Blanca Busquets, El jersei, 2006
Jaume Cabré, Jo confesso, 2011
Patricia Duncker, James Miranda Barry, 1999
Stephen Fry, Making History, 1996
Robert Jones Jr, The Prophets, 2021
Igor Kon, Vvedeniye v seksologiyu, 1988 (Introduction to Sexology)
David Levithan, Every Day, 2012
Eduard Limonov, Eto ja – Editška, 1979 (It's Me, Eddie)
Colum McCann, Dancer, 2003
Rebecca Makkai, The Borrower, 2011
Marie-Aude Murail, Oh, boy! 2016
Frances de Pontes Peebles, The Air You Breathe, 2018
Vasili Rozanov, Ljudi lunnogo sveta, 1911
Danielle Steel, Family Album, 1994
Maggie Stiefvater, The Raven Boys, 2012
Maggie Stiefvater, The Dream Thieves, 2013
Todd Strasser, The Wave, 1981
Oksana Vasjakina, Rana, 2021
Darja Vilke, Šutovskoi kolpak, 2013
Sarah Waters, Tipping the Velvet, 1998
Banana Yoshimoto, Tokage, 1993
Kirjoja kielletyistä kirjoista
Venäjällä nyt kiellettyjen kirjojen luettelo ei ole ensimmäinen eikä viimeinen sensuroitujen kirjojen luettelo. Kirjoja on sensuroitu, kielletty ja tuhottu kaikkina aikoina kaikkialla maailmassa erilaisista ideologisista syistä.
Suomessa aiheesta on kirjoittanut erityisesti Kai Ekholm:
Postauksen lopussa on lista joistakin UEF-Primon kautta löytyvistä englanninkielisistä kirjoista, joista voit lukea lisää kirjasensuurista ja sananvapauden rajoittamisesta eri aikoina ja eri maissa.
Lue lisää
(linkit avautuvat uusiin välilehtiin)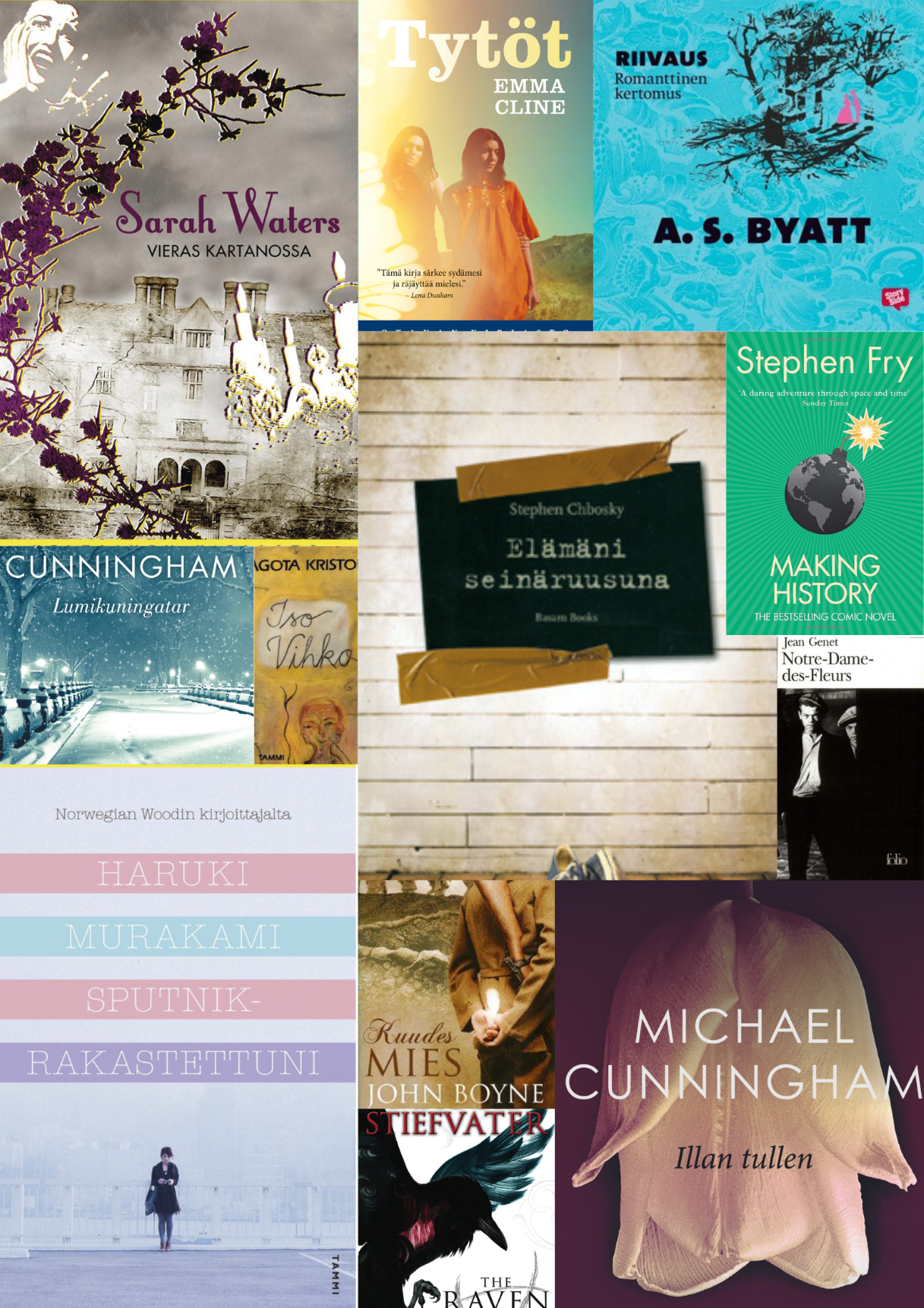 Books are dangerous. Everyone knows that. They can make you think. People must be protected from (wrong, bad, foul, crooked) books. Right?
That is what is thought in dictatorships, totalitarianisms and other societies that restrict freedom of expression. Thus, books are removed from libraries and book stores, prevented from publishing or importing, destroyed and even burned. Sometimes parts of them are censored.
The topic was reported in Russia in December 2022. A list of books to be destroyed was sent to libraries in Moscow. This must be done according to the Russian law that prohibits the so called LGBTQIA+ propaganda.
The list includes at least these books:
Chloe Benjamin, The Immortalists, 2018
John Boyne, The Absolutist, 2011
John Boyne, A Ladder to the Sky, 2018
Blanca Busquets, El jersei, 2006
A. S. Byatt, Possession. A Romance, 1990
Jaume Cabré, Jo confesso, 2011
Stephen Chbosky, The Perks of Being a Wallflower, 1999
Emma Cline, The Girls, 2016
Michael Cunningham, By Nightfall, 2010
Michael Cunningham, Snow Queen, 2014
Patricia Duncker, James Miranda Barry, 1999
Stephen Fry, The Fry Chronicles, 2010
Stephen Fry, Making History, 1996
Jean Genet, Notre-Dame-des-Fleurs, 1957 (Our Lady of the Flowers)
Robert Jones Jr., The Prophets, 2021
Igor Kon, Vvedeniye v seksologiyu, 1988 (Introduction to Sexology)
Agota Kristof, Le grand cahier, 1986 (The Notebook)
David Levithan, Every Day, 2012
Eduard Limonov, Eto ja – Editška, 1979 (It's Me, Eddie)
Colum McCann, Dancer, 2003
Rebecca Makkai, The Borrower, 2011
Marie-Aude Murail, Oh, boy! 2016
Haruki Murakami, Supūtoniku no koibito, 1999 (Sputnik Sweetheart)
Frances de Pontes Peebles, The Air You Breathe, 2018
Vasili Rozanov, Ljudi lunnogo sveta, 1911
Danielle Steel, Family Album, 1994
Maggie Stiefvater, The Raven Boys, 2012
Maggie Stiefvater, The Dream Thieves, 2013
Todd Strasser, The Wave, 1981
Oksana Vasjakina, Rana, 2021
Darja Vilke, Šutovskoi kolpak, 2013
Sarah Waters, The Little Stranger, 2009
Sarah Waters, Tipping the Velvet, 1998
Banana Yoshimoto, Tokage, 1993
Books about banned books
The table below is a short list of books about banned, forbidden, prohibited books that can be found at UEF Primo. (The links to UEF Primo open in new tabs.)
| | | |
| --- | --- | --- |
| Abel, Jonathan E. | Redacted the archives of censorship in transwar Japan  | 2012 |
| Báez, Fernando & MacAdam, Alfred | A universal history of the destruction of books : from ancient Sumer to modern Iraq  | 2008 |
| Bennett, Jeffrey A. | Banning queer blood : rhetorics of citizenship, contagion, and resistance  | 2015 |
| Boyer, Paul S. | Purity in print : book censorship in America from the Gilded Age to the Computer Age  | 2002 |
| Chandran, Mini | The writer, the reader and the state : literary censorship in India  | 2017 |
| Davidson, Jared | Dead letters : censorship and subversion in New Zealand, 1914-1920  | 2019 |
| Eberhart, George M. | The librarian's book of lists  | 2010 |
| Fishburn, Matthew | Burning books  | 2008 |
| Fletcher-Spear, Kristin & Tyler, Kelly, eds. | Intellectual freedom for teens : a practical guide for young adults and school librarians  | 2014 |
| Foerstel, Herbert N. | Banned in the U.S.A : a reference guide to book censorship in schools and public libraries  | 2002 |
| Goldstein, Robert Justin | The war for the public mind : political censorship in nineteenth-century Europe  | 2000 |
| Helgason, Jon & Erlanson, Erik & Henning, Peter & Lindsköld, Linnéa | Forbidden Literature (open access) | 2020 |
| Helm, Jennifer | Poetry and censorship in Counter-Reformation Italy  | 2015 |
| Herrero-Olaizola, Alejandro & Franco, Francisco | The censorship files Latin American writers and Franco's Spain  | 2007 |
| Hill, Lawrence | Dear sir, I intend to burn your book : an anatomy of a book burning  | 2013 |
| Knox, Emily | Book banning in 21st-century America  | 2015 |
| Lewy, Guenter | Harmful and undesirable : book censorship in Nazi Germany  | 2016 |
| Marx, Bill & Elliott, Nicholas | The hatred of literature  | 2018 |
| McDonald, Peter D. | The literature police : apartheid censorship and its cultural consequences  | 2009 |
| Moore, N. | The censor's library  | 2012 |
| Nye, Valerie & Barco, Kathy | True stories of censorship battles in America's libraries  | 2012 |
| Pekoll, Kristin | Beyond banned books : defending intellectual freedom throughout your library  | 2019 |
| Pennell, Richard & Pryde, Pam & Stinson, Emmett | Banning Islamic books in Australia  | 2011 |
| Raven, James | Lost libraries : the destruction of great book collections since antiquity  | 2004 |
| Scales, Pat R. | Defending frequently challenged young adult books : a handbook for librarians and educators  | 2016 |
| Schwartz, Lowell | Barriers to the broad dissemination of creative works in the Arab world | 2009 |
| Stark, Gary D. | Banned in Berlin : literary censorship in imperial Germany, 1871-1918  | 2009 |
| Xie, Baohui | Media transparency in China : rethinking rhetoric and reality  | 2014 |
See also
(Links open in new tabs)
Tuulevi Ovaska, erityistietoasiantuntija | Senior information specialist
Opetus- ja tietopalvelut | Training and information services