"Luonto valokuvissa – valokuvaa luontoa" kirjanäyttelyssä Kuopion kampuskirjastossa esillä luonnonvalokuvauksesta kertovia kirjoja.
Kirjat ovat lainattavissa kirjaston asiakaspalvelun kautta.
Tiesitkö, että Vuoden Luontokuva on valittu Suomessa vuodesta 1980 lähtien ja kilpailu vuoden luontokuvan ottamisesta alkoi seuraavana vuonna. Vuoden Luontokuva – kilpailun järjestää Suomen Luonnonvalokuvaajat SLV ry ja valokuvaamisessa voi kilpailla seitsemässä avoimessa sarjassa nuorten sarjan lisäksi: kasvit ja sienet, linnut, maisemat, nisäkkäät, muut eläimet, taidetta luonnosta sekä luonto ja ihminen. Vuoden Luontokuvat  -kilpailun parhaista kuvista kootaan näyttely, joka kiertää ympäri Suomea. Vuoden Luontokuva 2014 julkistetaan 18.10.2014.
(Lähde: www.vuodenluontokuva.fi)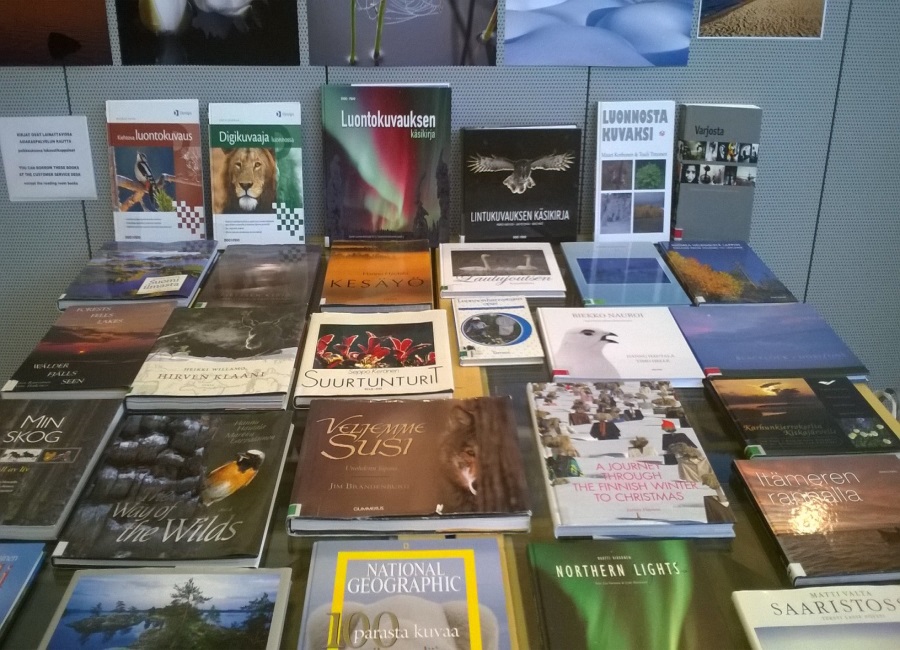 "Nature in photographs – capture nature" Book exhibition at the Kuopio Campus Library consists of books on taking photographs of nature.
The books in the exhibition can be borrowed at the Library's Customer Service Desk.
Did you know that the Wildlife Photo of the Year in Finland has been chosen since 1980 and the competition started the following year. The Wildlife Photo of the Year in Finland -competition is organized by the Finnish Association of Nature Photographers and you can compete in seven categories in addition to the youth category. The photo exhibition presenting the best photographs of the Wildlife Photo of the Year – competition tours around Finland. The Wildlife Photo 2014 in Finland will be published on the 18th of October.
(Source: www.vuodenluontokuva.fi)
Tarja Turunen, tietoasiantuntija