Avoimen tieteen edistäjä
Avoimen tieteen teemaviikolla palkitaan vuosittain yliopiston taho, joka työllään edistää tieteen avoimuutta. Järjestyksessään seitsemäs avoimen tieteen edistäjän kunniakirja luovutettiin Fotoniikan instituutille 25.10.2022. Kunniakirjan otti vastaan instituutin johtaja, professori Jyrki Saarinen.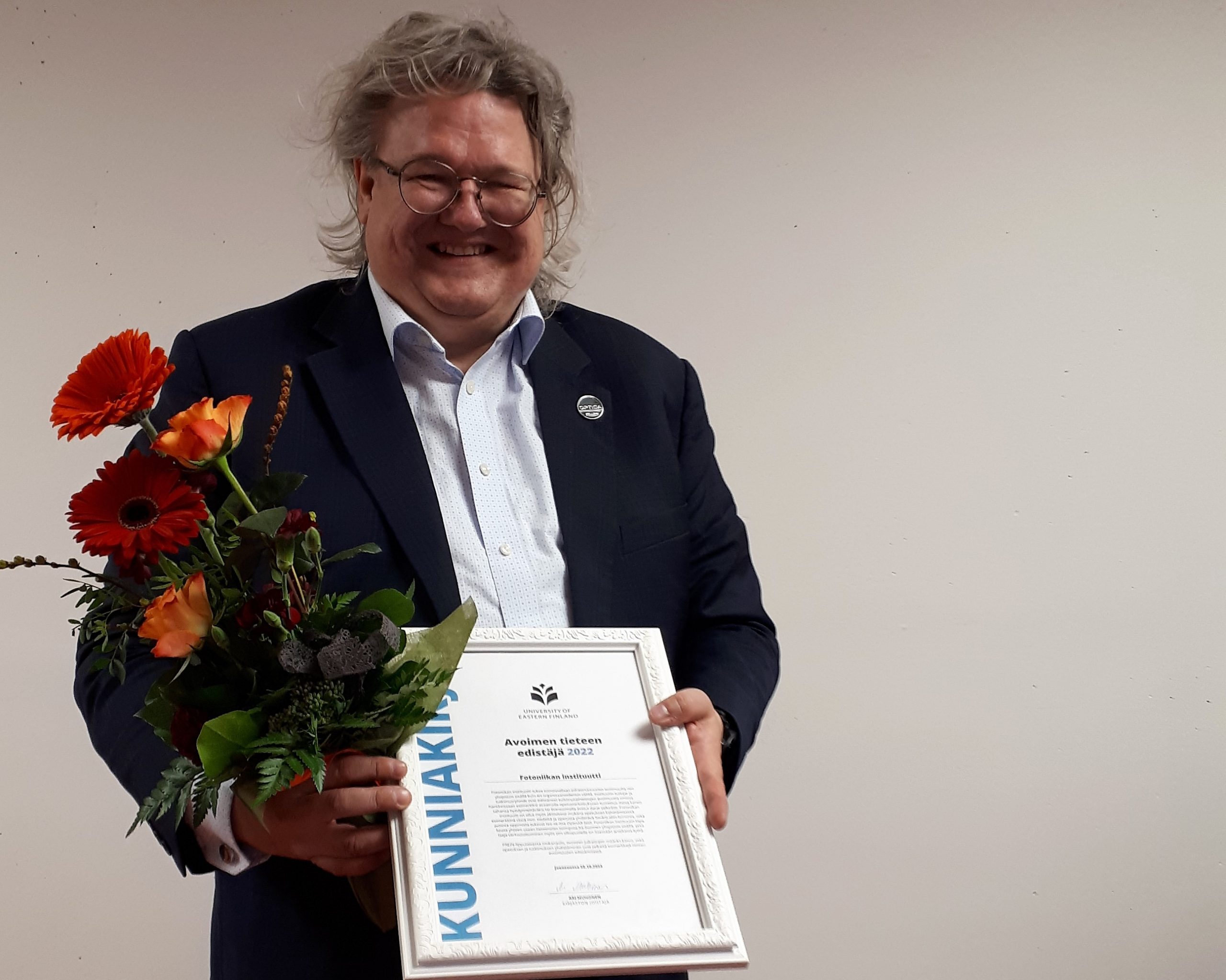 Fotoniikan instituutti kokoaa yhteen usean tieteenalan toimijoita Itä-Suomen yliopiston sisällä ja on laajasti verkostoitunut tiedeyhteisössä. Fotoniikan instituutti on mukana PREIN-lippulaivassa, jossa tieteen avoimuus on vahvasti mukana monin tavoin ja näkyy avointen julkaisujen määrän selkeällä kasvulla. Fotoniikan instituutti tukee toiminnallaan infrastruktuurien avoimuutta niin yliopiston sisällä kuin eri organisaatioiden välillä. Fotoniikan instituuttiin kytkeytyvät tutkijat ja tutkimusryhmät ovat edistäneet tutkimusaineistojen avoimuutta omissa hankkeissaan esimerkiksi avaamalla opetustarkoitukseen tuotettua dataa kenen tahansa hyödynnettäväksi tai lisensoimalla avatut data selkeästi.
Erityisesti tämän vuoden Avoimen tieteen kunniakirjan osalta on syytä nostaa esiin Fotoniikan instituutin yhteiskunnallisesti vaikuttava toiminta.
Fotoniikan instituutti on lisännyt tieteen vaikuttavuutta ja avointa oppimista tuottamalla Tee-se-itse OpenAR-lasit. Kenelle tahansa kiinnostuneelle on tarjolla lisätyn todellisuuden (AR = Augmented Reality) lasien teko-ohjeet avoimella sivustolla, josta voi ladata tarpeelliset koodit ja mallit 3D-tulostamiseen. Sivustolla tarjotaan myös selkeästi kerrottuna perustietoa optiikasta. Tieteen avoimuus konkretisoituu tiedeyhteisöä laajemmalle joukolle kiinnostavalla tavalla.
Fotoniikan instituutti on ollut myös aktiivisesti mukana opetuksen kehittämisessä, mikä näkyy vaikkapa missä päin maailmaa tahansa tieteen ja opetuksen yhdistävän Sm4rtLabin toiminnassa. Fotoniikan instituutti tukee toiminnallaan tiedekasvatusta monin tavoin lapsille ja nuorille suunnatusta LUMA-toiminnasta kouluihin hankittavan fotoniikan kokeellisen opetuspaketin "Photonics Explorer Kit" -sponsorointikampanjaan.
Aiemmin palkitut
Avoin gradu -arvonnan voittaja
UEF-kirjasto arpoo vuosittain 100 euron stipendin edeltävien 12 kuukauden aikana pro gradu -tutkielmansa tai syventävien opintojen opinnäytteensä avoimesti julkaisseiden UEFin opiskelijoiden kesken. Tämän vuoden stipendin arvontaan osallistui 34 opiskelijaa ja onni suosi Karla Niemeä (palvelujohtaminen). Onnittelut voittajalle!
Karla Niemen pro gradu: Johdon käsityksiä muutosvalmiudesta kuljetusalalla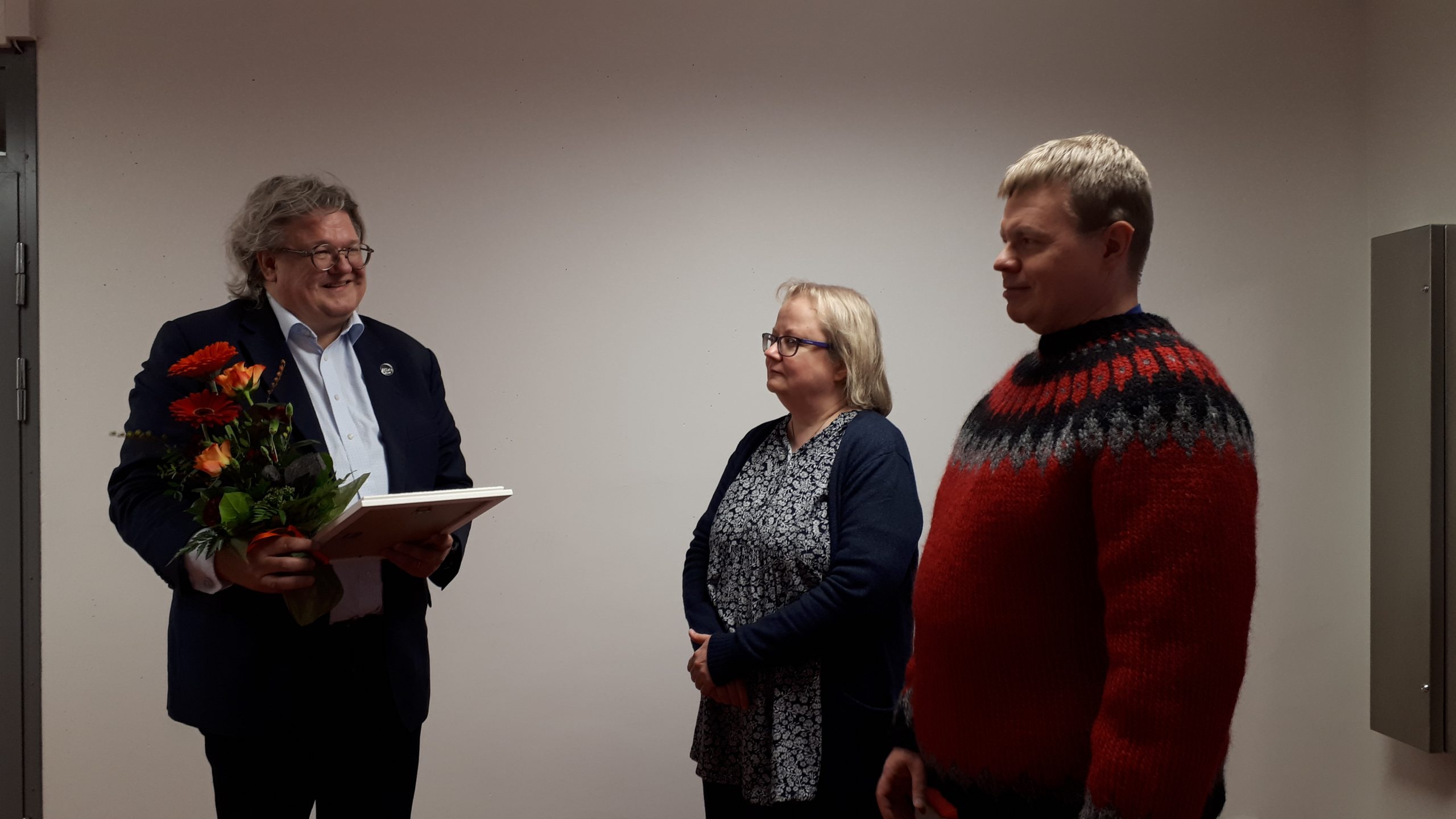 Open Science Award
Each year, during the Open Science Week a UEFian (person or unit) is awarded as the contributor for open science and open access. The award was now given for the seventh time and handed over to Institute of Photonics, represented by the Head of the Institute, Professor Jyrki Saarinen.
The Institute of Photonics brings together actors from several disciplines within the University of Eastern Finland and is widely networked in the scientific community. The Institute of Photonics is part of the PREIN flagship, where open science is actively implemented in many ways, as reflected by a clear increase in the number of open access publications among other things. The Institute of Photonics supports transparency of research infrastructures both within the university and between different organisations. Researchers and research groups connected to the Institute of Photonics have promoted the transparency of research data in their own projects, for example by opening up data generated for educational purposes to be exploited by anyone or by clearly licensing the opened data.
In particular, with regard to this year's Open Science Award, it is worth highlighting the socially impacting activities of the Institute of Photonics.
The Institute of Photonics has increased the impact and open learning of science by producing Do-It-Yourself OpenAR glasses. For anyone interested, there are Augmented Reality (AR) glasses making instructions on the open site, where you can download the necessary codes and designs for 3D printing. The website also provides clearly communicated basic information about optics. The openness of science is concretised in a way, that is of interest to the wider public beyond the research community.
The Institute of Photonics has also been actively involved in the development of teaching, which can be seen anywhere in the world in the activities of SM4RTLab, which combines science and teaching. Through its activities, the Institute of Photonics supports science education in a variety of ways, from LUMA activities for children and adolescents to the sponsorship campaign of the Photonics Experimental Teaching Package "Photonics Explorer Kit" to schools.
Previously awarded
Every year, UEF Library raffles off a grant worth EUR 100 among UEF students who published their master's thesis open access during the preceding 12 months. This year 34 students signed up for the raffle and the Fortune smiled on Karla Niemi (Service Management). Congratulations!
Karla Niemi's Master thesis (in Finnish with English abstract): Management's perceptions of readiness for change in the transportation industry
Niina Nurmi, projektisuunnittelija | Project Coordinator
Manna Satama, tietoasiantuntija | Information Specialist
Tomi Rosti, tietoasiantuntija | Information Specialist
Tuulevi Ovaska, erityistietoasiantuntija | Senior Information Specialist
Opetus- ja tietopalvelut | Training and Information Services
Tutkimuksen tuen tiimi | Research Support Team