(Please, scroll down to read in English.)
Vuosittain järjestettävillä Tiedejulkaisemisen päivillä keskustellaan useista ajankohtaisista tiedejulkaisemiseen liittyvistä aiheista, kuten kustannustoiminnasta, avoimesta julkaisemisesta, sekä erityisesti tänä vuonna tiedon vaikuttavuudesta. Tiedejulkaisemisen päivät järjestettiin tällä kertaa Joensuussa Itä-Suomen yliopistossa 3.-4.10.2022. Tilaisuus järjestettiin hybridinä ja paikalle saapui kuutisenkymmentä osallistujaa. Verkossa tilaisuutta seurasi molempina päivinä yli 200 katsojaa.
Tilaisuuden järjestivät Tieteellisten seurain valtuuskunta (TSV), Tiedonjulkistamisen neuvottelukunta (TJNK), Suomen tiedekustantajien liitto, Kansalliskirjasto ja Itä-Suomen yliopisto (UEF).
Maanantai 3.10.
Tilaisuuden avasi Itä-Suomen yliopiston kirjaston johtaja ja Suomen yliopistokirjastojen neuvoston puheenjohtaja Ari Muhonen verkkoympäristön kehittymistä käsittelevällä puheellaan. Tätä seurasi TSV:n Sami Syrjämäen puheenvuoro avoimen tieteen julistuksista ja niiden toteutumisesta. Pääpaino oli Budapest Open Access Initiativessa, joka täytti juuri 20 vuotta. Julistuksen keskeinen sanoma on, että tieteen tulisi tuottaa yhteistä hyvää kaikille. Tällä hetkellä keskeisenä tavoitteena on muuttaa tiedejulkaisemisen rakenteita siirtymällä yhä enenevissä määrin kaupallisesta kustantamisesta tiedeyhteisön ja nonprofit-organisaatioiden ylläpitämien julkaisukanavien käyttöön.
Seuraavissa kommenttipuheenvuoroissa Avoimen tieteen ja tutkimuksen kansallisen koordinaation sihteeristöön kuuluva Hanna Lahdenperä, Helsinki University Pressin (HUP) kustannusjohtaja Leena Kaakinen ja Historiallisen aikakauskirjan päätoimittaja Anu Lahtinen käsittelivät avointa julkaisemista kotimaisten kustantajien näkökulmasta. Lahdenperän puheenvuorossa pohdittiin kotimaisten avoimen tieteen linjausten suhdetta kansainvälisiin linjauksiin. Kaakinen taas nosti esiin sen, että on oleellista miettiä miten tehtyjen linjausten toimeenpano todellisuudessa rahoitetaan ja myös muistutti, että globaalin oikeudenmukaisuuden kannalta APC-maksut (article processing charge) vain siirtävät maksumuurin muualle. Anu Lahtinen toi esiin puheenvuorossaan, että eri CC-lisenssien (Creative Commons) laajan käytön salliminen on tärkeää, jotta kaupalliset toimijat eivät pääse hyötymään tutkijoiden työstä ilman erillistä korvausta.
Päivä jatkui UEFin hoitotieteen professori Katri Vehviläinen-Julkusen pitämällä 10-vuotiasta DORA-julistusta (San Francisco Declaration on Research Assessment) käsittelevällä puheenvuorolla. Lähtökohtana julistuksella oli tutkimuksen arvioinnin monipuolisuus. Arviointi onkin vuosien varrella kehittynyt pelkästä metriikasta kohti laajempaa tutkimustuotosten arviointia ja muun muassa narratiivisen CV:n hyödyntämistä kohti.
Seuraavan keskusteluosion teemaksi oli nostettu vastuullisesti vaikuttava tiedonjulkistaminen. Keskustelun aloitti UEFin englannin kielen ja kulttuurin professori Jopi Nyman, joka käsitteli esityksessään Jufon vaikutusta ja tulevaisuutta. Jufo eli Julkaisufoorumi ja sen sisältämä kansallinen julkaisukanavien tasoluokitus on muokannut suomalaista tiedekenttää sekä rahoitusmallin että tutkimuksen arvioinnin kautta. Julkaisukulttuuri on Jufon käyttöönoton myötä muuttunut, monografiajulkaisemisesta on siirrytty kohti artikkelijulkaisemista ja luokitusta on vastoin alkuperäistä tarkoitusta alettu käyttää myös yksittäisten tutkijoiden arviointiin.
Vastuullinen toimitustyö oli keskiössä Turun yliopiston suunnittelija Annastiina Mäkilän puheenvuorossa. Hän käsitteli toimittajan roolia ja suhteita niin vertaisarvioijien ja kirjoittajien kanssa, kuin myös laajemmin toimittajan vastuuta lehteä, sen lukijoita ja laajemmin koko tiedeyhteisöä kohtaan. Tutkijatohtori Mona Mannevuo taas käsitteli omassa puheenvuorossaan tieteen viestinnällistymistä ja vaikuttavuutta. Käsiteltävinä teemoina esiin nousivat tiedepohjainen politiikka ja strateginen tutkimus, vaikuttavan tutkimuksen mielikuvastot sekä tutkijan rooli huomiotaloudessa.
Viimeisessä puheenvuorossa kansanedustaja Anu Vehviläinen avasi ajatuksiaan siitä, miten hän haluaisi tulla vaikutetuksi tutkitulla tiedolla. Hän nosti esiin, että kansanedustajat valitaan yleensä rooliinsa arvojen, ei asiantuntijuuden vuoksi ja että politiikassa mielipiteen vaihtaminen tulkitaan usein "takin kääntämiseksi". Tänä päivänä vallalla oleva identiteettipolitiikka vahvistaa arvo- ja ryhmäsidonnaisuutta, eikä analysoiva moniulotteinen tarkastelu välttämättä sovi tuohon kuvioon.
Ensimmäisen päivän päätti Jyväskylän yliopiston (JY) Avoimen tiedon keskuksen johtaja Pekka Olsbo käsittelemällä tekeillä olevaa tieteellisten kirjojen avoimen julkaisemisen suositusta. Hän pohti puheenvuorossaan sitä, miksi avoimuuslinjauksiin liittyvän rahoituksen saaminen on Suomessa niin hankalaa, vaikka kirjojen julkaisumäärät ovat suhteellisen pieniä. Olsbo toi esiin, että monissa Euroopan maissa rahoitus on saatu järjestymään koska avoimen julkaisemisen tukeminen on sisäänrakennettu rahoitusmalleihin.
Iltaohjelmassa julkistettiin Suomen tiedekustantajien liiton palkinnot.  Liiton kannustuspalkinto jaettiin kolmelle lehdelle: Nordic Review of International Studies, Tutkimus ja kritiikki sekä Lähihistoria. Palkinnon perusteluissa pidettiin tärkeänä, että uusia suomalaisia tiedelehtiä perustetaan vaikeasta tilanteesta huolimatta.
Vuoden 2022 tiedelehtenä palkittiin Alue ja ympäristö. Lehteä kustantaa Alue- ja ympäristötutkimuksen seura.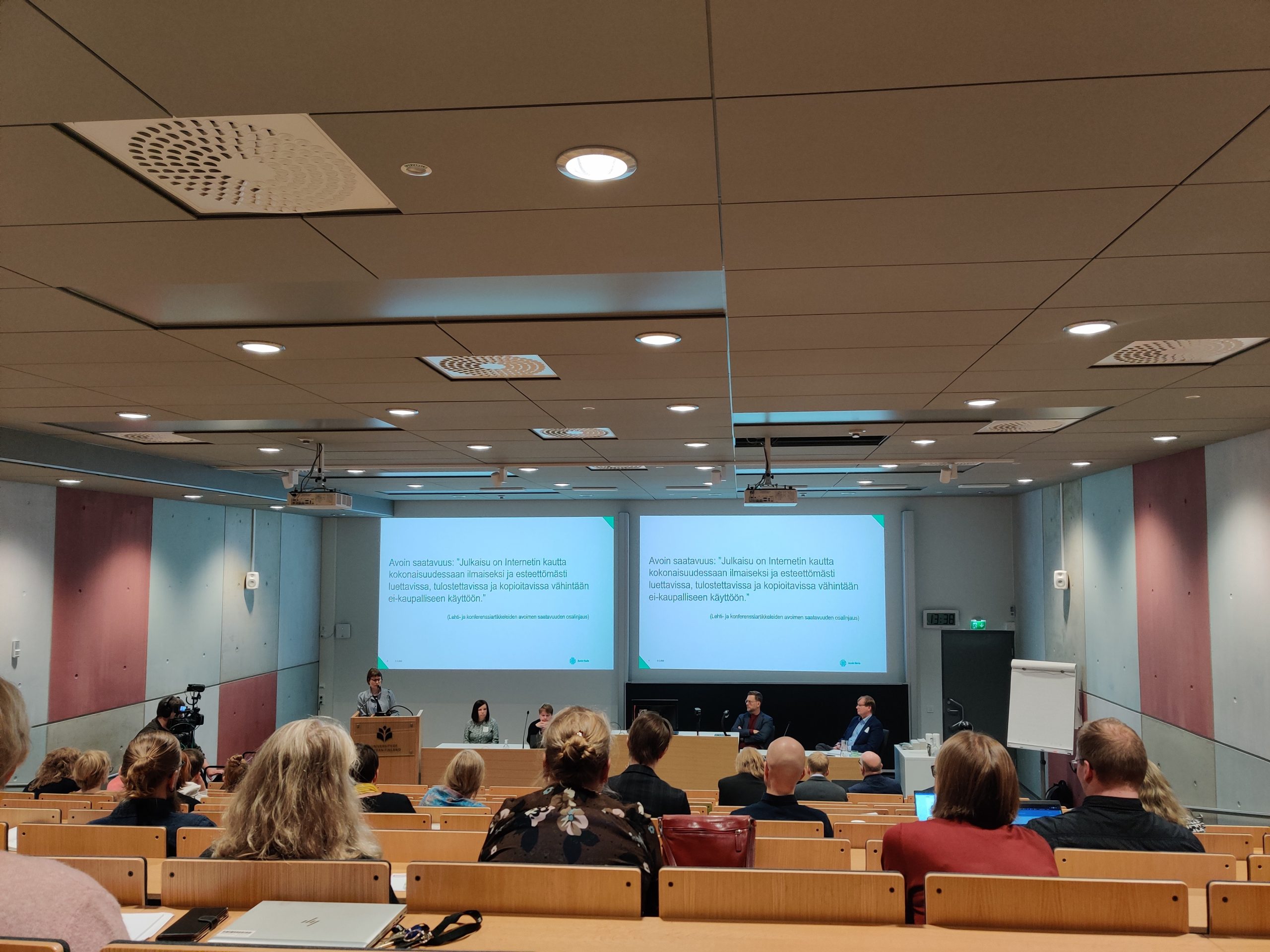 Tiistai 4.10.
Tiistain avauksessa kuultiin avointen tieteellisten kirjojen kustantamiseen liittyen kansainvälisiä ja kansallisia kokemuksia. Kommenttipuheenvuorot pitivät TSV:n julkaisupäällikkö Sami Syrjämäki, JY:n Avoimen tiedon keskuksen johtaja Pekka Olsbo, Suomalaisen kirjallisuuden seuran (SKS) kustannusjohtaja Kirsi Keravuori, sekä Gaudeamusta ja HUP:ia edustava kustannusjohtaja Leena Kaakinen.
Kaakinen avasi keskustelun, ja kertoi Edition.fi -portaalista, joka on TSV:n ylläpitämä kotimaisten avointen kokooma- ja monografiateosten palvelu. Lisäksi hän esitteli HUP:n, myös Helsingin yliopiston ulkopuolisille julkaisuille tarkoitetun avoimen kustantamon, jota ylläpitävät Helsingin yliopiston kirjasto ja Gaudeamus. Vaikka HUP helpottaa osaltaan tutkijoille joskus hankalaakin monografioiden julkaisua, eivät rahoitusasiat ole tasa-arvoisia.  
Avoimen tieteen koordinaation osana onkin laadittu kirjojen avoimuuden linjausta, jossa on alusta asti ollut keskeistä rahoituksen selvittäminen. Kirsi Keravuoren esittelemä SKS mahdollistaa timanttimallin mukaisen open access-julkaisemisen, sillä TSV tukee taustarahoitettua julkaisua. Tästä huolimatta Kerovuonkin mukaan on merkitystä sillä, mihin suuntaan uudet laadittavat linjaukset osoittavat, sillä nämä määrittävät koko suomalaisen tiedekustantamisen kenttää.
Tällä hetkellä olemassa oleva kotimainen rahoitus kohdistuu kirjoja useammin lehtiartikkeleihin. Toisin on esimerkiksi Itävallassa, Alankomaissa ja Isossa-Britanniassa, jossa rahoitusta saa myös monografian julkaisemiseen. Pekka Olsbo totesikin, että kirja on keskeinen sivistyksen ja tiedonvälityksen väline. Voisiko siis julkaista rinnakkain sekä kaikille avointa että ostettavaa teosta, kuten Ranskassa jo tehdäänkin? Siellä kustantaja lupaa pitää myös painettua kirjaa saatavilla, koska myös sillä on kysyntää.
Rahoitukseen liittyen myös kirjastojen kokoelmiin ottaminen ja teosten esillä pitäminen maksaa – kustantamisen, taiton, ynnä muiden valmistuskustannusten lisäksi. Rinnakkaistallennusta toki suositellaan, mutta tutkija haluaisi kenties julki sen version, joka on lopullinen, kun taas rinnakkaistallenne saattaa olla käsikirjoituksen näköinen versio rivinumerointeineen. Kokoelma-artikkeleiden kohdalla kokonaisuus saattaa myös hajota rinnakkaistallennettaessa artikkeleita erikseen, sillä tekstit muodostavat kokonaisuuden, totesivat lopuksi sekä Syrjämäki että Olsbo.
Paneelikeskusteluun kotimaisten tiedelehtien vaikuttavuudesta Juho Pesosen (Matkailututkimus) johdolla osallistuivat Olga Hannonen (Matkailututkimus), Juha Hämäläinen (Sosiaalipedagoginen aikakauskirja), Maarit Sireni (Terra) ja Juhana Venäläinen (Kulttuurintutkimus ja Tiede ja edistys). Vanhat kotimaiset tiedelehdet, kuten esimerkiksi jo 1800-luvun puolella perustettu Terra, ovat olleet rakentamassa suomalaista identiteettiä sekä kehittämässä suomea tiedekieleksi. Oman ajattelukielen hyöty oppimiseen, sekä ammatti-identiteetti korostuivat puheissa. Terrassa esimerkiksi on asiaa maantieteen opiskelijoille ja aineenopettajille, ja lisäksi kansallinen julkaisu tavoittaa muitakin kuin tutkijan. Nykymaailmassa on voitava luottaa tutkittuun tietoon, jonka pääpaino ei ole se, että kuka pitää eniten melua omasta mielipiteestään, vaan se, että kirjoitukset ovat luotettavasti tieteellisiä, vaikka käsittelisivätkin joskus kansantajuisemmin kansallisiin ilmiöihin liittyviä aiheita. Kansainvälisissä julkaisuissa suomalaiset ilmiöt eivät korostu tai näy, joten meidän on itse pidettävä näistä kiinni.
Tekijänoikeus ja lisenssisasioista käsittelevässä esitelmässään lakiasiainjohtaja Kirsi Salmela Kopiostosta pohti, voisiko cc-lisensseille olla vaihtoehtoja. Hän esitteli c-info –kuvakkeen, jota klikkaamalla saa tekijänoikeustiedot helposti näkyville. Hän kertoi, että tekijänoikeuslakia ollaan parhaillaan uudistamassa, mutta asia on kesken. Kansalliskirjaston palvelujohtajan Johanna Liljan esitys käsitteli muun muassa Kansalliskirjaston palveluita, ja yhtenä esimerkkinä hän nosti esiin Journal.fi -palvelun, joka tarjoaa pääsyn useisiin avoimiin julkaisuihin.
Päivän loppupuolella TJNK:N pääsihteeri Reetta Kettunen sekä Julkaisufoorumin suunnittelupäällikkö Janne Pölönen esittelivät Monikielisen tiedeviestinnän Helsinki-aloitetta, jonka tarkoituksena on edistää  tiedeviestinnän monikielisyyttä. Heidän mukaansa tiedeyhteisölähtöinen julkaiseminen saisi saada enemmän rahoitusta erityisesti omilla kotikielillä tuotettuna.
Tiedejulkaisemisen päivien loppupuheenvuorossa UEFin yhteiskuntapolitiikan professori Eeva Jokinen pohti, mitä esillä olleista teemoista hän toivoisi kaikille kotiin viemisiksi. Keskusteluun nousseet teemat ovat tänä vuonna koskeneet erityisesti rahoitusta, hänkin koosti puheenvuorossaan. Onko niin, että avoimen tieteen mahdollisuudet ovat jo selkeästi tunnistettavia ja hyödyt selvillä, mutta todellinen tahtotila käytännön työn rahoittamiseen vielä hakee uomiaan? Tämän ongelman ratkaisemiseen tarvittaisiin konkreettisia toimia ylimmiltä päätöksentekijöiltä. Toisaalta Jokinen toteaa, että myös yksilötasolla pystytään tekemään asioita avoimen tieteen puolesta – jo pelkkä ystävällisyys ja yhteisvastuullisuus kantaa pitkälle, tiedejulkaisemisessakin.
Tilaisuuden tallenteet ovat nähtävillä Vimeossa 14.10.2022 saakka:
Ensimmäisen päivän tallenne (avautuu uuteen välilehteen)
Toisen päivän tallenne (avautuu uuteen välilehteen)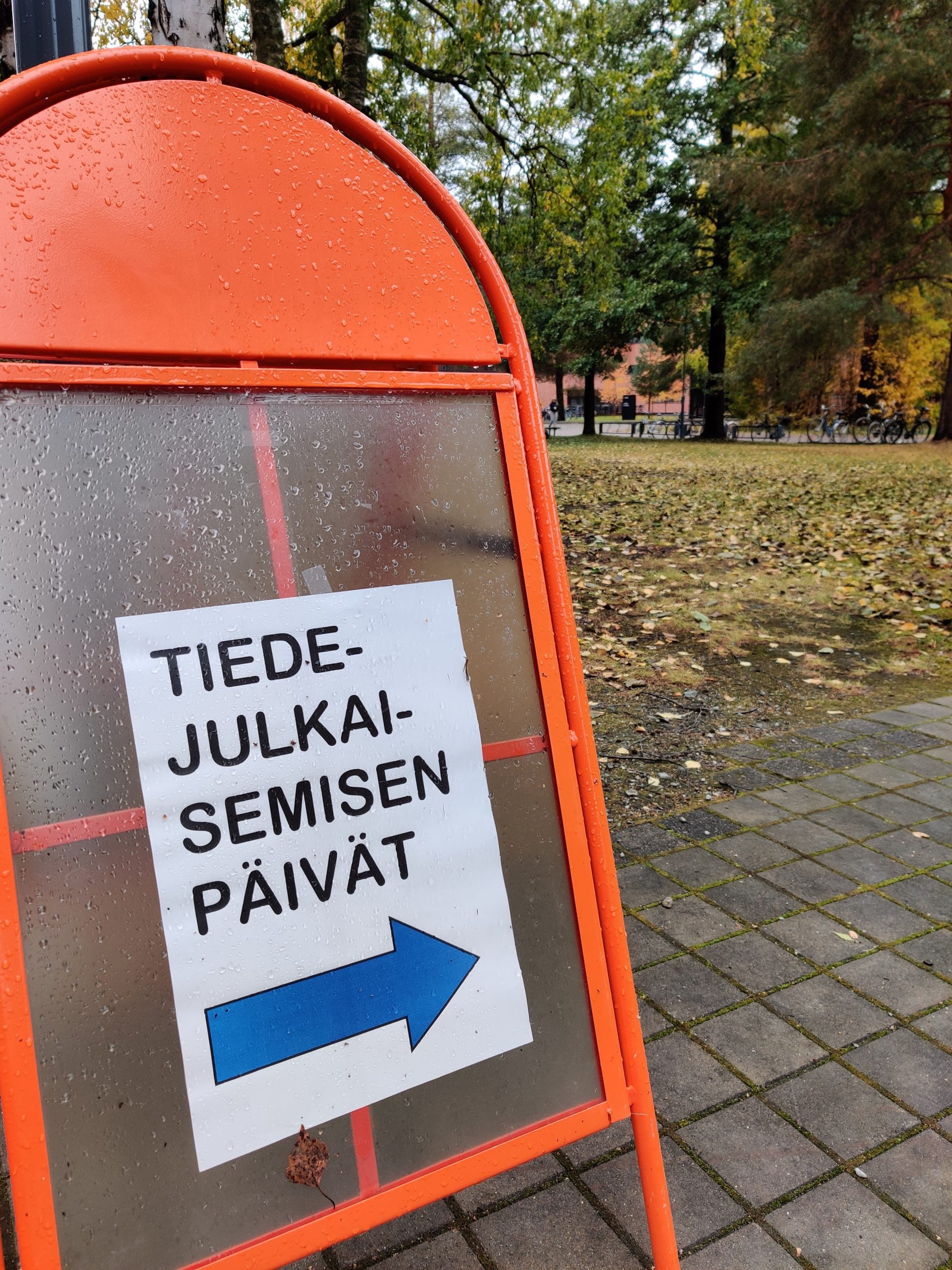 Research Publishing Days 2022:

Impact,

responsibility

and transparency in research publishing  
The annual Research Publishing Days discuss a wide range of topics related to research publishing, including open access publishing, peer-reviewing, marketing, editorial processes, as well as science policy. This year the Research Publishing Days were held at the Joensuu campus of the University of Eastern Finland on the 3rd and 4th of October. The event was organised in Finnish and in hybrid model, with about sixty participants present in person. More than 200 spectators followed the event online.
The event was organised by the Federation of Finnish Learned Societies (TSV), the Committee for Public Information (TJNK), the Finnish Association for Scholarly Publishing, the National Library of Finland, and the University of Eastern Finland (UEF).
Monday 3.10.
The event was started by Ari Muhonen, Director of the UEF Library and Chair of the Finnish University Libraries' Network (FUN), with a speech on the development of online environments. This was followed by a speech by Sami Syrjämäki, Head of Publications at TSV, on the declarations of open science and their implementation. The current key objective is to change the structures of scientific/scholarly publishing by moving from commercial publishing channels into ones that are maintained by the research community and non-profit organisations.
Next up were the commentaries on open access publishing from the perspective of domestic publishers, given by Hanna Lahdenperä from the Secretariat for the National Open Science and Research Coordination, Leena Kaakinen, Executive editor of the Helsinki University Press (HUP), and Anu Lahtinen, Editor-in-Chief for Historiallinen Aikakauskirja [Historical Journal]. Lahdenperä's speech discussed the relationships between Finnish and international open science policies. Kaakinen pointed out that it is essential to think about how the implementation of the policies is financed, also mentioning that from the perspective of global equality, article processing charges (APCs) serve only to move the paywall's location instead of removing it entirely. Anu Lahtinen, on the other hand, stated that it is important to allow the extensive use of CC licences so that commercial operators cannot benefit from the work of researchers without paying separate compensation.
The day continued with a speech by Katri Vehviläinen-Julkunen, Professor of Nursing Science at the University of Eastern Finland. Vehviläinen-Julkunen discussed the 10-year-old San Francisco Declaration on Research Assessment (DORA). The starting point for the declaration was the versatility of research evaluation.
Responsibly impactful release of information was the topic of the next discussion. The discussion was started by Jopi Nyman, Professor of English Language and Culture at the UEF, whose presentation discussed the impact and future of JUFO. JUFO, aka Publication Forum, as well as the classification of publication channels it includes have transformed the Finnish field of science both from the perspective of financing models and research evaluation.
Responsible editorial work was at the centre of the speech by Annastiina Mäkilä, a coordinator at the University of Turku. Mäkilä discussed the role and relationships that a journalist has with peer-reviewers and writers, as well as the responsibility towards the journal, its readers and the research community. Postdoctoral researcher Mona Mannevuo discussed the impact of science, as well as its communicative dimensions. The themes included science-based politics and strategic research, imagery of impactful research, and the role of a researcher in the attention economy.
The last speech was given by Anu Vehviläinen, a Member of Parliament, who shared her thoughts on how she would like to be influenced by research information.
The first day was concluded by Pekka Olsbo, Director of the Open Science Centre (OSC) at the University of Jyväskylä, who discussed the ongoing recommendation for open access publishing of scientific and scholarly books. In his speech, he reflected on why it is so difficult to find funding for openness-related guidelines in Finland despite the relatively low number of book publications.
The evening programme included the announcing of the awards by the Finnish Association for Scholarly Publishing. The inducement award by the  Association was granted to three journals: Nordic Review of International Studies, Tutkimus ja kritiikki [Research and Critique] and Lähihistoria [Recent History]. In the justification for the award, it was considered important that new Finnish scientific and scholarly journals are established despite the difficult situation.
Alue ja ympäristö [Region and Environment] was awarded the journal of the year 2022. The journal is published by the Society for Regional and Environmental Studies (AYS).
Tuesday 4.10.
International and national experiences related to the publishing of open scientific and scholarly books were the topic of Tuesday's opening. The commentaries were given by Sami Syrjämäki, Head of Publications at the TSV Pekka Olsbo, Director of the OSC at the University of Jyväskylä, Kirsi Keravuori, Director of Scholarly Publishing at Finnish Literature Society, and Leena Kaakinen, Publishing Director representing Gaudeamus and HUP.
Kaakinen opened the discussion by talking about the Edition.fi portal, which is a service for domestic open access compendiums and monographs provided by the TSV. Kaakinen also introduced HUP, a publishing house maintained by Helsinki University Library and Gaudeamus that is also open for publications outside the University of Helsinki.
At the moment, the existing domestic funding favours articles over books. Pekka Olsbo emphasized that the book is a key tool for education and information disclosure. The discussion begged the question: is it possible to publish both a work open to all and available for purchase in parallel?
In terms of funding, including works in library collections has its own costs in addition to publishing, layout, etc. Parallel recording is naturally recommended, but while a parallel recording may appear like a manuscript, the researcher themself might prefer to publish the actual final draft.
Juho Pesonen, Olga Hannonen (Finnish Journal of Tourism Research), Juha Hämäläinen (Sosiaalipedagoginen aikakauskirja [Journal of Social Pedagogy]), Maarit Sireni (Terra), and Juhana Venäläinen (Kulttuurintutkimus [Cultural Studies] and Tiede & edistys [Science & Progress]) participated in the panel discussion on the impact of Finnish journals. Finnish journals have been involved in the construction of the Finnish identity and development of Finnish into a scientific/scholarly language. The benefits of using one's native language for learning, as well as professional identities were emphasized in the speeches.
In her presentation on copyright and licensing issues, chief legal officer Kirsi Salmela from Kopiosto wondered about possible alternatives to the CC licenses. Salmela introduced the c-info icon, which makes it possible to reveal copyright information with a simple. She continued by stating that the copyright law is currently under reform. Johanna Lilja, Director of Services at the National Library of Finland, discussed, among other things, the services of the National Library of Finland.
Towards the end of the day, Reetta Kettunen, Secretary General of the TJNK, and Janne Pölönen, Secretary General of Jufo, introduced the Helsinki Initiative for multilingual science communication.
In the closing speech, Eeva Jokinen, Professor of Social and Public Policy  at UEF, reflected on the themes of the discussions and what she would like the participants to remember. Funding has been one of the most discussed themes of the year. Is it true that the possibilities of open science are all clearly identified along with the benefits, but the actual motivation for its funding is still lacking? Concrete action from high level decision-makers would be required to solve this problem. On the other hand, Jokinen notes that it is also possible support open science at the individual level – kindness and solidarity go a long way, even in science publishing.
Jukka Kananen, palvelupäällikkö | Head of Services
Laura Hämäläinen, tietopalveluneuvoja | Information Services Advisor
Heta Mikkonen, tietopalveluneuvoja | Information services advisor
Taina Sahlman, tietopalveluneuvoja | Information Services Advisor
Niko Niskanen, tietopalveluneuvoja | Information Services Advisor (englanninkielinen käännös)
Verkko- ja julkaisupalvelut | Library IT and Publishing Services