Tällä viikolla vietetään Suomessa eurooppalaista dysleksia viikkoa. Dysleksialla tarkoitetaan lukemisen ja kirjoittamisen vaikeutta. Pikatesti lukihäiriön tunnistamiseksi löytyy lukihäiriö.fi –sivustolta.
Kuopion kampuskirjastossa on nähtävillä tämän viikon ajan kirjanäyttely, jossa on esillä dysleksiaa käsitteleviä kirjoja. Näyttelyssä olevat kirjat ovat lainattavissa kirjaston asiakaspalvelun kautta.
Aiheesta löytyy Itä-Suomen yliopiston kirjaston kokoelmista myös e-kirjoja ja e-lehtiä.
Kirjaston kokoelmista löytyviä mm. dysleksiaa käsitteleviä tieteellisiä e-lehtiä ovat esim.
Linkit vievät Nelli-portaalin saatavuuslinkkeihin (sfx). Jatka GO-painikkeesta (jos on useampi linkki, tarkista ko. linkin kohdalta lehden vuosikattavuus).
Ellei ko. linkki aukea, hae saatavuus lehteen Nelli-portaalin elektroniset lehdet – toiminnon kautta. Kirjaudu sisään omilla verkkotunnuksillasi.
Kiitos tietoasiantuntija Maarit Putoukselle e-lehtivinkeistä sekä ohjeesta e-lehtien käyttöön!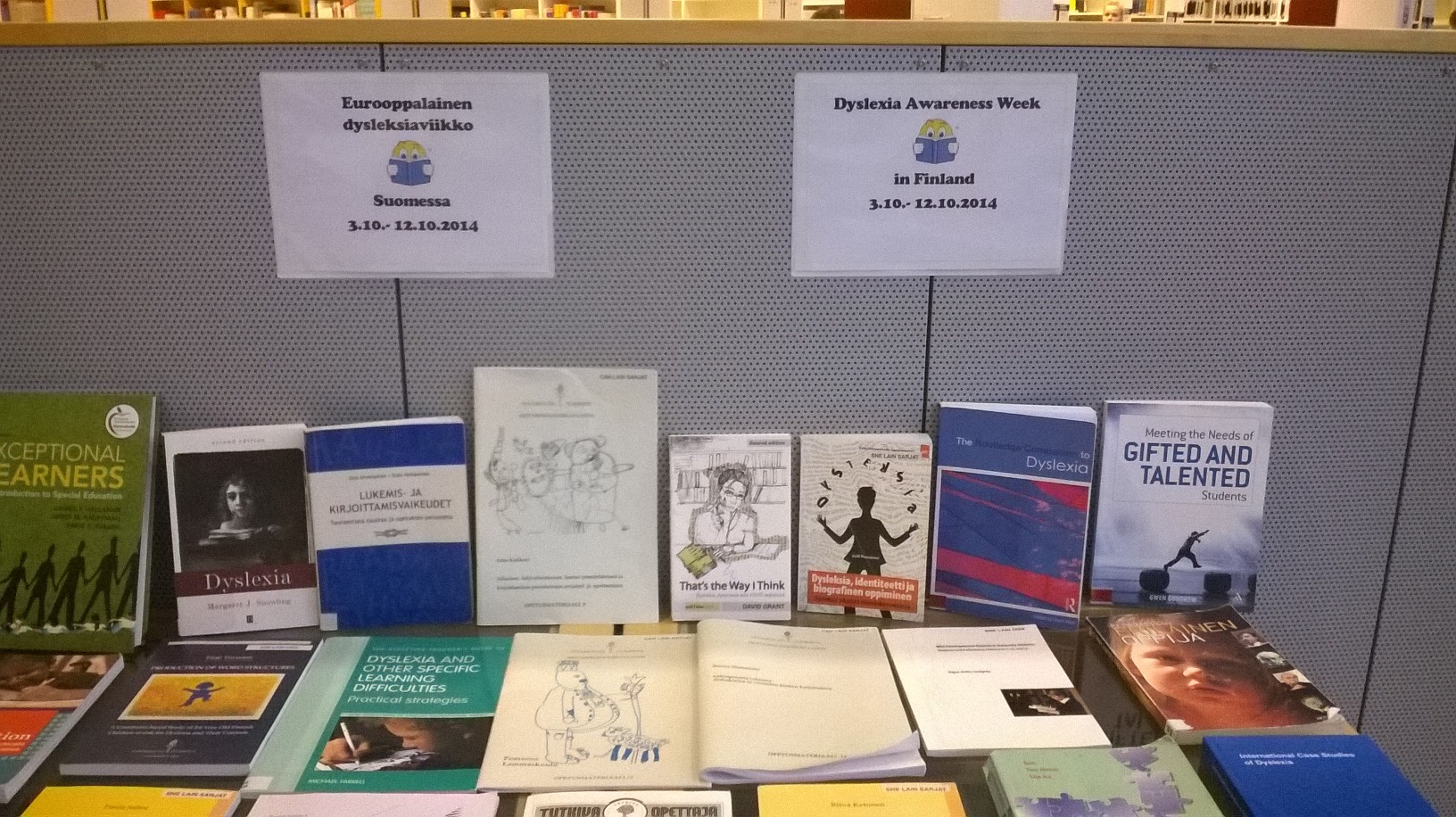 This week is the European Dyslexia Awareness Week in Finland. "Dyslexia is a difference in acquiring reading, spelling and writing skills, that is neurological in origin". (source: European Dyslexia Association)
The book exhibition at the Kuopio Campus Library consists of books on dyslexia. The books in the exhibition can be borrowed at the Library's Customer Service Desk.
There are also e-books on the subject in the library's collections as well as scientific e-journals (see e-journal list above).
The links of the e-journals go to the Nelli portal and show the e-journals' full text online access. Continue by clicking the GO button. If there are more than one link, check the link's e-journal availability information. If the link doesn't open, go to the Nelli portal and choose the "Find E-journal" option and search the e-journal. Log in with your personal university username and password.
Thank you for the e-journals' tips Information Specialist Maarit Putous!
Tarja Turunen
tietoasiantuntija / Information Specialist