(Please, scroll down to read a brief summary in English.)
Itä-Suomen aluehallintovirasto, Itä-Suomen yliopiston (UEF) kirjasto, Kuopion kaupunginkirjasto, Savonia-ammattikorkeakoulun kirjasto ja Varastokirjasto järjestivät Itä-Suomen kirjastopäivät 2023 teemalla "Palvelut sähköistävät – kirjastotyön uudet muodot". Itä-Suomen kirjastopäivät on ainutlaatuinen tapahtuma, sillä vastaavia alueellisia kaikkien eri kirjastosektorien yhteisiä seminaareja ei muualla (vielä) järjestetä. Itä-Suomen kirjastopäivät järjestetään joka toinen vuosi niinä vuosina, kun valtakunnallisia kirjastopäiviä ei pidetä.
Kahden päivän aikana noin 120 osallistujaa kuuli mielenkiintoisia luentoja, seurasi paneelikeskustelua ja osallistui työpajoihin Kuopion kaupunginkirjastossa sekä verkostoitui iltatilaisuudessa UEFin Kuopion kampuksella.
Oli mukava tavata kollegoita pitkästä aikaa. Ilahduttavaa oli myös esitellä Snellmanian kirjaston remontoituja tiloja, jotka herättivät kovasti kiinnostusta.
Itä-Suomen yliopiston kirjastosta osallistujia oli yli 20. Kirjasimme kukin lyhyesti yhden tärkeimmän tai mieleenpainuvimman idean, ajatuksen tai muistikuvan päivien monipuolisesta annista.
Palvelut ja tilat
Mieleen jäi erityisesti Mikkelin seutukirjaston palveluissa oleva Mikkelin kaupungin viihdeuimala Rantakeitaaseen sijoitettu kirjakaappi, josta voi noutaa varattua aineistoa. Kirjakaappi on hyvä esimerkki kirjaston palveluiden tuomista lähelle kirjaston käyttäjiä.
Kansainvälisten opiskelijoiden tarpeet esim. tilojen näkökulmasta. Onko heille hyviä kohtaamis- ja opiskelutiloja muualla kuin kirjastossa?
Kaikilla kirjastosektoreilla korostuu nykyisin viihtyisät/asianmukaiset tilat, joiden käytön mahdollisuus on hyvin merkityksellinen niin asiakkaille kuin henkilökunnallekin.
Erilaiset kirjastot, yhteistyö, verkostot
Oman kuplan puhkaisemiseen on hyvä kuulla eri kirjastosektoreita. Etenkin yleisten kirjastojen (kaupungin- ja kunnankirjastot) toimintaympäristö on hyvin erilainen kuin yliopistokirjastojen.
Paneelikeskustelussa yhteistyö näyttäytyi eri kirjastosektorien johtajien yhteistyönä. Miten saataisiin ulotettua yhteistyö myös eri kirjastosektoreiden henkilökunnan väliseksi?
Vanhemmilta kollegoilta olen kuullut, että yhteyksiä vaikkapa muihin oman kaupungin kirjastoihin on aiemmin pidetty nykyistä tiiviimmin yllä. Viime vuosina korona on osaltaan hillinnyt etenkin kasvokkain kohtaamisia, mutta muutos kulttuurissa on kaiketi tapahtunut jo ennen koronaa. Kirjastopäivien kaltainen tapahtuma, jossa pääsee kasvokkain tutustumaan kollegoihin, tekee hyvin näkyväksi sen, että meillä on osaavia ja innostuneita työkavereita myös naapurikirjastoissa ja ympäri Suomen. Kirjastonjohtajilla on omat yhteistyöverkostonsa, mutta ns. ruohonjuuritasolla voisimme varmaan kurkotella toisiamme kohti enemmänkin. Kehittämispäivämme [heti kirjastopäivien jälkeen] puheenvuoroissa kuului hyvin, että uutta oli lähtenyt itämään, kun astuimme oman kuplamme ulkopuolelle pariksi päiväksi.

Miten osaamista saadaan siirrettyä virkaiältään vanhemmilta nuoremmille? Eläköitymisiä on luvassa, ja kokeneempien hiljainen tieto on arvokasta. Systemaattisuutta tähän: mentorointi, job shadowing? Ei reagointia vaan ennakointia.
Työvoima
Kirjasto on kaikille suomalaisille tuttu paikka, mutta ehkä alaa pitäisi markkinoida paremmin, jotta uudet ihmiset kiinnostuisivat työstä. Itä-Suomen työvoimatilanteesta puhuttaessa ei keskitytty kirjastoihin, koska ala on niin marginaalinen. Mutta vaikka ulkopuoliset kouluttajat näkevätkin kirjaston lähinnä paikkana, jossa käydään lasten kanssa kääntymässä, pitää kirjasto sisällään paljon erilaisia tehtäviä. Mikäli koulutusta olisi paikallisesti saatavilla, voisivatko kirjastot olla houkuttelemassa työvoimaa ylitarjonta-aloilta? Mikäli opiskeluja tai alanvaihtoa pohtivat ihmiset näkisivät takahuoneisiinkin, eivätkä ainoastaan palvelutiskille, esiintyisikö kirjastoala kiinnostavana vaihtoehtona?
Esityksessä Työvoiman riittävyys Itä-Suomessa avoimet kirjastoalan työpaikat TE-palvelussa esitettiin perinteisten kirjastonimekkeiden kautta esim. kirjastonhoitaja. Yhä enenevässä määrin ammattinimekkeissämme ei ole lainakaan mainittu sanaa kirjasto. Jäämmekö siis katveeseen? Jos ELY-keskus ei löydä meitä, löytääkö meitä alasta kiinnostuneetkaan?
Oisi mielenkiintoista tietää enemmän siitä mistä, miksi ja millä koulutustaustalla alalle kouluttaudutaan ja työllistytään.
Monissa kirjastoissa kamppaillaan jo nyt työntekijäpulan kanssa eikä kaikkiin paikkoihin ole ollenkaan päteviä hakijoita. Vaikka tähän asti tieteellinen kirjasto on houkutellut hyviä hakijoita, on hakijoiden määrä laskenut vuosien varrella. Tulossa on paljon eläköitymisiä ja Itä-Suomesta puuttuu yhä alan koulutus, joten riittääkö hyviä hakijoita myös tulevaisuudessa?
Vuorovaikutustaidot, työyhteisötaidot, muuttuva työ
Työyhteisötaidot digiajassa: monia eri viestintävälineitä, erilaisia ihmisiä erilaisilla valmiuksilla tekemässä työtä. Olemmeko kaikki samalla kartalla ja saavatko kaikki äänensä kuuluviin?

Työn muotoilu (job crafting) lisää työntekijän sitoutumista omaan työhönsä, vähentää kyllästymistä sekä tuottaa työssään viihtyviä työntekijöitä.
Oivalliset neuvot katseen kohdistamisesta ja kehonkielen hallinnasta hankalassa asiakastilanteessa.
Oman kehonkielen ja äänen käyttö, ja kuinka käyttää näitä paremmin asiakaspalvelussa.
Selityksiä itsensä kanssa tapahtuvalle vuorovaikutukselle. "Sisäinen kommenttiraita" ilmenee itsensä kanssa käymänä keskusteluna ja ajatuksina "Miten minä nyt noin… Onpa ihmeellinen…."
Keskittykäämme enemmän hyviin asioihin, onnistumisiin, ja kaikkeen hyvään mitä työyhteisössä saadaan aikaan. Ja onnistumisia ja pieniäkin saavutuksia kannattaa aina juhlistaa.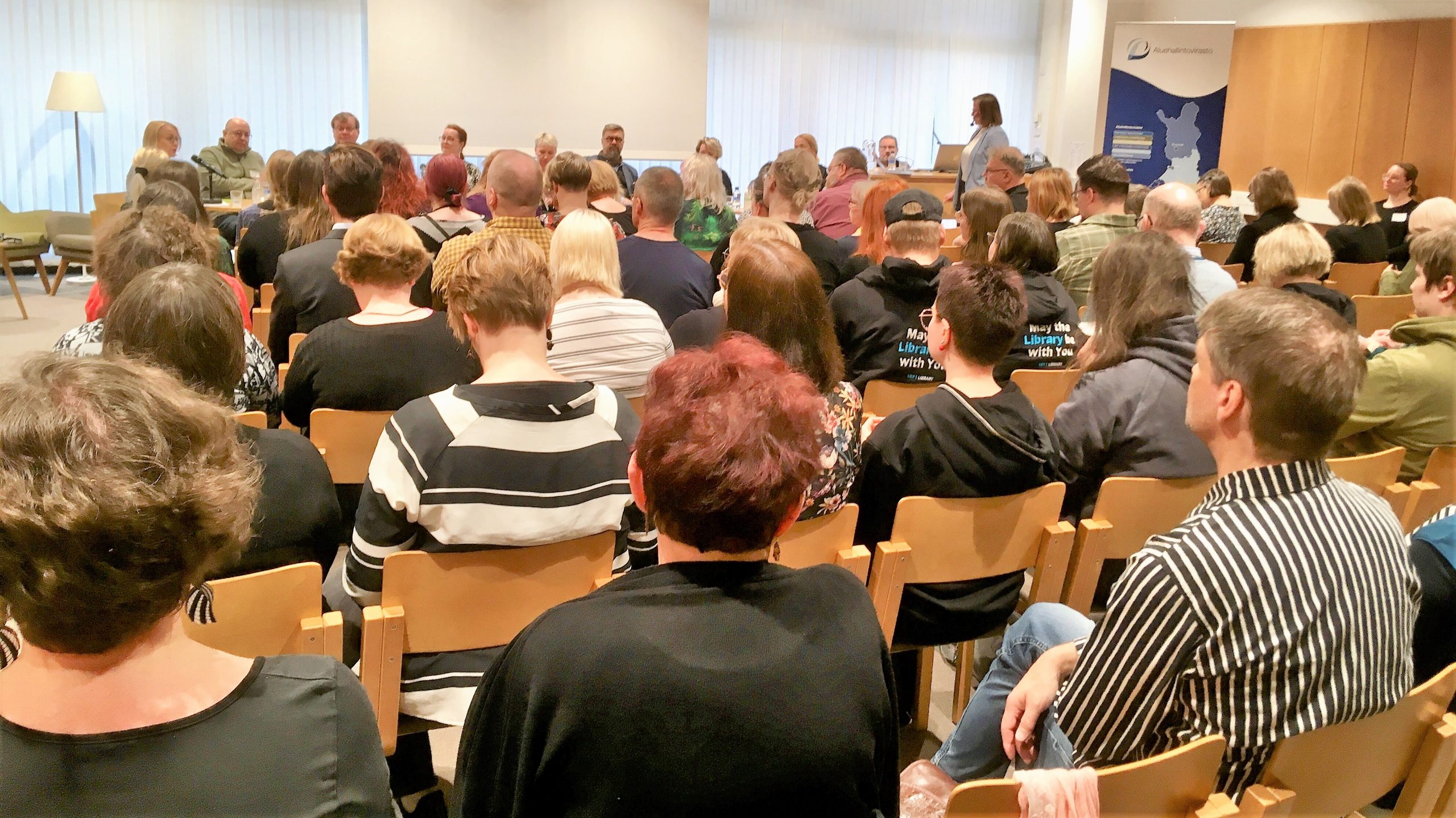 Briefly in English
The Regional State Administrative Agency of Eastern Finland, the University of Eastern Finland (UEF) Library, the Kuopio City Library, the Savonia University of Applied Sciences Library and the National Repository Library organised the Eastern Finland Library Days 2023 at the Kuopio City Library. Over the course of two days, approximately 120 participants heard interesting lectures, followed a panel discussion, participated in workshops and networked. More than 20 members of UEF Library staff took part in the event.
Tero Heiskanen, tietopalveluneuvoja | Information services advisor
Olli, Hiltunen, tietopalveluneuvoja | Information services advisor
Piia Pietarinen, tietopalveluneuvoja | Information services advisor
Kirsi Rask, tietopalveluneuvoja | Information services advisor
Sofi Timonen, tietopalveluneuvoja | Information services advisor
Asiakaspalvelut | Customer services
Tuulevi Ovaska, erityistietoasiantuntija | Senior information specialist
Maarit Putous, tietoasiantuntija | Information specialist
Katri Rintamäki, palvelupäällikkö | Head of services
Tuula Rissanen, tietoasiantuntija | Information specialist
Anni Tarkiainen, tietoasiantuntija | Information specialist
Opetus- ja tietopalvelut | Training and information services
Eeva Honkanen, kirjastoamanuenssi | Library amanuensis
Hanna Kamppuri, tietopalveluneuvoja | Information services advisor
Harri Parviainen, tietoasiantuntija | Information specialist
Elli Piirainen, tietopalveluneuvoja | Information services advisor
Riitta Porkka, palvelupäällikkö | Head of services
Kati Rautiainen, tietopalveluneuvoja | Information services advisor
Kirsi Salmi, tietoasiantuntija | Information specialist
Tarja Turunen, tietoasiantuntija | Information specialist
Suvi Tolvanen, tietopalveluneuvoja | Information services advisor
Tietoaineistopalvelut | Collection services
Jukka Kananen, palvelupäällikkö | Head of services
Heta Mikkonen, tietopalveluneuvoja | Information services advisor
Verkko- ja julkaisupalvelut | Library IT and publishing services