(Please, scroll down to read in English.)
Istut yliopistolla tietokoneen ääressä, löydät Google-haulla kiinnostavan artikkelin ja pääset lukemaan sen. Tiesitkö, että joku on todennäköisesti maksanut siitä, että teksti avautuu koneellesi?
Tieteellisten artikkelien lukuoikeuden maksaja on usein yliopisto. Kirjaston noin kolmen miljoonan euron tietoaineistobudjetista yli kaksi miljoonaa menee vuosittaisiin kausijulkaisutilauksiin. Lehtien hinta on noussut viidessä vuodessa 25 prosenttia. Kirjasto on hankkinut lisenssin yhteensä noin kolmeenkymmeneen tuhanteen tieteelliseen lehteen.
Mistä sitten voit tietää, milloin artikkelin lukuoikeus on yliopiston maksama? Jos et saa artikkelia auki yliopiston ulkopuolelta kirjautumatta UEF-Finnaan UEF-tunnuksilla tai KYS-tunnuksilla, kirjasto on tilannut lehden yliopistoyhteisön käyttöön.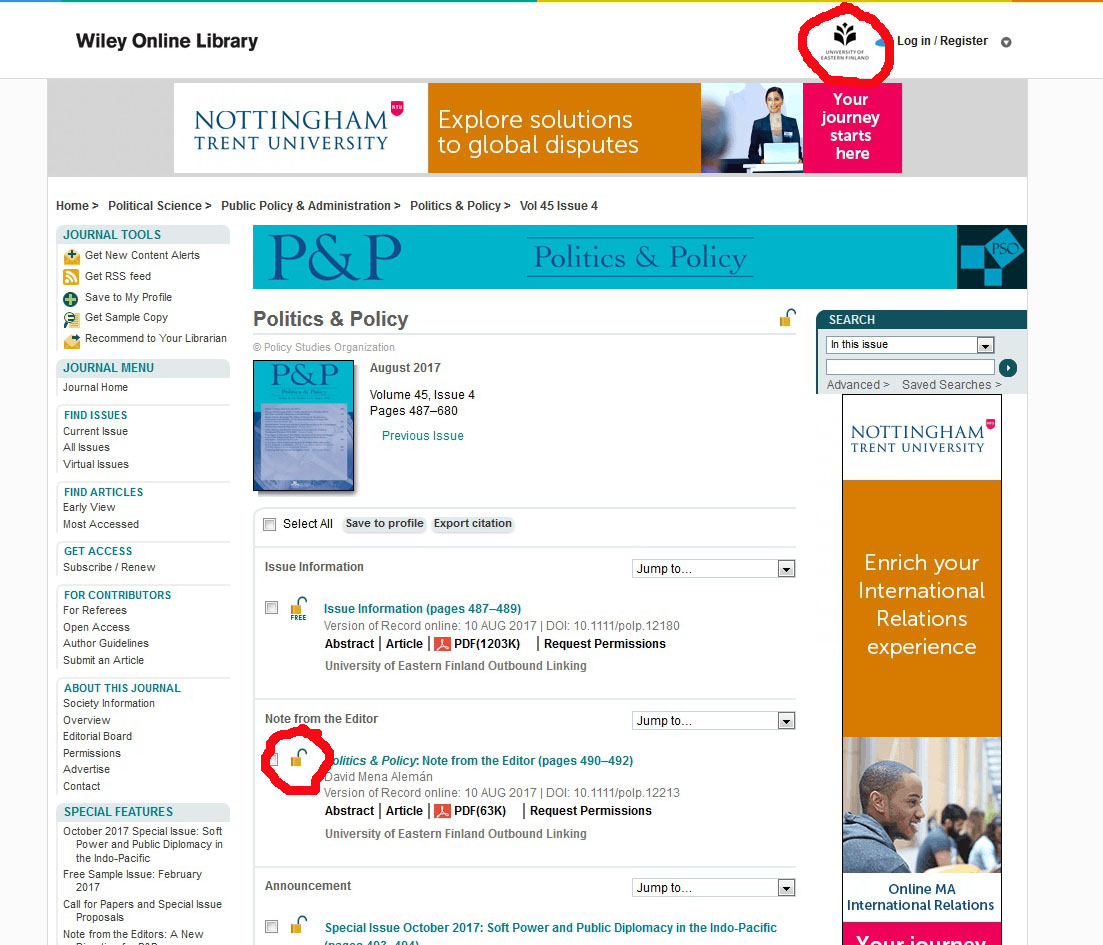 On olemassa myös avoimesti julkaistuja tieteellisiä lehtiä, joihin kaikki käyttäjät pääsevät ilmaiseksi. Näissäkin tapauksissa usein jotkut tahot, kuten artikkelin kirjoittajat ja tutkimusryhmät, ovat maksaneet siitä, että tekstit tarjotaan lukijoille avoimesti.
Lisäksi on suuri joukko merkittäviä tieteellisiä lehtiä, joiden kustantajat perivät kirjoittajilta maksuja artikkelien avaamiseksi, mutta joihin kirjastojen on silti tehtävä myös vuositilaus, sillä näissä ns. hybridilehdissä kaikki artikkelit eivät tule avoimiksi.
Tilausmaksun taakse lukittu artikkeli voi löytyä myös jonkin tutkimusorganisaation julkaisuarkistosta, mikäli artikkelin rinnakkaisversio on sellaiseen tallennettu.  Itä-Suomen yliopiston rinnakkaistallenteita varten perustettu julkaisuarkisto on nimeltään UEF eRepository.
(In English:)
You are sitting at the university in front of a computer and you find an interesting article on Google and can even read it. Did you know that someone has most likely paid for the article to open up on your computer?
The funder of reading rights for scientific articles is usually the university. Of the library's information resources budget of three million euros, two million is used annual journal publication orders. The prices for journals have climbed 25 per cent within the last five years. UEF Library has purchased a license for approximately 30,000 scientific journals.
Then how can you tell if the article's access rights have been provided and paid for by the university? If you cannot open the article outside the campus network without logging in to the UEF Finna with your UEF user ID or KUH login, the library has ordered the journal for the university community's use.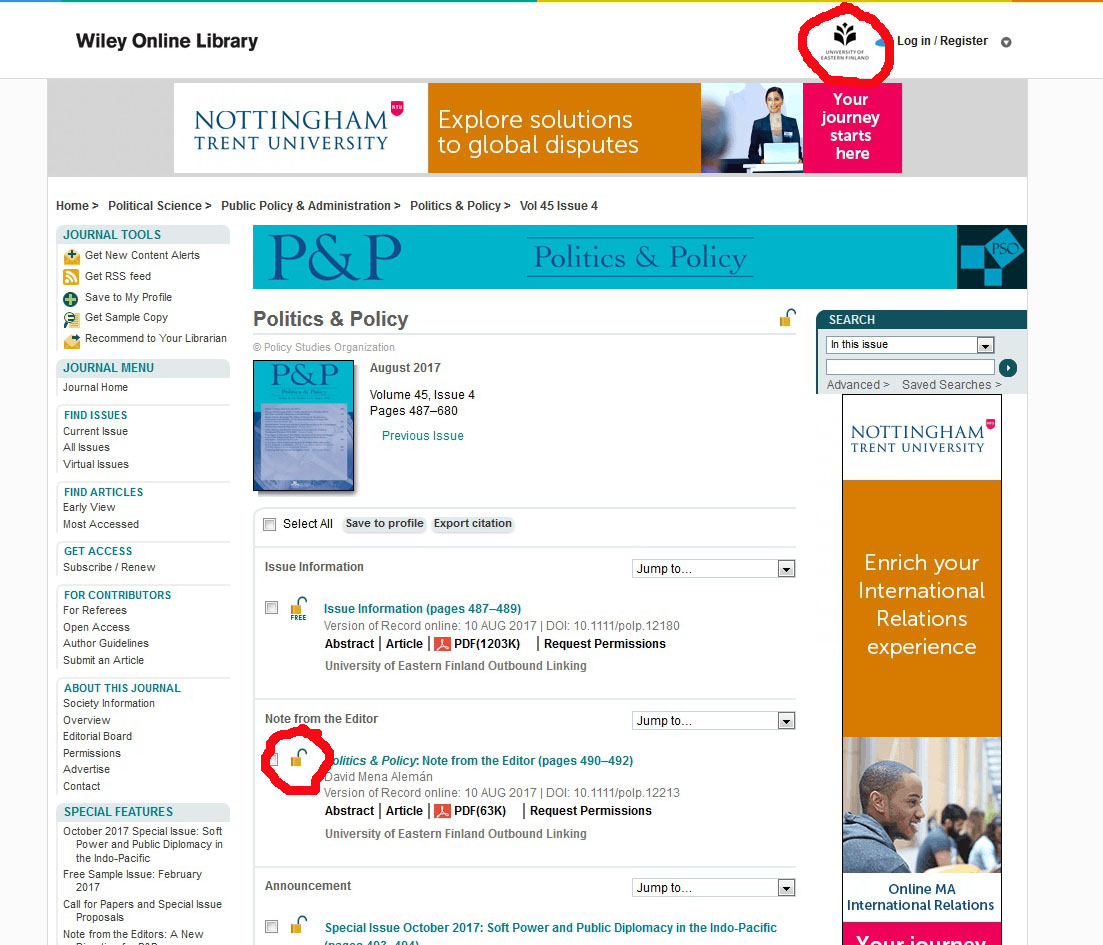 There are also openly published scientific journals that can all users can access free of charge.  In many of these cases, some agents, such as the article's authors and the research groups, have paid to get their texts published openly for the readers.
Additionally, there is a large group of significant scientific journals whose publishers charge the authors in order to open their articles but also require an annual subscription. In these so-called hybrid journals, not all articles are published openly.
Articles behind subscription fees can be found in the publication archives of research organisations, if a self-archived version has been stored in such a database. The publication archive for self-archiving in the University of Eastern Finland is called UEF eRepository.
Kaarina Meriläinen, tietoasiantuntija | information specialist
Tietoaineistopalvelut | Collection services
Mikko Meriläinen, tietoasiantuntija | information specialist
Tietoaineistopalvelut | Collection services
Mari Niemi, tietoasiantuntija | information specialist
Verkko- ja julkaisupalvelut | Library IT and publishing services
Harri Parviainen, tietoasiantuntija | information specialist
Tietoaineistopalvelut | Collection services