Advances in digital technology have made it possible to develop enhanced methods of educating students. These methods also serve as learning resources for educators and practitioners. It is now possible to use resources that were only dreamed about as little as 10–15 years ago. Therefore, methods that can engage students and increase their active participation should be used in preclinical settings and possibly also in clinical environments.
The University of Eastern Finland, as one of the flag-ship young universities in Scandinavia, tries to ensure the continuous development of science and education through worldwide cooperation to provide untapped opportunities (increased quality and attractiveness of education and science, a breakthrough in educational and research methodologies) for the future generations. Along this strategy, the histology education at the Institute of Biomedicine underwent a crucial curriculum reform in 2016, when a student-centered learning and a whole-slide imaging platform were introduced. In practice, students studied in this self-guided, whole-slide digital imaging platform, powered by laboratory sessions supervised by a group of professionals. The results of this reform assessing the new approach in 2017 indicated mastery of the whole-slide imaging platform and positive student attitudes.
At the second phase, having a crossborder-transatlantic cooperation with educators from the University of Utah School of Medicine Salt Lake City, Utah,; Innovation &Strategy Group, Adtalem Global Education, Chicago, Illinois and Clinical Playground, LLC, Madison, Wisconsin, we analyzed here at the Institute of Biomedicine how the change of the learning climate with interactive and online assessments influence morphology education for medical and dental courses, since studies suggest that students are more likely to remain engaged in an educational activity if technology is involved. Web-based programs, mobile applications and virtual patient simulations are just a few examples of platforms that can incorporate "gamification".
During our study, a gamified learning environment has been introduced for the histology curriculum using Kahoot®, an interactive Internet-based game, combining competitiveness and general gamification in its learning platform. To date, this platform has mainly been actively used as a technology-based tool to facilitate knowledge transfer in business settings, as well as in elementary and middle schools, but it is not yet widely utilized at university level, especially for anatomy education.
The gamification program was successful and resulted in significant learning gains in students. The overall participant satisfaction with the course was high and students indicated that gamification increased their motivation in a relaxed scenario. The approach enabled students to overcome individual difficulties and to set up collaboration; furthermore, gamification promoted interest, and the respondents found the immediate feedback from senior professionals to be positive. In the open-ended survey, the students viewed collaborative team- and gamification-based learning positively.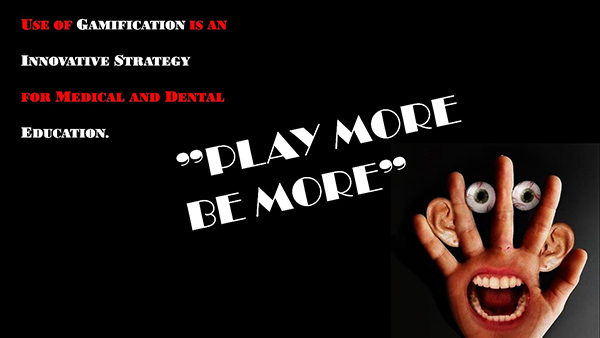 These observations were published in one of the highly recognized open access journal in the field of education, therefore we might wish to suggest a new slogan for our alumni members "PLAY MORE, BE MORE".
Szabolcs Felszeghy
DDS, PhD, Senior Researcher
Institute of Biomedicine