Oskari Korhonen
The first graduate from UEF Law School's Master's Programme in Economic and Resources Law, Dayann Obeng-Darko, decided to pursue a second master's degree after working with international business and marketing. After completing the degree he felt the urge to continue working as a researcher and ended up pursuing a doctoral degree in law.
We interviewed him about his studies and thoughts about the program and Joensuu.
So, tell me a little bit of yourself: where are you from and what is your educational background?
– I am from Ghana and had obtained my Senior High School Certificate in Business Management before I moved to Finland to pursue higher education. Prior to coming to Finland, I had taken a year off schooling to undertake volunteerism in UK, working for a charity organisation. I was supporting adults with learning disabilities. I remained in the UK for few more years then it was time to continue my education and that was what brought me to Finland.
Why did you choose to study in our Master's Programme in Economic and Resources Law?
– Before deciding to study in the law master's degree programme, I had obtained degrees in business management and finance for my bachelor's and first master's respectively; making this law degree my second master's degree. Having worked for about a couple of years after first master's degree (in the areas of international business and marketing), employment wasn't forthcoming after that period, so I decided to pursue further education. I didn't want to continue in the same background (Business Administration and Economics) so I had to diversify the study options and also to broaden my outlook. It was at that moment that I came across this law programme form the UEF law school and didn't think twice about applying to it.
What expectations did you have about the programme and were they met? How did you enjoy your studies?
– At the beginning of the studies, I had chosen to specialize in 'international economic law', which majorly dealt with legal rules and regulations concerning international trade. I excepted to have developed a strong understanding of legal aspects of global trade activities and most especially, in the trade of energy products (including renewables). Not much of an economic activity could be undertaken without energy; perhaps, one could say, it is the very glue that holds life together. And its legal knowledge, from exploration to utilisation cannot be overstated in this globalised world.
I enjoyed my law studies through and through because firstly my expectation from the programme couldn't have been more. Secondly, the teaching staff makes learning quite attractive and exciting.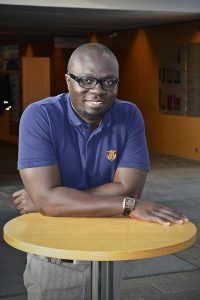 What was your thesis about and why did you pick the topic? How was the writing process?
– My thesis was a comparative legal study about renewable energy in Ghana and the EU. The topic was 'Renewable Energy in Ghana and the Lessons from the EU: A Comparative Examination of Regulatory Support Schemes'. The aim of the thesis was to analyse and compare the legal and regulatory regimes of the Ghanaian Renewable Energy Act and the EU's Renewable Energy Directive by focusing on the support schemes for the achievement for renewable energy policy goals in Ghana. I had decided on this topic mainly because of the prominent role renewable energy plays in the sustainable economic and environmental development in global society such as the mitigation of climate change and secured supply of sustainable energy.
I had some difficulties in the initial stages of the writing process. This was because I had moved out of Joensuu and hence, away from the university environment. Although, students can normally access online study materials remotely such as journals, the move away from the university area hampered to some extent, my accessibility to certain materials needed for conducting the research work. For instance, with accessibility to certain peered-reviewed materials, one would have to physically be in the universities local area network. There was also the difficulty (logistical cost) of obtaining certain books. Those initial difficulties disappeared immediately after I decided to moved back to Joensuu to continues the writing of the thesis.
How did you like Joensuu as a place to live? Was this your first experience in Finland and if so, how did you like the country?
– Joensuu, as a place for to live for the purpose of studying, I would say is great. My view is that, everyone who comes to Joensuu to live will have their own experiences of this city and how they may come to appreciate all that the city has to offer them. I am in my 7th year living in Finland, but had only been in Joensuu for about a year.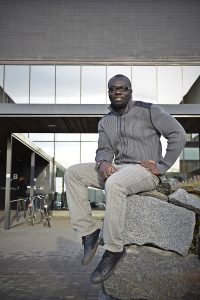 Any advice for those wondering if they should apply for the master's programme? What should they take into account?
– If anyone has the passion and the desire to study law and how it influences every aspect of life, then this law master's degree programme at the UEF Law School is the right choice for the person. The beauty of it all is that, the educational background of an individual is not an impediment to their chances of being admitted to the programme nor does it hamper his/her studying efforts. Some few prospective students think that they will need to possess a Bachelor of Laws degree before they could apply to the master's programme. The key element one needs keep in mind is that students are being trained to become legal experts in various areas of specialisations, so it is important to take future goals into accounts when considering application to the law master's degree programme. Having a knack for making logical argument certainly makes it more exciting.
You are the first one to graduate from the programme. Did you have any spare time for hobbies?
– Yes, I had time for other activities besides studies. Two hobbies that I was able to enjoy whiles studying were travelling and going to the cinema. I also partook in some extra curriculum activities organised by ISYY/ESN, and not forgetting the occasional partying.
What next? Are you looking for job opportunities or do you already have something specific in mind?
– I intend to pursue a career as a legal researcher and as a result, the Doctoral Board of the UEF Law School has decided to support my application for doctoral studies in law leading to Doctor of Laws degree. I am expecting to start this spring.