Vanhat kartat ovat tärkeä lähde historiantutkimukselle. Ne ovat usein ainoita lähteitä maankäytön, liikenneyhteyksien, tai rakennetun ympäristön historian tutkimuksessa. Karttojen sisältämän informaation käyttöön sisältyy kuitenkin paljon ongelmia, joiden takia karttojen naiivi käyttö johtaa helposti huomattaviin virhetulkintoihin.
Kartat eivät lähtökohtaisesti voi olla täysin todenmukaisia kuvauksia, koska esitettävää informaatiota on valikoitava. Joskus karttojen keskeinen sisältö on niin hallitseva, ettei niitä voi edes käyttää karttoina sanan arkisessa merkityksessä. Tällaisia ovat esimerkiksi metrojen linjakartat, tai keskiajan T-O-kartat, kuten Herefordin Mappa Mundi.
Karttojen tulkinnassa pätevät normaalit lähdekritiikin säännöt. Ulkoinen lähdekritiikki kiinnittää huomiota kartan syntyolosuhteisiin, kuten siihen, onko kartta kenties väärennös. Sisäinen lähdekritiikki kiinnittää huomiota kartantekijän tavoitteisiin karttaa luodessa, esimerkiksi siihen, mikä tarkkuus on ollut tekijän tavoitteena. Jos kartan tarkoitus on esitellä kaupungin muurien kuntoa, sen antama kuva korttelien rajoista ei välttämättä ole totuudenmukainen. Toisaalta asemakaavojen ja suunnitelmien ja todellisuuden välinen ero voi olla merkittävä.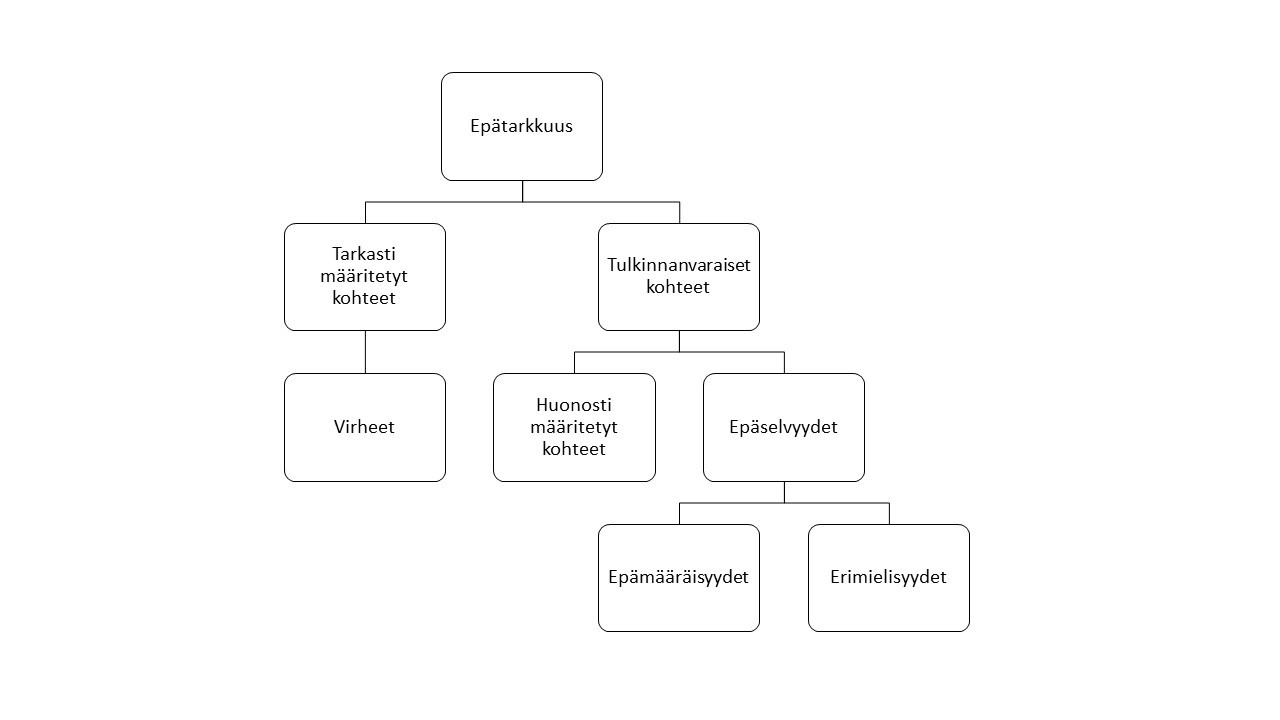 Kuva 1. Virheiden lähteitä spatiaalisessa aineistossa. (Fisher, Peter 2005. Models of uncertainty in spatial data, Teoksessa Paul Longley, Goodchild, Maguire & Rhind, Geographical Information Systems: Principles, techniques, management and applications. Mukaelma.)
Lähdekritiikin ohella karttojen tulkinnassa tulevat vastaan spatiaaliselle datalle ominaiset epätarkkuuden lähteet. Epätarkkuuden syyt spatiaalisessa informaatiossa voidaan luokitella niiden syntytavan mukaan seuraavasti (Kuva 1): Kuvattavat kohteet voidaan ensinnäkin jakaa tarkasti määritettyihin ja tulkinnanvaraisiin kohteisiin. Tarkasti määritetyt kohteet ovat niitä kohteita, joiden geometria voidaan määritellä täsmällisesti, joten kaikki syntyvät epätarkkuudet ovat yksinkertaisesti virheitä. Tällaisia kohteita ovat esimerkiksi rakennukset. Tulkinnanvaraisissa kohteissa taas vastuu siirtyy katsojalle. Tietyt kartoissa kuvatut kohteet ovat heikosti määriteltävissä, kuten metsät tai suot, joten niiden rajaaminen on epätarkkaa. Toinen tulkinnanvaraisten kohteiden laji ovat epäselvyydet. Näihin kuuluvat toisaalta epämääräiset käsitteet ("kaupungin X pohjoispuolella") ja toisaalta kiistanalaiset paikkamääritelmät ("mille valtiolle Etelä-Kiinanmeri kuuluu").
Näiden ongelmien lisäksi vanhojen karttojen käytössä on omia ongelmia. Kartat ovat usein rypistyneet tai suttaantuneet, mikä lisää uuden kerroksen virheitä aineistoon. Lisäksi mittaustekniikan alkeellisuuden takia kartoissa on jo lähtökohtaisesti paljon enemmän puutteita kuin moderneissa kartoissa.
Bannerikuva: Kartta Viipurin atlaksessa vuodelta 1802. Lähde: Kansallisarkisto, Viipurin kuvernementinhallitus II, Ia:1.