From August of 2018 to the end of July of 2019, I spent the whole year in Finland. This was my first time in this country. I have never been there before, despite the fact that it was (not is) one of the easiest countries to enter in terms of visa requirements for Russian citizens. Before my visit, I knew almost nothing about Finland. All I heard about Finns is that they are extremely slow people and have specific sense of humor. Well, I also have a specific sense of humor and quite slow both in my thoughts and actions, and our Kazanian (I am from Kazan, Republic of Tatarstan, Russia) winters are also harsh sometimes, therefore I would feel myself quite comfortable there, – that were my assumptions before my visit.
My inviting colleague was Dr. Kati Parppei, the Academy of Finland Research Fellow at the University of Eastern Finland. So I was located in Joensuu for the rest of my stay. My visit included two conference attendances and two research trips to Helsinki (Aleksanteri Institute, University of Helsinki) (September, October, March and May) and one presentation visit to the University of Oulu in June. Despit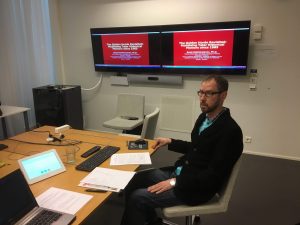 e these research-aimed trips, I also traveled a bit in my free time. The research program itself was flexible; there were no up-to-death deadlines. With Kati we have planned to publish an edited volume as a result of her big fellowship and my mobility grant within it. I have presented a paper called "The Golden Horde Revisited: Mobilising Tatar Historical Memory since 1985" at the PhD Seminar in SCE / Borders, Mobilities and Russia (UEF) and two similar presentations at the Aleksanteri Institute and University of Oulu.
Concerning non-academic part of my life in Finland, I can say that for the moment I like this country very much. This is not a flattery. And I can say why.
Firstly, the level of life is high here. Comparing with Russia and US, there is definitely less stress for people living in Finland – one of the reasons for it, from my point of view, is that the state takes care of most of things. It is like a mother and a father for its citizens. Second, I like Finnish nature very much. Pine woods are fantastic, and the lakes which are everywhere are really charming. The air is so fresh here that you feel yourself as if you are in the countryside while in the city like Joensuu. Third, I like Finnish people – they are straight and honest. My point is that they are quite natural in their wishes and behavior. Fourth, it is ok if you do not know Finnish – everyone speaks very decent English, even sellers in small grocery stores, regardless age.
What surprised me a bit? From my point of view, now, in 2019, it is difficult for Finns to take responsibility in some unusual, unpredictable situations, to be 'creative' in this respect. I suppose that this is due to their relationship with their state – if someone/something takes too much care of you, there is no need to be especially responsible on your own. There are many people who just follow the rules and regulations, without taking a critical look at them. I suppose that some people are creating imaginary problems to solve them, just to be busy with something (when there are no real problems, we should create them artificially).
But this is nothing comparing with overall benefits of the country.
I would like to say 'thank you' to Kati Parppei and the Academy of Finland, as well as to all the people whom I met during this wonderful year in Finland. I really enjoyed making new friends and getting fresh impressions. I will miss Finland and my friends there very much. But maybe we'll see each other once again?
Bulat Rakhimzianov
Senior Scholarly Researcher, Institute of History of the Academy of Sciences of the Republic of Tatarstan