By Moritz Albrecht
When I started my geography studies at Basel University, excursions were my favourite style of learning. It enabled to get out of the classroom, get some first-hand experience and also gave a more realistic insight in what researchers do than the dry lectures inside. Additionally I deemed it more fun to hike, bike or travel through the surroundings to learn what's going on in areas partially unknown to me than by listening to the mere description of these places. For my fortune, excursions, if long or short have a more important standing in German speaking geography than in Finland so we had a lot of those. While based on the core studies in my programme, most of these excursions had a physical geography focus (measuring rivers, digging soils, etc.) but we also learned about many cultural and social aspects in our nearby surrounding which were unknown to us despite our believe that we know "our" city. This was true for people from Basel itself as for me as an outsider.
When coming to Joensuu for my Master studies I was therefore a bit disappointed to find out that particular small and local excursions were not that much available here and were not a key part of the curriculum. Back in Basel we had an excursion book and had to fill 10-12 excursion days a year if I recall right (not included large mandatory excursions). However, since I was a foreigner in a new country with new things every day I did not bother much. Yet this changed when I started to have more own teaching some years ago. Since carrying out independent excursions within HiMa teaching seemed to be somehow complicated and if not tied to a course not rewarded with credits, I always thought it would be nice to offer some course for students at HiMa to take these things into their own hands. I still do assume students like to learn through excursions. This was the birth of the course "A student's guide to creating excursions" at HiMa. So it only took me roughly 10 years to start something like that and in autumn 2018 we had our first course experience.
Together with my co-teacher Jani Karhu we managed to get even 6 students to join the course despite it's out of curriculum character. While the course was challenging, particularly the timing issues I have to say I enjoyed it very much and from the feedback of students (see also below) they also had lots of fun and also learned a lot despite all the suffering under my leadership. The great thing in this course is that learning is not only restricted to learn about excursion methods, tools and how to develop an own excursion but that participants through the excursions, prepared by themselves and their peers, learned a lot of new things about their current home town of Joensuu and its socio-cultural happenings. The course consisted of introduction lectures, an excursion that presented many excursion methods in practice, a lot of group work, a tiny seminar and the final excursions guided by the students themselves. In the course the students had completely free hands in choosing their groups excursion topic, where they wanted to go and which excursion methods and tools to use. We separated the students in 2 groups with each 3 persons. Group 1 chose hidden poverty in Joensuu as their excursion topic while Group 2 decided to develop an excursion on soundscapes and the feeling of security in Joensuu by night.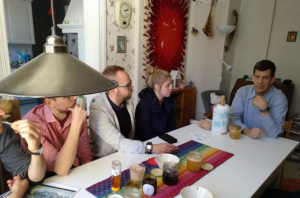 After much group work, struggling with a never tested course and task description (will be improved for next autumn) both groups prepared excursions that were excellent learning tools and both could replace a whole lecture series on their topics. Not only did all of us learn a lot on excursion methods, practicalities on how to manage fieldwork and communicate with people but we also had lengthy discussions on ethical considerations, matters of social justice and realized that there are many faces of the place called Joensuu that we have been rather unaware of up to now. So, all in all, the course was a success on many levels and I hope that this text and the stories of the participants about the course will motivate more students to join us next semester to repeat this great experience. Also, as you should never trust the sweet words of a course teacher on his own course, below you can read up how some of our students have experienced the course.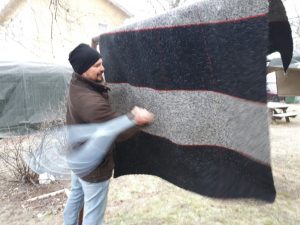 Suffering under Dr. Albrecht's course
Team Hidden poverty
By Ville Tahvanainen
"Poverty is hidden like dust in the air." This quote guided our theme to introduce hidden poverty in the city landscape. Theme was new for us, but at the same time very mysterious. To actually realize this issue, we decided to take the course participants to homeless people shelter and to see the "queue of bread", where the local congregation shares food for those who feel they need it. Our excursion topic was ethically very demanding – how be enough sensitive to talk with the people who are facing hard time in their lives. How not judge people by their personal issues and so on.
At the homeless shelter organisation, we offered to help them with their weekly cleaning (see picture above). One of the challenging moment was, when an obviously narcotic man was sleeping in the room, which we had to clean. We did not want disturb and in the end he did not wake at any time when we were present, despite us cleaning. Still, overall atmosphere was very friendly and calm when dinner was collecting various kind of people together. The doors were open for all without any commitment or tasks.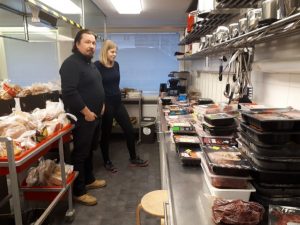 At the local congregation, we faced over 100 people queuing for food. We assembled a variety of food products (left overs with close or expired due date) from local markets into plastic bags. While collecting pieces of food into the bag, we made all the time analysis of the person – what would he or she eat? Questions of values were on mind constantly and you had to make quick decisions – others were waiting for their turn and food so that they could vanish away. The variation of people was amazing. From the appearance, you could not make any kind of conception on the personal situation or economic status.
Eventually the excursion opened a lot of discussion about social responsibility between individual and society. Some of the people were very satisfied with their situation and they even accepted it. However, for some it was a path, they did not choose to be in. Mental problems and narcotics may flip the life totally around. A matter what we were asking, why the third sector is providing help for those people? If we live in the welfare state, why subsidy is required to come from third parties?
The course was extremely helpful to build an excursion with interaction and to bring out matters, which are hidden in today's society. Personally, I recommend this kind of participatory course for teachers to learn how to teach something, which brings lifelong experience and discussions on values more concrete than any lectures held in the classroom.
Team Soundscapes and security
By Anssi Huoponen
The lack of experiences about the planning of excursions was the reason which made me participate in the excursion course. The course was a fascinating learning process already from the beginning of the course when the groups were formed so that they included undergraduate students, graduate students, and postgraduate students in the same group. The planning process took off nicely, and we soon realized that the course is an opportunity to play with different kind of ideas and carry out excursion what you otherwise would seldom have the chance to do.
Our excursion to the soundscapes and feeling of security took place in late November at seven o'clock in the evening with blowing wind and cold weather. We had invited an expert from the city of Joensuu to tell us about how they try to promote the feeling of security in the centre of Joensuu. After this interview, we had a soundscape walk where we stopped for listening pre-recorded daytime soundscapes from the same places. This soundscape walk gave an opportunity to discuss how the soundscapes affect to the excursion participants feeling of security. In addition, we also visited a couple of different kind of bars where we discussed with the staff members how they feel the soundscapes of the bar affect the atmosphere. Moreover, we conducted interviews with customers. We let them listen to pre-recorded soundscapes from the forest and construction site and explain how they feel these soundscapes affect to them.
As a conclusion, the course taught a lot about how to plan and carry out excursions collaboratively. The course also gave change to examine and learn things what you would not normally consider in your daily life. Moreover, the course helped to understand that you would not learn these matters this good in the auditorium.