(Please, scroll down to read a summary in English.)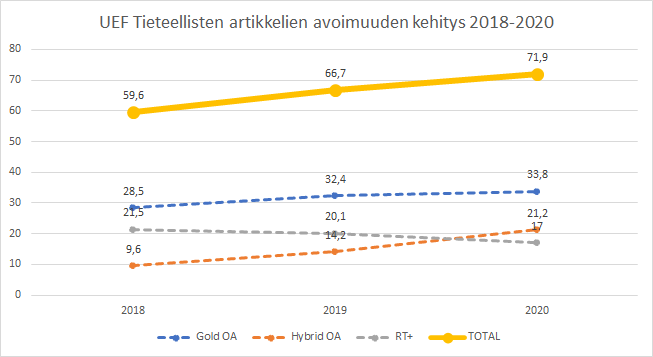 Itä-Suomen yliopiston julkaisutoiminta on vakiintunut hyvälle ja laadukkaalle tasolle. UEFissa kirjoitetaan vuosittain noin 3500 julkaisua, joista tieteellisten julkaisujen osuus viime vuonna oli hieman yli 2400. Vuoden 2020 julkaisuista valtaosa on avoimesti saatavilla. Samalla yliopiston kansainvälisten julkaisujen määrä kasvoi hieman.
Avointen tieteellisten julkaisujen osuus kasvoi jo yli 70 %:n. Avoimen julkaisemisen osuus on edelleen noussut noin 6 prosenttiyksikön vuositahtia. Nousu selittyy pääosin maksullisen OA-julkaisemisen, siis Golden OA-julkaisemisen ja hybridijulkaisemisen kasvulla. Maksumuurin takana olevien artikkelin rinnakkaistallennusten määrät ovat sen sijaan ovat pysyneet suunnilleen samalla tasolla viime vuoteen verrattuna, hieman yli 400 artikkelissa. Lisäksi on tehty takautuvaa tallennusta, joka on nostanut esimerkiksi vuoden 2019 rinnakkaistallennuslukuja 16 prosenttia vuoden takaisesta lukemasta.
Opinnäytteet
Avoimuus näkyy myös opinnäytetöissä. Niiden avoimuusprosentti nousee rauhallisemmin, vuoden 2019 (59,7 %) ja vuoden 2020 (63,6 %) välinen nousu on 3,6 prosenttiyksikköä.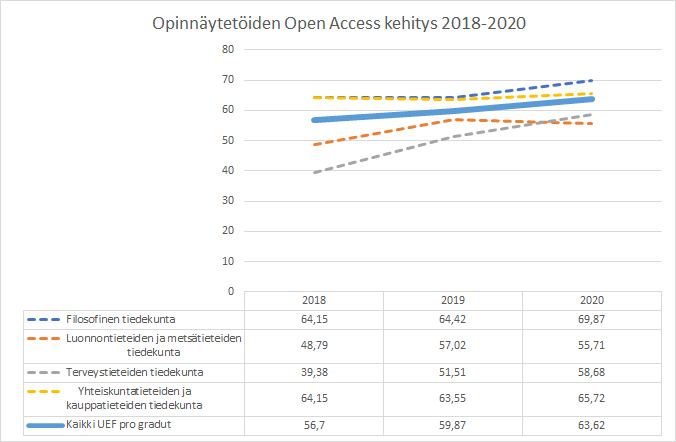 Väitöskirjoja julkaistiin vuonna 2020 170 kappaletta, joista 152 kappaletta yliopiston omissa väitöskirjasarjoissa. Väitöskirjojen avoin saatavuus on hyvien julkaisukäytänteiden sekä prosessien myötä edellisvuosien tapaan varsin kattavaa toimintaa: vuonna 2020 94 % väitöskirjoista julkaistaan avoimesti verkossa.
UEFin avoimia sarjajulkaisuja ja opinnäytteitä tarjonnut UEF Electronic Publications -verkkopalvelu lakkautettiin ja aineistot siirrettiin osaksi UEF eRepoa. Siirrolla saatiin julkaisuille modernimpi käyttöympäristö parempine hakuominaisuuksineen sekä teknisine ominaisuuksineen.
Briefly in English
The publishing activities of the University of Eastern Finland are on a good level. Like the previous years, about 3,500 publications are written at the UEF, and the number of scientific publications among them was slightly above 2,400 last year. Most of the publications are available as open-access materials.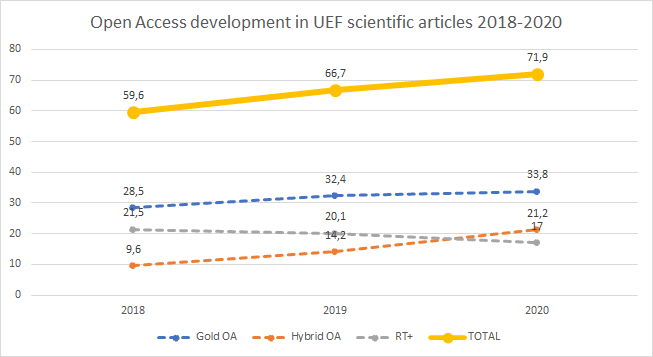 Open access continues to increase at a steady rate of about 6 percentage points per year. Last year pushed the open access percentage above 70%. This is mostly due to increases in Golden OA and hybrid-model publications. The level of self-archived publications remains at the same levels as previous years, about 400 articles that otherwise would have been behind a paywall, were opened.
Theses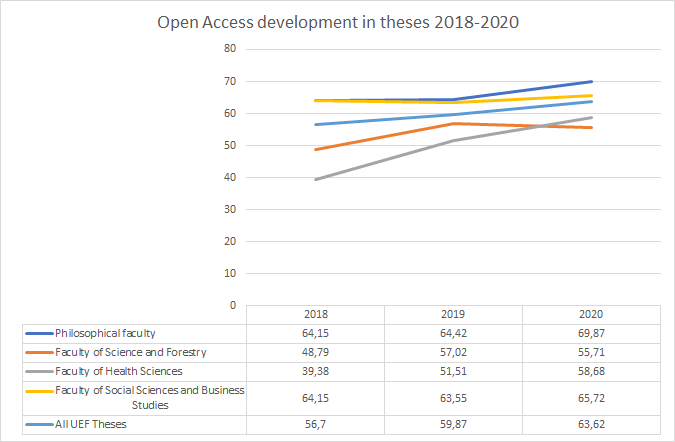 Also masters theses show a moderate increase in the openness percentages.
170 dissertations were published in 2020, 152 of these in the UEF publishing series. Well crafted policies and processes made it possible that open access dissertations are a normal procedure, 94% of the dissertations are published as OA publications.
Also, the online repository UEF Electronic Publications was shut down and the contained material was transferred to UEF eRepo. With this change, the university theses are now published in a modern repository with better search possibilities and technical capabilities.
Jarmo Saarti, kirjaston johtaja | Library Director
Jukka Kananen, palvelupäällikkö | Head of Services
Laura Hämäläinen, tietopalveluneuvoja | Information Services Advisor
Antti Laurila, tietojärjestelmäasiantuntija | IT Systems Specialist
Heta Mikkonen, tietopalveluneuvoja | Information services advisor
Mari Niemi, tietoasiantuntija | Information specialist
Verkko- ja julkaisupalvelut | Library IT and publishing services