Avoimen tieteen edistäjä 2020 | Open Science Award 2020
Avoimen tieteen teemaviikolla palkitaan vuosittain yliopiston taho, joka työllään edistää tieteen avoimuutta. Järjestyksessään viides avoimen tieteen edistäjän kunniakirja luovutettiin yliopistonlehtori Vesa Paajaselle (Ympäristö- ja biotieteiden laitos).
Vesa Paajanen avaa opetusta ja oppimateriaalia ansiokkaasti kaikkien saataville ja käyttää ilahduttavalla tavalla uusia tapoja ja teknologioita. Lisäksi hän toimii muutenkin avoimin mielin.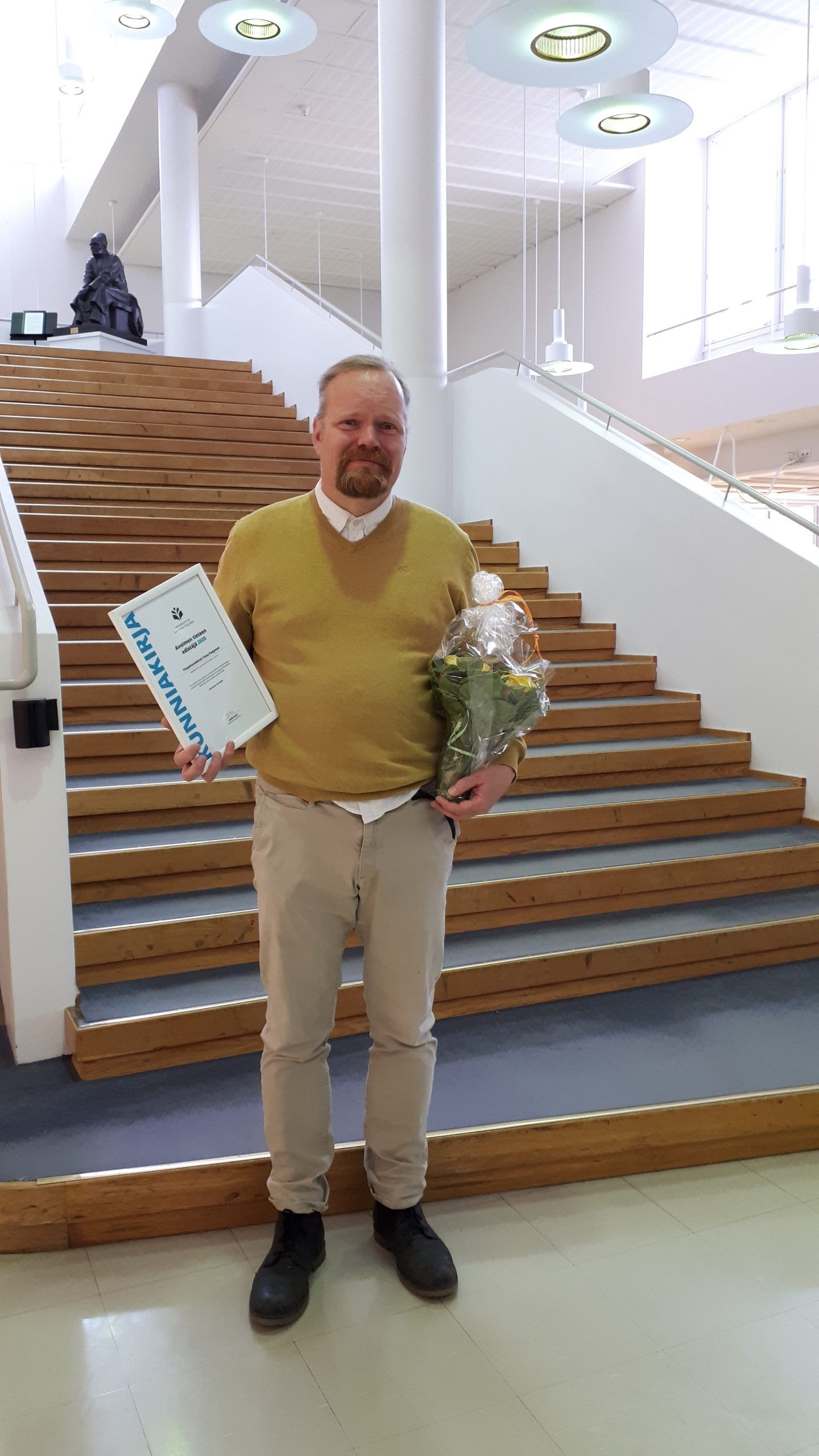 Each year, during the Open Science Week a UEFian (person or unit) is awarded as the contributor for open science and open access. The award was now given for the fifth time and handed over to University Lecturer Vesa Paajanen (Department of Environmental and Biological Sciences).
Vesa Paajanen makes teaching and learning materials open to all, uses new methods and technologies delightfully, and always acts with an open mind.
Aiemmin palkitut | Previously awarded
Avoin gradu -arvonnan voittaja | Open thesis raffle winner
UEF-kirjasto arpoo vuosittain 100 euron stipendin edeltävien 12 kuukauden aikana pro gradu -tutkielmansa tai syventävien opintojen opinnäytteensä avoimesti julkaisseiden UEFin opiskelijoiden kesken. Tämän vuoden stipendin arvontaan osallistui 77 opiskelijaa ja onnetar suosi Marina Cafaroa (Kasvatustieteiden ja psykologian osasto / Kasvatustiede, aikuiskasvatus ja ohjaus). Onnittelut voittajalle!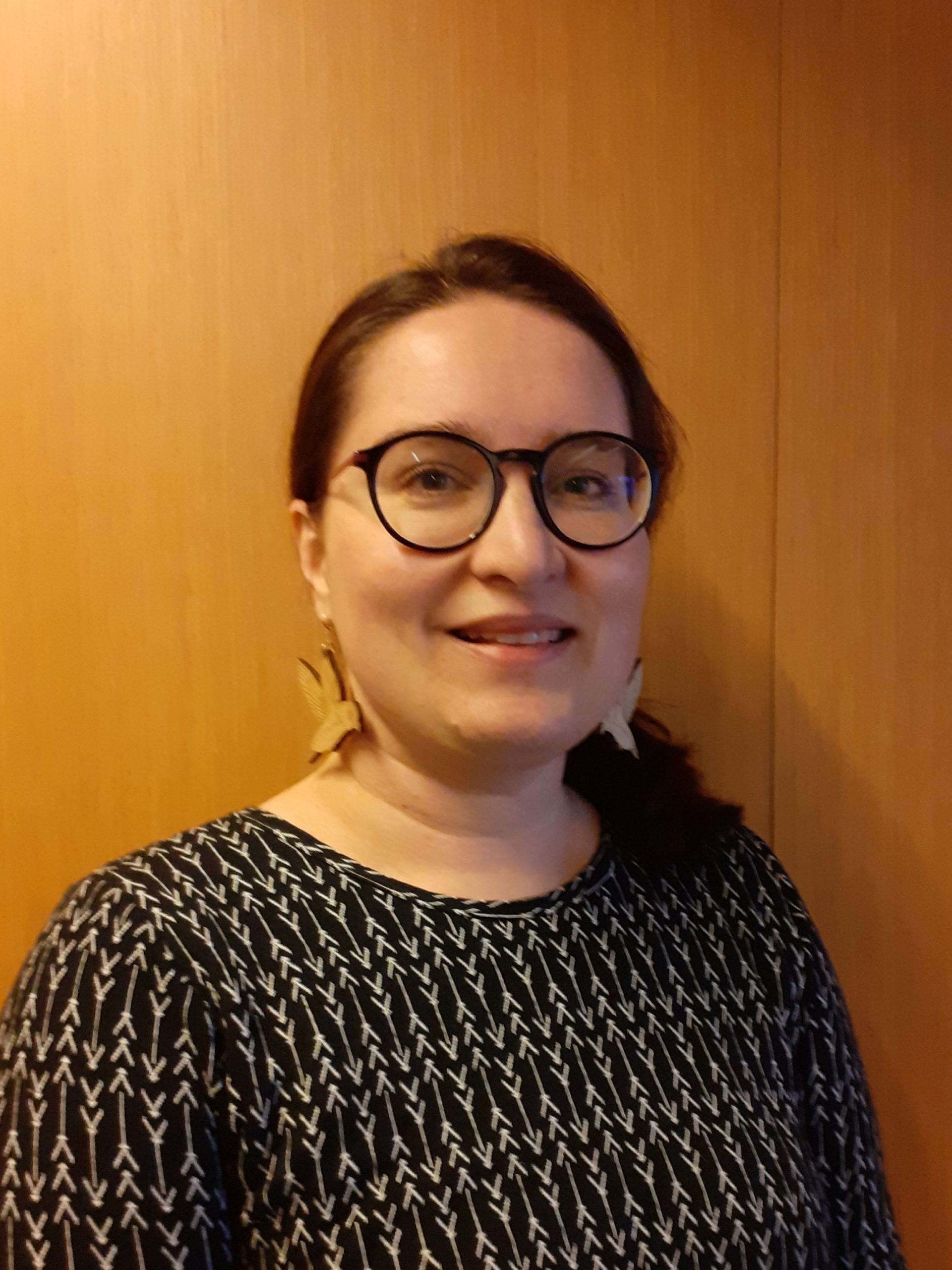 Every year, UEF Library raffles off a grant worth EUR 100 among UEF students who published their master's thesis open access during the preceding 12 months. This year 77 students signed up for the raffle and the Fortune smiled on Marina Cafaro (School of Educational Sciences and Psychology / Education, Adult Education and Career Counselling). Congratulations!
Avoimessa julkaisemisessa kehittyminen | Advancing in open publishing
Kirjasto myös kukitti yksikön, jonka avoimessa julkaisemisessa on tapahtunut eniten edistystä. Luonnontieteiden ja metsätieteiden tiedekunnan infrastruktuuriyksikkö SIB Labs edistyi open access -julkaisemisessa 35 prosenttiyksikköä vuoden 2018 47 prosentista vuoden 2019 82 prosenttiin. Hienoa!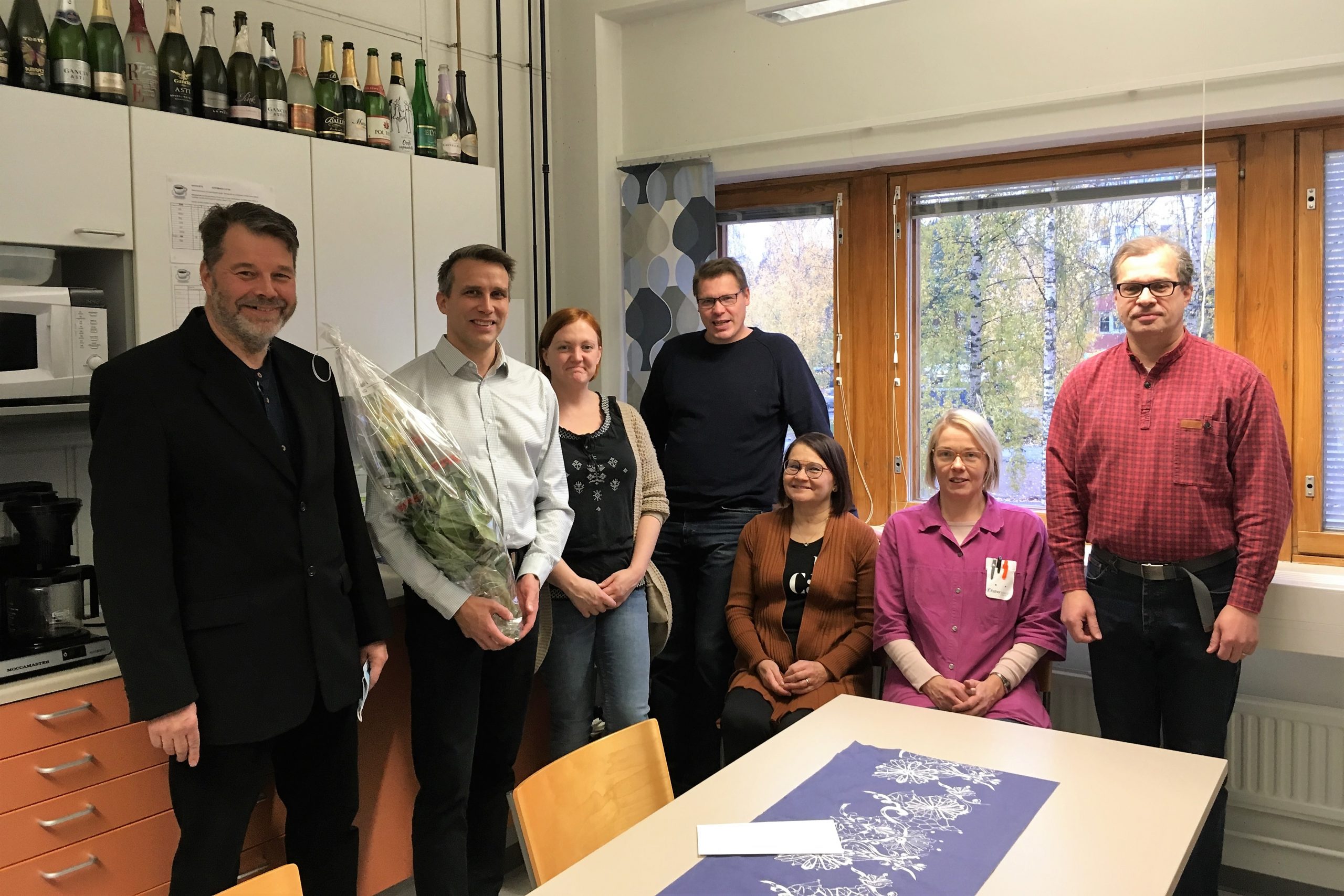 In addition, the library gave a floral tribute to the unit that made the biggest progress in open publishing. The SIB Labs infrastructure unit in the Faculty of Science and Forestry advanced in open access publishing 35 percentage points from 47% in 2018 to 82% in 2019. Great!
Tuulevi Ovaska, erityistietoasiantuntija | Senior Information Specialist
Tuula Rissanen, tietoasiantuntija | Information Specialist
Opetus- ja tietopalvelut | Training & Information Services
Elli Piirainen, tietopalveluneuvoja | Information Services Advisor
Kirsi Salmi, tietoasiantuntija | Information Specialist
Tietoaineistopalvelut | Collection Services