(Please, scroll down to read in English.)
Vuotuisella Avoimen tieteen teemaviikolla palkittiin tänä vuonna jo neljännen kerran yliopiston taho, joka on työllään ajanut tieteen avoimuuden asiaa eteenpäin. Järjestyksessään neljäs avoimen tieteen edistäjän kunniakirja luovutettiin eilen yliopiston kirjastolle.
Itä-Suomen yliopiston kirjasto on toiminut aktiivisena avoimen tieteen ja tutkimuksen edistäjänä koko yliopistomme toiminnan ajan. Kirjasto edisti avointa julkaisemista jo yliopiston suunnitteluvaiheessa. Rinnakkaistallentaminen eteni kansallisen avoimen tieteen ja tutkimuksen (ATT) rahoittamalla yhteishankkeella. Viime vuosina yliopiston kirjasto on koordinoinut avoimen tieteen palveluita yliopistossa ja luonut yhdessä yliopiston muiden toimijoiden kanssa palvelut avoimen tieteen toteuttamiselle ja samalla edistänyt aihealueen osaamista koulutuksillaan. Lisäksi kirjaston työntekijöitä on mukana vaikuttamassa kansallisissa ja kansainvälisissä avoimen tieteen toimielimissä.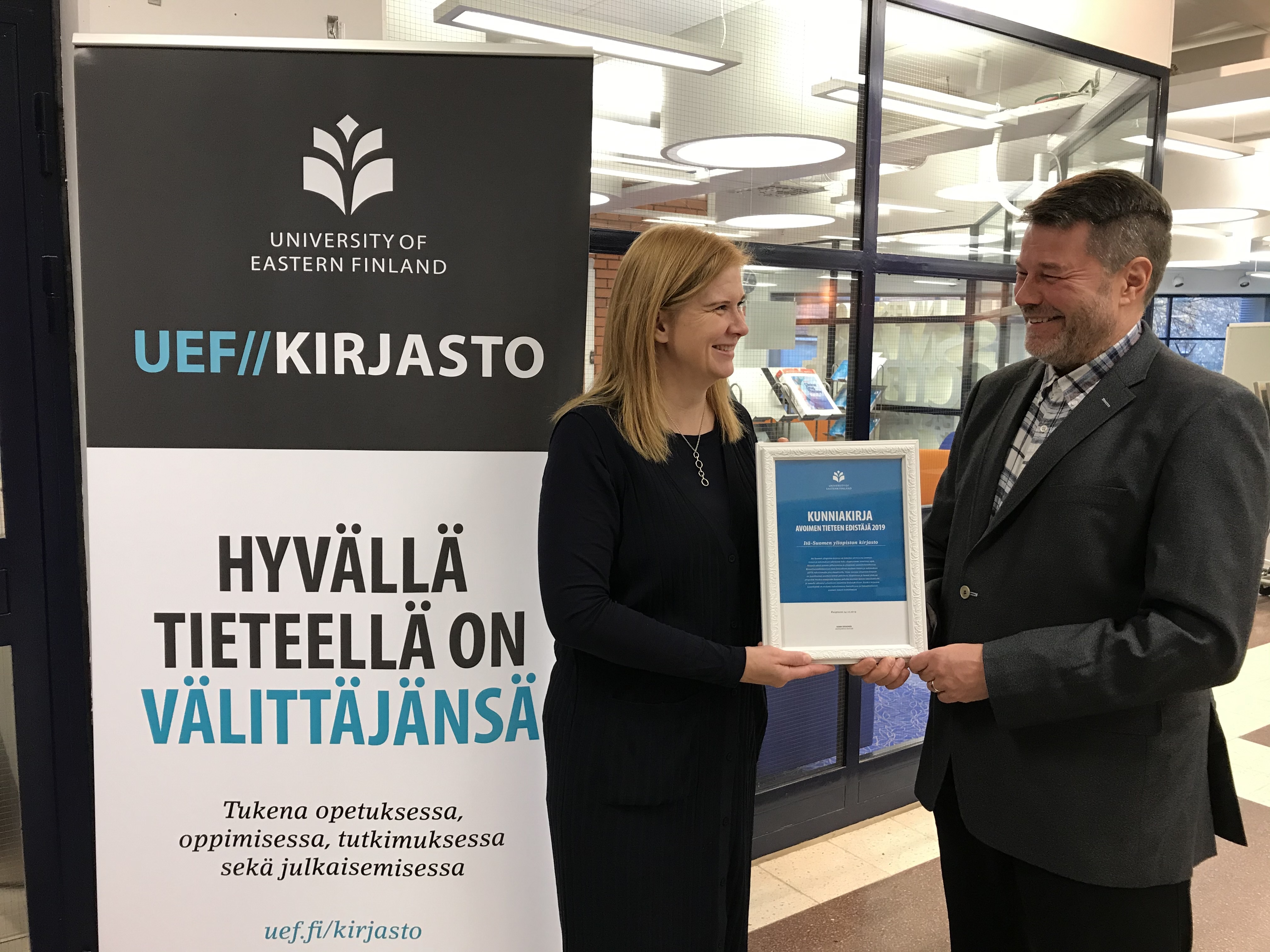 Aiemmin palkitut | Previously awarded
This year 2019, the UEF Library is awarded the contributor for open science and open access. The award is now given for the fourth time in a row during the International Open Access Week.
The University of Eastern Finland Library actively promotes open science and research. The library advanced open publishing already at the planning stage of the UEF. In recent years, the Library has co-ordinated open science services at the University and, together with other University actors, has created services for the implementation of open science. By providing training the library has a role in increasing the competence in open science. In addition, members of the library staff are involved in the national open science working groups and in international networks.
Tuula Rissanen, tietoasiantuntija | Information Specialist
Tuulevi Ovaska, erityistietoasiantuntija | Communications Coordinator & Information Specialist
Opetus- ja tietopalvelut | Training & Information Services