Please, scroll down to read in English
Kirjasto on muodostanut perinteen palkita vuosittain yliopistosta taho, joka on työllään ajanut tieteen avoimuuden asiaa eteenpäin. Järjestyksessään toinen avoimen tieteen edistäjän kunniakirja myönnettiin Yhteiskunta- ja kauppatieteiden tiedekunnan hallintosihteeri Tuula Honkaselle.
Tuula on aktiivisella toiminnallaan edistänyt opinnäytteiden avoimuutta vuosien 2016-2017 aikana. Pro gradu-töiden tarkastusprosessin kehittäminen on helpottanut opinnäytteiden avoimeksi saattamista opiskelijan näkökulmasta ja täten edistänyt tieteen avoimuutta yliopistossamme. Tuula on myös osoittanut sinnikkyyttä ja kauaskatseisuutta viemällä opinnäytetöihin liittyvää digitalisaatiota yhä pidemmälle koko yliopiston tasolla.
Avoimuuden edistyminen näkyy konkreettisimmin tiedekuntatason open access –prosentissa, joka on vuoden aikana noussut 23 %. Jokseenkin näkymättömissä oleva avoimen tieteen kulttuurimuutos on tapahtunut opiskelijoiden ohjauksessa, koska uskomme, ettei avoimuus ole ainoastaan opinnäytteen tekijän mielenkiinnosta riippuvaa — se miten tieteen avoimuudesta puhutaan koko opintojen aikana, vaikuttaa opiskelijan näkemykseen tulevissakin valinnoissa.
Monelle tieteen parissa työskentelevälle pro gradu –työ on ensimmäinen teksti, jonka kohdalla ryhdytään miettimään julkaisemiseen liittyviä seikkoja. Kun tässä vaiheessa saadaan opiskelija miettimään avoimen tieteen etuja, jäävät nämä mahdollisen tulevan tutkijan mieleen normaaleina toimintatapoina. Ja vaikka opiskelijalla ei olisikaan mielessä ura tieteen parissa, on hän avoimen opinnäytteen kanssa varmasti paremmassa asemassa työnhakutilanteissa kuin opinnäytteen, josta on näytettävissä ainoastaan arvosana.
Pro gradu-töiden avoimuutta on mahdollisuus seurata osoitteesta http://libapps.uef.fi/thesisOA/.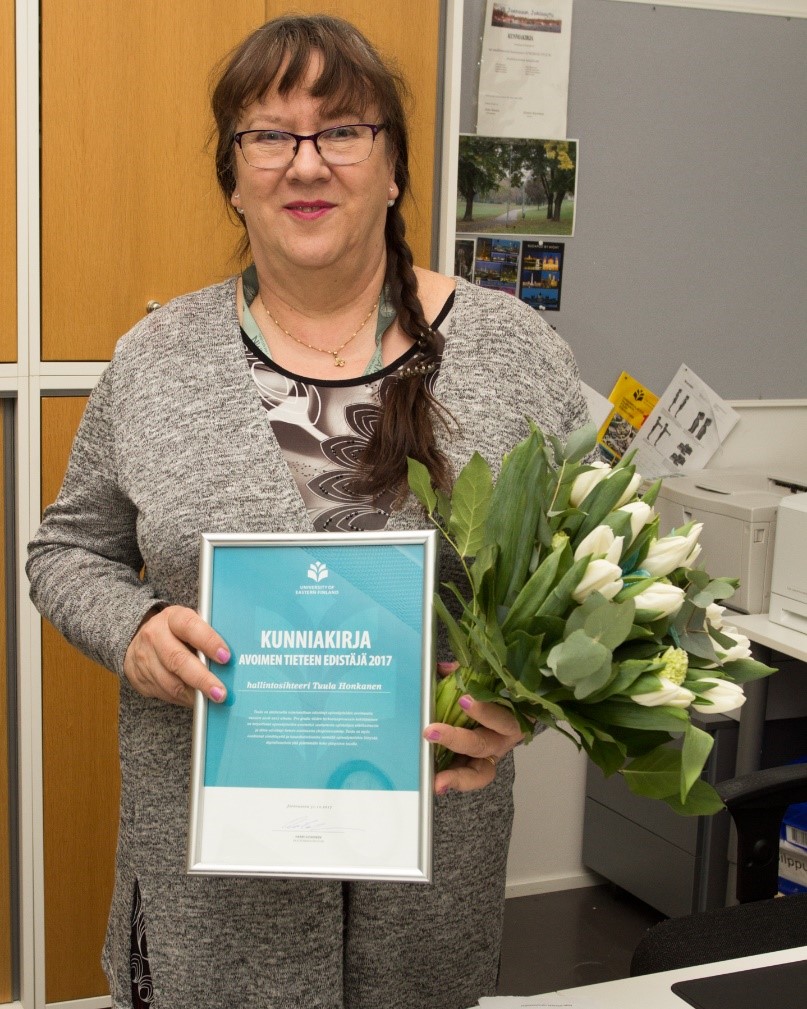 Open Science Award 2017 winner chosen
The UEF Library has founded a tradition of awarding someone in our university for pro open science work. The second Open Science Award was awarded to Tuula Honkanen from the Faculty of Social Sciences and Business Studies.
Tuula's active take on developing the digital approval and publishing workflow of master's theses, has facilitated open access publishing and more importantly, created a change within the faculty on how people feel about open access. As a result, the open access publishing of master's theses has increased by 23% in a year in the Faculty of Social Sciences and Business Studies. By guiding students to explore the possibilities of open access, we are raising a generation of open access scientists.
You can follow the development of the Open Access percentage of master's theses at: http://libapps.uef.fi/thesisOA/.
Antti Laurila, tietojärjestelmäasiantuntija | IT Systems Specialist
Verkko- ja julkaisupalvelut | Library IT and Publishing services