(Please, scroll down to read in English.)
Kirjasto myönsi järjestyksessään kolmannen avoimen tieteen edistäjän kunniakirjan tietojenkäsittelytieteen laitoksen apulaisprofessori Tomi Kinnuselle. Hänen puheteknologiaan, erityisesti puhujantunnistukseen keskittyvä tutkimustyönsä tuottaa dataa, jonka avaamisessa Kinnunen on erityisen ansioitunut.
Tomi Kinnunen arvelee oman alansa tutkijoiden olevan melko kiitollisia avatuista tutkimusaineistoista, eikä valtavaa vastarintaa ole ilmennyt – pikemminkin päinvastoin: puheteknologiassa suurten data-aineistojen rooli on aina ollut avainasemassa. Yhteisten datajoukkojen käyttö paitsi mahdollistaa menetelmäkehityksen tuo myös alan tutkijat lähemmäksi toisiaan. Myös Kinnusen lähijohtaja, tietojenkäsittelytieteen laitosjohtaja ja professori Markku Hauta-Kasari arvelee suhtautumisen avoimeen tieteeseen olevan mutkatonta. Onhan tietojenkäsittelytieteen tutkimusalalla perinteisesti usein avoin lähdekoodi ja dokumentointi keskeisessä roolissa.
Oikeilla tavoilla avattu tutkimusdata on nuorella alalla vakiinnuttanut nopeasti jalansijansa, ja herättää keskustelua esimerkiksi kansainvälisissä konferensseissa. Kinnusen viimeaikainen tutkimus on keskittynyt mm. huijaushyökkäysten (spoofing attack) tunnistamiseen puheesta. Esimerkiksi puhesynteesin laatu paranee vuosi vuodelta ja sillä voidaan jo nyt periaatteessa "laittaa sanoja toisen suuhun". Biometrisen tunnistautumisen ja yksityisyysasioiden ollessa vahvasti tapetilla tärkeä tutkimuskohde onkin erotella puhuja toisesta, ja erottaa keinotekoinen puhe oikeasta puheesta – ja tämän tutkimiseksi tarvitaan standardoitua dataa. Kinnusen (yhdessä kansainvälisten partnereiden kanssa) avaamat ASVspoof-aineistot ovat olleet vakiinnuttamassa jalansijaa tälle kasvavalle tutkimusalalle. Laitoksen johtaja Hauta-Kasari painottikin puheteknologian parissa työskentelevien yhteistä innostusta datasta, josta riittää iloa ja hyötyä laajemmallekin yhteisölle. Kun dataa on saatavilla, siitä saadaan paljon irti.
Alalla dokumentointi on isossa roolissa, ja myös Tomi Kinnunen on kuvaillut metatietoja aktiivisesti ja myös puhunut tästä aiheesta eri foorumeilla. Löydettävyys on avainasemassa, kun uudenlaiset dataryppäät valtaavat alaa internetin uumenista. Tähän auttaa vain ja ainoastaan kunnollinen tiedon esittäminen vakiintunein menetelmin. Näin se on löydettävissä ajasta ja maantieteellisestä sijainnista riippumatta. Kinnusen ansioihin onkin luettavissa erityisen kansainvälisen tutkimuksen tekeminen. Hän liikkuu paljon ja verkostoituu aina Euroopasta Aasiaan, ja olikin juuri pidemmällä tutkimusvierailulla Japanissa. Tällä matkalla osittain suunniteltu uusi data-aineisto tullaan avaamaan verkkoon lähiviikkoina.
Kirjaston johtaja Jarmo Saarti totesi, että aitoa avoimen tieteen tekemistä ja siitä kertomista tarvitaan päivittäin. Verkostojen avulla tulevaisuuden haasteetkin ovat voitettavissa. Hän totesikin lopuksi, että vain toiminnan kautta maailma voi asteittain muuttua tietämyksen lisääntyessä alasta riippumatta.
Tomi Kinnusen avoimia tutkimusjulkaisuja listattuna UEF eRepossa
ja avointa tutkimusdataa.
Onnea Tomi!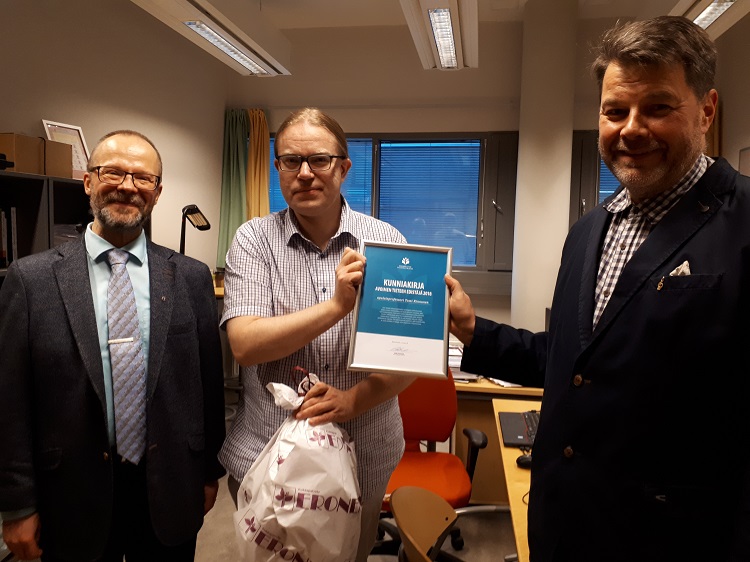 In English
Library awarded associate professor Tomi Kinnunen from the School of Computing the contributor for open science and open access for this year 2018. This award is now given for the third time in a row.
Associate professor Tomi Kinnunen works with speech technology and speaker recognition, and this field of research produces data which is useful for many.
In speech technology research massive large quantities of speech data are commonly collected and used. Adopting a common data not only gathers the researchers in a specific research problem "to the same table", but is necessary both in developing new machine learning techniques for next-generation computer systems; and in comparing such techniques on comparable footings. This was by no means self-evident in the early decades of the field when every researcher would collect their self-collected, small and poorly documented datasets. Nowadays, speech technology is one of the most organised fields in its adoption of large and carefully documented public data resources.
In modern computer science and machine learning, open datasets, open source code and detailed documentation are of key importance to the technological progress. Tomi Kinnunen has risen awareness of good practices to document the metadata.  By ensuring that the metadata of the datasets is made widely available enables the interesting datasets to be located from the endless sea of information.
Spending time abroad opens up new forms of co-operation. In Kinnunen's work the international touch is undeniable and he does remarkably wide international research. Recently he visited in Japan to advance publishing a new large speech dataset that will be released in December 2018.
Library director Jarmo Saarti stated that genuine daily actions of open science and telling about it are important. With networks the challenges of future can be resolved. Only through action the world can gradually change as the knowledge increases regardless of the discipline, Saarti finished.
The open publications of Tomi Kinnunen in UEF eRepository and open research data.
Congratulations Tomi!
Taina Sahlman, tietopalveluneuvoja | information services advisor
Verkko- ja julkaisupalvelut | Library IT- and publishing services
Anne Karhapää, tietoasiantuntija | information specialist
Opetus- ja tietopalvelut | Training and information services
Käännöksessä ja tekstissä mukana apulaisprofessori Tomi Kinnunen | Written and translated in cooperation with associate professor Tomi Kinnunen