(Please, scroll down to read the results of the English version of the survey.)
Kiitokset kaikille lokakuussa 2018 Tutkimus- ja julkaisutoiminnan mittarit -kyselyyn osallistuneille. Suomenkieliseen kyselyyn vastasi 123 henkilöä perusopiskelijoista emeritus/emeritaprofessoreihin kattavasti yli kahdeltakymmeneltä eri tieteenalalta.
Kysely paljasti valtaosan vastaajista (92 %) tarvinneen erilaisia mittareita (kuva 2, numerointi kyselystä) vaihteleviin tarpeisiin (kuva 3).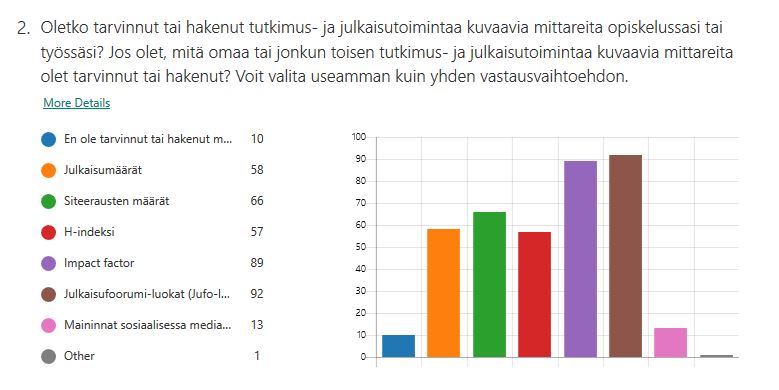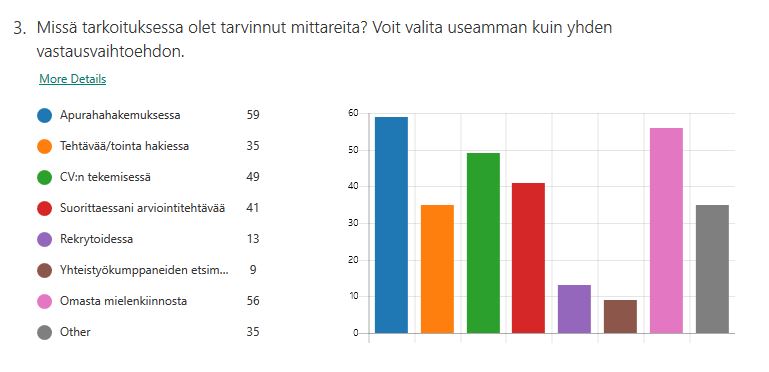 Vastaajat ovat tyypillisesti hakeneet tarvitsemansa tiedot itse (90 %), mutta jatkossa näyttäisi olevan halukkuutta (46 %) käyttää myös kirjaston tarjoamia metriikkapalveluita, varsinkin kun tarvetta mittareille oli valtaosalla vastaajista (94 % melko todennälköisesti tai varmasti) myös tulevaisuudessa.
Halukkuutta saada koulutusta tutkimus- ja julkaisutoimintaa kuvaavista mittareista löytyi selvästi yli puolelta vastaajista (62 %). Täsmennettyjä toiveita koulutusmuodoista esitti noin puolet vastaajista (51 %). Näihin toiveisiin sisältyi seuraavaa:
Skype-koulutusta (48 % vastaajista)
Pienryhmäkoulutusta (22 %)
Kirjalliset ohjeet netissä (11 %)
Videotallenne (ml. lyhyet videoklipit) (11 %)
Henkilökohtaista opastusta (8 %)
Verkkokoulutusta/-kurssina (esim. Moodle) (6 %)
Sen lisäksi, että kaivattiin koulutusta siitä, mistä ja miten mittarit löytyvät, toivottiin apua myös niiden tulkinnalle, käyttökelpoisuudelle eri tilanteissa, vastuullisuudelle ja kriittisyydelle. Vastauksista nousi mm. seuraavanlaisia kysymyksiä:
mikä on mittareiden merkitys ja millainen on eri tieteenalojen välinen vaihtelu
voiko mittareita vääristellä
mihin mittariin omaa tutkimusta kannattaa peilata ja miksi
missä tilanteessa mikäkin mittari on käyttökelpoinen
mitä ovat mittareiden vahvuudet ja heikkoudet
millainen on mittareiden luotettavuus, paremmuus…
miten tulkitsen niitä
mikä on nykyään 'luotettavin' kanava [metriikka]tiedon hankkimiseen
miten ko. mittarilukemat muodostuvat käytännössä
mitä hyötyä mittareista on erityisesti tutkijan näkökulmasta
mitä mittarit todella kuvaavat ja mitä ne henkilöstä kertovat
Esitettyihin koulutustoiveisiin löytyy kirjaston tutkimuksen tuen sivuilta jo nyt apua ja ohjeita, Tutkimuksen arviointi julkaisujen avulla -sivuilta  mm. tietoa bibliometrisistä analyysityökaluista ja tietokannoista, kuvaukset useista bibliometrisistä indikaattoreista.
Lisäksi kirjasto tulee jatkossa järjestämään koulutusta, jossa huomioidaan edellä esitettyjä toiveita. Kannattaa siis seurata koulutustarjontaamme!
Results of the survey in English
Thanks to all those who participated in the Research and Publishing Activity Indicators questionnaire in October 2018. Sixteen people including postgraduate students, research personnel, educational personnel and other personnel from over ten different disciplines answered the English version of the survey.

The survey revealed that all of the respondents have needed different indicators (Figure 2, numbering from the questionnaire) for different purposes (Figure 3).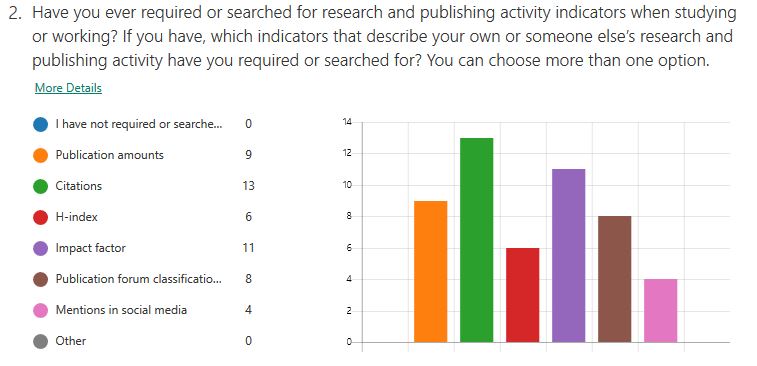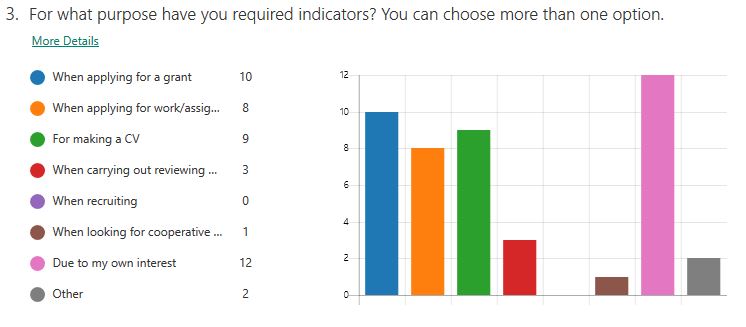 Respondents have typically applied for the information they need, but in the future there seems to be willingness (44%) also to use metric services provided by the library, especially as the majority of respondents (94% quite certainly or certainly) need the indicators in the future.
More than half of the respondents (56%) were interested in receiving training on indicators describing research and publishing. Half of the respondents (50%) expressed their hopes for training. These wishes included:
Skype training (19% of the respondents)

Written instructions online (13%)

Video recording (including short video clips) (13%)

Personal Guidance (13%)

Small Group Training (6%)
In addition to the need for training on where and how the meters are found, assistance was also sought for their interpretation, usefulness in different situations, responsibility and criticality. Among the answers, there were these wishes:
"It would be highly important to have a page on UEF website where different indicators can be found and searched for easily!"
"Some training in understanding the Jufo rating would be nice, since the ratings seem pretty random sometimes and not in line with what is considered a "prestigious" journal in the field."
"Consortium or certain indicators that have been agreed throughout UEF or Finnish universities."
"Training in altmetric."
Answers to some of the training requests can already be found on the UEF Library's Research Support page already. The Research Evaluation (Bibliometrics: evaluating research via publications) section includes: Bibliometric analysing tools and databases, descriptions of several bibliometric indicators.
In addition, the library will continue to provide training that takes into account the wishes outlined above. So you should follow our Training menu!
Marja Kuittinen, tietoasiantuntija | information specialist
Maarit Putous, tietoasiantuntija | information specialist
Opetus- ja tietopalvelut | Training and information services