(FI teksti alhaalla – Scroll down for FI)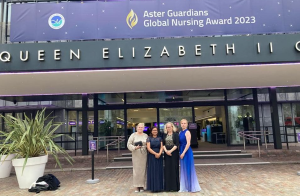 Photo 1
"Warn Harm" research group funded by #Academy_of_Finland and led by Academy research fellow, Associate professor Marja Härkänen from UEF, had two weeks research visit in London, UK between 1.5.-12.5.2023 (Photo 1).
We were delighted to visit in Florence Nightingale Faculty of Nursing, Midwifery & Palliative Care at King's College London #KCL hosted by Professor Dame #Anne_Marie_Rafferty (Former President of Royal College of Nursing #RCN UK). During our visit we lectured about our Text mining studies in the seminar of "New directions in Research Methods". In addition, we had our current research group meeting with Professor Rafferty and Professor Bryony Dean Franklin (University College of London #UCL). (Photo 2)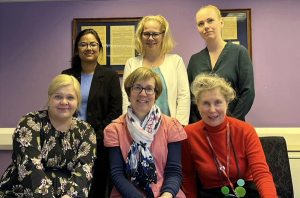 Photo 2
We visited Saffron Walden GP clinic and were informed about patient safety in clinical practice hosted by Director Physician Jenny Elo (Photo 3). Pharmacist S. Downham discussed with us about medication safety initiatives in the clinic (Photo 4). Following the visit, we were privileged to have a private tour in Cambridge University campus.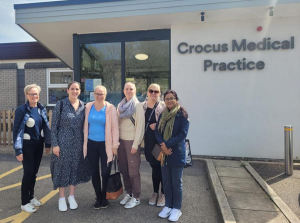 Photo 3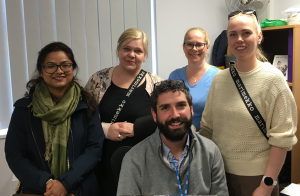 Photo 4
European Region coordinator Professor Liz Westcott, president of Sigma Phi Mu Chapter UK hosted our visit in Oxford Brookes University, where we discussed with Dr Helen Aveyard and Dr Sue Schutz about current educational practices in UK and Finland concerning nursing theories. (Photo 5)We were excited to have a private tour in Oxford area as well.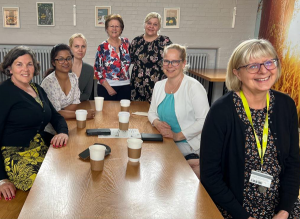 Photo 5
Our second own lectures about Text mining method for studying medication incidents took place in #UCL in the School of Pharmacy. The hybrid audience consisted of Masters- and PhD students, Post docs and staff members. (Photo 6) Further, we also had our second research group meeting with the Professors Rafferty and Franklin resulting great progress in our study project.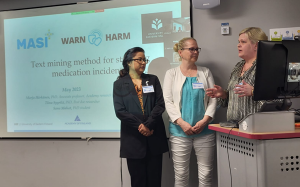 Photo 6
As a cherry on top of the cake we were invited as guests to Aster Guardians Global Nursing Award 2023; an amazing gala celebration in Queen Elizabeth II Centre (Photos 1 & 7-11). Ten inspiring stories of the finalists (Photos 7-9) were presented about multi-cultural candidates excelling in their nursing initiatives and having national and international impact on population wellbeing, health, quality and patient safety.
The winner of all 52.065 self-nominated candidates was amazing NIHR´s #70@70 Senior #Nurse_Researcher, RN #Margaret_Helen_Shepherd. She was awarded a major monetary price of $USD 250 000 for her educational initiatives for nurses nationally and internationally regarding- #monogenic_diabetes. This was the second time than the ASTER award was given. The ceremonies were breathtakingly powerful audio-visually, beautiful, emotional and inspiring. It came crystal clear that nurses in all levels, from bedside positions to high level directors, from early stage of career to experienced professionals, really can have impact on society and global health. We were so proud for the top candidates and all nurses over the world. They all deserve this kind of praise for their valuable work.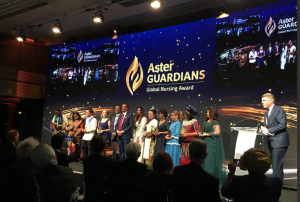 Photo 7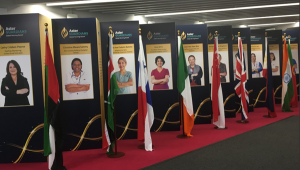 Photo 8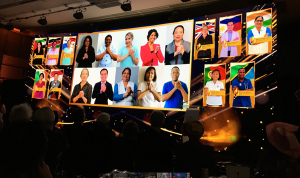 Photo 9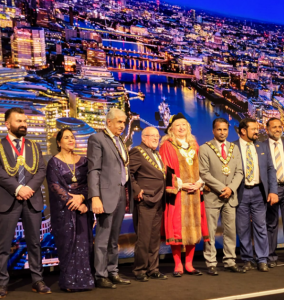 Photo 10
Furthermore, between official visits and intensive research group work, we had possibilities to experience the glorious Coronation of King Charles, joyable Newsie-musical and some museums.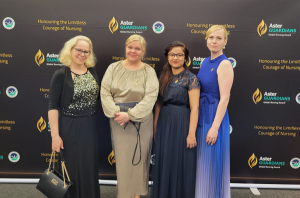 Photo 11
Tiina Syyrila Marja Härkänen Sanu Mahat & Saija Koskiniemi
#Department_of_Nursing_Science, University_of_Eastern_Finland
Warn harm research project home page: https://uefconnect.uef.fi/en/group/warn-harm-real-time-warning-system-for-avoiding-patients-and-healthcare-staff-harm/
#DepartmentOfNursingScience homepage: https://www.uef.fi/fi/yksikko/hoitotieteen-laitos
#NursingByScience #PatientSafety #MedicationSafety #NursingScience #Research
******************************************************************************
FI version: The same text as in English, but fresh photos
"Warn Harm" tutkimusryhmän vierailu Lontoossa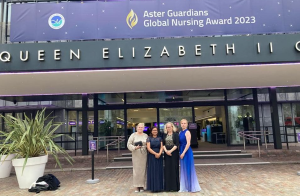 Photo 12
Suomen Akatemian rahoittama ja Akatemiatutkija, Apulaisprofessori Marja Härkäsen johtama "Warn Harm" tutkimusryhmä vieraili Lontoossa 1.5.-12.5.2023.  (Photo 12)
Olimme ilahtuneita saadessamme vierailla Florence Nightingale Faculty of Nursing, Midwifery & Palliative Care King's College:ssa Lontoossa #KCL (Photo 13). Vierailuamme isännöi Professori Dame #Anne_Marie_Rafferty (Edellinen President of Royal College of Nursing #RCN UK). Vierailumme aikana luennoimme tekstinlouhintatutkimuksistamme "New directions in Research Methods" seminaarissa. Sen lisäksi meillä oli tutkimusryhmämme tapaaminen Professori Rafferty:n ja Professori Bryony Dean Franklin:in kanssa (University College of London #UCL). (Photo 2)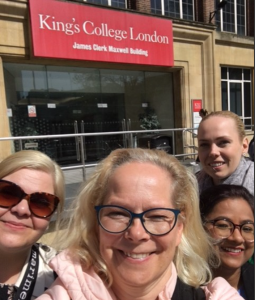 Photo 13
Vierailimme Saffron Waldenin Chrocus lääkäriaseman klinikalla, jossa kuulimme heidän kliinisistä potilasturvallisuuskäytännöistään. Vierailumme aikana esittelijänä toimi klinikan johtajalääkäri Jenny Elo. Klinikkavierailun jälkeen saimme yksityisen esittelykierroksen Cambridgen yliopistokampuksella. (Photos 3 &4)
Professori Liz Westcott, Sigman Euroopan alueen koordinaattori ja Sigma Phi Mu Chapter UK:n presidentti, johti vierailuamme Oxford Brookes Universityssä. Siellä keskustelimme Tohtori Helen Aveyardin ja Tohtori Sue Schutzin kanssa hoitotyön teorioiden nykyisistä koulutuskäytännöistä Englannissa ja Suomessa (Photos 5 & 14). Olimme ilahtuneita saadessamme yksityisen esittelykierroksen myös Oxfordin alueeseen.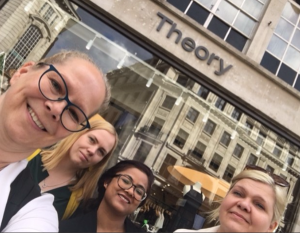 Photo 14
Toinen luentomme tekstinlouhinnasta lääkitysturvallisuustutkimuksessa oli Lontoossa, the School of Pharmacyssa #UCL. Hybridiluennon osallistujat olivat maisteri- ja tohtoriopiskelijoita, postdoc-tutkijoita ja henkilökuntaa. (Photo 6) Lisäksi meillä oli UCL:ssa tutkimusryhmämme toinen tapaaminen Professori Rafferty:n ja Professori Franklin:in kanssa. Kokous edisti tutkimusprojektiamme merkittävästi.
Kirsikkana kakun päälle, meidät kutsuttiin vieraiksi upeaan Aster Guardians Global Nursing Award 2023 palkintogaalaan Queen Elizabeth II Centre:iin. (Photos 1 & 7-11) Gaalassa esiteltiin kymmenen finaalissa olleen sairaanhoitajan inspiroiva tarina (Photos 7-9). Finalistisairaanhoitajat edustivat monikulttuurisia lähtökohtia ja he kaikki olivat tehneet merkittävää työtä sairaanhoitajana. Heidän arvostettavalla työpanoksellaan on ollut vaikutusta kansalaisten terveyteen, hyvinvointiin, hoidon laatuun ja potilasturvallisuuteen niin kansallisesti kuin kansainvälisesti.
Kilpailuun oli ilmoittanut itsensä kaikkiaan 52 065 sairaanhoitajaa. Voittaja oli loistava NIHR´s #70@70 Seniori #Nurse_Researcher, RN #Margaret_Helen_Shepherd Englannista. Hänet palkittiin massiivisella $USD 250 000 rahapalkinnolla merkittävästä ja pitkäaikaisesta sairaanhoitajien koulutustyöstään #monogenic_diabetes osaamisen edistämiseksi niin kansallisesti kuin kansainvälisesti. #ASTER palkinto myönnettiin nyt toista kertaa. Palkintogaalan seremoniat olivat audio-visuaalisesti henkeäsalpaavan vaikuttavia, kauniita, tunteikkaita ja inspiroivia. Tuli kristallinkirkkaaksi, että sairaanhoitajien työllä kaikilla tasoilla, välittömästä potilastyöstä korkean tason johtajiin, varhaisesta uravaiheesta kokeneisiin ammattilaisiin, on vaikutusta yhteiskuntaan ja maailmanlaajuiseen terveyteen. Olimme todella ylpeitä kaikkien finalistien ja maailman kaikkien sairaanhoitajien puolesta. Heistä jokainen ansaitsisi tällaisen juhlallisen, kiitoksen ja arvostuksen tekemälleen työlle.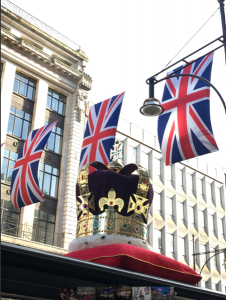 Photo 15
Virallisten vierailujen ja intensiivisen tutkimusryhmätyön ohessa meillä oli mahdollisuus kokea myös Kuningas Charles III:n juhlalliset kruunajaiset (Kuva 15), riemastuttava Newsie-musikaali Wembley:ssä ja nähdä joitakin museoita.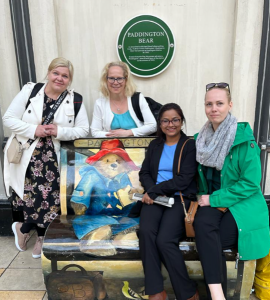 Photo 16
Marja Härkänen, Tiina Syyrilä, Sanu Mahat ja Saija Koskiniemi (Kuva 16)
Warn harm tutkimusprojektin kotisivu
#NursingByScience #Potilasturvallisuus #Lääkehoidonturvallisuus #hoitotiede #tutkimus