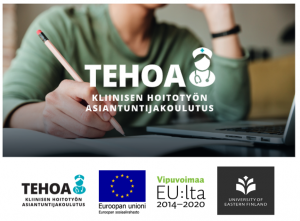 At the time of pandemic, the nurses' competence in clinical nursing has been emphasized more than ever! The healthcare needs knowledgeable, skillful, and resilient practitioners. Luckily, our nursing staff meets these attributes and have been a cornerstone of our fight against this sudden threat to the global health and to the health of each individual. 
The changed healthcare needs and work culture, entail health professionals changed knowledge and skills to manage the acute situations, diverse needs of clients / patients, and clinical practice. In order to meet these learning needs, the Department of Nursing Science launched a continuous education program 'EFFICACY' (Accessibility, Quality and Safety for Health Services: Clinical Nurse Specialist Education, TEHOA in Finnish), at the beginning of the semester 2021. In this program, we offer timely education for the Northern Savo area registered nurses.  
The continuous education program was designed by the Department of Nursing Science (University of Eastern Finland) and received an EU strategic funding (S22328). The education, worth 40 ECTS, runs between fall 2021 and spring 2023. The curriculum responds to the need of the working life to strengthen the employee's skills, quality patient care and the patient flow in a pandemic situation, as well as support of the organization attractiveness, employee job satisfaction and career development. Furthermore, one of the aims of the project is to strengthen the centre of excellence within the health services in Northern Savo region by improving the cooperation and networking of central actors and by providing advanced training and know-how, also identified as a magnet component for employees in healthcare.  
As the EFFICACY project manager, I am happy that our continuous education program has begun, and the students are conducting courses in hybrid-model. Follow us in UEF connect. The possibility to continuous learning and development of clinical competence motivates registered nurses in their studies. The effectiveness of the education will be assessed, and its future course re-evaluated at the end of the program in the summer of 2023. For certain, registered nurses' clinical competence continues to be needed in the current and future challenges of our healthcare environment.  
PhD, University lecturer, EFFICACY project manager, Faculty of Health Sciences, Department of Nursing Science, UEF, krista.jokiniemi@uef.fi