Tämä blogikirjoitus syntyi Australian Melbourneen suuntautuneen "tutkimusmatkan" positiivissa jälkitunnelmissa. Tutkimusmatkailija pääsi katselemaan uusia näköaloja, oppimaan uutta ja ihmettelemään.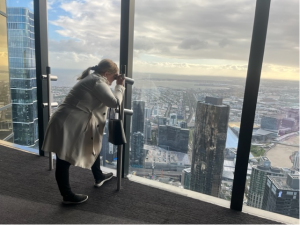 Maapallon toisella puolella "down under" oleva mantere oli juuri sitä mitä kaikki etukäteen kuullut tarinat todistivat: ".. sinne jäi osa sydäntä.." , ".. ja entä ne ihmiset..". Silti ensimmäistä kertaa julkisessa liikennevälineessä matkustaessa normaalikuulutuksen lopuksi sanotut sanat hämmensivät ".. be kind to each other". What??? Mikä on tämä maa, jossa julkisessa liikennevälineessäkin kehotetaan olemaan ystävällisiä toisilleen? Ja miten se näkyi arjessa? Missä tahansa avasit suusi ja kysyit paikalliselta jotain asiaa, huomasitkin olevasi osa pitkää keskustelua. Tai sillä todennäköisesti kiireisellä työmatkalaisella oli kuitenkin aikaa neuvoa pysäkin sijaintia silläkin uhalla, että hänen oma matkansa samalla viivästyi. "No worries" kaunis hymy ja toisiin tarttuva ilo ja lämpö. Sai kyllä miettimään omaa käytöstä normaaliarjessa täällä kylmässä pohjolassa, ei ihan täysiä pisteitä tullut itselle annettua. Hävettääkin.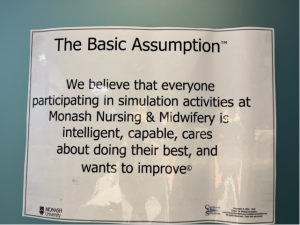 Vieraanvaraisuutta ja lämpöä koimme monissa tapaamissa sekä Monash Universityn että Deakin Universityn tutkijoiden, pääasiassa professoreiden kanssa. He ystävällisesti järjestivät aikaa omaan kiireiseen aikatauluun ja pääsimme keskustelemaan tekemästämme tutkimuksesta, milloin yliopiston tai yhteistyösairaalan tiloissa, jopa afterwork drinkkien ääressä. Kaikki viralliset tapahtumat, seminaarit ja luennot alkoivat aina kunnioituksella (Acknowledgement of Country) maata ja niiden alkuperäisiä asukkaita, aboriginaaleja, sekä menneitä ja nykyisiä vanhempia kohtaan. Tämäkin kunnioitus oli aluksi jopa hämmentävää, mutta hyvin silmiä avaavaa ja ajatuksia herättävää. Huomiota herätti myös Monashin simulaatiolabran seinällä oleva taulu, jossa oli kirjattu ylös toimintaa ohjaava perusoletus: "uskomme, että jokainen osallistuja on älykäs, kykenevä ja haluaa tehdä parhaansa sekä kehittyä."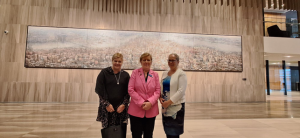 Osallistuimme myös Institute for Healthcare Improvementin (IHI) ja BMJ Quality & Safety-lehden yhteistyössä järjestämään potilasturvallisuuden ja hoidon laadun kansainväliseen tieteelliseen konferenssiin Melbournessa. Kaiken perinteisen tieteellisen keskustelun ja turvallisuuden tutkimusmenetelmien ohella kaksi suurta teemaa jäi hyvin vahvasti resonoimaan tuon kaiken jo aiemmin koetun ja jopa hämmentävän ystävällisyyden jälkeen. Ensinnäkin teema "Gathering of kindness in healthcare" ja toiseksi IHI:n kehittämisohjelma "Joy in work". Taas iso ääneen lausuttu What? Miten nämä liittyvät potilasturvallisuuden kehittämiseen? Tähän hyvin vakavaan aihepiiriin, jossa perinteisesti keskiössä on ongelmakeskeisyys, virheet, haittatapahtumat ja pyrkimys niiden poistamiseen? .. miten tähän kuvaan mahtuu ystävällisyys tai ilo?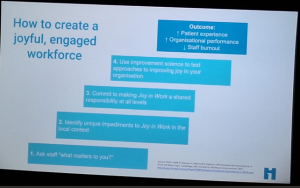 Terveydenhuollon ammattilaisten kuormitus on huipussaan ja liian moni on loppuun palamisen uhan alla. Samat tekijät, jotka edistävät loppuun palamisen uhkaa, heikentävät myös työssä koettua iloa. Hyvinvoiva ja iloa työssään kokeva henkilöstä on sen sijaan tuottava ja sitoutunut sekä kokee olonsa fyysisesti ja psyykkisesti turvalliseksi, arvostaa työnsä tarkoitusta ja näkee työelämän oikeudenmukaisena ja tasa-arvoisena. Tästä seuraa parempi organisaation suorituskyky, paremmat hoidon tulokset ja potilastyytyväisyys. Tällaisessa työyhteisössä tapahtuneista virheistä ja vaaratapahtumista halutaan oppia ja työtä kehittää. Ystävällinen ilmapiiri kannustaa kommunikoimaan avoimesti ja pelkäämättä myös virheistä, jolloin niistä on mahdollisuus oppia.
IHI:n emerituspresidentti Don Berwick, henkilö joka on ollut kirjoittamassa jo vuosituhannen vaihteessa potilasturvallisuustyön ja IHI:n klassikkoteoksia "To err is human" ja " Crossing the quality chasm", esitteli konferenssissa tätä "Joy in work" -mallia ja sen yhteyttä potilasturvallisuuteen ja hoidon laatuun. Malli ei ole aivan uusi, mutta itselle se tulee vastaan vasta nyt pitkän koronavuosien konferenssitauon jälkeen. Don Berwickin mukaan työssään iloa kokevat ovat tietoisempia ja uteliaampia, he haluavat oppia eivätkä pelkää kysyä ja ihmetellä tai kysyä myöskään toisiltaan, miten voin auttaa sinua työssäsi. Terveydenhuoltoon, tai no ainakaan hoitoalalle, ei hakeuduta hyvän palkan vuoksi, vaan nämä ihmiset haluavat aidosti auttaa ja tehdä työtä korkealla moraalilla. "Joy is a resource for excellence" – muistetaankohan tätä tarpeeksi usein? Kun työn ilo laskee, myös hoidon laatu laskee, Berwick toteaa. Emme voi vain kehottaa ihmisiä työskentelemään kovemmin, yrittämään kovemmin ja siten olemaan tehokkaampia. Kyseisen mallin ensimmäisenä askeleena on kysyä henkilöstöltä: "what matters to you" – mikä on sinulle tärkeää? Asia tuntuu loogiselta, omankin työuran vaiheista raskaimmiksi en ole kokenut niitä hetkiä, jolloin työtä on ollut paljon, vaan niitä hetkiä, jolloin työtä on tehty huonossa ilmapiirissä tai työn merkityksellisyys ja vaikuttamisen mahdollisuudet ovat olleet epäselviä.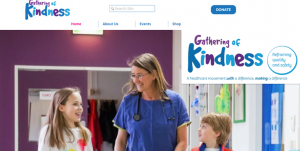 No entäs sitten "gathering of kindness" -malli.. hölynpölyä vai mistä on kyse? Professori Catherine "Dr Cathy" Crockin mukaan ystävällisyyden kulttuurin edistäminen tehostaa tiimin jäsenten välistä yhteistyötä. Tämä vähentää virheitä, parantaa henkilöstön turvallisuutta, hyvinvointia ja pysyvyyttä ja viime kädessä parantaa potilaiden ja heidän perheidensä hoidon laatua ja turvallisuutta. Kun olemme ystävällisiä toisillemme, autamme ihmisiä parhaaseen suoriutumiseen. Loogista tämäkin! Todisteet ovat selvät jo lukuisten vanhojenkin tutkimustulosten perusteella; henkilöstön hyvinvoinnin ja potilaan hyvinvoinnin välillä on suora yhteys.
Australian tutkimusretken rohkaisemana haastan jokaisen (myös itseni) miettimään miten ystävällisyyttä ja iloa voisi lisätä juuri sinun työyhteisössäsi? Se ei näinä maailmanaikoina luulisi menevän hukkaan. Ja jos nyt ei voisikaan koko maailmaa kerralla muuttaa, niin ainakin voi aloittaa itsestään ja pyrkiä tuomaan hyvää esimerkkiä toiminnallaan. Sen voi aloittaa, vaikka kysymällä siltä lähellä olevalta kollegalta, että hei, mitä sinulle kuuluu? Miten voin auttaa sinua?
Apulaisprofessori / Akatemiatutkija Marja Härkänen
Lähteet:
Gathering of kindness. https://www.gatheringofkindness.org/
IHI: Joy in Work and Workforce Well-Being. https://www.ihi.org/Topics/Joy-In-Work/Pages/default.aspx