(Please, scroll down to read a summary in English.)
UEFissa julkaistiin enemmän kuin koskaan 2021
Itä-Suomen yliopiston julkaisutoiminta on vakiintunut hyvälle kansalliselle tasolle. UEFilaiset olivat mukana tekemässä viime vuonna noin 3800 julkaisua, mikä on kaikkien aikojen ennätys. Kasvua on noin 8,8 % edellisestä vuodesta. Tieteellisten julkaisujen osuus on hieman yli 2400 kappaletta. Samalla yliopiston kansainvälisten julkaisujen määrä kasvoi hieman.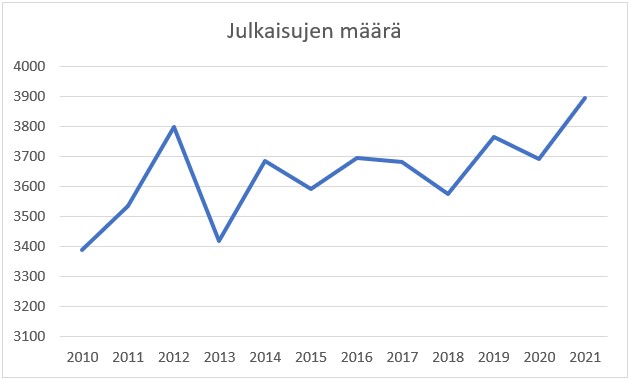 Vuoden 2021 tieteellisistä vertaisarvioiduista julkaisuista valtaosa on avoimesti saatavilla, kaikkiaan noin 75 %. Jos tarkastellaan vain alkuperäis- ja katsausartikkeleita, on avoimuuden osuus ylittänyt jo 80 % rajan. Kokoomateosartikkelien sekä kokonaisten kirjojen avoin julkaiseminen on osoittautunut haasteellisemmaksi johtuen mm. kustantajien asettamista vaatimuksista.
Tasapaino eri open access -julkaisumallien välillä on viime vuosina ollut muutoksessa. Hybridijulkaiseminen on tilastojen valossa vienyt tilaa maksumuurin takana olevien artikkelien rinnakkaistallentamiselta(rt+). Syynä tähän voisi olla esimerkiksi se, että koronapandemia ja etätyöskentely ovat lisänneet tarvetta saada julkaisut välittömästi avoimeksi. Myös yliopiston maksama julkaisumaksutuki ohjaa tutkijoita julkaisemaan OA- ja hybridilehdissä.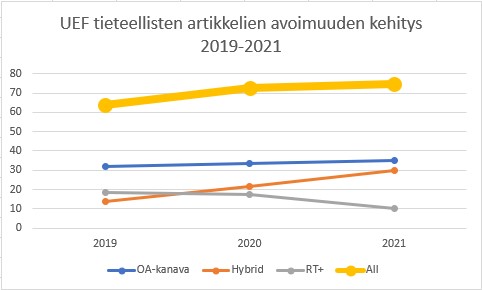 Opinnäytteet
Opinnäytteiden avoimuudessa on vuonna 2021 ylitetty 90 %:n avoimuuden taso peräti kahdella laitoksella. Tähän hienoon tavoitteeseen yllettiin sekä sovelletun fysiikan että historia- ja maantieteiden laitoksilla. Yleisellä tasolla avoimuus jatkaa rauhallista kehitystään, vuosittainen avoimuuden nousu on keskimäärin 3–4 prosenttiyksikköä.
Väitöskirjoja julkaistiin vuonna 2021 155 kappaletta, joista 139 yliopiston omissa väitöskirjasarjoissa. Vuoden 2021 väitöskirjoista 92 % julkaistiin avoimesti verkossa.
More publications than ever before
A record number of publications were published by UEFians in the year 2021. The number of publications increased by 8,8 percentage points compared to last year, the total of publications being about 3800 publications. Of this 3800, the share of scientific publications was a little over 2400 publications.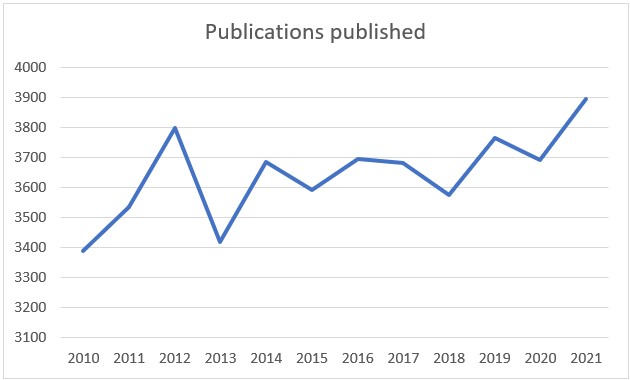 The most (75%) of the peer-reviewed publications published in the year 2021 are available as open access publications. If you look only at scientific journal articles and reviews, the open access percentage reaches 80%. The overall percentage of open access publications is lower for example because the publishers pose very strict conditions or simply forbid self-archiving articles in books or articles in compiled works.
The balance between the different ways of achieving open access has been changing lately. Seems that as the self-archiving is in a steady decline, the publishing in hybrid journals is increasing at the same rate. This may be due to the covid-19 pandemic and remote work, which have created a need to have immediate open access to articles instead of various embargo periods. The changes in hybrid publishing may also be a result of the open access support provided by the UEF.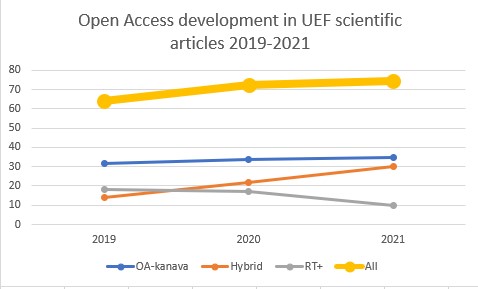 Theses
Two departments had the openness level of more than 90%. This achievement was reached at the department of applied physics and at the department of geographical and historical studies. As previous years, the openness of theses continues to increase at the steady rate of 3-4 percentage points per year.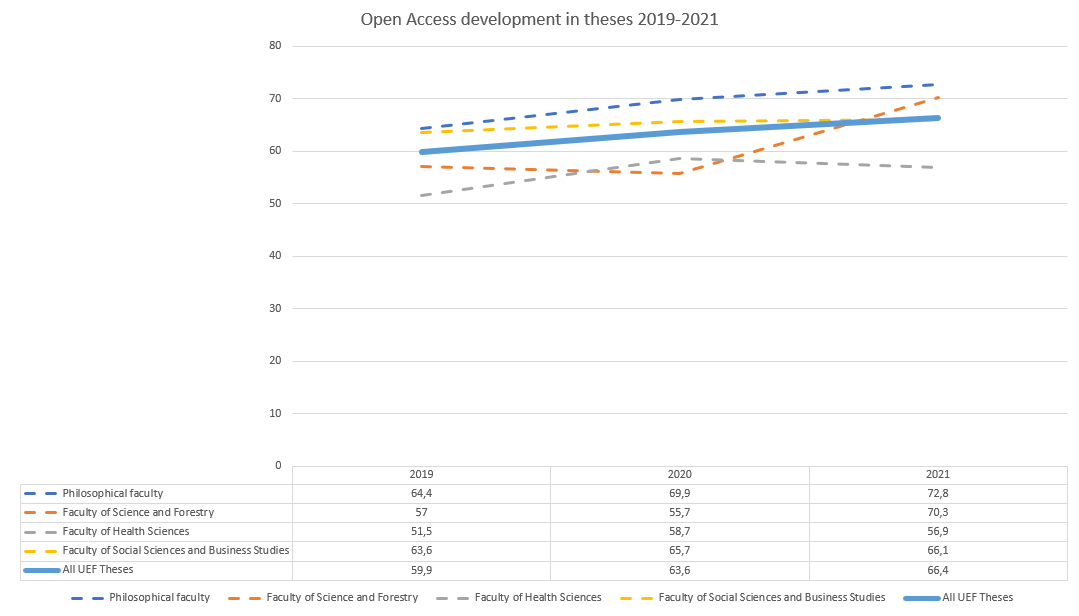 155 dissertations were published in 2021, 139 of these in the UEF publishing series. 92% of dissertations were published as OA publications.
Jukka Kananen, palvelupäällikkö | Head of Services
Laura Hämäläinen, tietopalveluneuvoja | Information Services Advisor
Antti Laurila, tietojärjestelmäasiantuntija | IT Systems Specialist
Mari Niemi, tietoasiantuntija | Information specialist
Verkko- ja julkaisupalvelut | Library IT and publishing services