Itä-Suomen yliopiston julkaisutoiminta on vakiintunut hyvälle ja laadukkaalle tasolle. UEFissa kirjoitetaan vuosittain noin 3500 julkaisua, joista tieteellisten julkaisujen osuus viime vuonna oli hieman alle 2400. Julkaisuista suurin osa on avoimesti saatavilla.
Avoimuuteen panostava toimintakulttuuri näyttää toimivan, sillä avoimen julkaisemisen suhteellinen osuus on edelleen noussut maltillista 10 % vuositahtia. Tällä hetkellä noin 64 % kaikista UEFissa julkaistuista vertaisarvioiduista tieteellisistä artikkeleista on avoimesti luettavissa. Suuntaus on ollut myönteinen viimeisten neljän vuoden ajan, ja tavoite täyteen avoimuuteen lähenee vuosittain.
Myös rinnakkaistallennettujen artikkelien määrä on jatkanut tasaista kasvuaan. Vuonna 2019 UEF-eRepoon tallennettiin 411 sellaista artikkelia, jotka eivät ilman rinnakkaistallentamista olisi avoimesti verkossa (RT+-artikkelit). Luku oli 18 % prosenttia enemmän kuin viime vuonna (347 vuonna 2018).
Tämän lisäksi kirjastossa tehtiin myös takautuvaa rinnakkaistallennusta ja sen ansiosta esimerkiksi vuodelle 2018 lisäystä tuli lähes sata RT+ artikkelia. Takautuvalla tallennuksella on merkitystä, sillä korkeakoulujen rahoitusmalli vuodesta 2021 lähtien huomioi lisäkertoimella 1,2 kaikki avoimesti saatavilla olevat vertaisarvioidut artikkelit vuosilta 2017-2020.
Avoimuus näkyy myös opinnäytetöissä. Niiden avoimuusprosentti lähentelee jo kuuttakymmentä (59,7 %). Kaikki tiedekunnat saivat ensimmäistä kertaa vuonna 2019 yli puolet opinnäytteistään avoimesti verkkoon. Kirjaston ja tiedekuntien yhteistyö tässä kasvussa oli merkittävä tekijä. Lukumäärällisestikin opinnäytetöitä tehtiin UEFissa viime vuonna ennätysmäärä, yli 1500 kappaletta.
Avoimuutta kannustamaan on UEFissa perustettu myös kirjoittajamaksuhuojennuksia.
Yliopiston omien julkaisusarjojen toimitustyössä keskeisenä tehtävänä oli valmistautuminen saavutettavuusvaatimusten mukaiseen julkaisemiseen. Taittopohjien valmistelu aloitettiin vuonna 2019 ja ne otetaan käyttöön vuoden 2020 aikana.
Itä-Suomen yliopiston julkaisutoiminnan viime vuosi oli lukujen puolesta hyvä ja vakaa, ja sen avoimuuden kehitys jatkui myönteisenä kohti täyttä avoimuutta.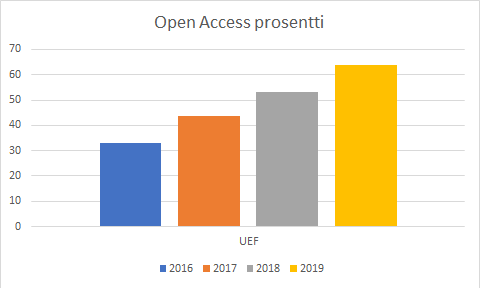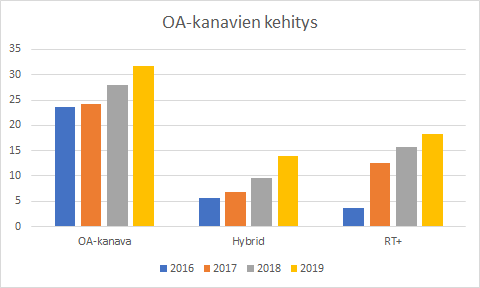 The publishing activities of the University of Eastern Finland have normalised at a good level with high quality. About 3,500 publications are written at the UEF each year, and the number of scientific publications among them was slightly under 2,400 last year. Most of the publications are available as open-access materials.
The operating culture based on open access seems to be effective: the relative proportion of open-access publications has continued to grow at a moderate rate of 10% a year. At the moment, about 64% of the peer-reviewed scientific articles published by the UEF are available as open-access materials. The trend has been positive in the past four years, and the target of open access to all publications is closer each year.
The number of parallel-published articles is also growing steadily. In 2019, a total of 411 articles were saved in the UEF eRepo that would not be available as open-access materials online without parallel publishing (RT+ articles) This was 18% higher than the year before (347 articles in 2018).
In addition, parallel publishing was also done retrospectively at the library, resulting in nearly a hundred new RT+ articles for 2018. Retrospective publishing is important, because in the funding model for universities that will come into force in 2021, all openly published peer-reviewed articles from 2017–2020 are given an additional 1.2 multiplier.
Open access is also visible in theses: Nearly sixty per cent (59.7%) of theses are published as open-access materials. In 2019, all faculties were able to publish more than half of their theses online as open-access materials. This was largely thanks to the collaboration between the library and the faculties. Last year, the number of theses at the UEF was also record high, over 1,500.
UEF has also implemented reduced article processing charges to promote open access.
A central goal in the editorial work on the university's own publication series was the preparation for publication in compliance with requirements for open access. The preparation of layout templates was started in 2019, and the templates will be taken into use in 2020.
The numbers show that last year was a good and stable one for the University of Eastern Finland in terms of its publication activities, and it maintained a positive trend towards the open access of all publications.
Jarmo Saarti, kirjaston johtaja | Library Director
Jukka Kananen, palvelupäällikkö | Head of Services
Antti Laurila, tietojärjestelmäasiantuntija | IT Systems Specialist
Laura Hämäläinen, tietopalveluneuvoja | Information Services Advisor
Taina Sahlman, ma. tietoasiantuntija | Information Specialist, fixed-term
Verkko- ja julkaisupalvelut | Library IT and Publishing Services