UEF eRepository on Itä-Suomen yliopiston avoimien tutkimusaineistojen palvelu, joka sisältää rinnakkaistallennettuja tieteellisiä artikkeleita ja tutkimusaineistojen metatietoja. Keväällä 2018 julkaistiin eRepon uutena aineistotyyppinä tutkimusdataosio, joka kokoaa yhteen tiedot UEFin tutkijoiden tuottamasta tutkimusdatasta. UEF eRepo ei sisällä itse tutkimusdataa, vaan se kerää kuvailevaa tietoa eli metadataa tutkimusdatasta. Avoimiin aineistoihin löytyy eReposta linkki, jonka kautta myös avattu data on saatavissa.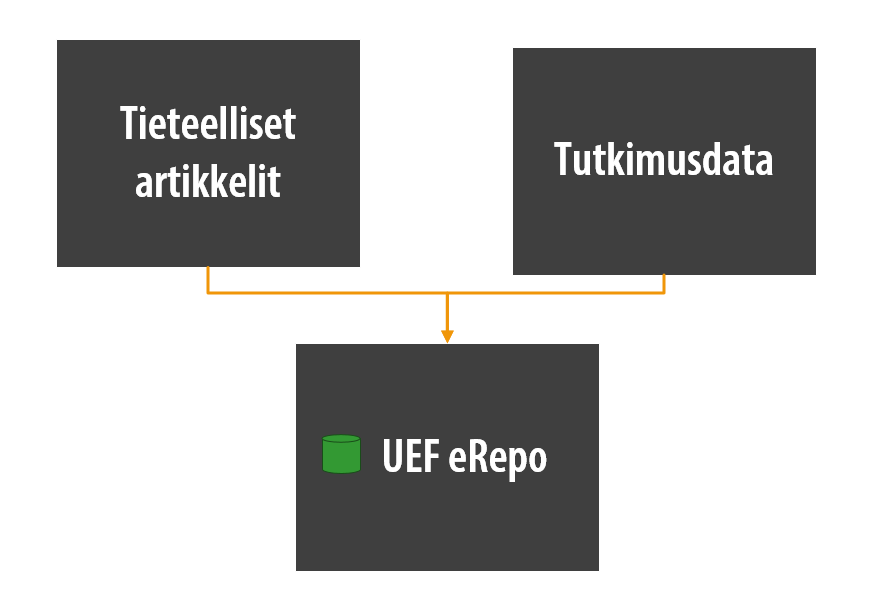 UEF eRepo tutkimusdata edistää avointa tiedettä lisäämällä tutkimusaineistojen näkyvyyttä ja saatavuutta.  eRepo haravoi tietoja tutkimusdatasta useasta data-arkistosta, ja kokoaa yhteen eri palveluissa olevaa tietoa, mikä helpottaa tutkijaa ja yliopistoa, kun kaikki tiedot voidaan koota yhteen paikkaan saataville.  Tällä hetkellä haravoitavia datapalveluita ovat Etsin, Zenodo ja EUDAT.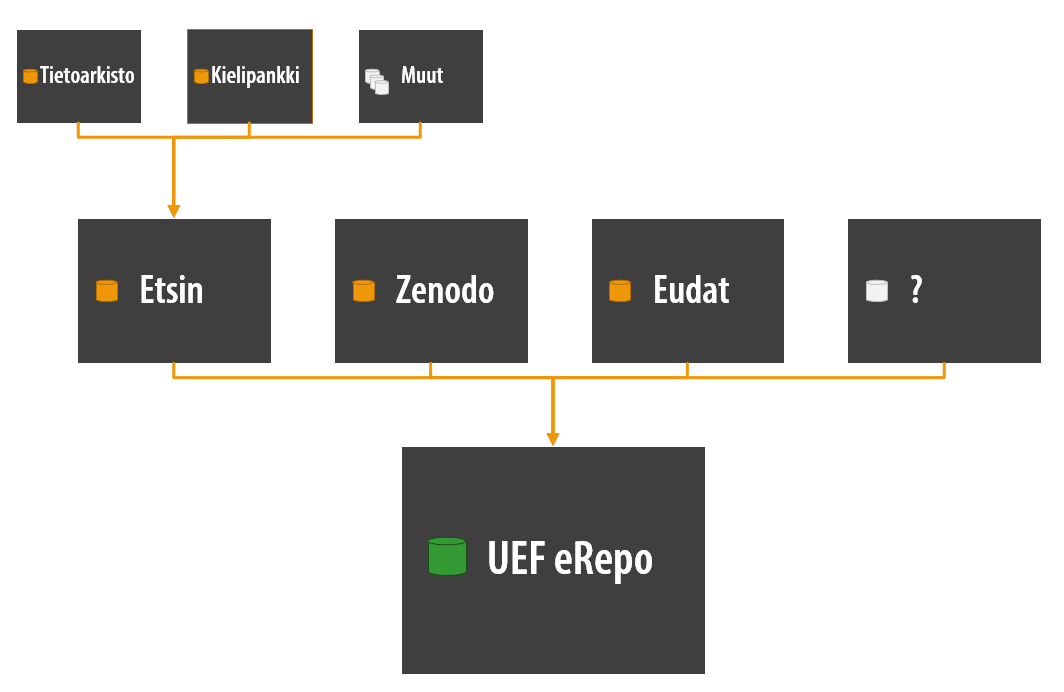 Tutkimusdatan tallentamiseen on käytettävissä useita luotettavia kansallisia ja kansainvälisiä tutkijoille maksuttomia palveluita. Tutkija valitsee omalle tutkimusdatalle ja tieteenalalle sopivan data-arkiston, jonne tallentaa tutkimusdatan avoimesti saataville. Tutkimusaineistojen hakupalvelu Etsintä suositellaan kaikissa tapauksissa metadatan tallentamiseen. Etsin on opetus- ja kulttuuriministeriön tarjoama palvelu suomalaisen tutkimusjärjestelmän toimijoille. Palveluun voi tallentaa metatietoja myös aineistoista, joita ei voida suoraan avata jatkokäyttöön juridisista tai eettisitä syistä johtuen. Aineiston julkiset kuvailutiedot lisäävät tietoa olemassa olevista aineistoista, ja voivat poikia esimerkiksi uusia yhteistyömahdollisuuksia tutkijoille, vaikka itse aineistoa ei voida avata.
Esimerkiksi Tietoarkiston Aila ja Kielipankki ovat tutkimusdatapalveluja, jonne tutkija voi tallentaa tutkimusaineistoja, ja avata niitä jatkokäyttöä varten. Palveluista saa myös asiantuntija-apua aineiston avaamiseen liittyviin kysymyksiin, kuten anonymisointiin. Tietoarkistoon ja Kielipankkiin tallennetuista UEF tutkijoiden aineistoista tiedot siirtyvät automaattisesti Etsimeen, ja sieltä eRepoon. Kansainvälisistä data-arkistoista UEF eRepoon haravoidaan Zenodossa ja Eudatissa sijaitsevat UEF tutkijoiden aineistot. Tietojen automaattisen siirron onnistumiseksi on tärkeää, että Itä-Suomen yliopisto mainitaan metatiedoissa. Affiliaation kirjaamiseen suosittelemme käytettävän "University of Eastern Finland". Lisää datapalveluja löytyy Open UEF -sivustolta.
Tutkija on paras, ja usein ainut keräämänsä aineiston asiantuntija, joten on tärkeää, että tutkija itse tuottaa aineistosta kuvailutietoa koko tutkimusprosessin ajan. Kirjaston asiantuntijoilta saa tukea ja koulutusta tutkimusdatan hallintaan, avaamiseen, kuvailuun sekä metadatan tuottamiseen. Voit lähettää kaikki tutkimusdatan hallintaan, kuten aineiston avaamiseen tai aineistonhallintasuunnitelman kirjoittamiseen liittyvät kysymykset osoitteeseen opendata(at) uef.fi. Kirjaston Tutkimuksen tuen sivuilta löytyy lisää tietoa tutkimusdatan hallinnasta.
In English
UEF eRepository, the open access materials repository of the University of Eastern Finland, contains self-archived versions of academic articles and metadata of research data made available by our researchers. In spring 2018 research data as a new resource type was added to UEF eRepo. It gathers the metadata of the research data of UEF researchers. The datasets are not deposited into UEF eRepo because it contains only the metadata, the description of the research datasets. In case the data is openly accessible in some data repository, there is a link to it in UEF eRepo.
The metadata of research data in UEF eRepo research data promotes open science by increasing the visibility and accessibility of research data. UEF eRepo harvests the scattered metadata of research data from several different data services. It benefits the researcher and university when all that metadata can be found in one place. At the moment, automatic transfer into UEF eRepo is possible from Etsin, Zenodo and EUDAT.
There are several reliable national and international data repositories that researchers can use to deposit their research data for free. The researcher can choose the repository that best suits the data and the discipline. It is recommended that the metadata is always deposited at least into Etsin, the research data finder. Etsin is a service provided by the Ministry of Education and Culture to actors in the Finnish research system. In Etsin, researchers can publish metadata also from data that cannot be opened due to the juridical or ethical reasons. Open metadata increases the awareness of the existing data and can lead, for example, to new collaboration possibilities for researchers, even if the data cannot be opened.
FSD Aila and the Language Bank of Finland are national data services where the researcher can deposit and open datasets. In addition, they provide expert guidance on questions related to opening research data such as data anonymisation. From FSD Aila and the Language Bank of Finland, the metadata of UEF researcher's data will automatically be transffered into Etsin and from there into UEF eRepo.  From Zenodo and EUDAT, of the international data repositories, the metadata of UEF researcher's data is automatically transferred into UEF eRepo. In order that the automatic information transfer succeeds, it is important that the university is mentioned in the metadata correctly. It is recommended to use "University of Eastern Finland" for affiliation. You can find more information about different data services information about the data services from Open UEF web pages.
The researcher is the best and often the only expert of the collected research data. Therefore, it is important that the reseachers themselves describe the data throughout the research process. UEF Library's information specialists give guidance and training to research data management, opening the data, describing and producing the metadata of research data. If you have any questions about research data management such as how to open the data or write data management plan, you can send them to opendata (at) uef.fi. You can find more information on research data management from UEF Library's Research support webpages.
Anne Karhapää tietoasiantuntija | information specialist
Opetus- ja tietopalvelut | Training and information services