Olen Helena Jäntti ja aloitin työskentelyn kirjastossa tietoasiantuntijana elokuussa 2021. Tehtäviini kuuluu etenkin kirjaston tutkimuksen tuki, mutta vastuullani on myös jonkin verran kirjaston opetus- ja ohjaustehtäviä. Taustaltani olen limnologi ja olen opiskellut kandin tutkinnon Yhdysvalloissa, maisterin tutkinnon Jyväskylän yliopistossa ja väitellyt Helsingin yliopistosta.
Väitöstutkimukseni keskittyi Itämeren ravinnekiertoihin, mutta siirryttyäni tutkijatohtoriksi Itä-Suomen yliopistoon vuonna 2015 olen tutkinut mm. ilmastonmuutoksen vaikutuksia järvien biogeokemiaan. Viimeiset vuodet olen työskennellyt tutkimuksen ja hallinnon rajapinnassa tutkimuksen tuessa ja UEF Water -hankkeen koordinaattorina.
Eipä sitä olisi limnologin alkuna uskonut, että joku päivä päätyy kirjastoon töihin. Moninaiset ovat meidän kirjastolaisten urapolut.
Olen paluumuuttaja Kuopioon. Lukion jälkeen olen asunut Yhdysvalloissa pariinkin otteeseen ja sen lisäksi Jyväskylässä ja pääkaupunkiseudulla. Perheen perustaminen, sukulaiset ja mahtavat ulkoilu- ja harrastusmahdollisuudet houkuttelivat meidät takaisin tänne Savon sydämeen. Vapaa-aikani kuluu luonnossa ja vesillä liikkuen, niin jalan, pyörällä, SUP-laudalla kuin veneelläkin. Lisäksi olen aloitellut vanhan rakkaan lentopalloharrastuksen taustajoukoissa toimimista.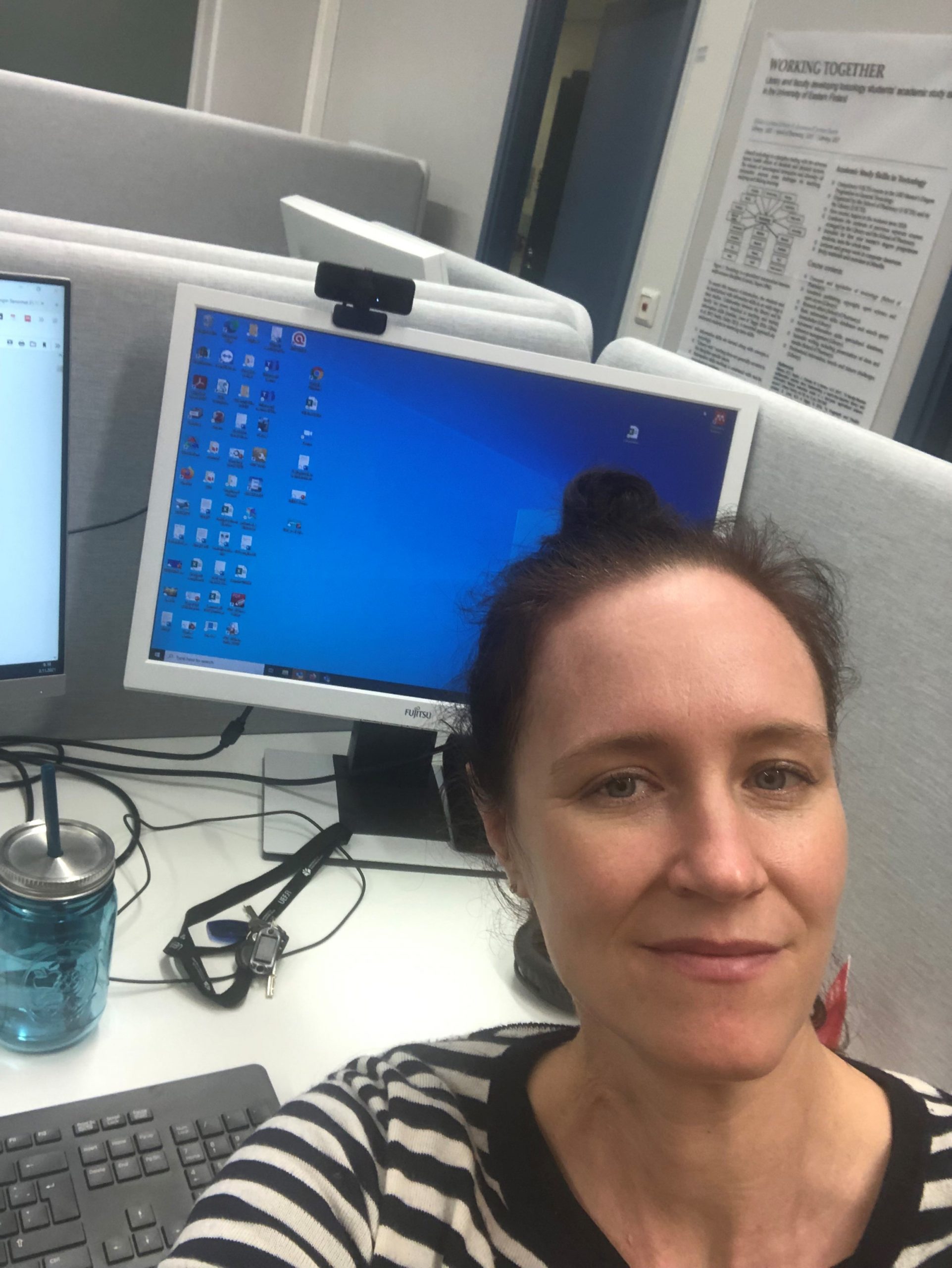 My name is Helena Jäntti and I started working as an information specialist at the UEF Library in August 2021. My main task is library's research support, but I am also responsible for student supervision and teaching. My background is in limnology and I have done my BSc in the United States, MSc at University of Jyväskylä, and PhD at University of Helsinki. My PhD work focused on nutrient cycling in the Baltic Sea but since I started my postdoc project at University of Eastern Finland in 2015, I have also investigated the effects of climate change on lake biogeochemistry. In the past few years I have worked at UEF research services and as a coordinator for the UEF water project. Who would have thought that a limnologist ends up as a librarian – but that's how diverse our career paths are at the library.
I am a returning migrant to Kuopio. After completing high school, I have lived in the United States, in Jyväskylä and Helsinki area. Family and excellent possibilities for outdoor life draw us back in to the heart of Finnish Lakeland. In my spare time, I like to bike and hike outdoors and spend time on a lake, either by boat or on a SUP board. In an addition, I have started as background force in my beloved old volleyball hobby.
Helena Jäntti, tietoasiantuntija | Information specialist
Opetus- ja tietopalvelut | Training and information services