Oppimateriaalia on hyvin monenlaista, oppimateriaali voi olla esimerkiksi tekstiä, kuvia, videota, infograafeja tai vaikka dataa. Kirjaston rooli perinteisesti ja yhä edelleen on hankkia nimenomaan kirjallista aineistoa oppimateriaaleina käytettäväksi. Aineisto voi olla yhtä hyvin painettua kuin digitaalista, verkon välityksellä käytettävää.  Avoimet oppimateriaalit ovat verkkoaineistoa, jonka käyttöä eivät rajoita lisenssisopimukset, aika tai paikka. Kirjaston hankkimissa verkkoaineistoissa voi olla rajoituksia sen mukaan, onko opiskelija ilmoittautunut läsnäolevaksi sekä samanaikaisten käyttäjien määrän suhteen. Aineisto voi myös vaatia erillisen käyttöalustan, kuten lukuohjelman, jotta sitä voidaan lukea. Avoimien oppimateriaalien käyttö helpottaa siten sekä yliopiston perusopiskelijoiden että erilaisten jatkuvan oppimisen oppijoiden pääsyä aineistoihin.
Kirjaston tavoitteena on tuoda avoin oppiminen näkyviin osana avointa tiedettä, kannustaa opettajia hyödyntämään avointa oppimateriaalia sekä avaamaan itse tuottamaansa oppimateriaalia. Kirjaston omassa opetuksessa ja oppimateriaaleissa panostetaan myös avoimuuteen, joten pedagogisia ja teknisiä ratkaisuja on kirjastossa mietitty siltäkin kannalta.
Oppimateriaaliksi sopivan materiaalin löytäminen voi olla joskus hankalaa. Kirjasto voi tarjota apua opettajille aineistojen kartoittamiseen. Lopullinen päätösvalta oppimateriaalin valinnassa on luonnollisesti aina opettajalla. Myös opettajien omien oppimateriaalien avaamista halutaan edistää osana avoimen tieteen työtä. Kirjaston opettajat ovat avanneet tuottamiaan oppimateriaaleja monin tavoin. Kirjaston oppimateriaalia on jaettu avoimesti saataville niin Moodlen, Youtuben kuin esimerkiksi WordPressin kautta. Oppimateriaalien löydettävyyden edistämiseksi niitä on myös kuvailtu soveltuvin osin kansalliseen avointen oppimateriaalien kirjastoon.
Oppimateriaalia avatessa on huomioitava useita seikkoja:
saavutettavuus, onhan materiaali saavutettavaa?
tekijäoikeudet, onhan toisten tuottaman sisällön osalta luvat kunnossa ja tekijät merkitty asianmukaisesti?
tietosuoja, sisältääkö materiaali henkilötietoja esimerkiksi opiskelijoista ja miten ne voidaan poistaa?
lisensointi, käyttöehdot kannattaa ilmaista selkeästi eli kertoa millä ehdoilla avattava materiaali on jatkokäytettävissä. Tähän kannattaa käyttää Creative Commons -lisenssejä
kuvailu, varmista materiaalin löydettävyys liittämällä siihen kuvailevia tietoja (metadataa). Voit tallentaa materiaalisi avointen oppimateriaalien kirjastoon luotettavaan säilytykseen ja kuvailla sen siellä. Kuvailu kannattaa muistaa myös muita palveluja käyttäessä, kerro selkeästi mitä materiaali sisältää ja liitä siihen kuvailevia asiasanoja.
Oppimateriaalien avoimuus on yhä tärkeämpää, se tukee jatkuvaa oppimista ja varmistaa luotettavan tiedon saamisen jokaiselle. Toivottavasti OA näkyy entistä enemmän myös oppimateriaaleissa.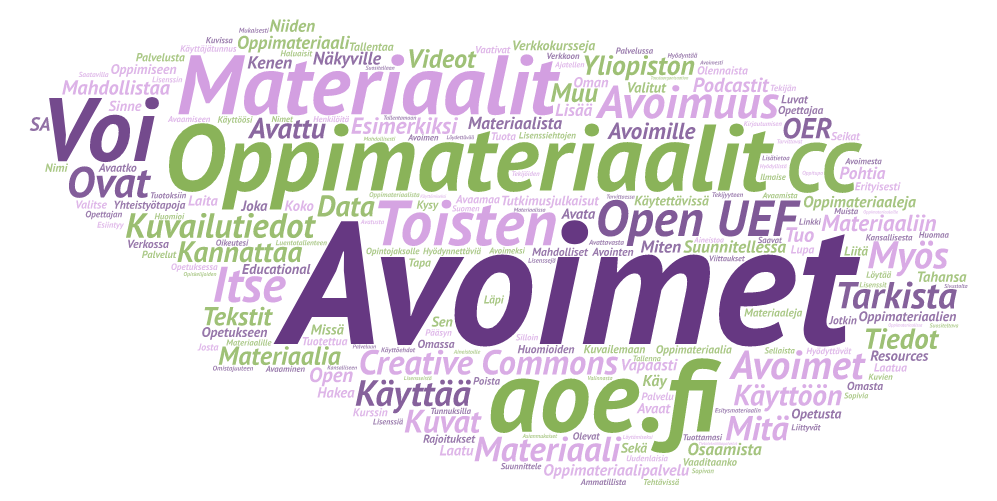 There are many types of educational resources; resources may consist of text, images, videos, infographics or data. The role of the library has traditionally been, and is today, to acquire written material for use as educational resources. The material may be printed or digital, online material. Open Access materials are online resources, which are not limited in use by licensing agreements, time or place. Online resources acquired by the library may be limited depending on whether the student has registered as present and depending on the number of simultaneous users. The resource may also require a separate user platform, such as a reader program, for access. Using Open Access materials will thus make it easier for university students and various types of continuous learning students to access the resources.
The library's goal is to make open learning a visible part of open science, encourage teachers to utilise open educational resources and make material they have produced themselves available. The library also emphasises openness in teaching and educational resources it uses: thus library teachers have considered the pedagogic and technical solutions from the point of view of open access.
Finding the best material for educational resources may sometimes be a challenge. The library can offer teachers help with mapping their options. The teachers naturally make the final decisions concerning their educational resources. The library also wants to promote the opening up of material produced by the teachers as part of open science efforts. Library teachers have made educational material they have produced available in many ways. Library teaching material has been shared openly on Moodle, YouTube and WordPress, for example. To promote educational resource accessibility, the resources have also been described in the national Library of Open Educational Resources, where applicable.
Several factors must be considered when making educational resources openly available:
accessibility – is the material accessible?
copyright – do you have permission to use material produced by someone else and have you given due credit?
data protection –- does the material contain personal data on students, for example, and how can it be removed?
licencing – you should express terms of use clearly, i.e. explain which terms govern the further use of the material. A good way for that is to use Creative Commons licences.
description – ensure that your material can be found by adding descriptive information (metadata) to it. You can save your material in the Library of Open Educational Resources for safekeeping and provide a description for it there. If you use other services, also remember the description; provide a concise description of the content of the material and add keywords.
It is increasingly important to use open educational resources; they support continuous learning and ensure access to reliable information for everyone. That is why OA is important and will hopefully become even more integral part of educational resources.
Anne Karhapää, tietoasiantuntija | information specialist
Opetus- ja tietopalvelut | Training and information services