(Please, scroll down to read in English.)
Hyvää Eurooppa-päivää!  Joensuun yliopiston kirjastosta tuli EU:n tallekirjasto (tuolloin EDC-kirjasto) vuonna 1984. Sopimuksen myötä kirjasto alkoi saada Euroopan unionin komission julkaisuja ilmaiseksi ja myös pääsyn tuolloin salasanoilla suljettuihin EU-tietokantoihin. Noina aikoina ennen Internetiä kokoelman merkitys EU-tiedonlähteenä oli suuri, ja se korostui entisestään Suomen liittyessä Euroopan unioniin vuonna 1995. Myös euron käyttöönotto vuonna 1999 oli tärkeä aihe, jota käsitteleviä julkaisuja saatiin (ja myös ostettiin) kokoelmaan jo useita vuosia aikaisemmin. Kun Joensuun ja Kuopion yliopistot yhdistyivät, uusi Itä-Suomen yliopiston kirjasto peri EU-tallekirjaston aseman.
Varsinkin 2010-luvulla painettu EU-kokoelma on menettänyt merkitystään. Suuri osa EU:n julkaisuista on muuttunut vain sähköiseen muotoon, ja EU:n omaksuman tiedon avoimuuden periaatteen myötä sen tietokannatkin vapautettiin yleiseen käyttöön. Ilmaiseksi saatujen painettujen aineistojen määrä ja myös EU-kokoelman lainauskerrat ovat vuosi vuodelta vähentyneet. Koska kirjaston hyllytilat supistuvat tänä kesänä toteutettavan 1. kerroksen remontin vuoksi, meidän on luovuttava suuresta osasta vähälle käytölle jääneestä aineistosta. EU-tallekirjaston käytetyimmät kirjat on sulautettu muihin kokoelmiin, ja sinne tullaan edelleen liittämään asiakkaillemme hyödyllistä uutta aineistoa.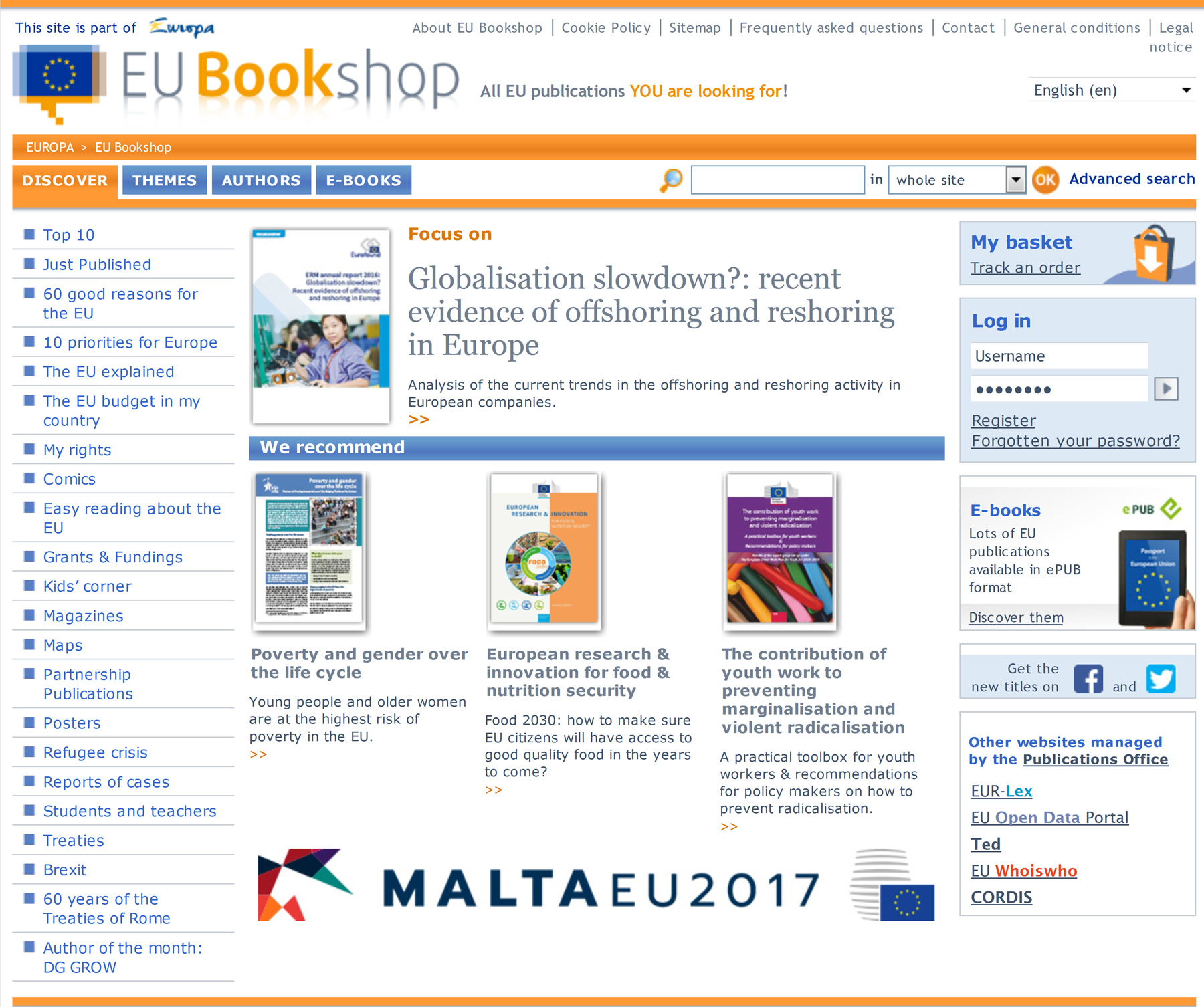 Mutta onneksi mitään korvaamatonta ei ole menetetty, sillä avoimuusihanteensa mukaisesti Euroopan unionin komissio aloitti jo vuosia sitten massiivisen digitointiohjelman. Kaikkien EU-elinten arkistot ja varastot koluttiin läpi, ja kaikki löytyneet julkaisut aina perustamisvuodesta 1952 lähtien tallennettiin PDF-muotoon vapaasti luettavaksi ja kopioitavaksi EU Bookshopin yhteyteen. Jo aloitusvaiheessa vuonna 2009 kokoelma sisälsi yli 110 000 nimekettä, ja määrä kasvaa koko ajan. Tämä valtava digitaalinen kirjasto löytyy osoitteesta https://bookshop.europa.eu  ja sieltä löytyvät EU-aineistot vieläpä kaikilla niiden julkaisukielillä. Jos siis joskus käytit jotain tallekirjastossa ollutta teosta, löydät sen täältä (jopa suomen kielellä, jos se oli sille käännetty). EU Bookshopilla on kyllä suomenkielinenkin sivusto, mutta jos etsit englanninkielisiä julkaisuja, on viisainta aloittaa englanninkielisellä haulla. Kun julkaisu on löytynyt, voit valita sen mahdolliset erikieliset PDF-versiot. Käy tutustumassa tähän EU-tiedon aarreaittaan. Annan asiasta mielelläni lisätietoja.
– – –
Happy Europe Day! Joensuu University Library became a European Documentation Centre Library in 1984. It meant that the Library started to receive free copies of EU Commission's publications, and also got access to EU databases. During those pre-Internet ages this was a very important information source for European integration matters. The collection became even more important when Finland joined the EU in 1995 and the Euro Zone in 1999.  In 2010 The Unversity of Eastern Finland Library inherited the EDC library status.
During this decade the importance and also use of this printed collection has diminished. More and more EU publications only appear in electronic form, and according to the principle of "freedom of knowledge" EU databases were opened to everyone. We receive less and less free publications every year and only few books have been checked out from the collection. During this summer's renovations at the Joensuu Campus Library we lose many bookshelves and consequently have to reduce some less-used collections. EU collection books actually checked out during last few years have been transferred to other library collections. New useful EU publications will also be added to the collections in the future.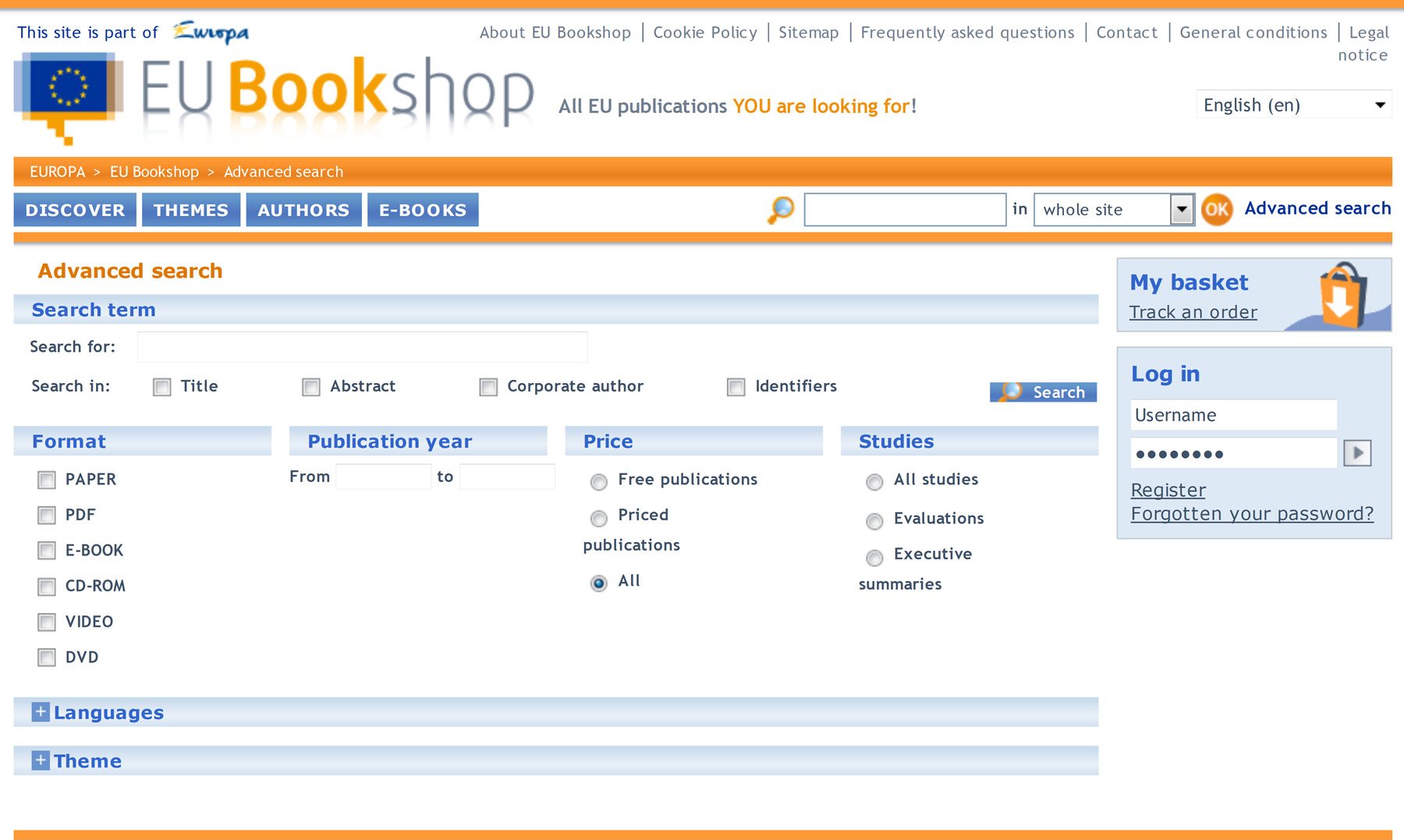 But nothing has been lost. Some years ago the EU Commission digitized all EU publications they could find from various storehouses and archives, and now they can be freely downloaded as PDF documents beginning from the founding year 1952 at EU Bookshop. From the address https://bookshop.europa.eu  you can find more than 110 000 titles and even more of their translations in all official EU languages.  So there are also all those books we used to store in printed form. It is best to search for books in English first. Once you have found your title, you can see it's possible other language versions also. Check out this vast free electronic library. I will be happy to give further information about it.
Tapani Toivanen
tietoasiantuntija | Information Specialist
Opetus- ja tietopalvelut | Training and information services