(Please, scroll down to read in English.)
Tänä vuonna kansainvälisen avoimen tieteen viikon (23.–29.10.2023) teemana on Yhteisö ennen kaupallistamista (Community over Commercialization). Olen se tyyppi, joka tulee aina hieman jälkijunassa tekniikan kehityksen suhteen, joten rohkaisen nyt mieleni ja kysyn tekoälyltä (ChatGPT), mitä se tietää aiheesta. Tiivistäen vastaus on tämä:
Community over Commercialization -ilmaisu viittaa siihen, että yhteisön hyvinvointi ja tarpeet asetetaan etusijalle ennen kaupallisia tarkoitusperiä. Tämä periaate voi korostua esimerkiksi seuraavissa yhteyksissä:
Tutkimuksen avoimuus: Tieteellinen tutkimus perustuu avoimuuteen ja tietojen jakamiseen yhteisössä. "Yhteisö ennen kaupallistamista" voi ilmetä avoimen tieteen periaatteena, jossa tutkijat jakavat tuloksiaan, tietojaan ja menetelmiään avoimesti muiden tutkijoiden ja yhteisön käyttöön.
Avoin julkaiseminen: Tieteellisen tiedon avoin julkaiseminen kaikkien saataville ilman rajoituksia mahdollistaa laajemman yleisön pääsyn tieteelliseen tietoon.
Tutkimuseettisyys: Tutkijat noudattavat eettisiä periaatteita ja käytäntöjä, ja arvioivat tutkimuksensa vaikutuksia yhteisöihin ennen kaupallisia intressejä.
Kansainvälinen yhteistyö: Tieteellinen yhteisö perustuu usein kansainväliseen yhteistyöhön ja tiedonvaihtoon. Esimerkiksi yhteistyön mahdollistavat verkkoympäristöt edistävät tutkijoiden ja tiedeyhteisön välistä yhteistyötä ja tiedon jakamista.
Kansalaistiede (citizen science): Kansalaistiede rohkaisee yhteisön jäseniä osallistumaan tieteelliseen tutkimukseen ja edistämään yhteisönsä hyvinvointia tiedon avulla.
Avoin lähdekoodi (Open Source): Ohjelmistoja kehitetään ja ylläpidetään yhteisöjen ja vapaaehtoisten voimin avoimena lähdekoodina, sen sijaan että ne suljettaisiin kaupallisiin ympäristöihin.
Koulutus: Opetus ja oppiminen keskittyvät ensisijaisesti oppijoiden ja yhteisöjen tarpeisiin ja hyvinvointiin kaupallisten etujen tavoittelun sijaan. Esimerkkinä avoimesta oppimisesta ovat MOOC (Massive Open Online Courses) -kurssit.
Ympäristönsuojelu ja kestävä kehitys: Ympäristön ja paikallisten yhteisöjen hyvinvointi on asetettava etusijalle ennen taloudellista voittoa. Esimerkiksi vastustetaan kaupallisia hankkeita, jotka saattaisivat vahingoittaa ympäristöä tai yhteisöjä.
Yhteisöpohjainen kehitys: Kehitystyössä painotetaan yhteisöjen osallistumista ja päätöksentekoa omista tarpeistaan ja kehityksestään, sen sijaan että ulkopuoliset kaupalliset tahot sanelevat kehityshankkeita.
Kansalaisosallistuminen: Yhteisöjen osallistuminen päätöksentekoon ja vaikuttamiseen omassa elinympäristössään voi tarkoittaa esimerkiksi paikallisia kuulemisia ja päätöksenteon avoimuutta.
Sosiaalinen oikeudenmukaisuus: Kaikki yhteiskunnan jäsenet hyötyvät tasapuolisesti resursseista ja mahdollisuuksista.
Paikallinen elinkeinotoiminta: Painotetaan paikallisia työpaikkoja ja palveluita yhteisöjen hyvinvoinnin edistämiseksi.
Entäpä sitten se tekoäly? Omat ajatukset viikon teemaan painottuivat tieteen näkökulmaan, mutta liittyihän siihen paljon muutakin. Tekoälyn käytöstä jäi kokemus, että se voi toimia hyvänä apuna ideoinnissa. Toisaalta on pakko myöntää, että olo on vähän vilpillinen, kun "ajatukset" tulevat valmiina ja itselle jäi tehtäväksi vain sisällön muokkaaminen. Luomisen tuska jäi siis vähälle. Myös kääntäminen sujui näppärästi. Parhaimmillaan tekoäly rikastaa ja tehostaa työskentelyä tai oppimista, mutta tiedon tuottamisen prosessi ottaa aikamoisia oikoteitä, mikä ei välttämättä aina ole hyvä asia.
Mutta palataan itse aiheeseen: Miten sinä voisit edistää tieteen yhteisöllisyyttä ja saavutettavuutta?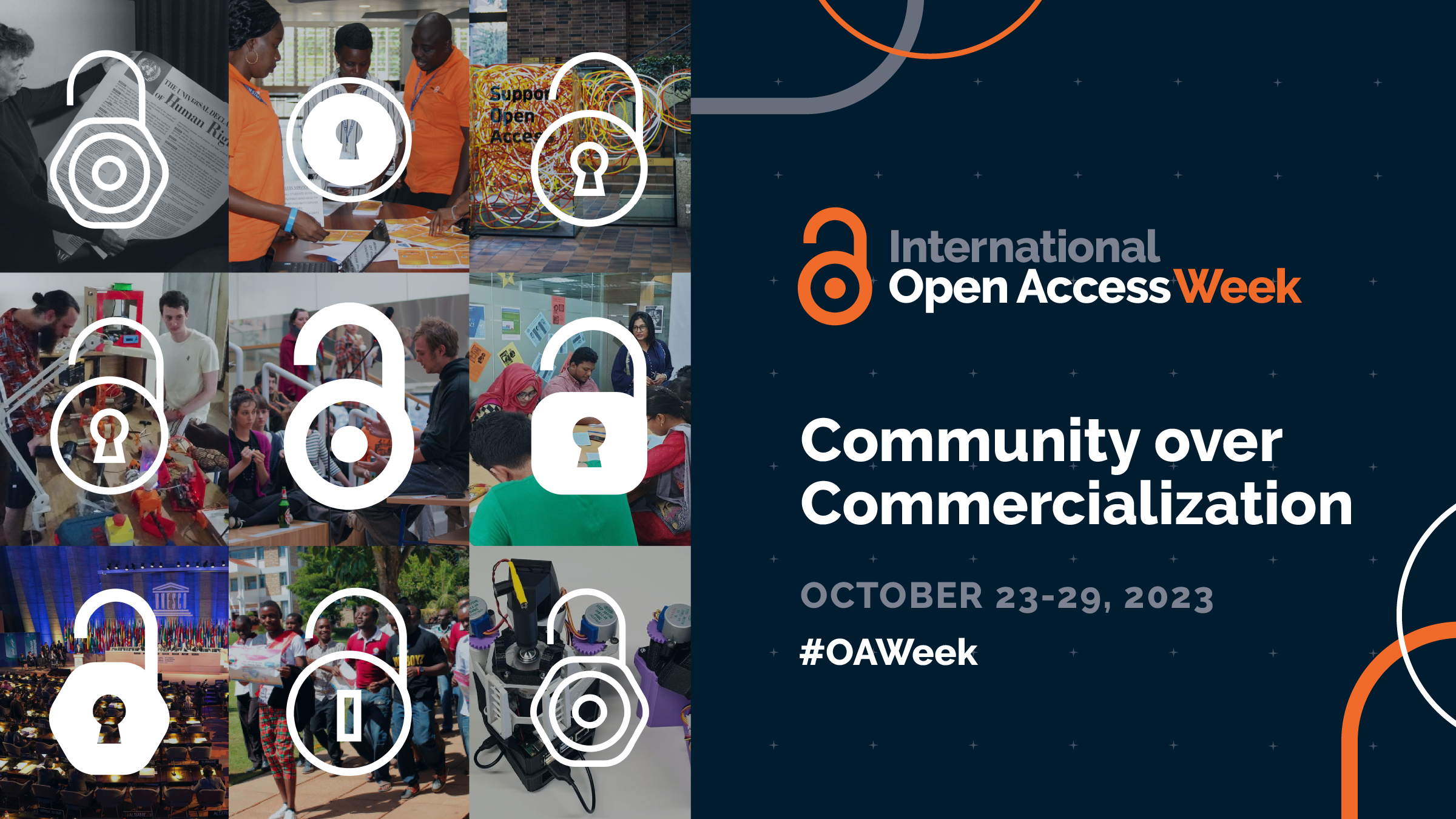 This year, during International Open Access Week (October 23-29, 2023), the theme is "Community over Commercialization." I'm the type of person who always lags a bit behind in keeping up with technological advancements, so I'm now mustering the courage to ask artificial intelligence (ChatGPT) what it knows about the topic. In summary, the answer is this:
The expression "Community over Commercialization" refers to prioritizing the well-being and needs of the community over commercial purposes. This principle can be emphasized in the following contexts, for example:
Research Openness: Scientific research is built on openness and sharing data within the community. "Community over Commercialization" can manifest as a principle of open science, where researchers openly share their findings, data, and methods for the benefit of other researchers and the community.
Open Access Publishing: Making scientific knowledge openly accessible to everyone without restrictions enables a broader audience to access scientific information.
Research Ethics: Researchers adhere to ethical principles and practices, evaluating the impact of their research on communities before commercial interests.
International Collaboration: The scientific community often relies on international collaboration and knowledge exchange. For example, online platforms that facilitate collaboration promote cooperation among researchers and the sharing of knowledge.
Citizen Science: Citizen science encourages community members to participate in scientific research and promote the well-being of their community through the use of information.
Open Source: Software is developed and maintained by communities and volunteers as open-source, rather than being confined to commercial environments.
Education: Teaching and learning prioritize the needs and well-being of learners and communities over pursuing commercial interests. Massive Open Online Courses (MOOCs) represent one example of open learning.
Environmental Conservation and Sustainable Development: The well-being of the environment and local communities takes precedence over economic gain. For instance, opposition to commercial projects that could harm the environment or communities.
Community-Based Development: Development work emphasizes community participation and decision-making in addressing their own needs and progress, rather than external commercial entities dictating development projects.
Civic Engagement: Community involvement in decision-making and influencing their own living environment may involve local consultations and transparent decision-making.
Social Justice: All members of society benefit equitably from resources and opportunities.
Local Business: Emphasis is placed on local jobs and services to promote community well-being.
Regarding artificial intelligence, my own thoughts on the theme of the week focused on the scientific perspective, but there's much more to it. I got the impression from the use of artificial intelligence that it can serve as a valuable tool in brainstorming. On the other hand, I must admit that I feel a bit deceptive when the "thoughts" come ready-made, leaving me with the task of merely editing the content. The agony of creation was therefore minimal. The translation went smoothly as well. At its best, artificial intelligence enriches and enhances work or learning, but the process of generating knowledge takes some significant shortcuts, which may not always be a good thing.
But let's get back to the topic: How could you promote the community and accessibility of science?
Kaisa Hartikainen, tietoasiantuntija | Information Specialist
Opetus- ja tietopalvelut | Training and information services