(Please, scroll down to read in English.)
Kirjaston tutkimuksen tuki sai uutta työvoimaa vuoden 2019 tammikuussa, kun Marja Kuittinen aloitti tietoasiantuntijana Joensuun kampuksella. Siilinjärvellä syntyneellä Marjalla on tietojenkäsittelytieteen "koulutuskakku", jonka pohjana on v. 1989 suoritettu FM-tutkinto (Kuopion yliopisto), täytteenä v. 1993 FL-tutkinto (Kuopion yliopisto) ja kuorrutteena FT-tutkinto v. 1997 (Joensuun yliopisto). Kirsikkana kakun päällä on dosentuuri vuodelta 2005 (Joensuun yliopisto) alana kognitiiviset menetelmät tietojenkäsittelyn opetuksessa.
Itä-Suomen yliopistossa ja sen edeltäjissä Marja on työskennellyt vuodesta 1989 lähtien. Työkokemusta on kertynyt laaja-alaisesti erilaisten virkojen hoidoista amanuenssista professoriin, mutta erityisesti v. 1998 alkaneista tietotekniikan opettajankoulutuksen yliopistonlehtorin tehtävistä. Marjan tekemä tutkimus on vahvasti painottunut opetukseen keskittyen opetusteknologiaan, tietokoneavusteiseen opetukseen sekä ohjelmoinnin oppimiseen ja opettamiseen.
Kirjaston tietoasiantuntijana Marjan tehtävät liittyvät hyvin vahvasti jo edellä mainittuun tutkimuksen tukeen painottuen erityisesti bibliometriikkapalveluihin, joita yliopisto tarjoaa tutkijoilleen. Vastuualueeseen kuuluu myös avoimen tieteen asioita, kuten avoin julkaiseminen, sekä opettaminen kirjaston tarjoamilla jatko-opintokursseilla. Vapaa-ajallaan Marja harrastaa lukemista ja käsitöitä sekä ulkoilua toisten piilottamia pakasterasioita etsien (lue: geokätköilyä).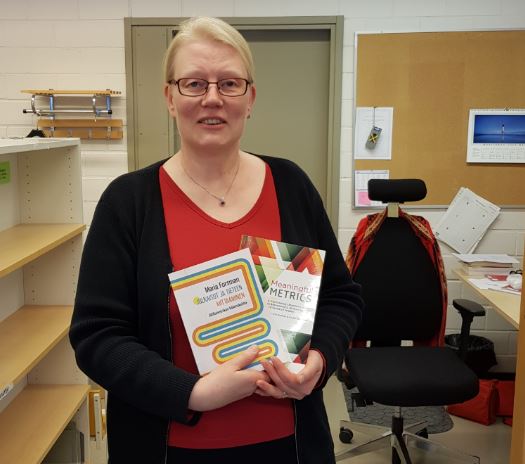 Library's research support received an addition to the workforce in January 2019, when Marja Kuittinen started working as an information specialist at the Joensuu Campus. Marja, born in Siilinjärvi, has baked an "education cake" in computer science. The base layer of the "cake" is a MSc degree (University of Kuopio 1989), topped up with a Licentiate in Philosophy degree (University of Kuopio 1993) and as the icing on the cake is a PhD degree (University of Joensuu 1997) and a docentship on cognitive methods in computer science education (University of Joensuu 2005).
Marja has been working at the University of Eastern Finland and its predecessors since 1989. She has gained extensive work experience in the management of various positions from amanuensis to professorship at the School of Computing but particularly in the post of a university lecturer responsible for the education of Computer Science subject teachers since 1998. Marja's research is heavily focused on teaching, especially on educational technology, computer-assisted instruction and programming education.
As an Information Specialist, Marja's tasks are strongly related to the above-mentioned research support, with an emphasis on bibliometric services provided by the university to its researchers. Areas of responsibility also include open science, such as open publishing and teaching at postgraduate courses offered by the library. In her spare time, Marja is engaged in reading and crafts as well as outdoor activities in search of containers hidden by other people (read: geocaching).
Marja Kuittinen, tietoasiantuntija | Information Specialist
Opetus- ja tietopalvelut | Training and Information Services
Joensuun kampuskirjasto | Joensuu Campus Library