(Please, scroll down to read in English.)
Lokakuun lopulta lähtien tarkkasilmäisimmät Joensuun kampuskirjaston asiakkaat ovat voineet huomata jotakin uutta kirjaston asiakaspalvelutiskin takana ja hyllyjen välissä. Tässä tapauksessa "jollain uudella" tarkoitetaan tietoaineistopalvelujen uusinta tietoasiantuntijaa nimeltään Juho Jussila. Valmistumisensa jälkeen tämä Tampereen yliopiston ja Seinäjoen ammattikorkeakoulun kasvatti kahlasi lähinnä valtionhallinnon ja yliopistomaailman arkistoissa, mutta tilanteen tarjoutuessa ei epäröinyt, vaan hyppäsi vielä mukaan kirjastotyöhön.
Mainittu näkyvä asiakaspalvelu on vain pieni osa Juhon työnkuvaa. Suurin osa työajasta kuluukin tietoaineistojen hallintaan. Viime aikoina erityisesti uutuusaineistojen kuvailu ja laitoskokoelmien kanssa työskentely ovat lohkaisseet suurimmat palaset päivittäisestä työannoksesta.
Kun Juho ei ole edistämässä tiedon saatavuutta ja saavutettavuutta edellä mainituin keinoin, voi hänet nähdä hölkkäilemässä hissukseen pitkin Joensuun katuja ja polkuja. Silloin tällöin saattaa Jussilan residenssistä kuulua myös kummia ääniä, kun työn tai kuuntelun alla on sekalaisia ääniteoksia. Olipa kyse sitten lenkkeilystä tai musiikista, niin jalka jaksaa väpättää.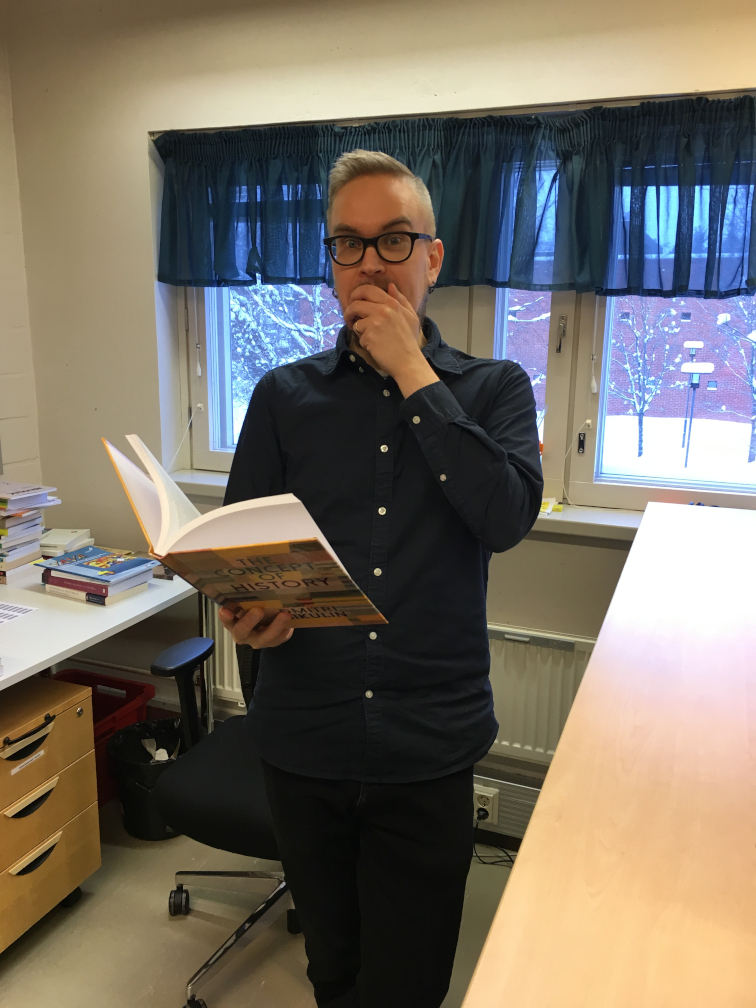 Since October, the most sharp-eyed customers of the Joensuu Campus Library might have noticed something new behind the library's customer service desk or between the bookshelves. This "something new" is actually Collections Services' newest Information Specialist, Juho Jussila. Since graduating from the University of Tampere (and from the Seinäjoki University of Applied Sciences before that), this newcomer had mostly been working knee-deep in the mysterious world of governmental and academic archives and records. But when an opportunity to return to the world of academic libraries came, he did not hesitate.
The visible part of customer service is only a small part of Juho's work. Most of the working time he spends buried in the depths of collection management work. Lately, the most time-consuming parts of his work have been cataloguing new material and working with department/faculty collections.
When not advancing the availability and accessibility of information, Juho can be found jogging the streets and paths of Joensuu or fiddling with various sound works. Either way, the feet are a-tapping.
Juho Jussila, tietoasiantuntija | Information Specialist
Tietoaineistopalvelut | Collection Services
Joensuun kampuskirjasto | Joensuu Campus Library